Tell Us About the Revolution Where You Live
The 20th anniversary issue of YES! will show you, state by state, how change happens when communities work together. Tell us what's happening where you live today.
Why you can trust us
---
For 20 years, YES! Magazine has been reporting on how communities are confronting the major crises of our time: climate change, rising inequality, isolation and community breakdown, and the corporatization of politics. We discovered early on that the solutions and new thinking coming out of one creative community could catch on with others—in fact, needed to. And that has been our great purpose. We share solutions stories.
For our upcoming 20th anniversary issue, we'd like to highlight the best community solutions and creative problem-solving going on across the nation.
Not just any solution will do. We want to feature stories of local power and people-centered resilience. We are looking for solutions that come from the ground up, that emanate from the needs of specific places and strengthen communities in the end. We want to tell your stories.
Carbon farming techniques including compost amending are helping California ranchers turn their pastures into carbon sinks. Photo courtesy of Michael Woolsey/Marin Agricultural Land Trust. 
Last year, founder and editor-at-large Sarah van Gelder set out on an 18-state road trip to see for herself what communities were up against and how they were rising to the challenge. She found a revolution of sorts—on the ground, in our neighborhoods, so widespread that people didn't always recognize what they were a part of. Women of North Dakota's Turtle Mountain reservation who, after witnessing the devastation oil extraction wrought on a neighboring reservation, banned fracking in their own community. Worker-owners of a Chicago factory who occupied and then bought the business cooperatively when previous owners tried to shut it down. "The revolution I discovered is decentralized, not flashy, includes everyone, especially those now excluded from wealth and power," she concluded in her upcoming book, The Revolution Where You Live: Stories from a 12,000-mile Journey Through a New America. "Only where we live, in our neighborhoods and cities and towns where we encounter each other and can know each other, can the transformation be deep enough."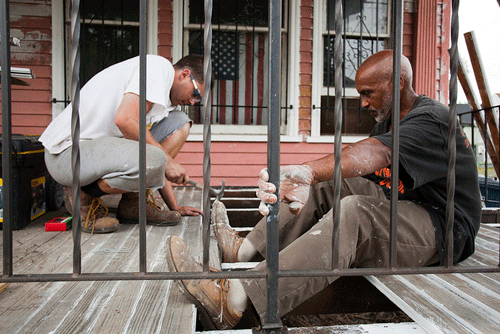 Luis Nieves (right) helps Michael Raleigh (left) secure floorboards in Raleighs front porch in Buffalo New York where a grassroots movement to provide affordable environmentally friendly housing and job training has taken off. Photo by Mark Boyer.
This is what the Winter issue of YES! will be about. We will celebrate 20 years of transformation at the local level—the hard work that ordinary people have done right where they live to create more equitable and life-giving communities. Here's where we need your help.
Tell us about the local economies that are thriving because people started co-ops, land trusts, and affordable housing; about the groups taking on the prison system by welcoming ex-offenders back into communities and jobs, and speaking up about racist policing; about the towns and reservations that blocked Big Water and Big Oil or cleaned up and conserved their land for future generations; about the urban gardens, food forests, and farmers markets that are boosting health in the neighborhoods that need it most; and about the engaged citizens who have pushed their cities to adopt alternative budgeting and publicly financed elections. Great solutions deserve to be shared.
Send your leads to [email protected] by August 8.­
In Hawaii an agricultural incubator program called GoFarm Hawai'i helps farmers share resources and join a community. Photo by Paul Dunn.