My Brush With Terrorism Helped Me Find My Courage
Our bus driver suddenly slammed the brakes, and we flew forward helplessly. We were rushing to catch up with a convoy of trucks, buses, and police escort vehicles that typically sandwiches travelers commuting on the dirt road in Kenya between Lamu and Mpeketoni, on the coast. We jumped out, and the bus driver started talking to the owner of a car broken down in the middle of the road. The driver said the militant group Al-Shabaab had raided the convoy. We ran back in the bus and awaited our fate.
The number of youth struggling with drug addiction is soaring, leaving them prone to joining terror groups.
We had traveled to Lamu County in December 2015 for a week to help the county government select the top three musicians for a talent competition. At the end of the week, we traveled from Lamu Island to Mpeketoni, a town on the mainland part of Lamu County, where the contest took place, and now were on our way back. Prior to our trip most of us in the bus knew about the 2014 Al-Shabaab terror attack in Mpeketoni, which made us nervous by the thought of visiting that town. On Lamu Island the number of youth struggling with drug addiction is soaring, leaving them prone to joining terror groups, or becoming victims of attacks. That's what motivated us to provide an alternative path through education, music, and art.
When I count the number of youth to whom we have given a chance to become filmmakers, dancers, poets, musicians, entrepreneurs, and leaders instead of "terrorists," I see the contrast in my own life. I grew up without such a support system. I experienced violence and lost my brother and many friends who would have survived if we'd had the Education Music and Art program offered by One Vibe Africa, which I started in a Kenyan slum after the post-election violence in 2008.
I think of music and arts as part of every human being's culture, and when someone wants to diminish you, they first take your culture. Without cultural identity, you become prey for terrorist groups. When I was growing up, many friends were recruited into gangs; today I live in Seattle, wake up at 3 a.m. to work on One Vibe, go to my full-time job at a logistics firm, and care for my family. I believe that I am helping preserve my culture and give youth opportunities through EMAP, which has provided a safe space in Kisumu, Kenya, for more than 500 youth to participate in dance, music performance and production, visual art, mentorship workshops, photography, and filmmaking. There, artists share their skills, inspiring youth to pursue their passions, which creates an alternative to drugs and violence.
Every year EMAP teaches children, teenagers, and young adults to express their experiences in creative ways. In 2015, some of our students learned how to play the guitar and sing from the singer-songwriter Shamir, and at the end of their stint at EMAP, they collaborated with Nazizi, the first female rapper in Kenya. The experience allowed them to work directly with a public figure they admire.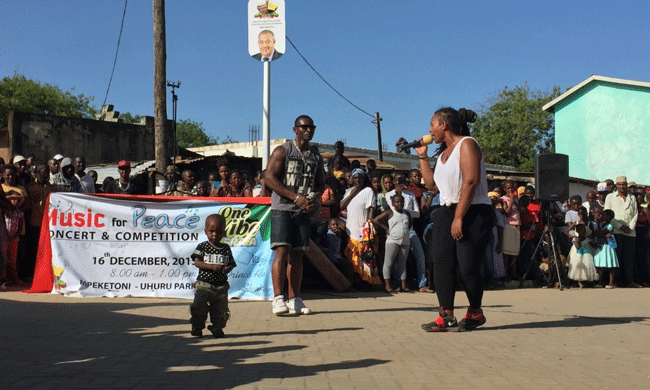 One Vibes Music for Peace Concert & Competition event in Kenya.
In Seattle, One Vibe organizes the annual Madaraka Festival—headlined in 2014 by Macklemore and Ryan Lewis—which typically features talent from the African diaspora and has raised nearly $100,000 for One Vibe's work in Kenya. There, One Vibe has helped facilitate collaboration between more than 40 innovators, filmmakers, and artists from Seattle and their Kenyan counterparts.
Sometimes it seems that the world is responding to violence only with violence, but there are other possibilities.
That day in December 2015, as soon as I got back on the bus, the mood shifted. We went from feeling triumph after organizing the first talent search in Mpeketoni to feeling defeated. I thought I had seen fear and violence, having grown up in a rough neighborhood, and worked in South Sudan and Liberia after the civil wars in both countries, but seeing men and women crying and giving up inside a bus took my fear to an extreme level. I looked outside the window and imagined how the bullets would pierce through my skin and saw how I would die. I found the courage to calm people down in the bus until we returned to Mpeketoni, where we spent a sleepless night. The following day, when I made it back to Kisumu, I was so relieved to know that I lived to tell the story.
Why share my story now? Sometimes it seems that the world is responding to violence only with violence, but there are other possibilities. When we understand how youth get caught up in a culture of violence, and then help them find a path other than the path of a perpetrator, we can improve their lives, and the lives of others. I'm sharing my story to demonstrate that the toughest times in our lives could actually deepen our belief in our purpose. In the middle of all the chaos, I remembered that I was there because of One Vibe. And that gave me the courage to overcome trauma.