Millions of Women Know Sexual Trauma—Thanks to Trump, They're a Voting Bloc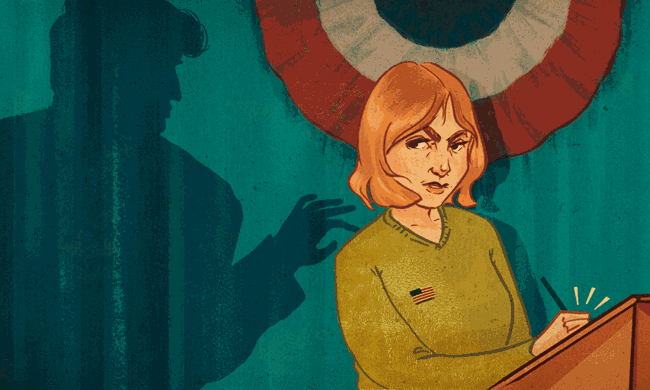 I'd managed to make it almost eight years without thinking about the night I woke up to find a close male friend on top of me. We'd been drinking. I was just tipsy enough that I couldn't drive home. He'd offered to let me stay on his couch. I pushed him off, grabbed my keys, and cried for a few hours. Then I banished the memory as far back in my mind as I could. I've told only two people about this moment in my life—if my husband is reading this, it's the first he's heard of it.
The banishing strategy worked. Or, it did until the tapes of Donald Trump bragging about sexual assault hit the media fan, blowing stories about unwanted contact into every corner of the internet. Suddenly I was 25 and on that brown leather sofa again, trapped.
The day after that story broke, I clicked "volunteer" on Hillary Clinton's campaign website. I'm a journalist, and although I mostly write fluffy food, fitness, and lifestyle pieces, I am supposed to be impartial. But armchair quarterbacking as a sexual predator took office wasn't going to work for me. Coach, put me in the game, I said to the Clinton campaign volunteer coordinator.
I'm not the only one.
In the march up to election day, pollsters and campaign officials will be watching the traditional voting blocs, based on the usual demographic info: age, ethnicity, race, and gender—as well as income and education levels. But maybe we should add one more group to the list: survivors of sexual trauma, including those who've brushed up once too often against rape culture. Though no one is organizing or outright courting the trauma vote, it may end up being a surprise force on November 8.
"It's been incredibly powerful. It's like this was, all of the sudden, the last straw," says Terry O'Neill, president of the National Organization for Women, a 501 (c) 4 that engages in lobbying on behalf of women's equality. These past few weeks, she's spoken to packed auditoriums and met with hundreds of fired-up advocates. More often than not, someone pulls her aside and tells their story of being groped, touched, or grabbed by the pussy. Sometimes it's multiple someones.
Trump's candidacy hasn't just brought out a baskets of deplorables. He's also energized a bushel of impassioned survivors.
Experience counts
To say something strange is happening this election cycle would be the understatement of our time. And one of the oddities that political scientists are particularly interested in is how tight the race is—even though today's depressed employment and stagnant wages would typically hurt the incumbent candidate's party.
Though no one is organizing or outright courting the trauma vote, it may end up being a surprise force on November 8.
"This ought to be a very close election or a Trump victory, so something is going on here," says John J. Pitney, Jr., a professor of political science at Claremont McKenna College. In his opinion, that something is that voters are giving special weight to their own life experiences in this election.
Pitney is the author of The Politics of Autism: Navigating the Contested Spectrum, which is partly about how having a child with autism can change a voter's preferences. So life experiences matter, and Pitney himself serves as a case study. Pitney began examining the politics of autism after his son was diagnosed as being on the autism spectrum. He identifies as a Republican but says that a candidate with a terrific record on disability advocacy could get his vote—even if they were a Democrat. So when Trump mocked a disabled New York Times reporter, it was galvanizing to the disability community, he says. Suddenly, not having a president who was cruel to the disabled mattered more than how they felt about big government or Obamacare.
And experience can be a strong mobilizer. Some of America's most motivated lobby groups are coalitions based on experiences. Every Town Against Gun Violence relies on survivors and family members of those killed by gun violence to write op-eds, lobby politicians, and share their stories to affect change.
From silence to the voting booth
The thing about sexual assault is that, although it's incredibly common, it is also incredibly isolating. Fear of victim blaming or not being believed keeps many of us from speaking out. Furthermore, few choose to define themselves as survivors. I am so much more than the victim of a gross man with a skewed sense of entitlement. Unfortunately, this makes organizing difficult.
But Trump as a candidate could change that. His abuse of power is on full display in the "Hollywood Access" recordings. His remarks are about disregard for consent. They're about objectifying women. But most of all they are about using power as a launching pad for committing (and getting away with) abuse.
For those who have laid powerless beneath an abuser, it is too much to bear.
"This would resonate deeply with anyone who has had some history of abuse," says Lisa Cataldo, who has a psychotherapy practice and teaches counseling for religious leaders at Fordham University's divinity school.
And the election gives women a chance to act. In sexual assault, "often the victim doesn't feel like they have a choice," explains Cataldo. In the voting booth, however, we do have a choice, and many sexual assault survivors are exercising it.
There are a lot of us, too. According to RAINN, the nation's largest anti-sexual violence organization, one in six women has been the victim of rape or attempted rape. A 2014 survey commissioned by Stop Street Harassment found that 65 percent of women have experienced street harassment, with a quarter of women being touched against their wishes.
Anecdotally, most women will tell you the real numbers are higher. When blogger Kelly Oxford asked women to tweet their sexual assault stories, she was soon receiving 50 tweets a minute, The New York Times reported. If every woman I know has at least one story of being followed, threatened, grabbed, or patted, then chances are every woman you know does, too.
The trauma vote
There are a lot of us, enough to make a difference.
According to data from the U.S. Census Bureau, there are more than 117 million voting-age women in America. If all of the women who have suffered through rape or attempted rape voted together, that would be more than 19 million votes against Trump. If all 65 percent of harassment sufferers stuck together, we'd form a voting block 76 million strong. And don't leave out men. They are also the victims of sexual violence.
Of course, not all sexual assault survivors are voting for Hillary Clinton. After all, her family is hardly free from sexual baggage, and her reported disregard for women who presented allegations against her husband is cringe-inducing. So some are opting for third-party candidates.
And there are those who are standing by Trump. "Trump is not a perfect choice, but he is a better choice that Hillary Clinton and the continuation of the War Party," wrote Kathy H. in an email to me. "A vote for him, is, as Michael Moore notes, a nice 'F.U.' to the Establishment, to the Bushes, the Clintons, the Paul Wolfowitz' and Bill Kristol's of the world (sic)." Kathy was the victim of sexual assault while living in New York City but says that Trump's "grab them by the pussy" comments don't affect her the way Clinton's record does.
Meanwhile, those who are sticking together are finding some comfort in their numbers on the internet. Although it's known as an unsafe space for women, social media has been an integral tool for rallying the trauma vote.
"It was this moment of commonality. For the first time, Twitter felt like a place of solidarity for women," says O'Neill, regarding Kelly Oxford's #NotOkay hashtag. Private Facebook groups where people can discuss supporting Clinton without the threat of misogynistic trolling have popped up and swelled to behemoth numbers.
The benefits of coming together as a voting bloc may even extend beyond election day. "One of the things that's healing to victims of sexual assault is to gain a sense of agency, that you can do something about this," says Cataldo. "If women feel that their vote can make a stand against this behavior, then that is a healing act."
I have to agree. I voted last week, pushing the button next to Hillary Clinton's name three times, just to make sure it took. Walking out of my rural Tennessee precinct into a perfect fall afternoon, my whole body felt lighter. I had done something. I had taken action.
In that booth, I'd declared that I wasn't just with her—I was also not with him. And I was with all of us who are decent human beings.