7 Ways to Make an Even Bigger Impact When You Divest From DAPL
The water protectors at Standing Rock are facing militarized police and freezing temperatures to stop the Dakota Access pipeline. One way to support them is to close your accounts with the financial institutions that directly fund the pipeline or its parent companies, Energy Transfer and Sunoco Logistics.
But chances are good that you've never closed a bank account before to make a political statement. Does it really work? And if it does, what steps can you take to maximize the efficacy of this action?
The answer to the first question appears to be yes. The financing of DAPL is precarious in part due to low oil prices, so these lenders are particularly vulnerable to sustained pressure. Earlier this month, the largest bank in Norway sold its assets in DAPL due to public pressure to divest. Greenpeace considered this a major win in the growing movement to divest from DAPL.
"When there are enough of us, divestment works," says Nancy Santiago Negrón, chief external affairs officer for Opportunity Finance Network, a group that represents financial institutions that invest in low-income communities. "If we organize and mobilize, people have the power to do this—and they do. That's huge."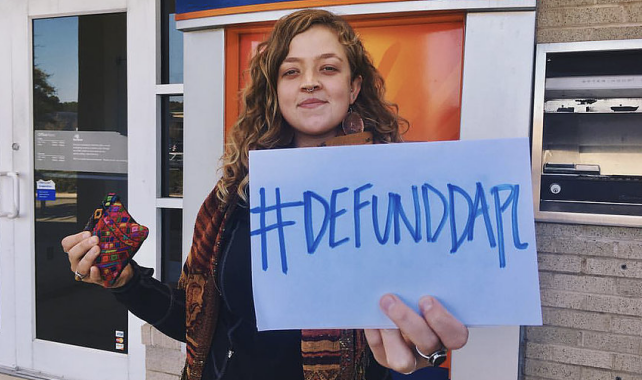 Abigail Porter 23 from Asheville North Carolina. Photo courtesy of DeFundDAPL.
Here are seven ways to maximize the impact of closing your account.
1. Find out who exactly your bank is funding
The Dakota Access pipeline is funded directly by 17 financial institutions, illustrated by this graphic created by the nonprofit Food & Water Watch. If your bank is among them, write down which part of the project your bank is funding so that anything you write or say next is accurate. Then, go ahead and take the next steps.
2. Write a letter to your bank explaining why you're closing your account
You'll want to be formal and polite, but write in your own voice, too. If you'd like some guidance on writing your letter, visit the website of DeFundDAPL and download their template.
3. Go to your bank and close your account
Bring the nonviolent ethos of the Standing Rock water protectors to the bank. Don't get mad at the employees, as they aren't responsible for their employer's investment policies. Take time to educate them if they're receptive to it. Ask to speak to the bank manager and give that person your letter stating your reasons for closing your account.
4. Take a picture of yourself outside the bank and share it on social media
Nothing makes taking action seem more doable than seeing a friend do it. So, after you close your account, take a picture or video of yourself outside the bank with a sign saying #DeFundDAPL (with your wallet in hand too, if you'd like). Post the photo on your social media accounts. Tag your bank in the post and include the hashtag #DeFundDAPL so others in the initiative can find you.
Additional hashtags you may want to use: #NoDAPL, #BankExit, #DivestfromDAPL, #Divest, #StandwithStandingRock, #StandingRock, and #WaterIsLife.
5. Put your money in a better place
YES! recently wrote a piece on how to find a different bank after divesting. That could be a larger bank that supports renewable energy, a credit union, or a community development bank.
6. Help the movement measure its success
If the divestiture movement can accurately say it's moved millions, that's powerful. If you'd like to help make that possible, input the total amount you withdrew from your account into the withdrawal tracker at DeFundDAPL.org.
7. Contact the banks funding the Dakota Access pipeline
Closing your account makes a statement, but so does a phone call or an email. Our recent article lists the contact information for the CEOs of all the banks funding the pipeline, along with tips on what to say to a bank executive.
December is the Global #NoDAPL Month of Action, in which participants stand with Standing Rock by taking action every day throughout the month. You could commit yourself to calling all 17 banks in the month of December or organize a calling party with your friends.