What's Up, Pussy Hat? Knitting Activists Cause Shortages of Pink Yarn
Phone conversations with my mother, a devoted knitter, are usually routine: the family cat, her impending retirement, and what's up at her local yarn shop. But this week, crisis: "They're completely sold out of pink yarn," she said in disbelief.
Sure enough, it's happening in other places, too. In the weeks leading up to Inauguration Day and the Women's March on Washington to follow, it's a harbinger of a vast, furious knitting revolution sweeping craft baskets across the country.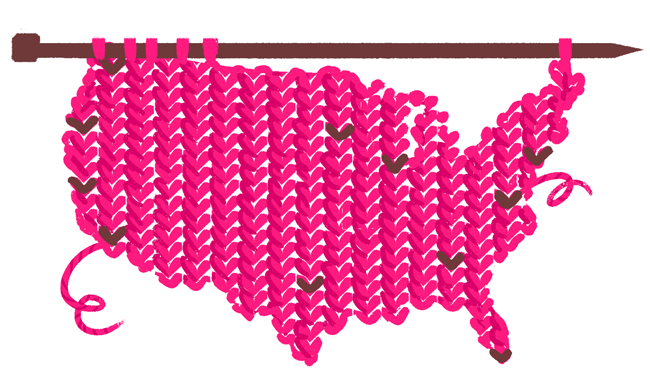 The Pussyhat Project, started by Los Angeles-based Krista Suh and Jayna Zweiman a few weeks after the November election, has taken yarn shops and knitter activists by storm. Knitters are creating simple cat-eared hats from pink yarn for themselves and for the hundreds of thousands of women, men, and general supporters of women's rights expected to show up in Washington, D.C. The Pussyhat Project is a way for people who can't be at the National Mall to participate in making a collective visual statement. Marchers can request hats via the project's website.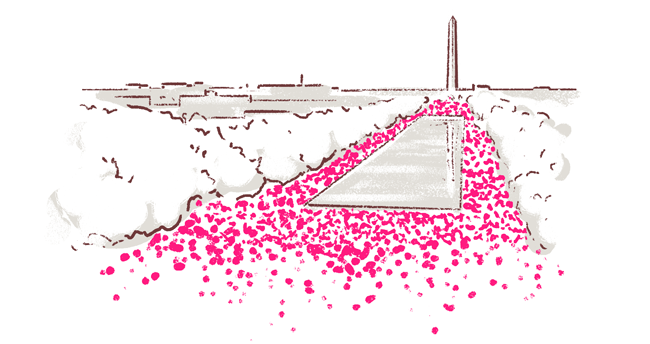 The desired effect is a rogue wave of pink-capped protesters that's impossible for Trump and his supporters to miss. The project's name reclaims the term Trump used to brag about sexual assault. Its medium also carries subversive power—knitting, traditionally considered a woman's craft, is repurposed here as a declaration of women's rights. These pussyhats grab back.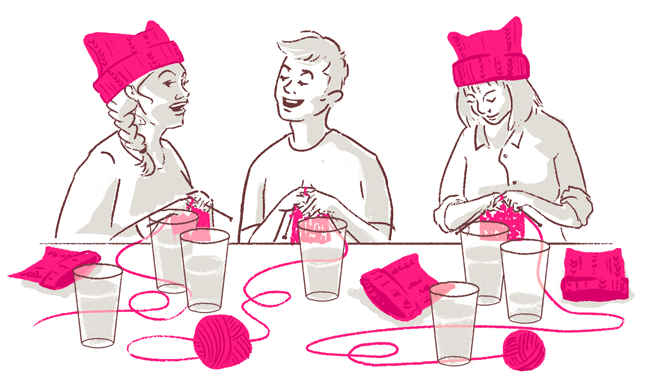 "It's like pussy hat central over here," said Anna Curtiss, one half of the team behind the Seattle-based Backstage Knitting Podcast, as she worked on her third hat. "My husband was like, There's a lot of pink yarn in the house, and I'm like, That's because you have a resident feminist, my darling." Over the weekend, the podcasters held a hat-making party in a Seattle bar, one of numerous knitting meetups occurring across the country before the march.
There's still time. Knit, crochet, sew, or weave your own hat from a pattern on the Pussyhat Project website.
This article originally referred to the Women's March on Washington by its previous name, the Million Women March. It has been updated to reflect this change.