What Would a Modern-Day Rosie the Riveter Look Like?
Rosie the Riveter. You know her well—or do you? She has represented female empowerment since World War II, when her defiant, bicep-flexing, red-bandana-wearing image was plastered across American newspapers and factory walls to cajole more women into the war effort.
But her history is more complicated than that. Once the war ended, real-life factory workers like Rosie were laid off and discouraged from re-entering the workforce. Like women's economic opportunities after the war, the "We Can Do It!" icon disappeared from public view for decades. But second-wave feminists in the 1960s and '70s revived her, embracing the retro symbol as they pushed for greater rights in women's health, safety, and work. Rosie has been with us ever since.
What's she up against today? After decades of economic and political advancement for women, an aggressive backlash threatens to turn back the clock: Planned Parenthood, which provides affordable reproductive health care to millions, risks being defunded by Republican lawmakers while conservative state legislatures and court rulings across the country have eroded the constitutional guarantees of abortion choice that Roe v. Wade won. Republicans also want to roll back federal family leave and overtime rules and wage protections—issues that disproportionately impact single mothers and particularly women of color.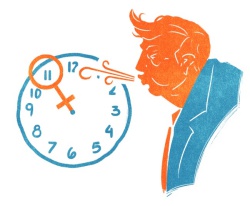 For the past few years, YES! has watched reinterpretations of Rosie pop up all over, from Beyoncé to Standing Rock water protectors to women scientists. But the Women's March amplified the symbol and the changing face of feminism. The feminist movement has long served the goals of cis, straight, white women and their experiences, but it has fallen short by too often forgetting the voices of women of color and LGBTQ people, not to mention their contributions. The Women's March celebrated the progress made toward a more intersectional feminism—but also exposed the tensions that persist and the work ahead.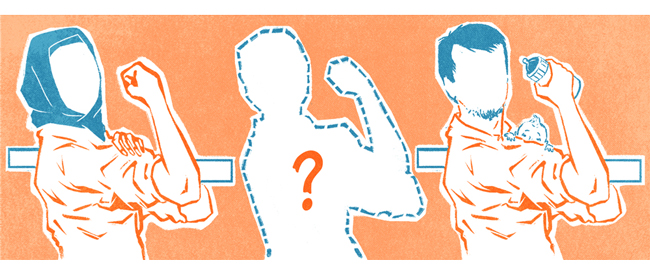 For Women's History Month, YES! wants to know: How do you reimagine Rosie for the 21st century? Tell us in the comment section below, on Facebook, or on Instagram. We'll pick our favorite three ideas to illustrate (each winner will receive an appreciative nod and a print and a digital copy of their illustrated idea). Is Rosie a queer Muslim researcher wearing a hijab? Is she a stay-at-home dad, flexing his arms not to boast but to hoist his toddler and her infant brother? How can we better represent feminism today?
Submit your ideas by March 14.