The Race to Stop Tar Sands Pipeline Financing
On Monday, a coalition of Indigenous leaders and other climate activists took over 12 JP Morgan Chase branches in Seattle for a day of protest against the financing of tar sands projects, including the newly revived Keystone XL pipeline. All 12 branches were shut down for at least part of the day, as was as a 13th branch that activists found already locked down when they arrived. Twenty-six activists were arrested.
Over the past year, tribes and cities, as well as individuals, have divested billions of dollars from banks funding the Dakota Access pipeline. Monday's direct action was part of a new defund campaign that builds on that one but specifically targets the financing of tar sands pipelines. The campaign is coordinated by indigenous groups including Mazaska Talks and the 121 tribes and First Nations that have signed the Treaty Alliance Against Tar Sands Expansion, as well as by the environmental group 350 Seattle.
This new campaign targets the dozens of banks that are directly financing at least one of four proposed tar sands pipelines: TransCanada's Keystone XL, Kinder Morgan's Trans Mountain, Enbridge's Line 3, and TransCanada's Energy East. Seventeen of those banks are listed as "primary targets" at MazaskaTalks.org because they fund all four tar sands pipelines as well as the Dakota Access pipeline, or they're leading multibank loans to the pipelines.
Tar sands are a difficult-to-extract form of oil found in large deposits in central Alberta, Canada. The Union of Concerned Scientists estimates that a gallon of gasoline made from tar sands creates about 15 percent more carbon emissions than a gallon produced with conventional oil. And a new study by the Canadian government suggests the real rate of emissions may be nearly five times larger than previously thought.
The Indigenous-led part of Monday's direct action, which took place at the Seattle Chase branch at the corner of Second Avenue and Union Street, was solemn yet spirited. Bank tellers left as soon as activists arrived, leaving Indigenous leaders such as Raymond Kingfisher, Rachel Heaton, and Paul Cheokten Wagner to take turns leading songs, prayers, and speeches. Those gathered passed around a bundle of fragrantly smoking sage in an abalone shell as they listened.
This new campaign targets the dozens of banks that are directly financing at least one of four proposed tar sands pipelines.
"The human family has come together today to make sure that we have a future," Wagner told the roughly 50 people gathered inside, speaking through a battery-powered PA system. "We are here to make sure that Chase Bank is not going to create harm for our future generations. We are not going to allow that to happen."
The prominence of Indigenous voices and prayer were reminiscent of the mobilization on the Standing Rock Sioux treaty land last year, where Native people—including many of those present in the Chase branch on Monday—camped for months to oppose Energy Transfer Partners' Dakota Access pipeline. The action's focus on a lender recalled their effort to defund DAPL, which targeted nearly 40 banks and put special pressure on Wells Fargo.
But this new campaign differs from that one in at least one important way, according to Alec Connon, an organizer with 350 Seattle. The loans haven't been made yet.
"When the divestment movement around DAPL kicked into gear, all of the loans were already in place … and people calling for divestment were calling for banks to rescind those loans," Connon said. "Here we're saying 'Don't give the loans in the first place.'"
This early start is what gives Connon hope that the campaign will be able to stop construction of the projects—something that the campaign against the Dakota Access pipeline did not achieve.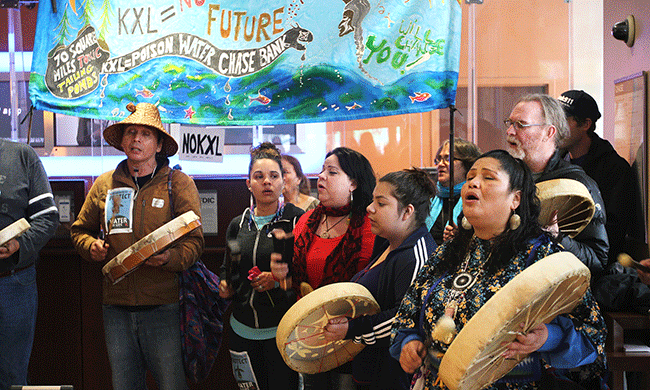 This new campaign differs from the least one important way. The loans haven't been made yet.
Photo by Lori Panico.
"If you stop the flow of dollars, you stop the flow of oil," Connon said. "We hope that our message will be clear enough and powerful enough that we can help dissuade [the banks] from thinking that investing in these toxic projects is good for their business."
While MazaskaTalks.org lists 17 "primary targets," most of those are not based in the United States. JP Morgan Chase is one of just a handful of U.S.-based banks that have extended lines of credit to all three of the companies behind the tar sands pipelines, along with Wells Fargo, Bank of America, and Citibank.
Emily Johnston, the communications manager with 350 Seattle, points out that fossil fuel holdings make up just a small percentage of a large bank's holdings. For example, only 1.6 percent of JP Morgan Chase's total loans go to the oil and gas sector, according to CNBC.
"If that small portion of their portfolio causes them an inordinate amount of grief and public shaming, we hope they'll think twice about it," Johnston says. "And that will make these projects much harder to complete. That's one of the ways we can legitimately think about stopping them."
Here is a list of banks funding at least one of the tar sands pipelines, according to Mazaska Talks. The 17 banks in bold are the "primary targets" that either provide funding to Dakota Access and all four proposed tar sands pipelines or are the leaders of big multi-bank loans.
ABN Amro Capital
Alberta Treasury Branches
Banca IMI
Banco Bilbao Vizcaya Argentina
Bank Hapoalim B.M
Bank of America/Merrill Lynch
Bank of China
Bank of Hawaii
Bank of Montreal
Bank of Nova Scotia/Scotiabank
Bank of Taiwan
Bank of Tokyo Mitsubishi UFJ
Barclays
Bayerische Landesbank
BBVA Compass
Branch Banking & Trust Company
BNP Paribas
Caisse centrale Desjardins
Canadian Imperial Bank
Citibank
Citizens Bank
China Construction Bank Corp
China Merchants Bank Co Ltd
Comerica Bank
Community Trust
Credit Agricole
Credit Suisse
Deutsche Bank
DNB Capital/ASA
E.SUN Commercial Bank
Export Development Canada
Fifth Third Bank (Ohio)
First Commercial Bank Canada
Goldman Sachs
HSBC Bank
Hua Nan Commercial Bank
Huntington National Bank
Industrial and Commercial Bank of China
ING Bank
Intesa Sanpaolo
JP Morgan Chase
Loop Capital Markets
Mega International Commercial
Mizuho Bank
Morgan Stanley
National Bank of Canada
Natixis
PNC Bank
Regions Bank
Royal Bank of Canada
Royal Bank of Scotland
Societe Generale
State Bank of India
Sumitomo Mitsui Bank
SunTrust
Taiwan Coorperative Bank
Toronto Dominion (TD)
UBS
United Overseas Bank Limited (Canada)
US Bank
Wells Fargo