The Women Ministers of Kentucky Preaching Abortion Rights
Access to reproductive health care in Kentucky has reached a critical moment. All but one abortion clinic has been shut down, and a lawsuit going to trial September 6 could make Kentucky the first state without a legal abortion provider. In general, women's health care in the state is poor. Over half of Kentucky's 120 counties don't have obstetrics and gynecology services, and infant mortality rates are higher than average.
This is Part 2 of a series on the people working to improve access to reproductive health care there. Read Part 1 and Part 3.
---
In the spring of 2014, the Rev. Millie Horning Peters and her clergy friend were eating lunch in Louisville, Kentucky, when their discussion turned to reproductive rights. As people of faith who were also pro-abortion rights, they were concerned by the absence of a religious voice in discussions about women's health care. Instead, they observed, anti-choice arguments of the outspoken religious right dominated the public debate on reproduction.
So Peters set out to dispel the narrative that all religious people oppose abortion.
Religious beliefs run deep in Kentucky, where nearly 80 percent of adults are Christian.
Religious beliefs run deep in Kentucky, where nearly 80 percent of adults are Christian, according to Pew Research Center's Religious Landscape Study. The line between religion and politics is sometimes indistinguishable in the state, as demonstrated by the 2015 election of Gov. Matt Bevin—a millionaire and evangelical Christian who ran on an anti-abortion platform. Since gaining office, he has waged a crusade against abortion providers by signing anti-abortion legislation into law and closing all but one abortion clinic in the name of religion.
"We must continue to fight this scourge that is the taking of innocent life," Gov. Bevin said after signing anti-abortion legislation in February, according to a news release. "We have a chance to lead this nation from a moral and spiritual perspective that is desperately needed."
Rhetoric like this is antithetical to Christian compassion, Peters told me over sweet tea on a muggy June afternoon in her Louisville home. During an increasingly critical time for the state's access to reproductive health services, Peters represents an unlikely group of leaders who are putting religion at the forefront of the battle for reproductive justice.
---
In late June, Peters greeted me at the door of her one-story ranch in Louisville, Kentucky. She had a slight build, cropped white hair, and jovial eyes framed by round glasses.
At the time that Peters got involved in the fight for reproductive rights, she was inactive in pastoral work and searching for her next calling. She said reproductive justice spoke to her like a moving scripture passage.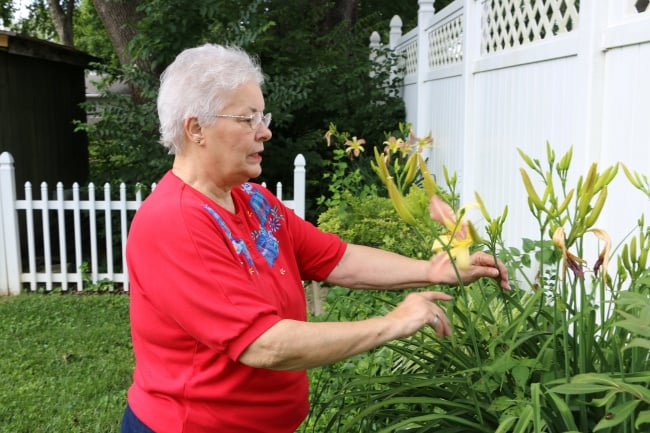 Peters quickly immersed herself in the local reproductive rights movement. Soon, she learned about Concerned Clergy for Choice, a national network of 1,000 multifaith clergy members that advocate for reproductive health care education and services. And in August 2014, she helped establish a local chapter. Since forming, the Kentucky chapter of CCC has co-organized events that support access to reproductive health care and comprehensive sex education, and mobilize religious people against anti-abortion legislation.
Shortly after launching CCC Kentucky, Peters became the co-chair of the Kentucky chapter of the Religious Coalition for Reproductive Choice (RCRC), an interfaith group that seeks to bring faith-based views into the reproductive justice movement. There, she serves as a clergy representative on the board, speaks at pro-abortion rights rallies, holds a booth at the state fair, and testifies in favor of pro-abortion rights legislation. She has also helped initiate petitions that seek to end misleading advertising about crisis pregnancy centers that discourage women from having abortions.
---
Peters is part of a long tradition of religious progressives who have sought to advance social justice.
The RCRC national organization grew out of a covert group of faith leaders called the Clergy Consultation Service who referred women to trusted abortion-providers and also negotiated lower costs with doctors. The network began in 1967 to prevent thousands of women from dying because of unsafe abortions before Roe v. Wade, the 1973 landmark decision that legalized abortion.
"I received a lot of flack about serving as a woman minister."
Peters traces her passion for equal rights back to her childhood in rural Western Kentucky, where her parents owned a grocery store. She remembers packing up boxes of groceries for neighboring families whose houses often burnt down because of the temperamental chimney flues and coal stoves.
"The word compassion," she said in a soft Southern lilt, "speaks of who I am and of my beliefs."
Raised Southern Baptist, Peters volunteered with the church throughout her life before being ordained. After graduating from Louisville's Southern Baptist Theological Seminary at 45 years old, she was appointed to serve for the United Methodist Church in Illinois.
Many of the small rural towns where she preached had never seen a female minister. Although Peters found the work challenging and rewarding, she believes it took a toll on her health.
"I was a woman pioneer, and that was really stressful in those days. I received a lot of flack about serving as a woman minister," she said. After battling with fibromyalgia and recovering from several mini-strokes, she moved back to Louisville, Kentucky, to be closer to her three children and nine grandchildren.
"It's time for the religious left to rise up."
Peters said her belief in women's rights was emboldened after being patronized by congregations for being a female pastor.
I asked her how she reconciled her faith in God with her belief in a woman's right to have an abortion. Peters took a deep breath and paused as if she was preparing for a sermon. "When we face a situation, we have to do what is best for us in the moment," she said. "Life is complicated, but it is just my firm belief that God has given us a mind and given me a heart of compassion that reaches out to people. To be pro-choice is just a given."
She pointed to a framed painting above the fireplace of an artist's depiction of Sophia, the female personification of the wisdom of God in Hebrew scripture. For Peters, it shows that Hebrew scripture upholds women's ability to make their own decisions.
"It's time for the religious left to rise up," Peters said. "We are stronger when we move together as a network."
The next morning we met at the Unitarian Universalist Church in Louisville, Kentucky, where Peters attends services because of the congregation's social justice focus.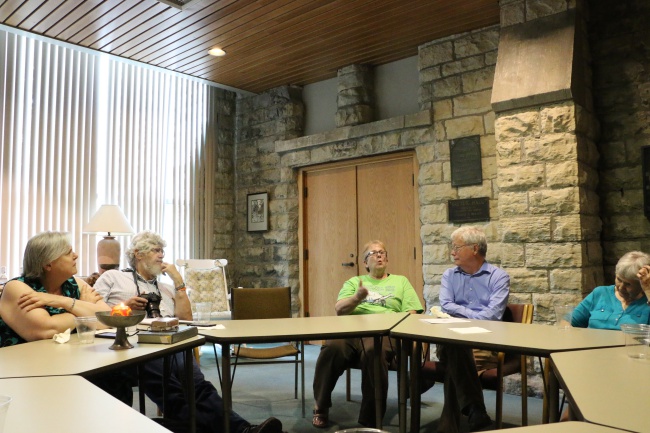 After the service, we gathered for a barbecue lunch to discuss reproductive rights with about 12 congregation members ranging from their 50s to 70s. Congregants at this church are particularly involved in reproductive justice, with some members driving women to the state's sole abortion clinic or escorting them from the parking lot to the clinic's doors.
The women talked about how a need for healthy families and communities undergirded their pro-abortion rights beliefs. "Women of means are always going to be able to get an abortion," Barbara Justice said at lunch. She added that lack of access to transportation create barriers that make it more difficult for women in poverty to access the reproductive health care they need. A report released last year supports this, showing that low-income and women of color are disproportionately impacted by lack of access to abortions.
Later that afternoon, Peters and I attended a Kentucky RCRC meeting at the Louisville Presbyterian Theological Seminary. Photos of female clergy preaching at the pulpit lined the wall behind where the nine board members sat.
Board members were Jewish, Christian, and agnostic. One was even a former Catholic nun turned Wiccan priestess. Despite their divergent beliefs, they all shared the conviction that religious people should have a presence in the reproductive justice movement.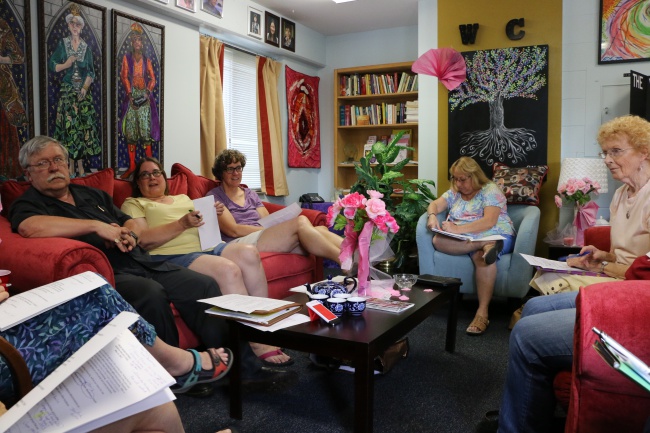 "Jesus was about compassion and social justice and focused very much on looking out for the marginalized and the downtrodden," board member Jean Abshire told me. "As a Christian, I am appalled … at how the religious right has effectively hijacked the good name," she added as others nodded in agreement.
The rest of the state and country may be unaware of the religious representation in the reproductive rights movement, but Abshire felt confident that they were helping to change people's minds through one-on-one interactions.
For the remainder of the meeting, Peters discussed fall events organized by CCC Kentucky. They plan on meeting with Democratic state Sen. Morgan McGarvey to talk about the legislative landscape and the Rev. Dr. Deborah Mumford, a professor at Presbyterian seminary, to formulate an outreach strategy to emphasize the pro-abortion rights religious voice in the public sphere.
"We're seriously looking at the moral agency of women and what we can do—whether it's a letter, a petition, [or] a bill," Peters said. "We've got the power as individuals who are out for justice. We might as well get started with it."
This article was funded in part by the Surdna Foundation and the One Foundation.