For a Tribe With a Tradition of Sharing, Food Sovereignty Is Complicated Economics
Vivienne Tateyuskanskan clutched the steering wheel of a pickup truck as it bounced along a grassy field on the Lake Traverse Reservation in the far east north corner of South Dakota. She parked and quietly moved toward a group of white wood boxes.
A lifelong Sisseton Wahpeton Oyate Tribal member, she stood silently, listening.
Hundreds of honeybees buzzed as they climbed in and out of a crack in one box, steadily building the comb that will be scraped later this summer for a small honey harvest. Only a handful of boxes are there now, but the tribe has a larger vision: to mass produce the product as a revenue source and take a step toward creating food sovereignty for the tribe.
The tribe runs a small honeybee operation as part of its indigenous food program. Photo by Kayla Gahagan.
In addition to the bees, a number of other tribal-run projects are off the ground, including a community garden, a farmers market, an orchard, two buffalo herds, and the sale of chickens and pheasants. In all of these, the prevailing hope is that someday, the Sisseton Wahpeton Oyate will be a tribe that is knowledgeable, confident, and successful in growing their own food.
"We face what many reservations face," said Ella Robertson, including high suicide rates, alcohol abuse, poverty, unemployment, and health issues such as diabetes.
Robertson is a tribal member and director of the tribe's planning department and is spearheading the food sovereignty efforts with the hope they will help the tribe address some of these issues.
But the path toward food sovereignty has been an uphill battle, she admits. To be successful, the nascent local food movement she and others have begun will need to honor traditional cultural practices—like food sharing—while also building a cash economy that would provide tribal members with the resources to support themselves, their families, and the community.
---
According to the First Nations Development Institute, federal policies leading to land displacement, resource degradation, and extraction have decreased access to traditional foods and contributed to a loss of food-related culture and an increase in food insecurity and diet-related health issues. Today, almost all reservations in the United States are in what the U.S. Department of Agriculture labels food deserts—where access to fresh and healthy foods is difficult.
That's one reason why these food initiatives are important, Robertson said.
"We need to be looking down the road and not just … putting out fires. Our people need to be able to help themselves. You're not sovereign if you're relying on someone else."
Food sovereignty is also about providing initiatives that give tribal members access to healthier food.
Lorne Aadland agreed. Aadland is a natural resources conservation services technician and tribal liaison who helped pitch and navigate many of the gardening and permaculture ideas that have been borne on the reservation during the past decade.
"The primary goal [of these initiatives] is food sovereignty, where the tribe and members can either raise their own food or at the very least have those foods that can be grown or raised here on the reservation," he said.
This ensures that food dollars can be kept in the community.
Robertson said food sovereignty is also about providing initiatives that give tribal members access to healthier food. But getting these food projects off the ground has been an uphill battle, she admitted.
One of the greatest hurdles? A deeply imbedded cultural tradition that people share what they have—rather than sell it.
One of the initiatives is a farmers market, where local tribal members could sell their produce.
Lana Recountre an intern with the tribes Fish and Wildlife program helps take care of plants growing at the tribes headquarters. Tribal members can stop by and pick up plants for free. Photo by Kayla Gahagan.
Though selling produce in a grocery store or farmer's market would provide important income for some struggling tribal members—the reservation now includes 17 low-income housing communities—Fish and Wildlife manager Charlene Miller, a tribal member, fears it might be a barrier too great to overcome.
"Our tradition is to share," she said. "If I have extra, I give it away. That's the hard part. We've got these exciting opportunities in front of us, but [tribal members] would rather drop off their extra produce at the food pantry or food shelter."
A-dae Romero-Briones is the associate director of research and policy at First Nations Development Institute, where she specializes in Native agriculture. FNDI provides direct financial assistance to support community-based models working toward local food-system control in Native communities.
Romero-Briones said the issue of having people sell their goods is complicated.
"Most of these folks are coming from the indigenous economic perspective … of being responsible for not only themselves, but for their community," she said. "I think … they don't want to make their goods inaccessible."
"In mainstream economics, the primary concern is: 'How do I maximize my profit for what I have?' which leads to the second question, 'How do I charge the highest prices for what I have?'"
Indigenous food systems provide security for community members and tie them to each other, the land, and their history.
"Hence, the resistance," she added.
On the other hand, she said, indigenous food systems provide security for community members and tie them to each other, the land, and their history.
"It's a reminder that we have a place in the world, and conversely, our environment has a place in our communities," she said. "When we talk about Indigenous food systems, we are specifically talking about an intimate relationship with an entire community of people to a specific place. The process of creating a system has taken place over thousands of years, requires constant conversation between a people and their environment, and the transmission of generations of knowledge from grandparent to grandchild."
Robertson said the community needs to find balance in finding ways to honor traditional cultural practices—like food sharing—while providing tribal members with the tools to provide for themselves, their families, and the community.
"It could be giving a portion of your produce to family and friends and keeping a portion to sell," she said. "It is all an individual struggle, and each idea of balance will be different. Some may not ever want to sell."
Robertson is encouraged by people like Aadland.
"A majority of tribal nations have never abandoned their roots."
"Produce doesn't take a big investment," said Aadland, who has lived on the reservation for 53 years. "Everybody figures the casino is the big moneymaker, but this is way bigger. We should be doing everything we can to get tribal members healthy. You're going to buy food somewhere. Why not buy locally, fresh grown food and make a little money?"
He hopes that the reservation's newest grocery store, expected to open later this summer, will help tribal members see the value in not only buying local produce, but selling it themselves. The store was designed with a drop-off location for local producers, and a large space to clean and package local food.
Robertson said her family will sell to the grocery store.
"I think that by being that role model and setting an example of how you can give some away to help others as well as sell may help," she said. "We have to be sure that people are aware, and they can form their own opinions, but we hope that it influences them in a positive way. They will see that this income is needed to keep your garden going and provide a little bit of income for everyone that helped."
Romero-Briones said the tribe is not alone in re-evaluating their food system.
"A majority of tribal nations have never abandoned their roots, have maintained their food systems even in the face of widespread intrusion by outside forces like federal policy, land and language loss, and have intimate relationships with their food," she said.
Tribal Council member Alvah Quinn said he supports the food initiatives. He grew up in a household that taught him how to live off the land.
"We lived in the country and my mom would can chokecherries and wild plums," he said. "We had vegetables and chickens, and she made her own bread. We wouldn't have to go to town for a month."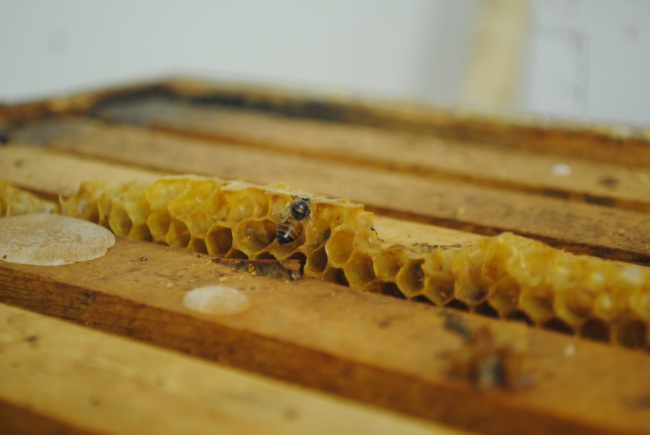 The honeybees on the Lake Traverse Reservation in South Dakota part of the tribe's indigenous food program. Photo by Kayla Gahagan.
"When Tribal Nations consciously examine their food systems, it's often a celebration of what has always been there all along, followed by the question: 'How do we strengthen what we have always had in the face of the current political and social climate?'" Romero-Briones said.
Several reservations have successful models that balance out individual income and community sustenance, including Kokua Kalihi valley in Honolulu, Hawaii, where farmers contribute to the community and have individual, viable incomes. The same is true for some Navajo tribes, whose farmers have perfected systems that distribute crops within the community while allowing enough for farmers to use other portions for income.
"It's not finding a way around the barrier. Rather it is helping articulate to the world a new economic model that is more sustainable," Romero-Briones said.
---
According to Robertson, the Sisseton community traditionally farmed and gathered their food while the people of Wahpeton hunted and fished on their ancestral lands.
Today, the Lake Traverse Reservation is a patchwork of dozens of ponds and swaths of fields. The rows of brown soil, plowed and planted by farmers, stretch out for miles like a long, pleated skirt. More than 20,000 acres on the reservation are classified as cropland.
It's what inspired a community garden, planted last year with tomatoes, onions, and peppers. The yield was proof that it can be duplicated across the reservation in smaller, family gardens, Robertson said. Almost 400 pounds of tomatoes were harvested and given away for free.
The barrier now, Robertson said, is not having enough people to take care of it. "We don't have enough manpower," she said.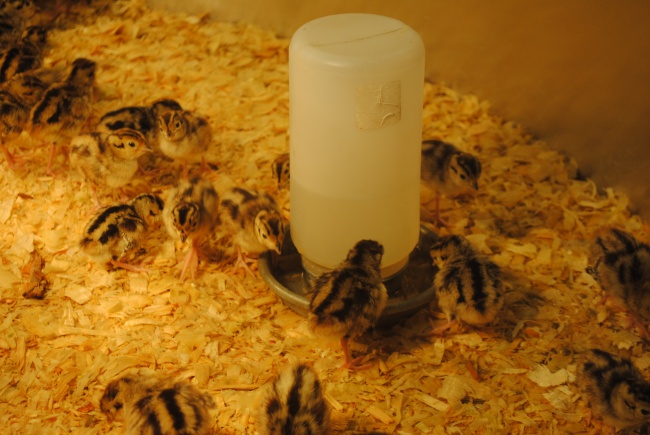 The tribe's chick and pheasant program provides chicks and pheasants to tribal members each year. Photo by Kayla Gahagan.
The idea of a garden marketplace has not gained traction in the community yet.
Tateyuskanskan, however, is encouraged by the small changes she sees. She grew up with a mother and grandmother who taught her how to garden; harvest wild turnips; and forage for wild plants, medicine, and wild chokecherries to make Wojapi, a berry pudding.
"It's very important to teach people who didn't have the same opportunities I did," she said.
Food sovereignty is about providing for yourself when no one else can, she added. She recalled an ice storm that took out power and stranded community members for days.
"I realized just how unprepared people are," she said.
One success is a chicken and pheasant program that builds up the reservation's populations for hunters but also provides free chicks to tribal members. This year, Miller said, the tribe will raise 1,500 chickens and 1,500 pheasants and distribute most of them.
"Come September, everyone is busy butchering poultry," Tateyuskanskan said.
The garden program is another example of success, she said. About 300 tribal members each year receive seeds and plants for their gardens.
"We provide them everything," Miller said, including an offer to drive out to their land and till the garden for them. Almost 170 tribal members have requested that service this year.
"I've always hunted and fished. To me, it wasn't a sport. It was a part of life."
Tribal member Donita Goodsell picked up a couple of tomato and pepper plants on a recent morning. She plants a small garden every year, but worries that her generation and the next are not doing enough to be self-sustainable.
"I worry that the casinos will close or the tribe won't get funds or the state will try to take over," she said. "I worry about all those things."
But like many of her fellow tribal members, Goodsell has no plans to ever market her produce.
Travis Herrick is the tribe's fish and wildlife ranger. On a recent afternoon, he watched as dozens of baby pheasants scurried around a warming hut.
"I've always hunted and fished," he said. "To me, it wasn't a sport. It was a part of life. Even if I was too young to hunt, I'd go out with my family and sit in wildlife."
When it comes to learning traditional ways of living and eating, Herrick said, people have resources.
"The majority of people on the reservation have family who have done it and could learn," he said.
Herrick took his own advice this year and planted his first garden. The pumpkins and onions recently started sprouting.
"It is work. It's labor," he said. "But being Dakota, that's a part of living. What our ancestors left us will always be with us. We adapt, but we still hang on to the original ways that were left for us."