For Black Women Across the U.S., a 30-Minute Walk Builds Better Health—and Sisterhood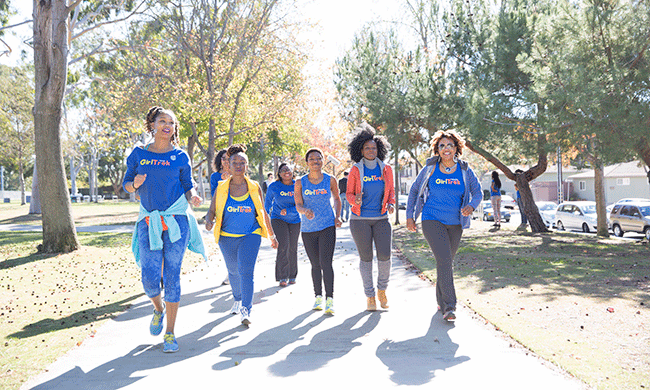 It all began with two friends taking walks together in the streets of Los Angles in the late 1990s, but now it's a nationwide movement that has more than 100,000 Black women walking for wellness and social justice.
"GirlTrek was just me and Morgan holding ourselves accountable and supporting each other in sisterhood and love," says co-founder Vanessa Garrison about how she and co-founder Tanya Morgan Dixon met in college and bonded over shared beliefs in radical acts of self-care. The challenge of balancing life at the intersection of sexism and racism leaves many Black women overwhelmed, sometimes to the point of neglecting their own health. But, Garrison says,"we found so much joy and support in our friendship while getting outside together."
The two young Black women were well aware of racial health disparities. Data have consistently shown throughout decades that Black Americans, particularly Black women, have higher rates of illness compared to Whites. Black women have the highest risk for Alzheimer's disease. They have significant rates of mental health issues with some of the lowest levels of treatment. Forty-eight percent of Black women over age 20 have hypertension, and 57 percent of Black women are considered obese. Sexual assault and domestic violence are also high among Black women.
By 2011, GirlTrek was born … and there were 10,000 women across the United States who joined the movement.
Garrison and Dixon recognized the positive impact that simply walking with and talking to each other had on their bodies, minds, and spirits. So they invited a group of friends and family to start walking, too. That was in 2010.
By 2011, GirlTrek was born after starting an online campaign, and there were 10,000 women across the United States who joined the movement. GirlTrek is a public health nonprofit that encourages healthy lifestyles and communities for Black women by promoting walking as a practical first step. The founders and active members support local and national policy to increase physical activity through walking, improve access to safe places to walk, protect and reclaim green spaces, and improve the walkability of high-need communities across the country.
Today, 116,938 women have joined GirlTrek, at least 56 percent of whom have chronic disease. But Garrison says they are facing these challenges by walking together, which for many is leading to long-term lifestyle changes.
It starts with a simple pledge the women make to walk their neighborhoods every Saturday for at least 30 minutes and encourage others to do the same. Through organizing walking teams and promoting monthly challenges, Girl Trek engages in health education and grassroots political organizing.
Garrison describes GirlTrek as an army of street soldiers committed to honoring the sacrifices of the women who came before them, like Fannie Lou Hamer, whose commitment to helping Black women change their lives limited her ability to prioritize her own. Hamer, whose most notable quote is "I'm sick and tired of being sick and tired," died from breast cancer and hypertension—a condition that is often related to high levels of stress.
"We chose walking because it has always been a system of change for Black people."
Garrison and others honor the works of Hamer and others like her "by living our healthiest, most fulfilled lives," she says.
But better health isn't the only benefit. Sisterhood is a common theme that supports them in a way society doesn't.
One of the greatest benefits of walking is the opportunity to connect with other Black women, says Garrison. "[Through walking] not only am I able to get healthy, but I'm able to be in community with other Black women. When we started having this conversation about the health of Black women, we knew we needed an action. Conversation wouldn't be good enough."
They asked the question: "What is an action that women can do that's affordable, accessible, and has historic context for us in the Black community?"
"We chose walking because it has always been a system of change for Black people," she says. "I don't need to join a CrossFit gym and lift 100 pounds, I don't need to do things that cost hundreds of dollars per month for a membership. I can lace up my sneakers, walk out my front door, and change my entire body."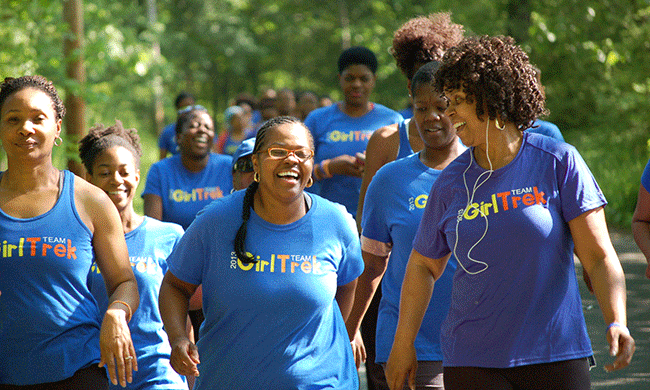 It starts with a simple pledge the women make to walk their neighborhoods every Saturday for at least 30 minutes and encourage others to do the same.
Since pledging in May 2016, LaShaun Wallace has experienced both the health benefits and sisterhood that Garrison discusses. Her first walk was the MAMAthon, a monthly challenge honoring Black motherhood. Participants were charged with walking 52.4 miles over the course of the month. Wallace pushed through with support of the GirlTrek network online. "While I was considered a solo trekker, I was not alone. The support I got from the Facebook groups and the emails, posts from GirlTrek really helped in keeping me accountable."
But she would soon experience the emotional support face to face when she relocated.
The challenges Black women face are often overlooked.
"When my family and I moved to Memphis, I joined the GirlTrek Memphis Facebook page and then started showing up at walks that were posted there," Wallace shared. "GirlTrek got me out of my comfort zone by introducing me to other Black women who are on the same [health] journey as I am and helping me learn my new city at the same time."
Garrison compares the movement of women coming together to that of prior movements where Black women—regardless of social class—came together to create change. GirlTrek's call to action is based, she says, in the historical tradition of Black female mobility and societal change.
"The story of Black women leading and creating change with their own two feet is our story," Garrison says. "Black women learned long ago that we would be the one to solve our problems. We started all the way back to the story of Harriet Tubman walking herself to freedom. Her first journey was almost 90 miles, but she liberated herself with her own two feet." She added that walking for freedom and against oppressive conditions is the thread that connects Tubman to the Montgomery Bus Boycott, the March on Washington, and even the Black Lives Matter movement.
Thirty minutes a day begins as a walk toward these women's freedom from illness, disease, exhaustion, and, in some cases, trauma.
Being at the intersection of race and gender, the challenges Black women face are often overlooked. As a result, "Black women have had to support each other through hard times," Garrison says.
GirlTrek re-centers the women's impact in their community, and in movements of social change.
With the recent increase of White nationalist activity and domestic terrorism, Black women mobilizing in protest, awareness, and celebration of their identities is a direct threat to movements centered on hate.
"Each step exemplifies that strength can lie in the most overlooked places."
A quick search for the #GirlTrek hashtag reveals their impact. There are 647 teams and growing. Garrison and Dixon are on a mission to have 1 million trekkers by 2018.