When You're a Transgender Refugee in Trump's America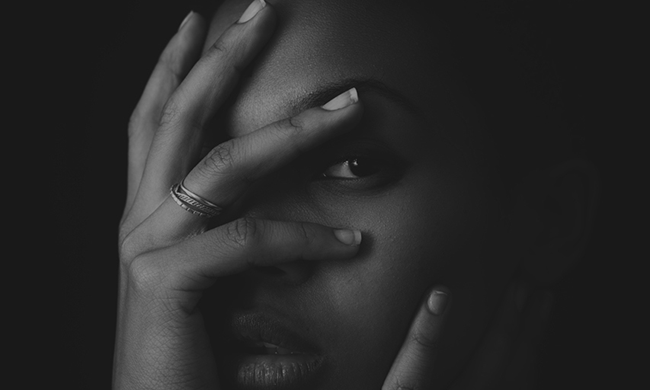 Being different is hard for anyone, but for Neima Mahdi, who is a transgender woman of color, being different puts her life in danger.
In fact, Mahdi has a cross section of vulnerable identities. She is also a Somali refugee living in Trump's United States and currently resides at the Carver County Jail in Minneapolis. She has been detained there by Immigration and Customs Enforcement for almost 11 months, awaiting the outcome of an appeal from the Department of Homeland Security that has challenged her U.S. residency.
Mahdi, who had been ordered substance abuse treatment by the court, was picked up on an outstanding warrant for a missed court date. Possible outcomes for her case range from permanent residency to deportation.
"I believe that LGBT people in the Somali community need help."
When she's not worrying about that, Mahdi thinks about what she wants to do if she's allowed to remain in the states following her release. "I believe that LGBT people in the Somali community need help," she said. "I didn't get support, and I want to give it."
There's a definite need for it in the Somali American community and in minority communities across America. Minnesota's 40,000 Somali Americans are a politically active group, organizing around Trump's Muslim travel ban, anti-refugee violence, and partnering with BLM in the Twin Cities for racial justice.
There's so much to focus on that it's no surprise that LGBTQ activism is a low priority for the largely Muslim community. But when a person belongs to two marginalized communities, like Neima Mahdi does, that same activism can force a person out of view of both.
That invisibility is part of the daily experience of many transgender people. A 2015 survey of U.S. transgender people conducted by the National Center for Transgender Equality reported "high levels of mistreatment, harassment, and violence in every aspect of life," and that transgender people of color, like Mahdi, "experience deeper and broader patterns of discrimination than White" transgender people. Which, means, for example, if you're a transgender person and a person of color and a refugee from a Muslim country, you might get picked up by ICE for missing a court date, and if no one's looking for you, you might be forgotten.
For Mahdi, 11 months of ICE detention is only the latest trauma in a decades-long precarious existence. As a child, she fled the Somali civil war with her aunt after witnessing several executions of family members. In 1999, she came to the U.S. as a refugee, and lived with another aunt who was verbally and physically abusive. When Mahdi came out as gay, her aunt kicked her out of the house. She lived with a friend until her high school graduation, after which Mahdi was homeless for a decade, struggling with substance abuse and mental illness.
For trans women, Trump's presidency tangibly increases the risks they already face.
She was assaulted on multiple occasions, including once being put in a coma. When she reported her assault to the police, Mahdi says, "They told me, don't be gay in Cedar-Riverside," the Minneapolis neighborhood where she was without housing for about 10 years and the center of Minnesota's Somali culture, sometimes called Little Mogadishu.
Life in the United States is dangerous for a transgender refugee. "There's a reason," Mahdi said, "that LGBT Somalis only come out of the closet at night."
Anti-refugee and anti-trans sentiment in the U.S. has always existed, but both have seen a marked rise since the presidential campaign of Donald Trump. A clearly documented increase in hate crimes against Muslims and refugee communities has been reported nationwide, including a 2016 spike in Minnesota.
The New York Times reported that violence against transgender people "has risen, especially against Black and Hispanic transgender women." To that point, 2017 marks the deadliest year in history for transgender Americans. The previous record was 2016. The one before that, 2015.
Now the violence is moving from public sentiment to public policy. The Trump administration has reversed federal protections put in place by President Barack Obama to protect transgender workers and college students, while simultaneously increasing federal immigration enforcement. This patchwork of policymaking represents "really severe treatment for trans people," said Monica Meyer, executive director of OutFront Minnesota. For trans women like Mahdi, Trump's presidency tangibly increases the risks they already face.
These risks aren't lost on Mahdi, who more than once told me she was glad to be alive. When you're transgender and Somali, "you're always looking over your shoulder," she said.
Ash Farah can relate. He's a transgender activist and Somali American who, like Mahdi, arrived in Minnesota through the refugee resettlement program. He's now a citizen, but his experience being both a Somali refugee and trans man has been one of isolation.
"LGBT Somalis feel as if they have to choose between their Somali identity and their LGBT-ness."
"I don't feel home in the LGBT community [in mostly White Minnesota] because of my Blackness," Farah said. "But, sadly, I am too queer" for the Somali community. Farah described the Somali sentiments toward LGBTQ people in religious terms. "The very language to describe a person as gay, lesbian, bi, or trans is very religious still," he said. "Growing up, I heard how all the fags were given Allah's wrath in Sodom and Gomorrah and if you meet a faggot beat them because if they multiply Allah would destroy the whole city!" Farah said. He even witnessed "grown adults and elders weeping" when Minnesota voted yes on gay marriage.
Given such sentiments, coming out is obviously difficult. Both Farah and Mahdi agree things are improving. However, because young Somali Americans are growing up in the U.S. with a lack of resources and education for their community, the process of acceptance will be prolonged significantly.
When he needed it, Farah found support and aid through OutFront Minnesota's Anti-Violence Program and the GLBT Host Home program for homeless youth. But he still has not found an accepting community to be a part of. "A lot of LGBT organizations have no experience in dealing with Somali queers' needs at all," he said. Activism and organizing in the Somali LGBTQ community isn't easy, Farah admitted. "You have to have people willing to speak out and be visible within the community, and that is not possible given the current climate."
The result is that people end up leaving one part of their identity behind. "LGBT Somalis feel as if they have to choose between their Somali identity and their LGBT-ness as a result," Farah said.
This slows the progress of LGBTQ equality. "You can't band together if you think you are 100 percent alone. And you will always feel that way without others speaking out."
But in Minnesota, diverse allies and coalitions are starting to take shape.
A shared oppression, it turns out, brings marginalized communities together.
Since the Pulse Nightclub mass shooting in Orlando in June 2016, LGBTQ activists and Muslim American and Somali American groups have started to speak out together.
"When the Pulse massacre happened, one of the first groups that called OutFront was CAIR-MN [Council on American-Islamic Relations Minnesota]," said Monica Meyer, OutFront's executive director. "They called and said, How can we help, what do you need us to do, we support you, and we support LGBT people."
At that time, Qais Munhazim started organizing Muslims around LGBTQ issues. Munhazim then created the MN Caravan of Love: A Walk for Immigrants and Refugees, a 2,000-person march in downtown Minneapolis following Trump's proposal of a Muslim travel ban. Pulse was the first time "a lot of Muslims began talking about homophobia and transphobia," Munhazim said. Since then, "we've had a few projects trying to bridge the mainstream LGBT community with the Muslim community." Those projects include Muslim groups marching in the Twin Cities Pride parade and A Spot of Love, which creates interaction between LGBTQ individuals and Muslims during Ramadan.
Munzahim's organizing is still new, but he credits his success to the growing recognition that the cultural voices using transphobic and homophobic rhetoric are the same people using anti-Muslim and anti-refugee rhetoric. "We both are equally marginalized. The conversation starts from there," he said.
A shared oppression, it turns out, brings marginalized communities together. "That's why you see Muslims coming to Pride and the LGBT community coming to protest against the Muslim [travel] ban," Munzahim said. "There's a coming together happening these days. It's a moment we can take advantage of, bringing these oppressed communities together."
If that work is going to form a bridge between the broader Muslim community and the Somali American experience of Farah and Madhi, then the voices of LGBTQ Somalis will need to be included.
Mahdi wants to be a part of that—supporting others in a way that she was not. And despite her 11-month detainment, she is optimistic about her future and the future for Somali LGBTQ people. "Things are changing. LGBTQ Somalis need to come forward. If we do, a lot of Somalis are going to come out."