Meet the Man Bringing Cheap Renewable Energy to His Hometown
When Highland Park, Michigan, a predominately Black city surrounded by Detroit, had its streetlights repossessed in 2011, because of a $4 million unpaid street lighting bill, Ryter Cooperative Industries L3C stepped in to help install solar-powered streetlights in the city's neighborhoods.
Energy cost inequality is a problem in many areas throughout the country. Low-income households spend 10% of their income on electricity—four times higher than the average household, according to a recent report. So while the median electricity bill in the United States in 2013 was around $114 a month, many low-income families paid more than $200 a month.
Some renewable energy advocacy organizations have attributed the cost inequality to the lack of community engagement and awareness of renewable energy programs in low-income communities.
To bridge that gap in Detroit, Ali Dirul started RCI, a low-profit, limited liability project management company that works with grassroots organizations to implement sustainable and renewable energy projects in metro Detroit area neighborhoods. Founded in 2015, RCI also educates and trains residents to implement renewable energy themselves, particularly solar energy—a type of renewal energy from the sun—which has proven to lower energy costs.
Dirul conceived the idea while earning his master's degree at Oakland University in Rochester, Michigan, where he worked on renewable and solar energy projects.
"I wanted to bring these projects to the community, so people can see renewable energy working in their community," he says. "Communities want to rebuild themselves and not rely on some big municipal contract."
Poor infrastructure was blamed for a mass power outage in Detroit in 2014, and before a recent $185-million streetlighting project, between 40-30 percent of the city's streetlights didn't work. That included some of the lights in Brenda Archie's neighborhood. Archie, a former Detroit police officer, put up additional lighting around her house and saw her electricity bill skyrocket.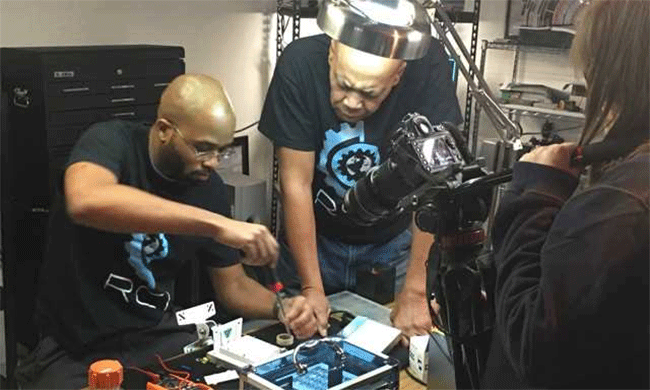 "It was unacceptable," Archie says. "That's why investing in renewable energy would eliminate a tremendous burden on the taxpayers, and when the power and electricity goes out, we'll still have lighting."
Believing that renewable energy was the solution, Archie joined RCI. Right now, RCI is partnering with Soulardarity, a community nonprofit focused on clean energy justice that also worked on the Highland Park project. They helped neighbors pool their money to buy renewable energy products in bulk, and at cheaper prices—the more people chip in, the less the products will cost for everybody.
"We work with a lot of different companies that make solar products," says Jackson Koeppel, Soulardarity's executive director. "But I think where RCI is different is that they have a real commitment to the community and helping residents get in control of their energy future."
"We're putting forward the new paradigm—a new way that human beings should live, that's not heavily invested in carbon."
Some of RCI's other projects include building net-zero energy homes—homes that produce the total amount of renewable energy used by the home on an annual basis; developing solar-powered lawn mowers, and installing solar-powered cellphone charging stations.
These projects reflect the city of Detroit's recent commitment to sustainability. In 2016, the city announced plans to build Detroit's first urban solar array and a new sustainability-infused park. Last year, it named its first director of sustainability, followed by the launch of its first public bike-sharing system.
But Dirul says one of RCI's most acclaimed projects so far is the implementation of Detroit's first solar power generation plant that's fully off-grid—doesn't rely on any electrical infrastructure. RCI installed it at D-Town Farm, a seven-acre organic urban farm in Detroit. The only energy used on the farm comes from that solar energy station.
Malik Yakini, who runs D-Town Farm, says the farm's power station is a scalable solution for those in the community, and throughout the world who want to see renewable energy and sustainable agriculture.
"It's part of our responsibility to model sustainability energy usage, and sustainable water usage," Yakini says. "We're putting forward the new paradigm—a new way that human beings should live, that's not heavily invested in carbon."
Dirul's early education was under the tutelage of Yakini, co-founder and executive director of Nsoroma Institute, an African-centered K-8 school that Dirul, now 31, attended many years ago. It was at Nsoroma, which closed in 2014, where Dirul was inspired to build his first computer, which sparked his interest in engineering.
"We stressed to the students that they use whatever they learn to help the Black community," says Yakini, "and Ali actually has [been] and is doing that."
Education and training is a big part of RCI, says Dirul, who gives presentations at schools to teach students about renewable energy and the importance of protecting the environment.
"Renewable and alternative energy is scary for a lot of people, but once you understand it, and understand the principles behind it, it's much more accessible to people who would otherwise not have an opportunity to see it."
This article was funded in part by a grant from the Surdna Foundation.