One College's Shift to Training Social Justice Activists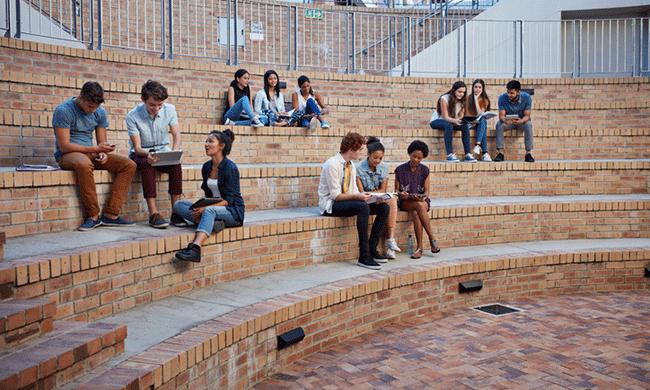 Who's training the next generation of movement leaders? A small private college in Pasadena this month launched undergraduate and graduate programs in social justice and advocacy for students who wish to turn their passion for human rights into a possible career.
Pacific Oaks College, with 1,100 students, joins a growing list of colleges and universities in the U.S., as well as in Canada and Europe, offering degrees in the area of social justice at a time when many Americans are seeking avenues for change in their communities.
With an emphasis on grassroots level community organization, the program applies lessons from past movements and students' own experiences to the complex social issues of our time.
Founded in 1945, Pacific Oaks has an anti-bias curriculum and features a unique approach to teaching and learning, where everyone in the classroom is both student and teacher. We asked its associate dean for the School of Human Development, Donald Grant, to tell us more about the new degree program.
Turnbull: Why did you think it was important for Pacific Oaks to offer degrees in this area and why now?
Grant: Today more than ever, we see individuals with passion to be authentic agents of change. But many of them lack the credentials to be invited to the table to create that change. We wanted to fill that gap.
People are increasingly suffering from the risk factors associated with trauma and disproportionality and need professionals to mediate them. The time is right because the ills of our world are manifesting themselves in ways they have never before and we wanted to influence the professional landscape to address them through a strength-based, community-centered lens.
Turnbull: Such a program seems a natural fit for Pacific Oaks, given your unique tradition and history. Tell us about that.
Grant: In the wake of World War II, six local families in Pasadena, California, opened Pacific Oaks Children's School with the belief that everyone has an inner light worth nurturing. Rooted in the Quaker values of community and equity, they believed they could offer an education that would help the world heal.
It became clear that the Children's School model of education of inclusion and self-discovery could be applied to train future teachers. In 1958, Pacific Oaks College was established to train educators to make an impact in their communities through an Early Childhood Education program. Since then, we have expanded our programs to include Marriage and Family Therapy, Education, Human Development, and Organizational Leadership and Change. As our newest program, the Advocacy & Social Justice degrees represent the school's legacy of current, relevant, and progressive programming that responds to the needs of our communities. The program examines the relationship between past and present, and how progressive change in America historically begins at the grassroots level, transforming concept into a movement and then into tangible policy and effective institutions.
Turnbull: How did you develop the curriculum for this new program and what courses did you find it important to include?
Grant: We developed an advisory committee of community members to determine what skills they saw as most important to the work they do in the community. We knew that it was critical to gain this insight as we developed the skills and outcomes we wanted our graduates master.
This degree will attract students who are looking to create change in their communities and beyond.
Our course offerings are created from a developmental framework where our students gain a foundational knowledge on the history of social justice movements and how they inform contemporary experiences. Once this foundational knowledge is understood, students are then taught the more technical aspects of movement-building, about how media, social media and technology influence social change.
Students take an Advocacy in Action course where they must complete a minimum of 45 hours of fieldwork in the communities they value and where they want to influence change.
The coursework culminates in our action and participatory research projects that allow students to demonstrate how all the knowledge they gained in the program is applicable to actual communities they care about. The practical, on-the-ground result is a cadre of professionals creating real change in communities and organizations as a part of their actual coursework requirements.
Turnbull: What makes this degree program different from anything Pacific Oaks currently offers?
Grant: In the real world, professionals increasingly are working on multidisciplinary teams and require content knowledge in interdisciplinary studies. This degree models that paradigm.
The interdisciplinary degree takes coursework from across the institution and our affiliate, The Colleges of Law, where our master's degree students take courses in legal studies. They not only learn about advocacy as a construct but learn how to actually influence change across several domains. Our specializations include education, culture, and legal studies, which afford our students the opportunity to work effectively with a wide variety of populations who need advocacy and support.
Turnbull: What kind of student do you expect will choose to pursue this course of study?
Grant: We believe that this degree will attract students who are looking to create change in their communities and beyond. Many grassroots movements have grown to effectively shift the tapestry of our current advocacy and social justice work, attracting allies and professionals who had not historically pursued this work.
We anticipate our students will come from every demographic age group, ethnicity and religious tradition, as one of the unifying themes of our program is fighting injustice and increasing equity, concepts that transcend cultural boundaries.