The Restaurant Where Grandmas Cook to Share Their Cultures
After losing his mother and sister within the same year, Jody Scaravella was struggling to figure out life without the matriarchs of his family. His grandmother had died seven years before, and he was desperate for an outlet to transform his pain into healing.
Scaravella was raised in an Italian American household in Brooklyn, where his mother, Maria, and his grandmother, Dominica, made sure to sprinkle a dash of love into everything they cooked. In the same kitchen where they prepared traditional meals, Maria and Dominica also passed down their Italian heritage.
Scaravella turned back to his upbringing for solace, and nearly 11 years ago opened restaurant Enoteca Maria in the heart of St. George, Staten Island's historic district. His intention was not just to serve up hearty Italian meals passed down from previous generations, but to bring together the Italian grandmothers of New York to cook them. Each dish is prepared with the love that only a grandmother can give.
"It was all grief-driven, really. I guess I was just trying to recreate that comfort," Scaravella says.
Since then, Italian grandmothers with little to no professional training have come into Enoteca Maria to cook their own menus on a rotating schedule. The next logical step, Scaravella says, was to expand the restaurant's concept and invite grandmothers from different cultures.
"So many of the people who came and celebrated our Italian nonnas were not themselves Italian," he says. "I wanted this to be inclusive."
Since expanding the concept in 2015, Enoteca Maria has attracted grandmothers from Brazil, Japan, Argentina, Syria, and more.
"These women really represent their culture. They are the vessels that carry this culture forward," Scaravella says.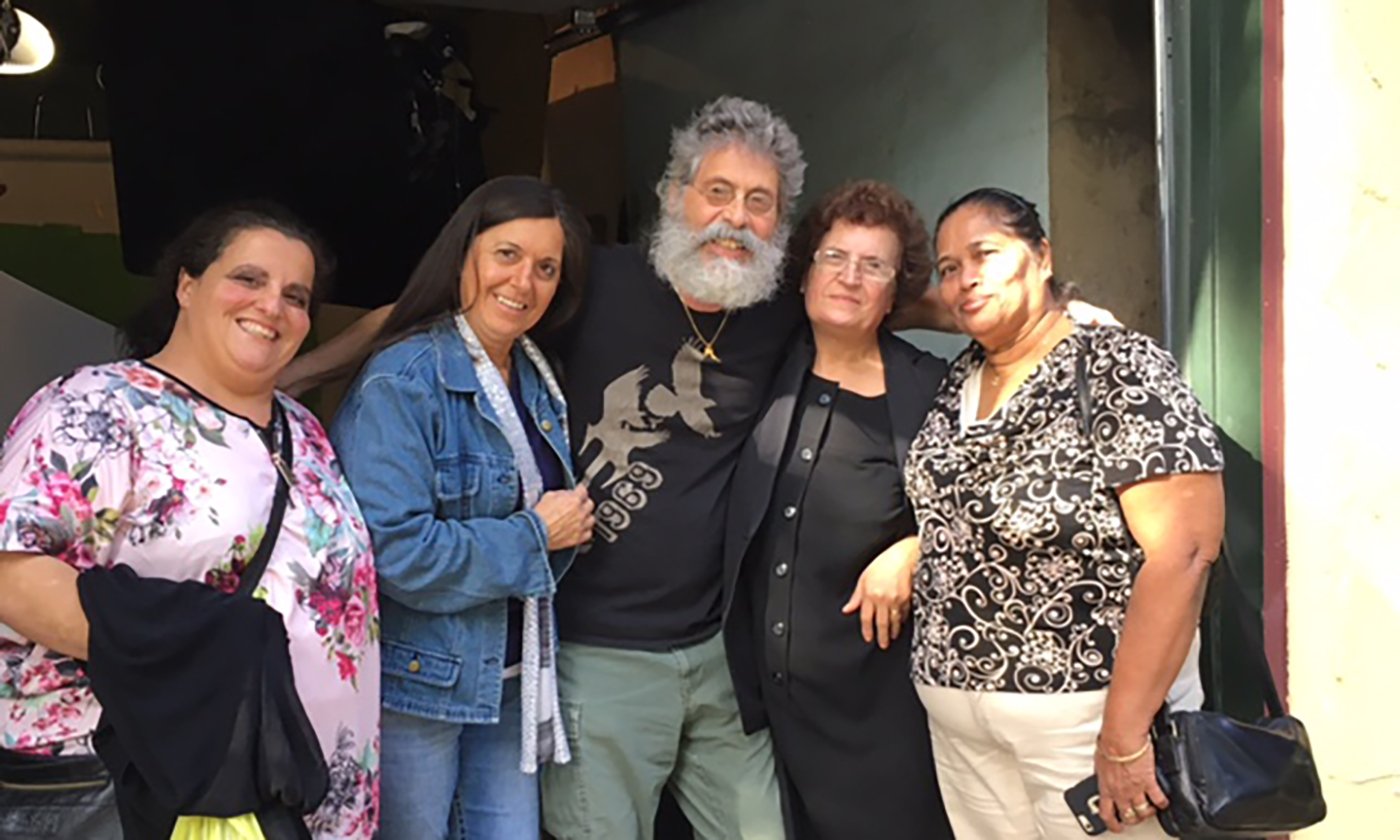 Nonnas Piera Coffaro (Italy) Christina Carozza (Italy) Ploumitsa Zimnis (Greece) and May P. Joseph (Sri Lanka) with Jody Scaravella. Photo by Maria Zimnis.
The restaurant is divided into two kitchens: The downstairs kitchen is reserved for Italian grandmothers, while upstairs is for grandmothers with other heritage.
"On the first day that the new nonna cooks, we have one of the other nonnas that's already cooked come in as an advocate to walk her through," the process, Scaravella explains. "The advocate acts as the go-between and shows her how this all happens."
Despite language barriers, the grandmothers always manage to create a truly unique and special experience.
"It's obvious where all the knowledge is. Food is definitely part of it, but it's more about culture being brought forward."
"I've seen situations where they didn't understand any words but they had a great time and connected," he says. "Everyone is just cooking together in the kitchen and sharing culture."
Like Scaravella, many of the grandmothers who come into Enoteca Maria share a similar desire to connect and nurture their own loss, whether it is a loved one or leaving behind their homeland.
After losing her husband, Greek grandmother Ploumitsa Zimnis was introduced to the restaurant by her daughter, Maria, in an effort to help her through her grief.
"I was on the internet one day and saw an ad looking for grandmothers from different cultures. I saw that Jody was using this as a way to connect to his culture and the love that he felt when he was young," says Maria Zimnis.
With assistance from her daughter, Ploumitsa has made it a tradition to come in at least once a month and cook for guests.
"I make moussaka first day. Sometimes calamari salad. Octopus with wine and onions. Baklava for dessert," Ploumitsa says.
Ploumitsa and her daughter may have stumbled upon Enoteca Maria online, but it seems more like fate.
"On our first day we coincidentally noticed that the restaurant was located in the town of St. George. My mother and father were both born in St. George Sikousis village on the island of Chios in Greece," Maria says. "So we thought it was definitely a sign from above, from my father. We were meant to cross this path."
Ploumitsa Zimnis shows Vanessa Chavez (Peru) how to prepare ground beef with spices for stuffed tomatoes and peppers. Photo by Maria Zimnis.
The memories of home-cooked meals made by women who have passed down their heritage generation to generation evoke a nostalgic feeling that awakens a desire to connect to our roots, Scaravella says.
"It's that moment when the grandparent is passing down this knowledge about how to prepare a traditional dish, and she's passing it forward to the next generation. You're really watching history," Scaravella says.
In 2015, publishing company Simon and Schuster partnered with Enoteca Maria to launch Nonna's House: Cooking and Reminiscing with the Italian Grandmothers of Enoteca Maria, a collection of recipes and stories. Scaravella is now working on a follow-up, Nonnas of the World, which will feature an extensive collection of recipes from grandmothers around the world.
"It's obvious where all the knowledge is. Food is definitely part of it, but it's more about culture being brought forward," Scaravella says. "It's really all that we are, and it's so basic. It's like breathing."