Why This Montana Farmer Grows Food Year-Round in Shipping Containers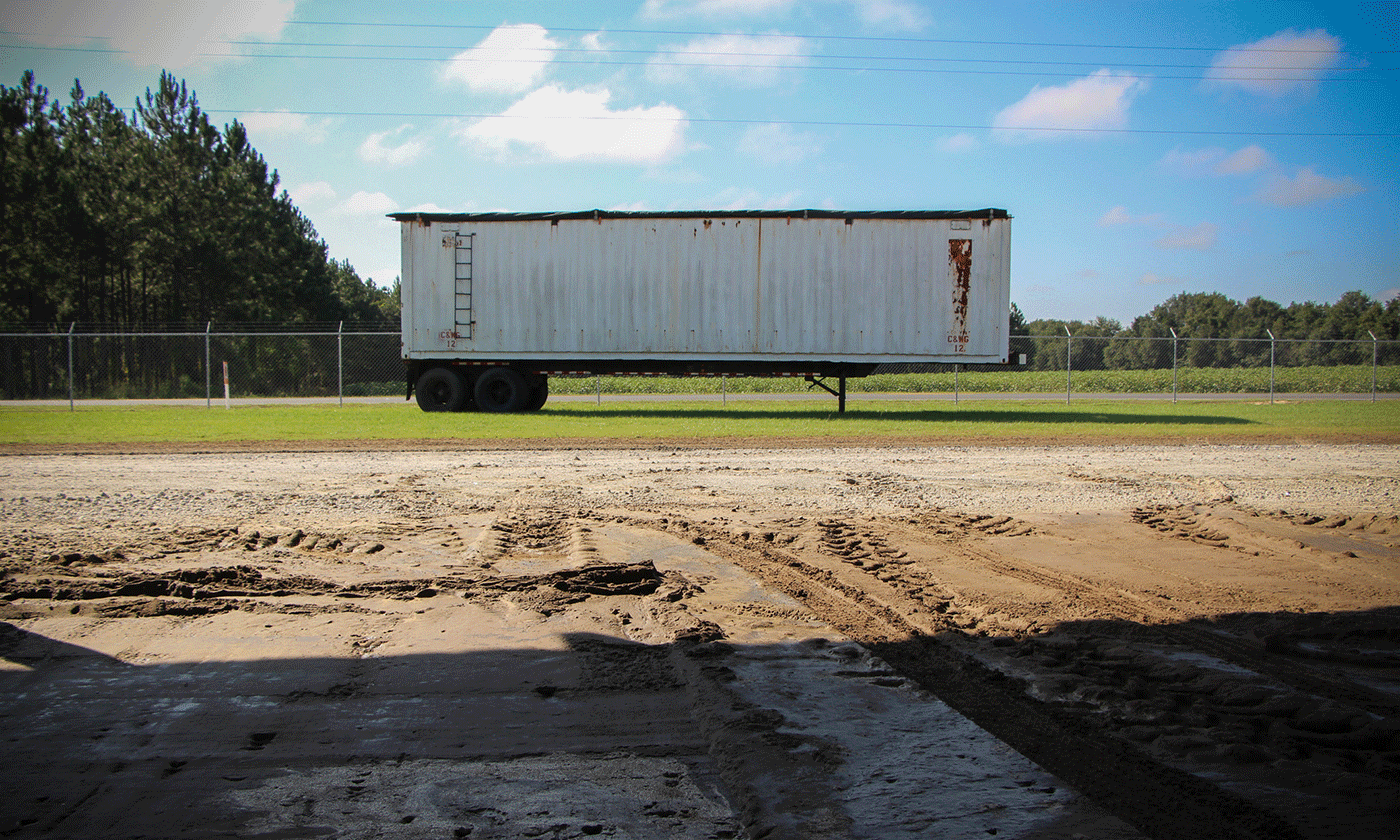 Kim Curren, owner of Shaggy Bear Farm in Bozeman, Montana, has worn many hats. She worked in the solar power industry for 15 years, owned her own café bookstore, and worked a stint as a medical case manager. In 2016, Curren decided to try her hand at farming, because why not?
"People always accuse me of having an [attention deficit disorder] career," Curren says. "I just tell them I'm a Gemini and I get bored of doing one thing."
One day, Curren came across an article about Freight Farms, a company that upcycles old shipping containers into indoor vertical hydroponic growing machines. After doing more research and visiting their headquarters in Boston, she was sold on the idea.
Caroline Katsiroubas marketing director of Freight Farms inside the shipping container. 
Photo from Freight Farms.
In 2016, with the help of a hefty loan and a $50,000 grant from the Montana Department of Agriculture, Curren had two 40-foot-long shipping containers delivered to her home. With another grant, Curren installed solar panels on her setup. Today, her farm is 30 percent solar-powered.
"When the [first] shipping container arrived, I had a moment of 'Oh my god, what did I do?' because it was like this giant alien spaceship had landed in my yard," Curren says.
But she loved the idea of being able to supply her community with local, chemical-free food year-round, despite Montana's harsh, frosty climate. Her crops are grown without soil in a controlled indoor environment, so below-zero temperatures and pest invasions aren't a worry.
Each of Curren's shipping containers has the capacity to grow 4,000 plants, a wide variety of herbs and leafy greens such as lettuce, kale, chard, and arugula. Each container uses only 10 gallons of water per day, 90 percent less than what is used in conventional farming.
"If we can grow this amount of food for 10 gallons of water a day, I don't see why we shouldn't be doing that, especially in places that are severely water-challenged," Curren says.
Her operation allows her to supply six restaurants and her local farmers market with a fresh selection of produce. She prefers to buy her seeds from the local seed co-op, when available.
"I really believe food should be community," she says. "In places that have limited growing seasons, it's a way to keep locally growing food in communities and not be reliant on trucking things in from all over."
Inside the containers, the crops are grown vertically in gutter-like hydroponic towers and exposed to red and blue LED light strips. Nutrient-rich water flows down through the top of the towers, bathing the roots along the way. Excess water is recycled back into the main tank.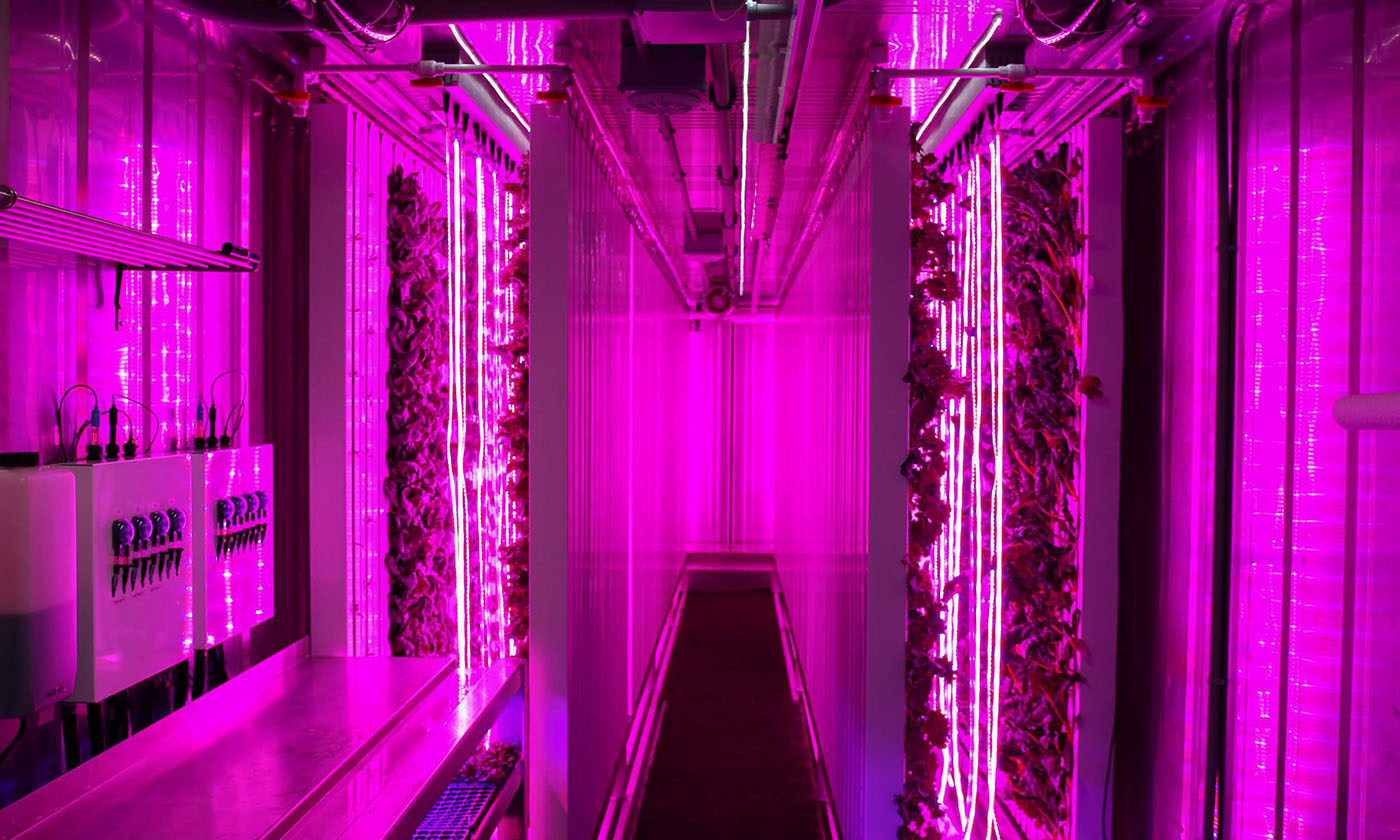 Inside the Freight Farms shipping container. It uses an array of red and blue LED lights for optimal leafy green growth.
Photo from Freight Farms.
Curren can control the water, temperature, and light conditions inside her shipping containers remotely, with an app on her phone. She recently installed UV water filtration to ensure bad bacteria can't enter her farm.
Since Curren introduced Montana's first shipping container farm two years ago, four other farmers in the state were inspired to try this growing method as well, one of whom is Brittany Moreland of Elevated Harvest in Red Lodge.
Moreland and her husband spent several days at Shaggy Bear Farm with Curren learning about the farming process firsthand before deciding to purchase their own shipping container farm in 2016. Like Curren, Moreland enjoys being able to farm year-round.
The goal is to make clean, unprocessed, locally grown food easily accessible to the community.
"This time of year, other than onions and potatoes, we have no local fresh food. So even if it's just salad or kale, it's great that it's negative 10 degrees and I'm delivering fresh heads of lettuce that were picked an hour ago," Moreland says.
Elevated Harvest provides for a local catering company and two grocery stores in Red Lodge and Absarokee. She is currently collaborating with other farmers in the state to create a Community Supported Agriculture food hub, with an online ordering platform.
The goal is to make clean, unprocessed, locally grown food easily accessible to the community. Moreland says the food hub will be established by October.
"That's the kind of food I want to eat, that's the kind of food I want to have available to me, and that's the kind of food I think everyone deserves to have available," Moreland says.
Brad McNamara, co-founder of Freight Farms, hopes to transform more everyday people like Curren and Moreland into farmers, and bring transparency to the food industry.
"Everyone's talking about this challenge of how do we feed millions and millions of people?" McNamara says. "The best way to do that is to make millions and millions of people into successful farmers."
The company says it has sold more than 160 shipping container farms worldwide as of December.
"I think it's the way of the future," Curren says. "With our global population on the rise, we have to come up with ways to grow food differently. We don't have enough arable land to feed everyone on the planet, so coming up with models like this are a piece of the answer. They're not the entire answer, but they're a very important piece."