A New Deal for Appalachia's Forests: Growing Biofuels?
The mine-ravaged communities of Eastern Kentucky have been increasingly abandoned by the coal economy. Could growing biofuels jump-start a new local jobs market—and renew the land in the process?
Why you can trust us
---
Using valuable food crops like corn and sugar cane to produce biofuels has been a highly controversial topic in an age of imminent food crises. But nobody is growing corn on the former strip mines of Eastern Kentucky.
A look at the region on Google Earth shows a patchwork of bald spots in the forested hills. Surface mining left its mark on the Appalachian landscape through much of the 20th century, as large swaths of native forest were replaced with sparse, scrubby grassland. But University of Kentucky forestry professor Chris Barton sees in the compacted soil of old strip mines the possibility of using former surface mine land for short-rotation forestry—in order to produce fuel.
Here's how it would work: Fast-growing, native trees like black locust could be grown and harvested every five to 10 years; then, the woodchips would be burned in an oxygen-restricted condition to produce combustible gases that in turn could be used to generate energy and heat. After a few generations of short-rotation harvests, the land could be transitioned to a long-term forest.
Barton is the founder of Green Forests Work, a nonprofit spin-off of the Appalachian Regional Reforestation Initiative that seeks to reforest lands scarred by mining with native trees—all the while helping to rebuild struggling local economies.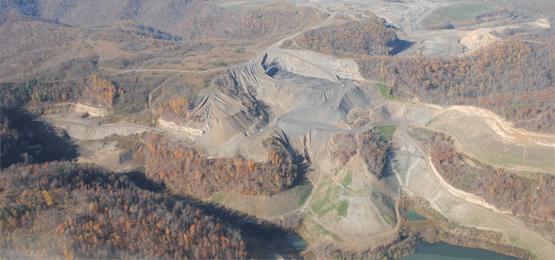 These are what strip-mined hills look like. Photo courtesy of Gabe B.
A Conservation Corps for the 21st Century
When President Obama delivered his 2009 inauguration speech, he talked about creating green jobs. A light bulb turned on for Barton. Realizing that his reforestation initiative was a shovel-ready project that could create jobs right away, Barton began thinking about approaching the federal government for financial support.
Instead of depending on a single, monolithic employer to create jobs, Hall would like to see people taking job creation into their own hands.
Surface mining strips away nutrient-rich topsoil and leaves a devastated landscape that is prone to landslides and water contamination. With the passage of the Surface Mining Control and Reclamation Act of 1977, mining companies were required to stabilize the land when they were finished mining in order to control erosion. But instead of merely stabilizing, mining companies over-compacted more than 1 million acres of former surface mines using bulldozers. This made it difficult for anything other than grasses and other non-native vegetation to grow.
"This is an environment that had over 100 species of vegetation prior to the mining," explains Barton. "And when you get out on the sites and look down, it's not like looking at your yard and seeing lush grass carpeting; you're going to see very sparse grass, and a lot of patchiness." Now, if Barton's plan works, he hopes to undo some of that damage.
Like what you're reading? YES! is nonprofit and relies on reader support.
Click here to chip in $5 or more to help us keep the inspiration coming.
In 2009, inspired partly by President Obama's speech, Barton wrote up a proposal for putting an army of people to work rehabilitating lands that had been ravaged by industrial machinery. For inspiration, he looked to the Civilian Conservation Corps, a New Deal program launched during the Great Depression to create jobs for the unemployed in conservation and natural resources development. Barton's proposal requested federal funding for workers to till the land, grow trees in nurseries, plant trees, and manage the land. But then, just days after Barton submitted his proposal, White House green jobs czar Van Jones resigned, and the prospect of securing funding for Green Forests Work (GFW) quickly dimmed.
For now, Barton has decided to move forward with volunteer labor, using the next year and a half to try to educate the public and raise support for the program. Since GFW was launched in 2008, more than 5,000 volunteers have planted nearly 1 million trees on former surface mine sites. And last year, the program received a $300,000 grant, enabling Barton to add a couple full-time staff members.
Life after coal: New economy, new mentality
Coal jobs are increasingly hard to come by in Eastern Kentucky, as the rise of cheap natural gas and waning Chinese demand have led to thousands of layoffs in Appalachian coal towns. GFW's Reforestation Coordinator, Nathan Hall, is a ninth-generation Appalachian who was born and raised in the coalfields of Eastern Kentucky.
Part of Hall's job involves finding local contractors who can loosen up soil that has been compacted by mining equipment so that native trees can grow on reclaimed surface mine land.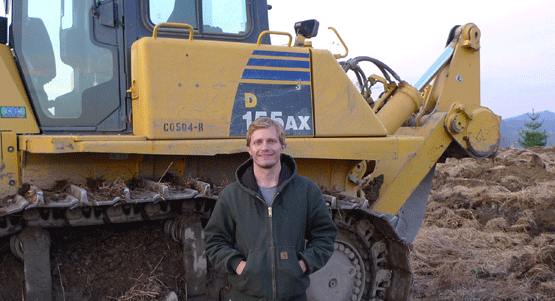 Nathan Hall of Green Forests Work.
By itself, short-rotation forestry might not have the ability to revive local economies across Appalachian states, but Hall believes it would represent a significant shift away from the coal mentality. "I think we need to re-envision how we look at the whole notion of job creation in this region," Hall explains. "We have 100 years or so of history of these large-scale employers coming in and, through one means or another, the workforce has gotten used to this notion of jobs coming from one big employer." Instead of depending on a single, monolithic employer to create jobs, Hall would like to see people taking job creation into their own hands. "I think people need to get a lot more creative," he says.
One example of the type of creativity that Hall would like to see is clean energy production from the same hills that are still scarred from generations of coal mining. The short-rotation bioenergy project that Hall and Barton are working on would be a net positive because it would help loosen the soil and add nitrogen and microbial activity, he argues. Further, the biochar produced during process could be used as fertilizer, completing the closed-loop system.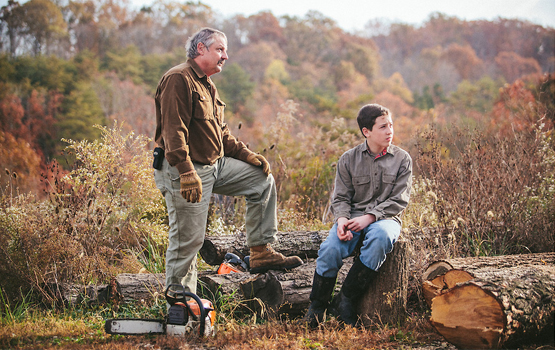 Three Lessons for Appalachia's Post-Coal Economy
Appalachian residents are working to keep local and sustainable sources of wealth central in a post-coal economy.
Programs like GFW have the potential to put thousands of people back to work, but in the absence of major government backing they're unlikely to produce enough jobs to offset those that have been lost in the coal industry in recent years. The marriage between private entrepreneurship and government incentives is where Hall sees the most potential for job creation. "If there are some decent incentives, in terms of putting that power on the grid, and business incubators that get incentives based on making use of a renewable energy source to power their operation, we could create hundreds of jobs in the region," he says.
Similar short-rotation plantations of black locust have been used to produce bioenergy in Germany, but it's a new concept in the United States. Barton recently planted a 10-acre demonstration project in Kentucky's Perry County to test different species and growing techniques, which will be ready for first harvest in another year or two.
To Hall and Barton, it all comes back to land management. There are thousands of acres of former surface mines that are sitting fallow across Appalachia that could be made productive while reestablishing native forests. It will take a lot of work to restore those forests to what they might have resembled before coal mining swept through the region, and doing so would create a lot of new jobs. Planting trees wouldn't just create jobs in the present, though; forests are renewable resources that can continue to generate economic value over time.
---
As oil and gas get harder to find, the industry is drilling in suburbia—and the neighbors aren't pleased.
Having an energy-efficient home saves the owners money, but they often procrastinate on improvements. When energy companies in Kansas and Kentucky figured out a way to sweeten the deal, the results brought good news for homeowners, contractors, and for the planet.

Educators across the country are finding millions of dollars in savings through cheap and simple forms of renewable energy.
---
Mark Andrew Boyer

is a Brooklyn-based visual journalist and storyteller currently working as a producer for Great Big Story, an award-winning global media network owned by CNN.
---