A West Virginia Family Leaves Coal for Local Food—And Wants to Help Others Do the Same
The sound of a train whistle interrupts conversations every hour, on the hour, in the small town of Kimball, West Virginia. Linda McKinney and her son Joel were showing me the beds in their community garden when the rushing of the train overwhelmed the quiet sounds of crickets, stream, and rain. Linda and Joel were used to it and continued their conversation over the noise, shouting about how they should plant more marigolds, pulling berries off the vine for me to taste, and admiring a second crop of peppers that had sprung up overnight. The train roared along, carrying away some of the last coal processed in McDowell County.
"Coal is dying," Joel told me. "Coal's almost dead. Nobody wants to say it. It is what it is. On the international market, it's dead for this area."
In the future Linda wants to see, people will flock to the county she loves rather than flee from it.
He used to work for Norfolk Southern, the same railroad company that operates the train that just passed through. He has watched the number of trains loaded with locally mined coal decline, replaced with ones full of goods made elsewhere: cars, chemicals, and goods bound for Target. He grew up in a coal-mining family, the son and grandson of coal miners on both sides, and has watched as the industry's decline decimated the place where he grew up. "This place is dying. I mean, it is. I'm from here, it's sad to say it."
Official numbers back up his words. As in the rest of the region, the total number of coal miners in McDowell County has declined since the heyday of the industry in the first half of the 20th century . That trend has continued in recent years, with the number of miners in the county falling from about 1,700 in 1990 to about 1,100 in 2014. There are many reasons for this: processes such as mountaintop-removal mining require fewer workers than underground mining, and the local coal industry faces competition from cheaper sources such as Wyoming's Powder River Basin, as well as from natural gas drilling. Many of the county's remaining jobs are low-paying ones in fast-food restaurants or the prison system.
Unemployment leads to poverty and alarming health trends. According to 2011 data, more than 46 percent of McDowell County residents were obese; the U.S. national average was 34 percent. The average life expectancy is one of the lowest in the nation at 64 for men and 72 for women; the national averages are 76 and 81. The county also leads the state in number of teen pregnancies and people on disability.
Despite these problems, McDowell suffers from a shortage of health care resources such as health professionals and addiction-treatment centers. Even sidewalks can be rare along the busy, winding roads, discouraging walking. Families get trapped in desperate cycles of disease, unemployment, and addiction
So what is left for residents? Many have left in search of employment. Others have succumbed to a sense of despondency. Local politicians blame President Obama and the Environmental Protection Agency for mine closures and advocate for a return to a coal-based economy through campaigns such as "Friends of Coal." Others join the 14 percent of McDowell County citizens who are unemployed, hoping and waiting for the mines to reopen.
But Joel, Linda, and the rest of their family have a different answer. "Agriculture," Linda responds, without missing a beat. "Everybody—I don't care if there's two people left in the county—they've got to eat."
Her family is doing its best to get that transition started. At Five Loaves and Two Fishes, the food bank they run to serve McDowell County residents, the McKinney family maintains a traditional garden as well as five hydroponic towers. The produce they grow not only supplements the food they give out, but acts as an educational model to encourage people to start their own gardens and agribusinesses.
Food and faith
Five Loaves is located in an old Save-A-Lot store building on the side of the main road running through Kimball. It has been a food bank since 2001, and in the care of the McKinneys since 2009, when they took it over from longtime friend, the Reverend Albert "Bubby" Falvo.
Joel and his father Bob have converted the front area into a comfortable porch with rockers, benches, flowerpots, and stacks of pallets. While planning my first visit, I tried to get directions over the phone. Linda reassured me. "Honey, if you come into McDowell county, all roads lead to the food bank."
"Miss Linda," as her friends call her, is the heart, soul, and chef of Five Loaves. She works full time there, or rather, volunteers full time, as she works entirely for free. At 59, with flashing black eyes, she possesses a certain glamour, even when dressed in old jeans and surrounded by packing crates. She laughs loudly, with a resounding and joyous "Ha!" and a nudge to bring you into the joke.
Linda McKinney at Five Loaves. Photo by Laura Michele Diener.
Although Linda calls herself a "holler girl"—using the Appalachian slang term for a rural valley—and has always lived in McDowell County, she grew up in an Italian-speaking family. Having lost her mother as a little girl, she was raised by her nonna, or grandmother, who spoke no English but cooked meals for the entire holler. Nonna, who was born Maria Nicola, emigrated with her husband, Philip Pizzato, from the Italian city of Naples in 1913.
"Everybody thought they were going to get rich in the mines," Linda says. The Pizzatos didn't get rich, but Philip, whom the other miners called "Mr. Patches" since they couldn't pronounce "Pizzato," earned a steady living for his wife, six sons, and five daughters until he died in a car accident in 1947.
Linda's entire manner expresses this dual heritage. She pronounces certain words with a melodious accent, slipped between the slow syllables of her southern twang: minestrone, basilico. "When I was little we would grow basil in a washtub, and Daddy would say, 'Go out and get some basilico'—that's what we called it."
Linda learned to cook at her nonna's side. "We didn't have recipes. Nothing was measured out, but each day had its own purpose. Monday was bread baking day. Sunday, we made sauce, always red sauce, never white. … On Sundays, food stayed out all the time and we would just eat all day long."
They made chicken cacciatore, homemade pasta (they hung the noodles on a pole over the bed), egg frittatas, and Italian wedding soup, all of which Linda remembers fondly. But she also snuck out to the neighbors' place to try pinto beans and biscuits. Her recipes now are a mix of local and foreign, old world and new.
"She just wants to feed people," her daughter Jina Belcher explained, and that was certainly true for me. Each time I visited, Linda fed me, cooking with fresh ingredients from the garden. Since I'm a vegetarian, she made me some standards: veggie dip with chips and carrots, chocolate mousse, and my favorite, kale salad with strawberries, of which she is especially proud. "When people tell me they don't like kale, I say, 'You ain't tasted my kale.'"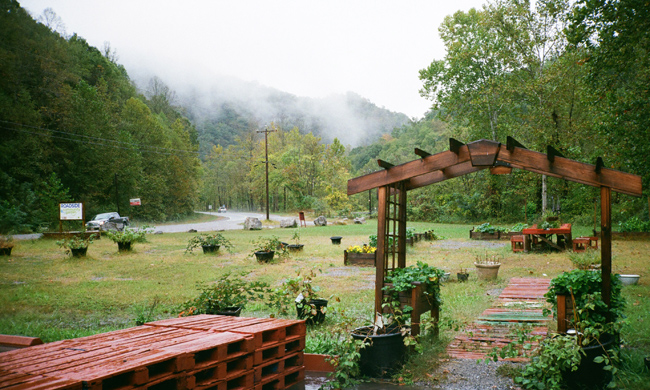 Potted gardens at Five Loaves. Photo by Laura Michele Diener.
Linda makes and gives out wholesome, healthy food because that's what she was raised on and what she fed her own children—but also because she wants to reverse the health trends in McDowell County. She understands that obesity and poverty go hand in hand, as half the county is on some kind of public assistance and may not be able to afford fresh produce. But she believes that education and changes in lifestyle can help people get their hands on good food, even when they don't have much money.
Every Wednesday of this summer, she held community cookouts in the gardens with an emphasis on healthy eating and fresh vegetables. Nearly 400 people attended regularly, Linda estimates. She also offers Zumba classes (she's a certified instructor), vegetable planting parties, and cooking courses.
In addition to her passion for healthy eating, she finds herself motivated by her Christian faith, which was nurtured in riverbanks, mountain soil, and in the small Methodist church where she worshipped as a child. She is a certified Methodist lay pastor, which means she can preach but not perform communion or weddings. "I could go anywhere in any church and feel comfortable, except where there's snakes," she says, referring to a Pentecostal ritual where certain parishioners hold venomous snakes during worship as an expression of faith.
She shuddered and then broke into laughter. "I won't go to no snake church."
She finds her faith renewed each time she reaches her fingers into the dirt. "I totally believe that relationships are built at a table and in a garden. When you bring those two together, you have family."
Betting on agriculture
Unlike his mother, Joel McKinney does not like dirt, and he hates bugs. What attracts him is the challenge of invention. Full of restless energy, he rarely stands still. As we spoke, he paced around his hydroponic towers, lifting up vines and pulling off dead leaves with gestures alternately rough and tender.
Joel's goal is to provide a model for sustainable business that others in the region could learn from.
"I'm a science nerd," he told me more than once. He practices a form of urban agriculture usually pursued indoors, but does it outside so it's visible to local people. The unusual sight of the five white plastic towers, each one more than eight feet tall and bursting with rainbow-colored vines, attracts curious passers-by. Which is exactly what Joel is hoping for—to get locals excited about the economic possibilities of growing. "Agriculture is the best possible future for McDowell County," he insists.
This work has consumed all his time for the past year, since he quit his job as a signalman for Norfolk Southern. Soon after that, he received a veteran's grant from West Virginia State's agricultural program to start a greenhouse at the armory in Welch, the county seat. He devoted himself full-time to growing—moving into his parents' basement, enrolling in Penn State's online program for a degree in agriculture, and building and maintaining hydroponic towers on the armory grounds in Welch, as well as the ones at Five Loaves. To do all this, he has taken out around $30,000 in loans. "So in about two and a half years, if something don't happen, life's going to be hard," he says. "But I'm pretty certain."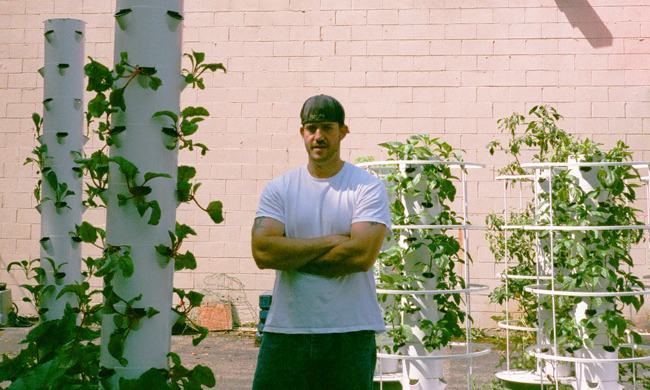 Joel McKinney with the hydroponic towers he's installed at Five Loaves. Photo by Laura Michele Diener.
While Linda is propelled by faith, it's the prospect of a good living that motivates Joel. Although he says he will never charge for food at Five Loaves, he hopes his towers at the Welch armory will eventually turn a profit. He has already approached grocery retailers Wal-Mart and Kroger. Once he begins selling vegetables, he plans to roll the funds back into the community garden at Five Loaves to finance projects there, including a CSA program that will distribute groceries directly to local people, a permanent farmers market, a plant store with seedlings for sale, and most of all, educational programs. His goal is to provide a model for sustainable business that others in the region could learn from.
"This is kind of small-scale," he acknowledges, "but I want to start here, learn the ropes, and then take it to the county level."
Feeding the county
It was August 22, the third Saturday of the month. Welfare checks were running low, and the residents of McDowell County descended on Five Loaves for the food giveaway. Cars lined both sides of the road. Old men rested in their pickup trucks, while women with camp chairs chatted in the sun. The lively atmosphere of a town festival pervaded, with children racing around the porch, scrambling over the pallets, and running through the garden. The men smoked down by the river at the back of the garden. One man with a white beard gestured toward the tree tops, preaching to the smokers. "Who do you think created this blue sky?" he asked.
West Virginia residents gather for Five Loaves' food giveaway. Photo by Laura Michele Diener.
There was only enough food for 150 families, and it was first come, first served. So even though the giveaway began at noon, most of the people had already been there for hours to ensure they were included. Some had brought tents and camped out the night before. One family had waited since 2:30 in the morning.
The food had come from a variety of sources. Much of it arrived in trucks that come once a month from Operation Blessing's Hunger Strike Force, a humanitarian organization founded by the minister and TV personality Pat Robertson. Five Loaves receives donations from the local Wal-Mart as well as from individual donors.
At noon, everyone lined up on the porch for their turn to receive a grocery cart, move through the warehouse grabbing products from the freezers and shelves, then back outside to sort through three big bins of produce. Volunteers, all with relatives waiting in the line, moved the people along and helped push the carts and load up cars.
Linda kept the line in order with an iron will. "You git off my porch with that cigarette!" She shouted, chasing a recalcitrant man. She sat at the head of the line for hours, joking with people and rising to hug them.
One man waited around all day to collect any unused scraps for his pigs. He hovered at Linda's shoulder, never speaking, his blue eyes like pinpoints lost in a creviced face, a bandana tied on top of his battered fedora. Occasionally he carried a bag of lettuce or such to his truck. "That's Mr. Chester," Bob McKinney said, pointing him out to me—he knew almost everybody.
Unlike Linda, Bob stayed in the background, pushing carts and lifting boxes of food. A slim man with round glasses, he spoke in soft, measured tones.
We heard Linda's voice rising above the crowd. Bob gestured over to her as she chattered away with the woman at the front of the line. "She's a networker," he said, smiling fondly. "Me, I'll take care of the rest."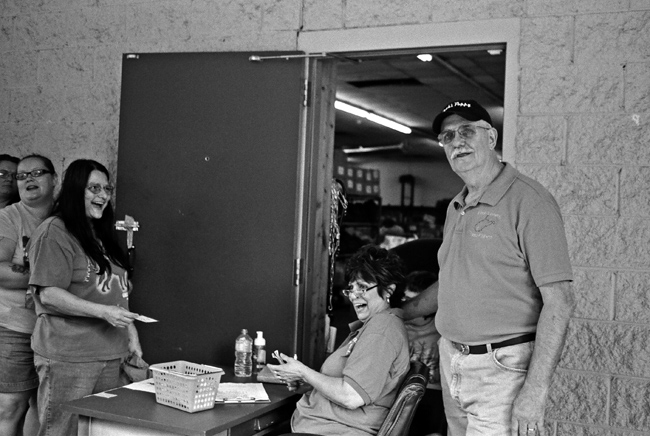 Bob and Linda McKinney work the food line at Five Loaves. Photo by Laura Michele Diener.
The rest included all the maintenance, the electrical work on the building, and keeping the forklifts and freezers in good working order. Bob is an ordained Methodist minister, but had never been completely comfortable speaking in front of people. "I had felt a calling in the ministry," he explained, "but it's this kind of ministry."
"I totally believe that relationships are built at a table and in a garden."
A mine-safety teacher, Bob is the only member of the family still actively employed in coal. Like his father before him, he has worked in the industry his whole life, either as a teacher or a safety inspector, but he also acknowledges that mining is no longer economically viable for southern West Virginia.
As a minister and then at the food bank, he has witnessed the toll the changing economy has taken on McDowell County. He pointed out a number of people in the line who had jobs, sometimes commuting outside the county, but still couldn't make it through the month. Others were disabled from accidents in mines or on construction sites. As I looked at the crowd, I noticed that a good portion were elderly—women with white hair plaited around their heads, men in suspenders lounging against the wall beside their walkers.
Bob looked them over worriedly. "Politicians have the attitude—'Them people just here for a handout.' 'Get a job,' they say. Get a job where? I say, 'You give 'em a job, I'll stop giving 'em food.'"
A world beyond coal
"My dad was a coal miner my entire life. That's how I was raised. That's how he fed us, so as far as that's concerned, my heart is there." Jina, Bob and Linda's youngest child, is certainly her mother's daughter. Her determination bursts through in her voice, even more so than Linda; she speaks quickly and articulately. She works full-time at a local bank in Welch and also takes care of all the finances for Five Loaves, which she sees as far more than a place to pick up food once a month.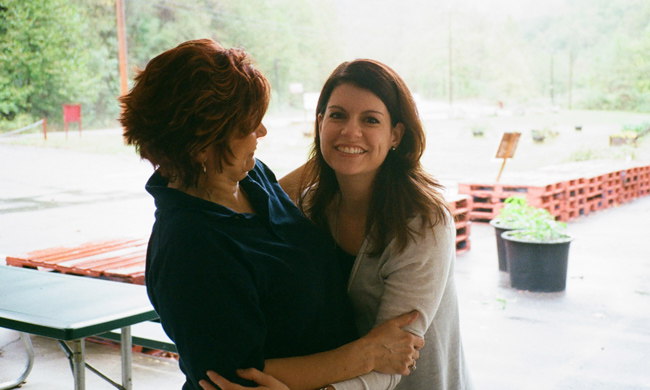 Jina McKinney hugs her mom. Photo by Laura Michele Diener.
Like her parents and brother, she sees the food bank as leading the way in economic alternatives to coal in McDowell County. The daughter and granddaughter of coal miners, she also dated one all through high school and eventually married him. But at Concord University, which she attended on a full scholarship as a recreation and tourism major, she learned about the effects of mountaintop-removal mining on the environment. She is also aware that opportunities for coal mining are waning in southern West Virginia.
"I do think it's a dying industry, and I think that if we could get the passion of these ex-coal miners involved in a new agricultural business, that it could flourish."
Some former coal miners have transitioned successfully, and Jina points to her husband, Justin "JD" Belcher, as an example. After 7 1/2 years at the same mine, he found himself laid off. But he took the opportunity to pursue videography, which had always been his passion. Entirely self-taught, he submitted a trial reel to a local car dealer and now works full time for the company as a video editor. He also runs his own wedding videography business, Unscripted Memories.
Justin has taken charge of public relations at Five Loaves and makes films for the food bank's Facebook page. "When we look at our life two years ago when he was in the mines, yes, of course there was more money," Jina says. "But now it's stable and he's doing what he loves."
His transition, she believes, could be a model for the community.
All roads in the county
Linda McKinney was right when she told me all roads in the county lead to the food bank. That might sound depressing, but there's more to it than dependency. In McDowell County, the Five Loaves and Two Fishes food bank is the heart of the community, a place people go for education, fellowship, and vision.
"I love going out there early in the morning, walking into that garden," Linda says. Her vision acknowledges the coal heritage of McDowell County, which brought her grandparents over on a boat from Italy in the hope of striking it rich, and kept them fed and clothed for generations. But it also looks beyond it to a future of self-sufficiency and small businesses fueled by cultivated fields bursting into bloom in the hollers.
In the future she wants to see, people will flock to the county she loves rather than flee from it. "This county's been good to me. It's been good to our family. It's been good to my husband. Where else would I go? I wouldn't do well. I'm too loud." She laughed in her joyful manner, shaking her whole body.
"They can say, poor, poor West Virginia and poor, poor, McDowell County. I don't do that. I'm gonna be the brightest little star I can in my little corner where God put me."