What Legalizing Street Vending Could Do for L.A.'s Local Economy
One bright morning on a quiet street corner in south Los Angeles, Mariposa Gonzalez finishes carving thick wedges of watermelon, oranges, and pineapple before stacking the slices neatly on a bed of ice. She scrubs down her cart until it gleams and, when satisfied, takes a seat and waits.
Street trade makes up a hefty slice of the city's economy.
Street vending runs in Gonzalez's family. Introduced to it by her mother and father, both from Guatemala, she has been selling goods on the streets of L.A. for more than 25 years. Now 31, she has to make what meager profits she earns—sometimes as little as $50 a day—stretch far. She has a young daughter to parent alone, a rusty old van to maintain, and a mother who is fast going blind. But one ever-pressing concern hangs over Gonzalez's business: a long-standing prohibition on street vending in L.A., the debate around which has reached a crescendo as a final decision looms.
"I got kicked out of here last Tuesday," she says. "One of the cops told me not to come back here for six days. But when it's the only job you have, it's hard, really hard, to survive."
Save for a handful of areas like Venice Beach, street vending isn't permitted in L.A., one of a few U.S. cities that don't allow it. And yet, street trade makes up a hefty slice of the city's economy. According to an Economic Roundtable report, expenditures by an estimated 50,000 street vendors generate $517 million in economic stimulus, four-fifths of it in the local economy, and an estimated 5,234 sustained jobs have been created to meet the demand of vendors and their purchasing activities.
The report isn't without its critics. Brick-and-mortar business groups argue that its findings exaggerate the true economic value of street vending to the city, although some business owners say they would accept a lifting of the ban if it included caveats like designated vending zones, where communities could "opt in."
Still, some small-business owners like Jackie Ryan, who owns the Zambezi Bazaar retail store in Leimert Park, view street trade—and the cut-price merchandise frequently sold—as providing "unfair" competition. She would like to see the city properly enforce the current prohibition on street vending.
"These people are chasing the American Dream but hitting a wall."
"We have to pay all sorts of things, like city fees, license fees, and insurance, while the city doesn't collect any fees from street vendors," Ryan says. "Our business improvement district charges us $1,000 a year. Vendors, they don't have to pay anything to sell merchandise. That puts us at a distinct disadvantage."
On the flip side of that coin is the Los Angeles Street Vendor Campaign, representing some 60 street vendor organizations and advocates. The campaign has been pushing for a system that gives street vendors—many of them low-income earners, immigrants, or single parents like Gonzalez, who find it tough to earn a living any other way—the opportunity to carve out a legitimate income with far fewer restrictions. They seek a model that legalizes street vending across the city as a whole rather than in specific zones.
"Vending is a different kind of industry that doesn't necessarily compete with the established businesses," says Fernando Abarca, community organizer with the East Los Angeles Community Corporation and a central figure in the Street Vendor Campaign.
"One small business shouldn't be regulating another small business," he adds. "The campaign is all about formalizing these informal workers to give them the right to work. We want to provide economic development for low-income communities that can really benefit from the income that would be coming from street vending."
District model vs. city model
Winter hangs in the air as the sweet tang of grilled sopes drifts down to where Eugene Richardson sits beside a small table with sunglasses, key chains, and batteries—a stall he has kept at MacArthur Park for three years. For his regular job, he works nights for FedEx.
When working at his stall, Richardson carries with him a tax registration certificate, a plastic-coated slip of paper with the L.A. city stamp in green at the top. "You can get them from City Hall for free," he says. But it's not an official permit, so most police officers and city officials from the Bureau of Street Services (BSS) won't acknowledge it. And those who won't acknowledge it typically move him on or hand him a fine of $280 to $300.
Authorities can still ticket health-permitted vendors for selling food on the streets.
This tale of legal limbo is a familiar one in L.A., and food vendors who pay for a county health department permit offer perhaps the most glaring example. A health permit can run thousands of dollars, yet the authorities can still ticket health-permitted vendors for selling food on the streets.
Richardson remembers the late '90s when MacArthur Park was the venue for a pilot program. Forty-two permits, each costing $700, were issued to vendors to sell their wares at a designated spot in the park. But it was one of the quieter spots—"There were no pedestrians where they put them. They'd starve to death," he says—leaving heavier foot traffic to vendors without permits. The pilot program ended in 2005 because of inadequate funding and enforcement, a UCLA study found.
Still, a district model is the favorite among organizations like the Coalition to Save Small Business, which says it would ensure that residents and businesses have a choice about street vending in their commercial areas—but adequate funding for enforcement is key.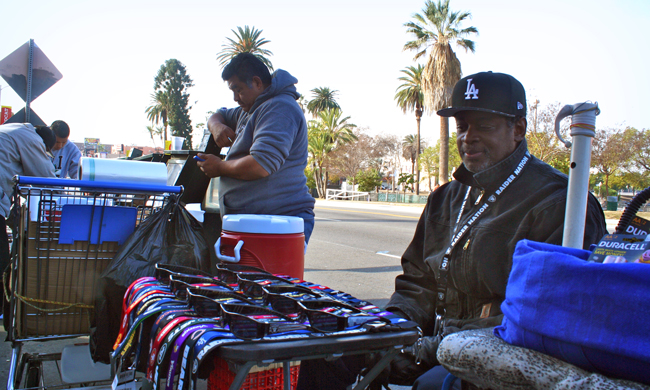 The issue of enforcement is a cornerstone of the debate, with many arguing that revenue generated from fines and permits would pay for the oversight of a street vending system. But other cities offer scant data to support that claim. A study done of New York found that in 2009, fees and fines totaled about $1.4 million, while the cost related to regulation and enforcement totaled at least $7.4 million. The high cost of enforcement is why some street vending advocates in L.A. are pushing for a citywide model.
"The reason why we don't like the district model is that that model has already been experimented with in MacArthur Park, and failed. And with designated vending zones, what we found is that it is more expensive and more difficult to enforce than a citywide model," says Rudy Espinoza, executive director of the Leadership for Urban Renewal Network.
Still, Espinoza agrees that some restrictions are necessary, like ensuring ample sidewalk space for pedestrians and requiring food vendors to get permission from adjacent restaurants. "There should be a clear permitting process, because right now there's confusion."
Other important concerns underpin the push to legalize street vending in the city. For one, street trade is often one of the few opportunities that the poor, immigrants, and people with little access to credit have to earn a living. A recent study of street vendors in five foreign cities found that 68 percent relied on street vending as their main source of income. Then there's the matter of safety and welfare. Street gangs will frequently charge vendors rent for working in their areas, says Gregg Kettles, former deputy counsel to Los Angeles Mayor Antonio Villaraigosa. What the current system does, he says, is leave vendors—many of whom are women—vulnerable to other forms of crime (indeed, Gonzalez admits that she has been held up at gunpoint twice).
"Any time business operates outside of the law, there are going to be others to step in to try to regulate it. So, if it's organized crime and drugs and things like that, street vendors—by virtue of them being on the street—get targeted," Kettles says.
Street vending: an economic debate
Ryan has run her small retail store in Leimert Park for 20 years. At the beginning, she says, the park was home to only a few street vendors. But since then, that number has swollen appreciably, and many of the vendors sell cut-price merchandise similar to that found in her store. "All I feel is the unfairness of it, I really do," she says. "They have not brought one cent of extra business."
"All I feel is the unfairness of it, I really do."
However, what little data exists looking into the impact of vendors on adjacent brick-and-mortar businesses suggests the opposite. The Economic Roundtable Report found that on average businesses that fell in census blocks with no or few street vendors lost 5 percent of their jobs, whereas businesses in close proximity to street vendors gained 5 percent. The report also claims brick-and-mortar stores "suffer" when vendors leave the neighborhood.
Many of the strongest arguments for legalizing street vending are economic ones, argues Sally Roever, urban policies program director for Women in Informal Employment: Globalizing and Organizing. Some are obvious—such as the revenue generated through licenses and permits—while others are less so. For example, most vendors buy their merchandise and produce from local businesses. "They go to the wholesale market, and they buy something with capital they earned or borrowed, so they're stimulating demand for suppliers," she says.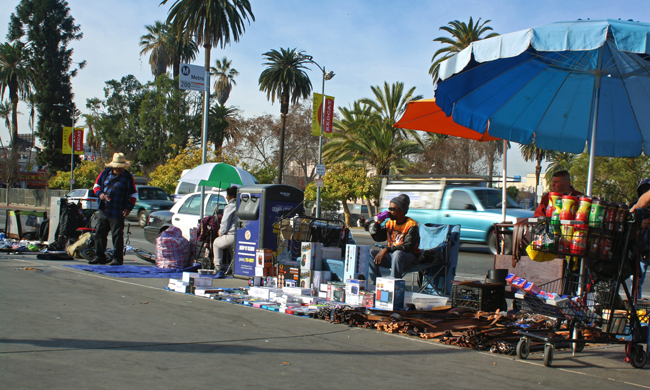 The vast majority of U.S. cities allows street vending, which leaves many to wonder why L.A. doesn't. The kinds of models other cities use depend upon how ubiquitous their street vendors are, says Mark Vallianatos, policy director of the Urban and Environmental Policy Institute at Occidental College. "Cities with a lot of vending, which L.A. has, tend to lean toward a citywide model. But it's more the cities that don't have a strong tradition in vending that have approached it more cautiously with specific districts."
Other programs can provide valuable lessons for L.A., Vallianatos says. In New York, for example, a quota system caps the number of street vending permits issued. The cap is tight, and available permits are as rare as gold dust. What this has done, he says, is push the process underground, with permits—ordinarily a few hundred dollars—selling on the black market for up to $20,000. "This goes to show how it's not a good idea to have a quota. You should find a different way to avoid over-concentration," he says.
A city council committee could make a decision in the next few months, ending decades of wrangling on all sides.
Those behind the street vendor campaign hope that years of fighting for a citywide model pay off. "These people are chasing the American Dream but hitting a wall," says Abarca. "At the end of the day, vendors have got to have a system that's fair for them, and that will only benefit Los Angeles."