Another Victory for Workers in Seattle—This Time It's Their Schedules
Thanks to an ordinance passed last month, service and retail workers will finally get reasonable shift schedules, along with their $15-an-hour minimum wage.
Why you can trust us
---
Although she was hired on as a full-time employee at Domino's Pizza, Crystal Thompson had a schedule that became erratic and unreliable shortly after she began working there in 2009. One day she'd start at 9 a.m. and work until 9 p.m.; and then she'd get a call asking her to work the morning shift the next day.
"It's so hard trying to plan your life."
The single mother of three relied on the job to pay over $1,200 a month in rent, utilities, food, and child care, but during the most volatile weeks, she was lucky if she got even 20 hours in shifts. Moreover, it was difficult to find a babysitter or make doctor's appointments when she sometimes received her schedule only a day in advance. At a loss, Thompson moved one of her children into the living room and found a roommate to shoulder the part of the rent that she couldn't afford.
"It's crazy," Thompson says about her schedule. "It's so hard trying to plan your life."
But thanks to an ordinance passed in Seattle last month, Thompson and other workers in the service and retail industries will finally have the freedom to think more than one day ahead. The new law, known as "secure scheduling," will take effect in July 2017 and will impact large retail, service, and drinking establishments with a minimum of 500 workers globally, as well as full-service restaurants with more than 500 workers and 40 or more locations.
The measure requires that employers post work schedules at least two weeks in advance, offer additional hours to existing workers before hiring new employees, and provide at least a 10-hour break between closing and opening shifts. Thompson says that anything less than that doesn't leave enough time to rest, shower, care for her children, and be alert enough to work another shift.
The Seattle measure comes on the heels of similar legislation passed in San Francisco in 2014, which labor activists call a game changer for the labor movement. It provides that hourly workers have the ability to better budget their expenses, take on second jobs, and plan for education and family time.
Workers in the service and retail industries will finally have the freedom to think more than one day ahead.
Working Washington, a Seattle-based labor advocacy organization that led the efforts, attests that, much like legislation for a $15 minimum wage that passed in Seattle in 2014, predictable schedules will likely spread to other cities and states too. New York City Mayor Bill de Blasio recently announced that he and other city officials plan on drafting legislation to ensure secure scheduling for fast-food workers.
Thompson's plight is common for workers in the service and retail industry nationally, as shown in a report co-authored by associate professor Susan Lambert at the University of Chicago's School of Social Service Administration. About 3 out of 4 early-career adults in hourly jobs report fluctuations in the number of hours they've worked in a month, and nearly half of part-time workers said that their employers gave them a week's notice or less when their schedules changed.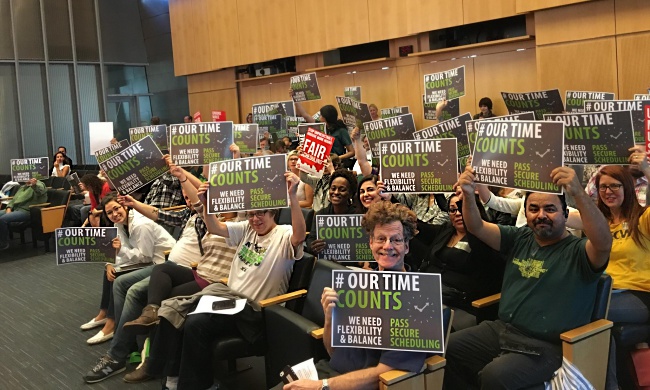 Photo courtesy of Working Washington. 
The problem is especially severe among African Americans and Latinos in Seattle. Another study, this one commissioned by the city itself in July, revealed that the two groups were the most likely to receive their schedules with less than a week's notice, be required to be on-call, or to be sent home during slow shifts. They also reported higher rates of having difficulty attending classes and working second jobs because of their schedules.
Sejal Parikh, executive director of Working Washington, says that erratic scheduling has proliferated in the past two decades with the advent of scheduling software programs. After her group pushed for a $15 minimum wage and won, a campaign for secure scheduling seemed like a natural next step, she says. "The $15 minimum wage is about money, and the secure scheduling campaign is really about power."
A stable schedule allows workers to spend time with their families, have hobbies, and further their careers.
But the measure is not immune to opposition. The advocacy group Washington Retail Association issued a press release in August stating that the measure undermines the fluctuating nature of business and would lead to layoffs. But Parikh counters that companies are already staffing leanly and that there's usually not an excess of workers during one shift. A secure schedule simply allows a barista who lives an hour away from work to get eight hours of sleep at home instead of sleeping inside of the coffee shop, she contends.
It's important that the more than 75 million people who work hourly jobs nationally have some say in their own schedule, says Carrie Gleason, director of the Fair Workweek initiative at the Center for Popular Democracy. A stable schedule allows workers to spend time with their families, have hobbies, and further their careers. Gleason adds that the legislation "ensures that Seattle workers can have a voice" in determining how many hours they work, which is something she hopes catches on in other cities.
In Seattle, Thompson is already planning out the time she'll enjoy once she has a more predictable schedule. She is now working part time because she's caring for her 9-month-old baby, but Thompson says she plans on going back to school to get a degree in Spanish and to become an interpreter. The new ordinance will also allow her to figure out child care and to budget for the rent in her new Section 8 housing, which takes 30 percent of her income.
More than anything, Thompson says she's looking forward "to more peace of mind."
This article was funded in part by the Surdna Foundation.
---
Melissa Hellmann

reports on artificial intelligence at The Seattle Times and is a former Surdna reporting fellow for YES!.
---