In a Rust Belt Town Where Tuition Is Covered, Economy Begins to Revive
Autre Murray, 24, never planned to go to college. He thought he couldn't afford it—even with student loans. Besides, he wasn't thrilled with the prospect of ending up in "debt up to the neck." Instead, Murray planned to earn a high school diploma and find a job doing manual labor, maybe somewhere like a factory. He told himself he didn't need a college education to become successful.
"All good jobs require some kind of training and education beyond high school."
But now he's on his way to obtaining a bachelor's degree, as are other members of his Kalamazoo, Michigan, hometown. That's thanks to the Kalamazoo Promise, a scholarship program first announced at a board meeting of Kalamazoo Public Schools in November 2005. The nonprofit of the same name provides scholarships that cover 65 to 100 percent of college tuition and fees for all graduates of Kalamazoo Public Schools who meet certain criteria. Students have 10 years from the day they graduate high school to use the scholarship.
"I might as well go now," Murray says he told himself, when he heard about the Promise. "I'll be stupid not to."
Murray, the eldest of four children raised by a single mother, remembers his family relying on government assistance and bouncing from house to house in some of the city's poorest neighborhoods. Murray's newfound hope was shared by many in this economically troubled city, which lost about 4 percent of its population between 1990 and 2000. The Promise was intended to reverse that trend by creating incentives for residents to remain in Kalamazoo and for new families to move in.
"The donors believe that a community's vitality—politically, socially, and economically—is closely related to the educational level of the community," says Bob Jorth, executive director of the Kalamazoo Promise. "In the knowledge-based economy that we're in, almost all good jobs require some kind of training and education beyond high school."
In its first 10 years, the Promise invested more than $75 million in 4,000 students.
By many measures, the program has succeeded. The population began to rebound almost immediately, while dropout rates declined, particularly among African American women. Over its first 10 years, the Promise invested more than $75 million in 4,000 students, and at least 90 other communities across the U.S. have created Promise scholarships based in some way on Kalamazoo's program. Barack Obama even considered it a model for a federally funded free community college program.
Realtors even began posting yard signs featuring the Kalamazoo Public Schools logo and the phrase "College Tuition Qualified" in front of homes.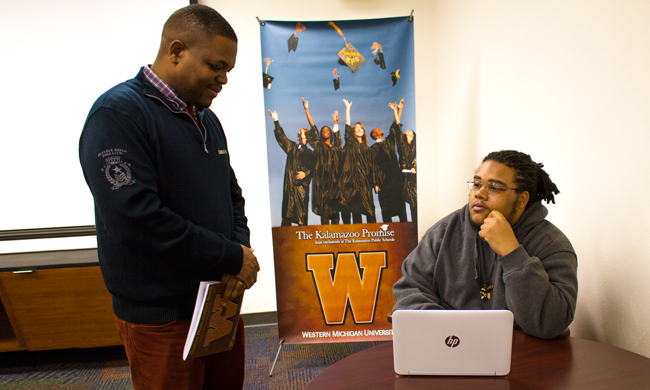 Autre Murray speaks with Ron Dillard director of the Western Michigan Universitys Kalamazoo Promise Scholars Program. Photo by J. Gabriel Ware. 
However, Timothy Bartik, senior economist at the W.E. Upjohn Institute for Employment Research, a nonpartisan think tank, says no rigorous study has been done to measure the Promise's impact on Kalamazoo's housing market and economy. It would be difficult to separate the influence of the Promise from that of the Great Recession, he adds.
The impact of The Promise, Bartik says, is most visible in the public schools themselves. In 2016, he helped lead a study that found that, after the scholarships became available, the likelihood that an eligible student would graduate college within six years of finishing high school increased by about a third. Additionally, enrollment in the Kalamazoo Public Schools increased by 24 percent.
"And that figure actually underrepresents the impact of the Promise," Bartik says. "Because not only did the Promise increase student enrollment, but it also stopped it from dropping."
Who is it really for?
Murray graduated from Loy Norrix High School in 2010, and used the Promise scholarship to earn an associate's degree from a nearby community college. He transferred to Western Michigan University, where he's majoring in video, film, and media studies. Although the Promise has opened doors for him, he is sometimes apprehensive about revealing that.
"I don't want people to think I'm just some dumb kid from the 'hood who's [in college] just because somebody donated some money," he says. "I have a brain, and I'm very much capable in the field that I want to go in."
He's not the only one to worry about the racial implications of the scholarship. Janice Brown, the now-retired superintendent at Kalamazoo Public Schools who first announced the Promise, recalls that skeptics worried at the time that it was intended for children from white middle-class families in an attempt to stop white flight. She remembers a conversation she had with an African American student who told her he wasn't going to use the Promise scholarship.
"He told me, That Promise isn't for me—it's for the white kids." Brown recalls. "I told him that was absolutely not true."
The Upjohn research shows that the improvement in college completion rates since the launch of the Promise is just as strong for minority and low-income students as for white and middle-income students.
The perfect promise?
Michelle Miller-Adams, a political scientist and researcher at the Upjohn Institute, chronicles the spread of scholarships modeled on the Kalamazoo Promise in her book Promise Nation: Transforming Communities Through Place-Based Scholarships. She says despite having "Promise" in their names, these scholarships vary in which students are eligible, where students can use the scholarship funds, and how much money is awarded.
"The one thing these communities have in common is that they are using these scholarships to fix some issue in their community," Miller-Adams says. "That's why all of these scholarships are different—because these communities all are trying to address something different."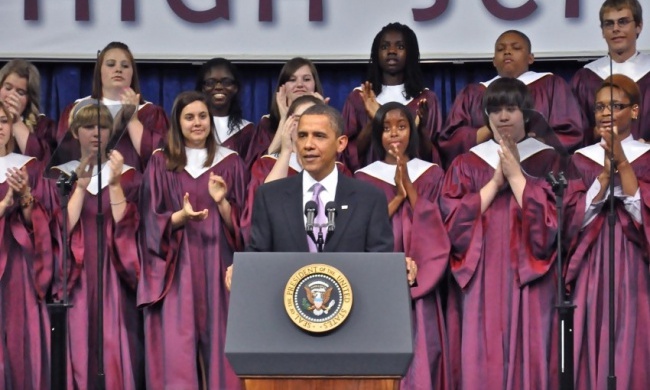 Barack Obama delivers keynote speech at Kalamazoo Central High School's commencement ceremony in 2010. Photo courtesy of Kalamazoo Promise.
Still, the program's staff has noted some challenges to overcome for the next 10 years. While 4,000 students have started college with Promise scholarships, only 1,000 have received degrees. To increase the graduation rate, the group last year implemented support programs at Western Michigan University and Kalamazoo Valley Community College to offer mentorship, tutoring, and additional resources to students.
"Promise students graduate with less debt than their peers."
And then there's the question of debt. Forty-four million Americans collectively owe $1.26 trillion in student loans, while the average 2015 graduate owed more than $30,000.
Even though the Promise covers up to 100 percent of tuition and fees, Miller-Adams says, the program can't guarantee that its students will walk across the stage debt-free because the scholarship doesn't cover essentials such as textbooks and housing.
"I don't think the donors came together and said, Student debt is a big issue and we must fix it," she says. "I think they were thinking more in terms of the whole community. … But still, the Promise makes it easier to get through college and Promise students graduate with less debt than their peers."
The scholarship covers tuition for a bachelor's degree or 130 credits.
Murray knows that reality firsthand. Last summer, with just one year left to go before graduation, he received a letter that informed him that his scholarship money had run out. The notice took him off guard because he had been in Kalamazoo public schools since kindergarten; he assumed that the Promise would cover 100 percent of his tuition. However, he hadn't paid attention to one crucial proviso: The scholarship covers tuition for a bachelor's degree or 130 credits—whichever comes first. By taking the community college route, changing his major once, and dropping a course, Murray completed the 130 credits without obtaining a bachelor's degree. He was forced to take out some small loans, but he's OK with that.
"I know people who are in $30,000, $40,000 in debt," he says. "I'm nowhere near that."
He, along with a few other Kalamazoo Promise students at Western Michigan, will be studying abroad in the Dominican Republic this month during spring break. He will return just in time to pick up his cap and gown for graduation in April.