Meet the Woman Who's Boosting Arizona's Mom-and-Pop Business Culture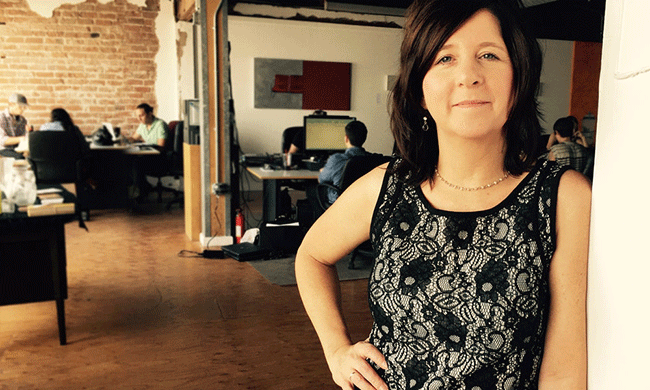 Kimber Lanning stands at just 5 feet 1 inch. But in the Arizona economic landscape where she acts as a fierce advocate for local economies, she is a giant.
In 2003, Lanning started Local First Arizona. She was the only employee, and didn't take any salary. Now, with 3,200 members, it is the largest coalition of local businesses in the country. The coalition's staff of 24 manages programs ranging from an annual local business fall festival to the state's first directory of locally grown food to a program in Spanish for micro-entrepreneurs.
"I saw how unfair the competition is for local businesses."
Lanning is widely recognized for her work. Even though she finds traditional economic development planners to be frequent adversaries, in 2014 the International Economic Development Council awarded her a Citizen Leader of the Year Award. She considers that a turning point in planners' recognition of the value of local businesses. Arizona Business Magazine named her one of the 50 most influential women in Arizona, and the American Planning Association named her Distinguished Citizen Planner for her work on the reuse of old buildings.
In November, at a conference of the nonprofit Business Alliance for Local Living Economies, for which Lanning is an incoming co-chair, Lanning told me of the sources of her passion for local business.
Fran Korten: Kimber, what propelled you to start Local First Arizona?
Kimber Lanning: I was angry. I wanted to expose the horrible subsidies being given to big corporate chains. I own a record store that I started when I was 19. And I saw how unfair the competition is for local businesses. For example, in Glendale, Cabela's got a $68 million subsidy. Bass Pro got $32 million. And I began to see the fallout. You'd read that Bass Pro is to create 160 jobs. Yet, I'm going over to Lorada's Army Surplus and they're closing. They say the city just took the income tax, the property tax, the sales tax that they've been paying for the 30 years and incentivized the competition to put them out of business. So I wanted to level the playing field for locally owned businesses.
I also wanted to strengthen people's connection to place. In Arizona, a lot of people have moved here from Chicago. They are always talking about how great Chicago is. So I asked people why they love Chicago. They would say, "In my old neighborhood, I knew all the store owners." One guy said, "I had the same barber for 40 years, and I come out here to Phoenix and all you guys have is Supercuts." And I said, "This is so unfair. You give me 20 minutes and I'll find you 20 barbers." And he said "Really? Where?"
So I realized I've got to introduce these people to my world and the rich culture we have amongst the locally owned businesses. In Phoenix I put together a fall festival where I had all these businesses in one place. We are so geographically spread out that you never see them in one place. Put them all together and people started to go, "Wow. There is some cool stuff going on right here."
"Don't support mom-and-pop because mom and pop need you—support them because you want your children to have a job."
Korten: You make the connection between buying local and having a thriving local culture and economy. Do you think other people see that?
Lanning: Generally they don't. One of my mentors, Eddie Basha, told me this story. He owned a group of local grocery stores. The husband of a couple who were long-time customers died. Eddie called the widow and offered to provide all the food for the service. She was incredibly grateful. But he also told her, "I can't bring the drinks." And she said, "Oh, don't worry, I'll pick up the drinks at Costco." When I tell that story, people in the audience gasp because they've done exactly that. We're so disconnected from how the economy works that we believe we can put money into these big corporate entities and our friends who donate food when your husband passes away will survive and be there for you. And I'm here to tell you that they won't.
Korten: After the Trump election, a lot of people are paying more attention to jobs in rural areas. You're based in Phoenix. How does Local First Arizona work in rural areas?
Lanning: Rural towns have massive economic leakage. Amazon is the biggest threat facing rural America. People in rural communities tend to either buy online or travel to Tucson or Phoenix to spend their money. They don't connect that to the fact that the town can no longer balance the budget because they don't have sales tax revenue coming in and the storefronts are boarded up. You know, the jobs they lose aren't just baristas. It's the graphic designer, the payroll service provider, the accountant. Those jobs go away when you lose local businesses. I always tell people, don't support mom-and-pop because mom and pop need you—support them because you want your children to have a job.
At Local First Arizona we make sure that these local businesses have the tools and resources they need to compete. One program we do is Mythbusters. People in rural areas will tell you, "I can't buy this here." So we reintroduce them to their town, showing what they can buy locally. And we dispel the myths about how expensive it is. I had a guy just barely hanging on, selling appliances in the town of Ajo. Everybody said he's too expensive. They go buy in Tucson, which is two hours away. So I compared his prices with those in Tucson. Sure enough he was more expensive. But I factored in my gas to get to Tucson and back and the fact that, say, for a washing machine, I'd have to get a trailer to bring it home. And I'd have to pay somebody to haul away my old one, whereas he would do that for free. You stack those up and he was actually cheaper. After our Mythbusters program, his business is up significantly.
Korten: Arizona has a lot of Latinos. How do you reach them with your programs?
Lanning: Our Fuerza Local program is a six-month business accelerator program taught in Spanish. We help Latino micro-entrepreneurs strengthen their businesses.
Korten: What's an example of a business you have helped with that program?
Lanning: We have many remarkable examples. We had a wedding cake baker whose business was all word of mouth. She had no marketing and no formal contracts. She had been sold three kinds of insurance that she didn't need and was paying 48 percent interest on her loans. She had no health permit, no business permit. She was just a great baker. People would ask her to bake their wedding cake. She would quote, say, $500. But she'd go to deliver the cake and they would say, "We're sorry. We only have $275." So she would leave the cake and just feel sad.
After graduating from our Fuerza Local program, she enrolled in a credit union where she got a 6 percent interest loan and paid off all of her bad loans. We got her the right kind of insurance. GoDaddy donated a website. We got her up on Facebook and helped her develop contracts. I remember her face when I explained that she needed to ask for 50 percent down when a customer placed the order. She said, "I can't do that." I said, "Don't bake a thing until you've got 50 percent in your hands." Now, three and a half years later, she's in a commercial kitchen. She has six full-time employees and she has a contract with Bashas', the biggest locally owned grocery store.
"Both the millennials and the baby boomers are speaking loudly with their wallets."
Korten: Does anyone oppose your work in building up local businesses?
Lanning: Absolutely. One group is the traditional economic developers. Their whole mission is creating jobs by giving away massive corporate subsidies. Just like everybody's jockeying for Amazon right now.
But that's changing. In 2014 the International Economic Development Council awarded me a Citizen Leader of the Year Award. That was an acknowledgement that local economy work is important. Now they're bringing in more people at their conference who are talking about a new way of doing economic development.
Korten: Who are your biggest supporters?
Lanning: Local businesses, of course. Moms who care about healthy food and the future for their children. Young people who want to make change in the world. They are jumping in with both feet because they don't like the way the corporations are treating the world. But they exempt Amazon from their concern with big corporations because they like the convenience.
Both the millennials and the baby boomers are speaking loudly with their wallets. Generally they want to place relationships first. They also want a unique experience. They may not be thinking about voting with their dollars, but you look at a comparison of craft beer versus Budweiser sales and you will see that people are voting for something unique. So when you ask who is with us, it's the people who are choosing relationships.
I believe the American public is being divided into two camps—one that prioritizes convenience, the other that prioritizes relationships. The latter is something the media never anticipated. They were beating the death drum for local independent businesses. But local businesses are climbing back. More record stores opened in the last two years than opened in the 20 years before that; more bookstores have opened; more independent coffee shops have opened than Starbucks branches.
"People can see that the dominant system is failing them and their families."
Korten: Do you feel that local businesses advance sustainability and justice?
Lanning: I think local business owners inherently care more about the community than a nonlocal corporation that's answering to shareholders who don't live in the community. They're more likely to care about long-term sustainability because it impacts their children.
Sometimes sustainability and justice are baked right into the programs that support local businesses. Take our program to repurpose old buildings. There's nothing greener than keeping an old building rather than tearing it down and building a new one. There's a study called "Older, Smaller Better," which demonstrates that communities that preserve their older building stock have more jobs per block. They support more businesses owned by people of color. They provide a unique sense of place. They are vital incubator spaces for small businesses. People say we want more entrepreneurs, but then they mow down the older buildings and put in big ones where there's no place for entrepreneurs. With the cities of Phoenix and Tucson, we've streamlined the process for a new business to open in an older building. Phoenix has the most progressive adaptive reuse program in the country. We have about 85 new businesses right in our city center to show for it.
Korten: How did you get the city to keep the old buildings?
Lanning: I just said if we don't protect our older buildings that usher in entrepreneurs and create a unique sense of place, we're not going to be competitive. That word "competitive" makes my conservative audiences sit up and listen.
One issue we had to deal with in order to keep the old buildings was the requirement that stores have ADA accessible bathrooms. If you put bathrooms in each of these small stores, it would take up a third of the floor space. I said why can't we do a district bathroom so the building owner only has to put in one set? I got the attorneys who defend the Americans with Disabilities Act to come to the city council and agree on that solution. With this change and other new policies, we've saved countless buildings and made it easier for lots of new businesses to get their doors open.
Korten: You have a passion for local businesses. Do you think it's possible to reach new audiences with this perspective?
Lanning: Yes. People can see that the dominant system is failing them and their families. And it's failing the Earth. They're looking for something that they can really put their shoulder behind.