Meet the New Climate Heroes: Faces of the Frontline
Not all of these young people focus directly on climate change in their work. But it tends to take a prominent position in their worldview, which sees issues of race, class, labor, and environment as inextricably connected.
Why you can trust us
---
From October 18 to 21, about seven thousand young people gathered in Pittsburgh for Power Shift, a four-day conference for young environmental and social activists. While most were members of campus environmental organizations, a few were activists working on social and environmental justice issues in the places they call home—fighting King Coal in Appalachia, growing gardens in Detroit, and lobbying for racial justice in Florida. For these youth, the fight is urgent and immediate.
"The frontline communities are experts in this struggle. So we need to listen to them."
I carved out some time from the frenzied activity of the conference to talk with some of them. Most articulated a radically holistic view of environmental justice that differentiates them from past generations of activists. In their experience, the environment is connected to labor, to race and class and immigration and education. It is impossible to see one without looking at the whole.
As the intersections between issues become more evident, so do the connections between regions and movements. This is the future of the climate justice movement.
All photos by Kristin Moe.
Aurora Conley (and son Misko, age 17 months)
Age: 29
Hometown: Odanah, Wisconsin
In their migration story, the Ojibwe were told to move east until they found "the food that grows on water."
"That was wild rice," says Conley, and they found it on the shores of Lake Superior. "And that's where we stayed."
The latest threat to that land, and the cultural heritage embedded within it, comes from an industrial project that has been proposed a few miles from her reservation. It is a mine for taconite, a low-grade form of iron ore. At 22 miles long, Conley says, it will be the largest open pit ore mine in the world. The company is hoping to begin extraction in 2015.
Conley worries for Misko and his three-year-old foster brother. "What is this community going to look like? How old am I going to live to be? Is fifty a high hope? Fifty-five? Will we be able to fish? Will we be able to swim? Will wild rice even be part of our diet anymore?"
The tribe has a history of unified opposition to extraction projects, and Conley is on its Eco-Defense Committee. She has been representing her tribe and speaking on behalf of indigenous rights for years. And while she worries for her children, she says, they are also what spur her to keep defending her homeland.
Junior Walk
Age: 23
Hometown: Rock Creek, West Virginia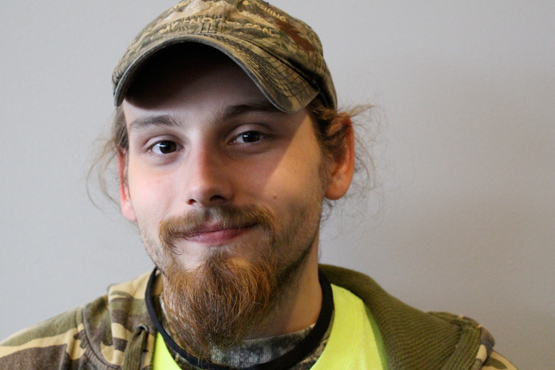 To many Appalachians, coal is a source of regional pride and identity. To Walk, it's the death of his home.
On the ridge above the house he grew up in was an impoundment of toxic coal slurry—a byproduct of the refining process—and it leaked into his family's well water. "Every single day, blood-red water would come out of my tap," Walk says.
Since coal was the only game in town, at 17 he took a job in one of Massey Energy's mountaintop removal mines. "I watched those machines tear down that mountain, 6 p.m. to 6 a.m., every night. Within the first week, I realized I couldn't just sit on my hands and do nothing."
Walk volunteered with local activists like Judy Bonds and Larry Gibson—"my heroes," he says—and secretly typed newsletters for the environmental organization Coal River Mountain Watch while working his security shift at the mine.
Now, he's a full-time organizer—but at great personal cost. "It feels like there's a huge target on my back," he says. A few weeks ago, he discovered the brakes on his truck had been cut. This wasn't a surprise. Violence toward "agitators" in coal country is routine and deadly. Walk says it makes him more determined. While his heroes have both passed away, he's picking up where they left off.
Alex and Daniel Mullins
Ages: 8 and 11
Hometown: Berea, Kentucky (originally from Clintwood, Virginia)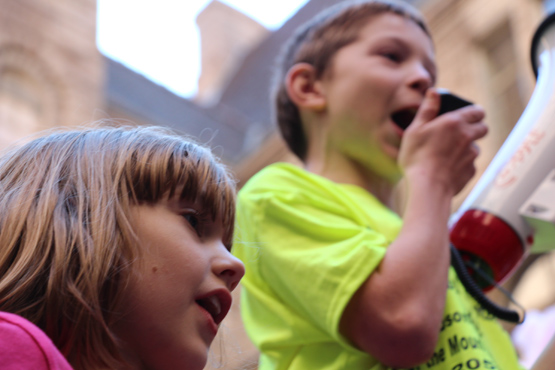 The Mullinses have only lived in Kentucky for a short while, but in Clintwood, they go back 10 generations. Daniel can tell you about his grandfather, his great-grandfather, and his great-great-grandfather, all the way down to the one who founded Clintwood in 1829. He and Alex will tell you about living in the house their great-grandparents built, their coal mining heritage, their family's freshwater spring, and the path that the water travels to reach the Gulf Coast.
And they'll also tell a crowd of cheering supporters—at the top of their lungs—exactly why the coal industry must be stopped. Which is what happened when Alex and Daniel grabbed the megaphone at a rally in Pittsburgh on October 21 outside the Allegheny County Courthouse in Pittsburgh.
Their parents, Nick and Rustina, decided to leave Clintwood because they didn't feel safe raising their children in a place so tainted by coal mining. "The mountain I grew up on is gone," Nick says. "The trees aren't the same—there's no trees. The water's not the same. The water's poisoned."
Nick and Rustina are both studying full-time at Berea College, but have been involved with Kentuckians for the Commonwealth, speaking out against mountaintop removal mining.
Nick looks on at Alex and Daniel as they horse around underfoot, making faces and laughing. He's silent for a long time.
"We can't stop fighting," he says finally. "We have to keep going. Because if we don't, they dang sure ain't gonna have anything left."
Yudith Nieto
Age: 24
Hometown: Houston, Texas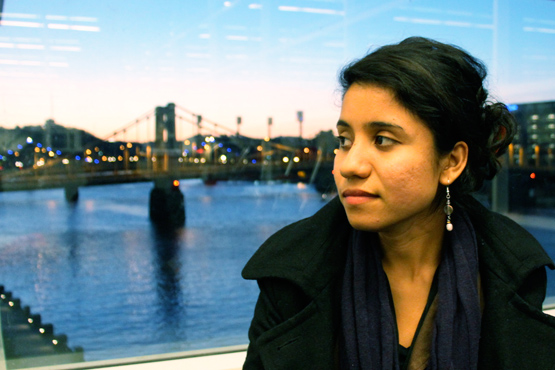 Nieto lives in Manchester, a neighborhood in east Houston, right over the fence from the refineries that are expected to process 90 percent of the tar sands from the Keystone XL pipeline. Manchester residents don't need the extra pollution: A 2010 EPA study documented eight different carcinogens in the neighborhood's air. People there always seem to be sick; they describe chronic headaches, nosebleeds, sore throats, and red sores on their skin that take months to heal.
Nieto knows that, as a Manchester native, she's in a position to start to organize this community. She understands what it's like, and her neighbors are more inclined to trust her than an outsider. So that's how she spends her time. Organizing. Building relationships. Building trust.
She hopes that trust will also build between "frontline communities" like hers—the low-income neighborhoods most affected by environmental degradation—and larger environmental NGOs. It's often a tense relationship.
"The frontline communities are experts in this struggle," she told a crowd of several thousand on Oct. 18th. "So we need to listen to them. They need to be our leaders."
Veronica Coptis
Age: 26
Hometown: Green County, Pennsylvania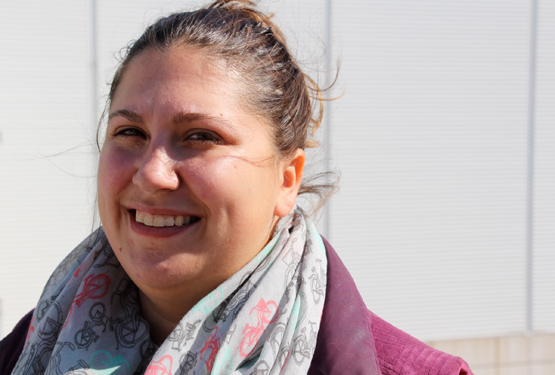 "I grew up adjacent to the processing facility of the largest underground coal mine in the country," Coptis told me, "and one of the largest in the world." The coal industry's effects on the social fabric of her town, and the natural world she loved, always troubled her deeply. But it was also part of life in southwestern Pennsylvania.
She went to college and studied biology, hoping that she could help save her mountains by documenting environmental damage. It wasn't until she got a job at the local diner and began talking to her neighbors while pouring their coffee that she realized research wasn't enough. "I began to see that people in the community really didn't like the mine, but didn't feel safe saying that to anyone else but me."
Coptis scrapped her plans for grad school and began organizing instead. She's now a full-time organizer with the Center for Coalfield Justice. Her scientific training made her uniquely suited to helping her neighbors understand the health impacts of coal pollution: "I had the ability to read the technical reports, break them down, and talk to the community about the science that's being done."
Coptis loves science, but she loves people more. For her, it's not so much about the mining itself as the coal companies' disregard for human life. Her love for her neighbors is clear: she tells of spaghetti dinners to raise money when someone becomes ill, of a neighbor driving long distances to plow her out after a snowstorm.
Still, it's lonely work. "Often I'll be the only one that testifies at a public hearing," she says, "or one of a few that do. I'll have people come up afterwards that say, 'Thanks for saying that. I agree with you, but I didn't feel comfortable saying that in front of the company.'"
Xiuhtezcatl Roske-Martinez
Age: 13
Itzcuauhtli Roske-Martinez
Age: 10
Hometown: Boulder, Colorado
Emma Bray
Age: 14
Hometown: Denver, Colorado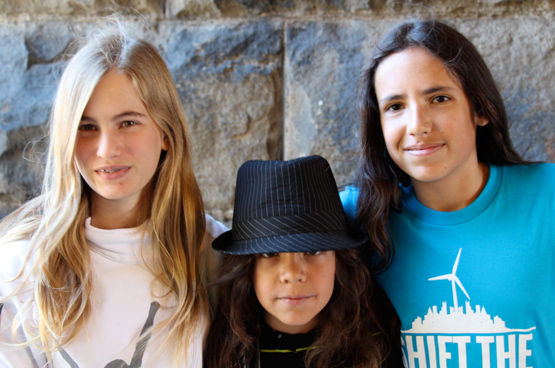 The Roske-Martinez boys live next to one of the most heavily fracked counties in the United States. Their strategy to defend human life on earth? Sue the government. In an effort by the organization Our Children's Trust, kids from all 50 states have become plaintiffs in a class action suit against their state governments for failing to protect the atmosphere under the Public Trust Doctrine, a legal principle derived from English Common Law that sees water as a public resource owned by and available to all citizens.
When they're not lobbying or speaking (or going to school, for that matter), the boys are rapping about the environment. In venues all over the world, they've performed rhymes like these:
We are suing the leaders of our countries and states
Now we are taking you to court
Now maybe you will hear
You gotta cap the carbon to protect our atmosphere
Their friend Emma Bray founded an organization called Kids Against Fracking that lobbies for a ban—or at least a moratorium—on fracking in Colorado.
"It's important to get youth involved at a young age," she says. "We're going to have to deal with this when we grow up."
Ivan Bermejo
Age: 18
Hometown: San Antonio, Texas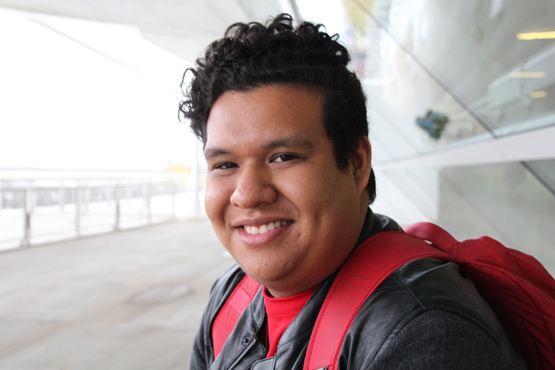 Kelly Air Force Base in San Antonio closed 20 years ago, but the industrial chemicals used in its facilities are still there. They've leached into the groundwater and have been linked with elevated rates of cancer in the mostly Latino neighborhoods that surround the base.
"If you were to go to that district, you'd see purple crosses outside," Bermejo says. "That symbolizes that someone in that house has gotten cancer. There are some households with four purple crosses. It's terrifying."
Bermejo is still in high school, but he's organizing with the Southwest Workers' Union around military toxicity and other issues, including labor protection for undocumented workers and access to healthy food. He reminds me that Texas recently bought several million dollars' worth of "pink slime"—ammonia-treated beef trimmings—intended for lunches at public schools like his. Kids deserve better, he says.
His parents came to the U.S. before he was born. Unlike many immigrant families in San Antonio, the Bermejos are now legally documented. This gives him a sense of responsibility. Because so many other young people fear deportation, political activity isn't an option for them.
They're "afraid to speak out," Bermejo says. "I feel like I should at least help lend my voice to them."
Ky'Eisha Penn
Age: 22
Hometown: Miami, Florida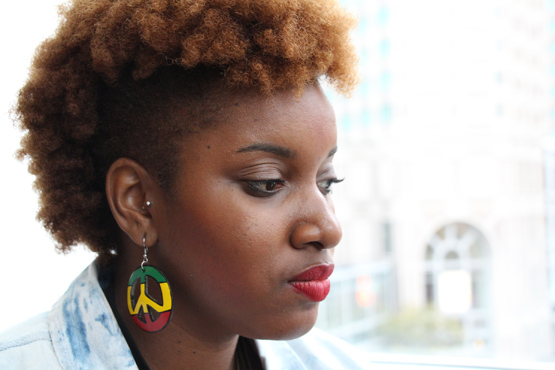 On Tuesday, July 16, 2013, Penn and about 30 other "black and brown youth"—the Dream Defenders—began a sit-in in the Florida State Capitol. Fueled by anger at Trayvon Martin's killing, they spent the next 31 days and nights in the Capitol building, demanding an end to racial profiling.
Their sit-in made national headlines, won support from civil rights leaders like Harry Belafonte, and got the word out about "Trayvon's Law." If passed, the law would ban racial profiling, repeal the Stand Your Ground Law, and ensure better oversight in policing practices.
"After a while, you get fed up," says Penn. "Am I going to have to tell my 7-year-old nephew that when you walk down the street you can't wear that because you can get shot? I don't want to live in an America like that."
Penn grew up in Miami, "in a violent neighborhood and a violent household." She's the first person in her family to attend college; it was during that time that she began to see herself as political—and powerful.
The environment has never been her biggest concern, but at Power Shift she's seeing what she calls the "intersectionality" of social, racial, and environmental justice: "We all have the same ultimate goal—we want a better world."
Camping out for a month in the Capitol was hard, but she acknowledges that this is lifelong work. "I pray when I'm feeling discouraged," she says, but it's music that got the Dream Defenders through a month-long sit-in. "We just sang, just to get through. Because those are long days. We're on hard, cold floors, the lights never go off."
The work is a form of love, Penn says. "Fighting with love."
Ciara Williams
Age: 19
Hometown: Chester, Pennsylvania
Williams sums up Chester's environmental track record succinctly: "It's densely populated and heavily polluted." It's no accident, Williams says, that a trash incinerator, a sewage sludge incinerator, a power plant, and a paper mill are all within five square miles of her hometown: "Environmental racism does exist. Race is a huge deciding factor in where corporations decide to set up camp."
Now a sophomore at Swarthmore College in the next town over, Williams is involved with youth organizations like Chester Green—an environmental justice organization—and also Chester Youth Court, which uses the principles of restorative justice to address student legal infractions.
As an alternative to the more punitive legal system, Williams sees restorative justice as a way to combat the "school to prison pipeline" that affects many young people of color. But it's also a way to connect environmental justice issues with conflict resolution skills.
"I talk to the students [in the Youth Court] about the trash incinerator and other polluting bodies in Chester." In those discussions, she says, she's "seen them get super passionate about it."
Jamii Tata
Age: 26
Hometown: Detroit, Michigan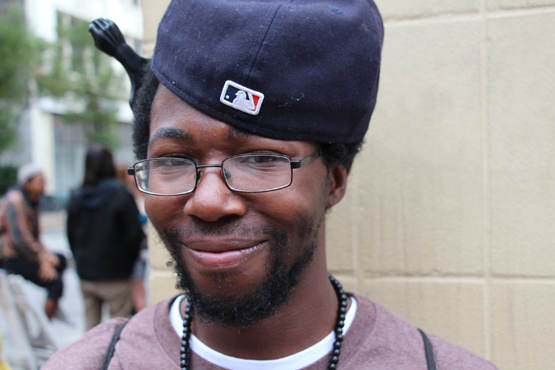 Jamii Tata looks at Detroit through two lenses. Through one, he sees urban blight—abandoned lots, violence, and poverty. Through the other, he sees opportunity—those same lots turned into community gardens, the energy of youth channeled into self-expression. As a spoken-word poet and teacher, he works with Detroit youth to encourage literacy and to develop their creative voices. As a community organizer and advocate for food justice, he believes urban farms are a way to address intersecting issues of environmental degradation, lack of access to healthy food, and political disenfranchisement.
From one of Tata's poems, entitled "Woodson, 1933, Pg 3":
Truth is we're troops
Marching with hope in our boots
& Hammers in our hands
Building bridges
That we can pass down to the kids
So that they can live, live, live
One way to build those bridges, for Tata, is by creating community gardens that address a neighborhood's immediate need for food. But in growing food, he says, you also grow something less tangible: "knowing your neighbor, and having something you can take pride in."
Marisol Becerra
Age: 24
Hometown: Chicago, Illinois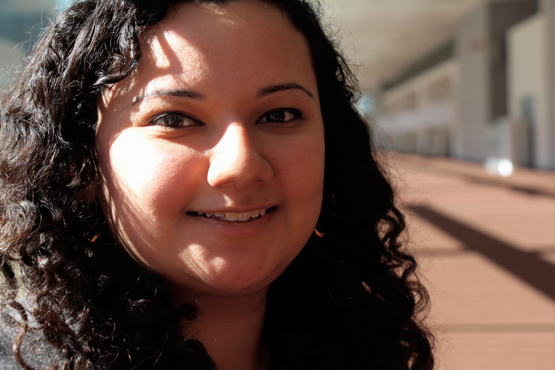 Becerra came of age in the Little Village Environmental Justice Organization (LVEJO). As a teenager, she volunteered to help map the chemical impacts of two big coal power plants in her neighborhood of Little Village. She now serves on its board.
LVEJO's story is a familiar one, of a working-class Latino neighborhood fighting for clean air and better city services. What's happening now is a little less familiar: They're winning.
"It's completely new territory," Becerra says. After 12 years of campaigning, both power plants were closed. The air is more breathable. Little Village will have more green space in the form of a 23-acre park. It's getting a new bus route that will help connect it to the rest of the city.
Becerra worries, however, that the victories may herald a new challenge: gentrification. It's happening quickly in Pilsen, the neighborhood right next door. "We won," she says, "but what does this mean for us? Are we actually going to benefit from this, or is this for somebody else?"
LVEJO knows how to fight. Now, she says, it must learn to build the physical environment its members have envisioned. "We don't want anyone else to build it for us. Which is why it's really important to be in the conversations of urban planning."
"I like maps," says Becerra, who's now enrolled in a PhD program. "I'm a geographer. There is no map, there is no road. But if we're going together, we must be going somewhere awesome!"
---
---
Kristin Moe

is a writer, storyteller, and multimedia journalist. She is a graduate of the Salt Institute for Documentary Studies and has coordinated storytelling programs at The Swearer Center for Public Service at Brown University.
---