Drink Your Way to Sustainability With These Climate-Conscious Microbrews
On a rainy afternoon, I walked inside Fremont Brewing, a Seattle pub filled with long communal tables and bustling 20-somethings sipping on pints of craft beer. After strolling up to the bar, I gazed at a massive chalkboard listing the beers on tap, and wondered which brew a sustainability-minded person might choose.
Brewing companies are often criticized for their average 7-1 water-to-beer ratio—meaning it takes seven gallons of water to make one gallon of beer—and their high-energy usage.
But Fremont Brewing, among other brewing companies across the world, wants to turn that around. From droughts in California limiting water usage, to the decline of bees pollinating hops, breweries are beginning to understand their impact on the planet. Last month more than 40 signed the Brewery Climate Declaration, calling for more sustainability and awareness of how climate change is affecting the industry, and vice versa.
Here are four breweries that are working hard to make that happen.
---
Brewery Vivant employees at a B Corps event. B Corps are businesses that have met certain environmental social and transparency standards. Photo courtesy of Brewery Vivant.
Water and energy
Brewery Vivant, Grand Rapids, Michigan
The Great Lakes insulate Michigan from issues related to drought, but this abundance of water tends to make locals more mindful. Nestled off the coast of Lake Michigan, Brewery Vivant has respected the natural resource since its conception.
"We rely so much on fresh water for our product, given that beer is mostly water," said Kris Spaulding, sustainability director and owner. "That dependence gives brewers an appreciation and respect for water and nature that is deeper than many other industries."
Although water is integral to Michigan and the larger beer industry, it can be difficult to find ways to limit its usage. Brewery Vivant set a plan in motion to do just that. In 2013, they used approximately a 5-1 ratio of water to beer—about two gallons less than the industry average. The next year their goal was 3-to-1, but they were startled when they realized it was actually above average at 7.5-to-1. It made them question the accuracy of their previous data, but they continue to look for ways to reduce their water usage.
Beyond water, Brewery Vivant was the first LEED certified brewery in the United States. The brewery uses high-efficiency lights and motion sensors, all powered with 100 percent renewable energy through Consumer Energy's Green Generation program, which provides energy from wind turbines and landfill gas recapture.
Not only does the brewery hold itself to high standards, but it also encourages employees to make sustainable choices in their personal lives with its "You Can Beer the Change" project, which offers financial incentives for reducing waste and emissions. With about 87 percent of the staff living within 5 miles of the brewery, and almost half of them within 1 mile, employees gain points for busing, biking, or walking.
Recommended brews: Farm Hand, Undertaker, Wizard Burial Ground
---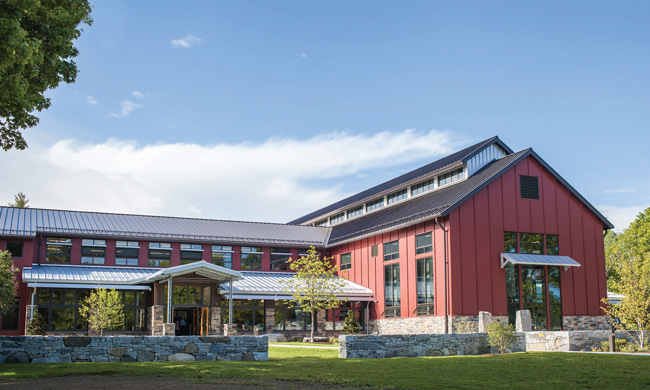 Smuttynose Brewing Company. Photo by Robert Lussier and used with permission from Smuttynose.
Scaling up sustainability
Smuttynose Brewing Company, Hampton, New Hampshire
Smuttynose Brewing Company was founded in 1994 with sustainability in mind. But it didn't make a full transformation until May 2014, when it moved into a new, energy-efficient building about 30 minutes from its previous home in Portsmouth.
"Over the years, as the business became more stable, sustainability became a bigger piece of the puzzle," said JT Thompson, communications coordinator. "As you grow, the orders of inefficiency and waste get bigger."
And that's one of the reasons why they have been working towards better models of energy consumption. Almost 10 years after Smuttynose's founding, the brewery is now LEED certified and the winner of the first Aquarion Environmental Champion Award, which chooses a business that has helped improve the environment through conservation.
Residing in an area where farms and fisheries are abundant, Smuttynose refurbished an old farmhouse for its new Hayseed Restaurant, which will serve local, seasonal seafood and produce. Smuttynose also has a fruit orchard and has beekeeping onsite, providing them with hyperlocal production.
Recommended brews: Finestkind IPA, Vunderbar Pilsner, limited release Smuttlabs Beers: Bloom
---
Fremont Summer Ale going through the canning process. Photo by Sparkfly Photography and used with permission from Fremont Brewing.
Organic Ingredients and Conservation
Fremont Brewing, Seattle, Washington
Before 2010, there was a loophole where organic-labeled beer didn't actually have to contain organic hops. That is until Fremont Brewing, American Organic Hop Grower Association, and other breweries teamed up to lobby the FDA in making the guidelines stricter. Now, only beer made with organic hops can be labeled organic.
But that's not where Fremont Brewing's story ends. The brewery has also partnered with researcher Ron Britt and farmer Brad Carpenter, whose family has grown hops for five generations, to start a 6-acre farm in Yakima, Washington, called the Cowiche Project, which donates 10 percent of its profits to local land conservation. Brewery founder Matt Lincecum said that since they started the farm, they've increased the state's organic hops production eightfold.
Back in Fremont, sustainability is a huge part of the brewing process: Water isn't heated with natural gas, but with steam, and while the excess liquid is filtered into drainage, the grains are captured and donated to feed local cows.
Recommended brews: Cowiche Canyon Hop Lab, Interurban IPA, Summer Ale
---
Odell Brewing Company employees volunteering at Poudre Canyon in Colorado. Photo courtesy of Odell Brewing Co.
Reusing water
Odell Brewing Company, Fort Collins, Colorado
Brewing is an intensive process, requiring water, energy, and natural resources, but Odell Brewing Company is making it a point to reduce their impact on the environment.
Their largest project involves a system where water is used three times before it's discarded: Water is used to cool a pump, then to rinse the insides of bottles or cans, and finally the outsides before going down the drain; it has saved the brewery 1.25 million gallons of water. The brewery also has reduced its water-to-beer ratio to 4-1, making it way below the average.
During the winter months, when the air is a frigid 47 degrees or lower, Odell Brewing Company shuts off the compressors and lets in cold air to naturally cool the facility, saving a lot of energy. They also generate 5 percent of their energy from solar panels and the rest through wind turbines. So what's next for Odell? One of their biggest goals is to be zero-landfill by the end of the year. They've been trying to implement this by educating visitors and workers, while also putting bins for recycling and compost around the building to promote the separation of items.
Recommended brews: Mountain Standard Double Black IPA, Loose Leaf American Session Ale
---
Did a brewery near you sign the Brewery Climate Declaration? Check out this map and see: