This College Student Chained Herself to a Shell Oil Ship for Three Days. Here's Why.
Chiara Rose, a 20-year-old student at Western Washington University, set out into the Port of Bellingham, Washington, on a small boat on the night of Friday, May 22. She paddled through choppy waves until she reached the anchor of a ship, and then jumped onto the chain. She fitted a hook through the links, dangled a harness down, and pulled herself up.
"I thought to myself, 'Oh my god, I actually did it!'" Rose said. "I'm actually on the chain!"
The campaign against Shell's Arctic drilling has been in development since January.
The anchor was attached to a support ship for the Arctic Challenger, an oil-spill response vessel that is part of the Arctic drilling fleet owned by the energy company Shell. The company wants to send the fleet to the Arctic for exploratory drilling this summer.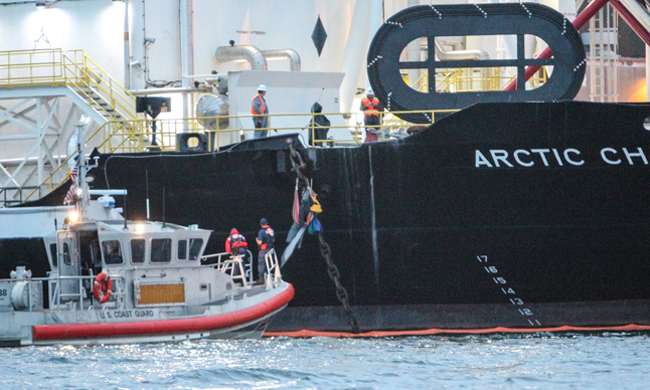 Coast Guard helps down Chiara Rose on the Morning of May 25 2015. Photo by Reese Semanko.
Rose had other ideas. She hoped her action would keep the ship docked in Bellingham and stall the drilling process. Rose descended Monday morning after receiving word that the ship would not be able to leave dock without a permit that they are still awaiting approval for.
Rose's action is just one part of the multitiered efforts taking place in the Seattle area to stop Shell from drilling in the Arctic. The port of Seattle agreed in February to moor a massive drilling rig for maintenance. But many in the city opposed the arrangement, which they see as assisting Shell with an operation that would contribute to climate change. The Bureau of Ocean Energy Management has said also that there is a 75 percent chance of an oil spill with Shell's exploratory drilling. This is especially dangerous for native Alaskan people, who depend on marine hunting and fishing for subsistence.
Rose remained on the chain for three nights, sleeping while descended in her harness. A fellow activist, Cody Erdman, joined her on Saturday and stayed for about seven hours, according to Rose. Erdman was replaced by Matt Fuller, who spent about 24 hours harnessed to the Challenger.
Paddle in Seattle kayak Floatilla. Photo by Backbone Campaign / Flickr.
"Unbearable" is how Rose described the physical effects of being strapped in a harness for three days and nights. She said there were moments that helped push her through, like seeing her friends with supplies from 100 feet away or a school of fish underneath her feet.
"I was on Lummi historic fishing grounds," referring to a local Native American tribe. "Being on a toxic site that used to be such a thriving site, knowing that it would happen to the Arctic, helped me push through."
There isn't any one organization behind these actions.
After being assisted down by the Coast Guard Monday morning, Rose was greeted by supporters and friends at a rally on the beach. Groups of protesters from Seattle, along with kayakers who were in the water with Rose, organized carpools to Bellingham to show support.
Ahmed Gaya, an organizer with the environmentalist group Rising Tide, said that the campaign against Shell's Arctic drilling has been in development since January, when the company first announced its plans. Not long after, a few organizations started calling mass meetings that eventually became the ShellNo Action Council, comprised of 20 groups and around 200 people.
On May 16, the action council helped organize about 400 activists in kayaks—they called themselves "kayactivists"—to protest against the docking of the rig in Seattle's Elliott Bay.
"There isn't any one organization behind these actions," Gaya said. "It's a collaborative effort that depends on a lot of people."