Don't Be That Person at the 4th of July Party
Independence Day is tough on coastal ecosystems where Americans flock to beach parties and communities are left with the mess. Here's how to do it better.
Why you can trust us
---
When we think of the beach, we think of rolling surf, sand, tide pools, and shorebirds. But participating in a beach cleanup may change your perspective. You'll likely find things you don't want to touch: thousands of cigarette butts, a pile of heroin needles, a dirty mattress. You'll find things that pique your curiosity: shampoo bottles labeled in Mandarin, a working iPhone, a pile of tires. You'll find things that weigh you down: a chunk of a sunken fishing boat and a memorial of flowers for those lost at sea. And the 5th of July is the worst beach cleanup day of the year.
Independence Day is exceptionally tough on coastal ecosystems.
Though an occasion for huge community celebrations across the country, Independence Day is exceptionally tough on coastal ecosystems along the beaches where Americans flock to party.
Last year, almost 100,000 visitors arrived in Long Beach, Washington, for the holiday weekend—swelling the area's population fivefold. And it is a party.
Just north of the Washington–Oregon border, Long Beach stretches 28 miles along the Pacific Coast, making it the longest beach in the United States. Visitors come from all over Washington and Oregon to drive the shoreline, light fireworks and bonfires, and camp overnight. When everybody goes back home, the beach is left a mess.
"It's fireworks, beer cans, pop cans, water bottles, family campsites where it looks like they just got up and walked away," said Shelly Pollock, founder of GrassRoots Garbage Gang, which has been cleaning Washington beaches since 2001.
But it doesn't have to be that way. Coastal communities are banding together to take preventative measures to make sure visitors enjoy the beach responsibly. And by planning ahead with some simple alternatives from our suggestions at the bottom of the page, partygoers can do their part to protect the environment without throwing a wet blanket on the holiday.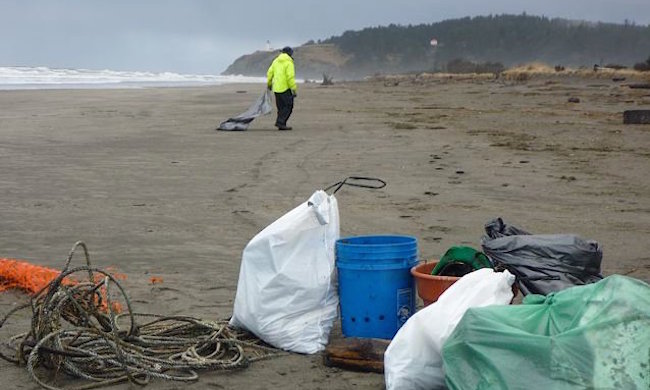 Photo courtesy of the GrassRoots Garbage Gang.
As a long-time resident, Pollock recalls finding appliances and couches dumped on the beach many years ago. She said that while illegal dumping by locals has decreased significantly, the garbage left behind by 4th of July partiers has gotten worse. One hundred fifty volunteers collected four tons of garbage on July 7, 2002. By 2013, 1,000 volunteers picked up 19 tons. To keep up with the growing heap, the community has shifted its attention to educating visitors.
Garbage left behind by 4th of July partiers has gotten worse.
This year's celebration has been themed "Beach-Friendly Fourth." The Long Beach Peninsula Visitors Bureau in coalition with many other stakeholder organizations and communities, is working on outreach about local regulations. Volunteers will be handing out garbage bags at beach entrances. The dunes, in particular, become a mess with human waste, said Andi Day of the visitors bureau, so local communities are putting out portable toilets at the beach and directing visitors to use them.
Jon Schmidt, coordinator for Washington CoastSavers, a coalition of community groups and NGOs, recalled the scene from last year as "particularly horrifying." From the entrance to the beach at Ocean Shores—just north of Long Beach—the chaos of uncontrolled beach fires and thousands of people drinking and lighting off fireworks had resulted in massive piles of garbage, some partially buried by the incoming tides, some scattered by the wind.
"When you find thousands upon thousands of little plastic tubes from fireworks buried in the sand, and you realize there's no way we can pick up all these tubes, it's really disheartening," Schmidt said.
And yet the commitment of hundreds of volunteers, about a third of whom have driven to the beach just for the cleanup, boost morale. Pollock described the effort as a source of community pride.
Still, the dumpster rentals and waste management fees are adding up. Last year, Schmidt directed $10,000 from a grant provided by the Japanese government for tsunami debris cleanup. The City of Ocean Shores provided heavy construction equipment to lift the garbage piles into dumpsters, and the City of Long Beach spent about $10,000 on waste management. This year, Washington State Parks is picking up the tab.
Fireworks scatter bits of plastic, release toxins like perchlorate, and start fires.
Litter that avoids the garbage bins wreaks havoc on the coastal environment. Fireworks scatter bits of plastic, release toxins like perchlorate, and start fires—240 in Washington alone, according to the Washington State Patrol. Residues of propellants and particulates launched into the air fall onto plants and soil, eventually seeping into our waterways.
Between long drives, huge campfires, and buying party supplies, we can end up releasing a lot of emissions for the holiday weekend, both directly and indirectly. Here are some tips to help you have an eco-friendly 4th.
Transportation
Getting out and about can lead to long drives over the long weekend, but you can avoid the traffic if you plan ahead.
Host a low-carbon challenge that rewards guests who arrive the greenest by walking, biking, busing, or carpooling.
Search out hikes and parks available by public transit.
Fires, firewood, and fireworks
From bonfires to barbecues to fireworks, we can directly emit a lot of greenhouse gas and toxins into the air during the summer.
Instead of music or TV, try less electricity-demanding night activities like identifying constellations, letting the kids put on a play with flashlights, or holding a storytelling or drum circle.
Respect burn bans. When fires are legal, keep them small and contained, and put them out entirely.
Instead of chopping your own firewood, buy where you burn so you don't introduce invasive species.
Instead of buying your own fireworks, go to a firework show in your community.
If you must use fireworks, shoot them over land, not water, and pick up the litter immediately. Waiting until the next day could let wind or rain carry the litter away.
Beach behavior
Plastic water bottles, beach toys, balloons, sandals, and cigarette butts are common items of trash found on beaches. In general, pack it in, pack it out. Don't leave anything on the beach for the tide to carry away.
Instead of plastic sand toys, draw art or play tic-tac-toe in the sand while the tide is out.
Instead of single use wet wipes, bring a bucket of wet towels.
Instead of flip-flops, go barefoot or wear strap-on sandals that won't fall off.
Instead of slathering up in sunblock, cover up with a UV ray-blocking hat and swim shirts that block UV rays with tightly woven fabric.
Choose nontoxic and biodegradable sunblock.
Instead of disposable swim diapers, use reusable ones.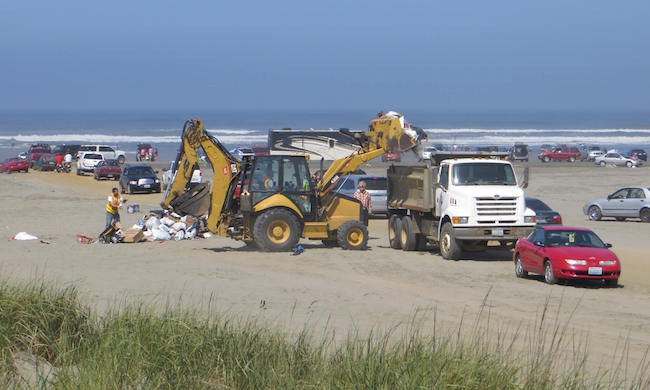 Activities
Make your activities about enjoying nature in a healthy way or even giving back to the environment. Steer clear of those that leave behind bits of glitter, balloons, or fireworks.
Instead of waiting for the wind or rain to carry it away, lead a cleanup of a park or beach. Hand out garbage bags and award prizes for the most interesting finds or turn the trash into colorful sculptures.
Instead of a water balloon fight, have a cannonball or skimboarding competition.
Instead of sparklers, play flashlight tag or toss a glow-in-the dark frisbee.
Decor
Keep decorations simple so you don't have a full garbage can the next day. Refuse single-use plastics and focus on reusable or biodegradable decorations.
Instead of plastic table cloths, use fitted bed sheets. You can even let guests decorate with fabric sharpies.
Instead of balloons or other plastic decorations, make a reusable garland with patriotic fabric.
Grilling
The 4th of July is the most popular day for cookouts. Both what we cook and the way we cook it can have environmental impacts.
Make beet or cashew burgers, or grill meat substitutes to reduce the emissions.
Grill fresh fruit on wooden skewers for dessert.
Reduce emissions by choosing a propane grill, which emits about one-third as much carbon as a charcoal grill.
If you're using a charcoal grill, burn coconut shell briquettes and use a chimney starter instead of lighter fluid to reduce the release of volatile organic compounds.
Food
Focus on what's fresh and in season, and minimize buying items in packaging. Prepare for waste by packing trash bags, and plan ahead for containers for recycling and compost.
Instead of plastic wrap, cover food with a kitchen towel and secure with twine.
Instead of pre-bagged chips and treats, use cloth or paper bags and head to your grocery store's bulk snack section.
Instead of plastic bowls or plates, serve food in edibles like tortillas or bread bowls and cut food small enough to eat as finger foods.
Instead of plastic cutlery, bring reusable cutlery.
Instead of single package juices or sodas, provide iced water with lemon slices in a water cooler.
Instead of plastic cups, provide glass jars.
Instead of plastic straws, use paper straws or reusable metal or decorated glass straws.