What the Trump Victory Means for Standing Rock
Less than 12 hours after Donald Trump walked onto a New York City stage as the newly elected president, the stock price for Energy Transfer Equity shot up 15 percent. Among that company's holdings is Energy Transfer Partners, operator of the controversial Dakota Access pipeline. Protesters near the Standing Rock Sioux Reservation continue to fight completion of the $3.8 billion project. But the jump in share price indicates an immediate pro-energy confidence in Trump.
And that confidence is not unfounded.
In Bismarck, North Dakota, Donald Trump gave a speech in May that would help secure his seat as America's 45th president. The candidate was lagging 30 delegates to become the Republican nominee. His decision to address oil entrepreneurs in North Dakota was political strategy. At a petroleum conference, Trump introduced his energy plan for the first time: more fossil fuels, fewer regulations, and a vow to undo many of President Obama's climate initiatives. Trump would meet the required 1,237-delegate threshold to go on and win the presidency, a startling upset for an outsider who has disrupted the political establishment.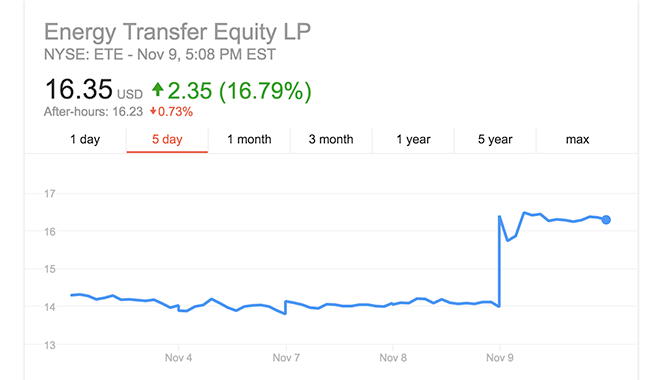 What a Trump victory may spell for the continued battle over the Dakota Access pipeline—and for indigenous rights, in general—is alarming.
For starters, President-elect Trump would stand to personally profit from the project. His campaign energy adviser, Harold Hamm, would also see gains. Hamm is the CEO of Continental Resources, which has plans to flow its supply of Bakken fracked crude through the pipeline. With Trump's recent victory, Hamm is also on the short list of becoming U.S. energy secretary.
As Politico reports, Trump is also seriously considering 74-year-old Forrest Lucas, of oil products company Lucas Oil, as a top contender for interior secretary, along with "Drill, Baby, Drill" Sarah Palin.
This political changeover has come at a critical time in the struggle at Standing Rock.
All sides, for and against the pipeline, have vowed to stand their ground. The battle to stop the project and protect the Missouri River has recently intensified, growing into one of the largest indigenous rights movements in the world.
Last week, construction reached the river. Plans call to bury the pipeline 92 feet below the river's surface. The Missouri is the Standing Rock Sioux tribe's prime water source; 18 million other people depend on it downstream.
This political changeover has come at a critical time in the struggle at Standing Rock.
On Tuesday, pipeline operators Energy Transfer Partners announced plans to advance its project despite earlier calls from the Obama administration to halt construction. According to a statement released Wednesday, the U.S. Army Corps of Engineers had recently repeated this request in the midst of more violence between police and protesters erupting on lands belonging to the Corps.
"We asked Dakota Access pipeline on Nov. 4 to honor the administration's request for a voluntary shut down by stopping work for a 30-day period to allow for de-escalation," said Colonel John Henderson, the Army Corps district commander. "Dakota Access did not agree to this request."
The U.S. government is reassessing permits and has said it's looking at possible rerouting; the pipeline route currently needs to traverse easements on U.S. Army Corps of Engineers lands.
On Tuesday, Energy Transfer said it is "mobilizing horizontal drilling equipment" for tunneling under Lake Oahe, a basin on the Missouri River, near where thousands of protesters are camped out to protect the water.
That the energy company chose Election Day to announce its brazen defiance of federal appeals is worth mentioning—a day when the focus of most Americans would not be the pipeline, but on the race for the White House.
"Dakota Access remains confident that it will receive the easement for these two strips of land adjacent to Lake Oahe in a time frame that will not result in any significant delay in proceeding with drilling activities under Lake Oahe," read a statement from the company.
Energy Transfer noted plans to start traversing the water within two weeks in an effort to meet its end of the year construction deadlines—a signal that it has no intention to negotiate, slow down, or reroute.
"We are concerned over recent statements from DAPL," said Col. Henderson. In his remarks, he once again urged the pipeline company to stop construction and leave the area. "We again ask DAPL to voluntarily cease operations in this area as their absence will help reduce these tensions."
But now that Trump has won the election and has said he would steer energy policy toward more oil production rather than less, plans to ignore the Obama administration and advance the pipeline so swiftly doesn't seem so brazen at after all. Just prescient.
According to his Public Financial Disclosure Report, Trump disclosed between $500,000 and $1 million in investments in ETP. He also disclosed $50,000 to $100,000 in investments in Phillips 66, which would own one-quarter of the Dakota Access pipeline once complete.
Between now and January 20, 2017, when Trump is officially sworn into office, it will be up to the Obama administration—through its three agencies, the Department of Justice, the Department of the Interior, and the U.S. Army Corps of Engineers—to deny the permits to Energy Transfer and Dakota Access, if the pipeline is to be halted.
"In this time of uncertainty, President Obama still has the power to give our children hope," said Standing Rock Sioux Tribal Chairman Dave Archambault II. In a statement today, the tribal leader described the results of last night's election this way: "We as a country have so much work to do."
The question now becomes: What happens after Jan. 20?
Among Trump's campaign promises has been a vow to rescind President Obama's key climate policies, including reviving construction of the disrupted Keystone XL pipeline. That pipeline would bring petroleum from Canada's oil sands to Gulf Coast refineries. Obama eventually stepped in and stopped the Keystone, a move widely celebrated for his commitment in addressing these environmental issues.
But what separates Keystone from Dakota Access are boundaries.
Keystone is an international issue because it crosses into Canada, so the State Department has authority over the proposal, unlike the Dakota Access pipeline.
"In this time of uncertainty, President Obama still has the power to give our children hope."
Dakota Access is entirely domestic, beginning in North Dakota and crossing South Dakota and Iowa until it reaches a plant nearly 1,200 miles away in south central Illinois. The federal government has final oversight because the pipeline crosses interstate waterways, like the Missouri River. But even then, only 3 percent of the Dakota Access pipeline crosses federal lands. It also narrowly avoids falling under tribal jurisdiction by a half-mile.
The one constant factor delaying the pipeline process is the Standing Rock Sioux tribe's assertion of its sovereign right to protect the interests of its water.
But under a Trump presidency, even this right could be under attack.
In the final months of his campaign, Native American leaders canceled a planned meeting with Trump after the then-candidate repeatedly referred to Sen. Elizabeth Warren (D-MA) as "Pocahontas," a jab about her contested claims of having Cherokee ancestry.
Trump has a history of insulting Native Americans, including tribal leaders he saw as competition for casino interests on the East Coast. "They don't look like Indians to me," Trump once said in a congressional hearing. Meanwhile, in 2000, Trump was fined $500,000 for financing ads that portrayed Apache tribal members as criminals in their quest to open a casino.
"This is like Andrew Jackson's victory," quipped Rudy Giuliani, speaking to MSNBC's Chris Matthews. The former New York City mayor was jovially referencing how Trump had appeared to beat the establishment in the way Jackson did in 1827. "The people are rising up against a government they find to be dysfunctional," he said.
But the reference to Jackson could not have been more directly aimed at Standing Rock—and all of Indian Country. Jackson's presidential legacy was violently forcing Native peoples from their homelands.