Is It Time the National Parks Broke Up With Cars?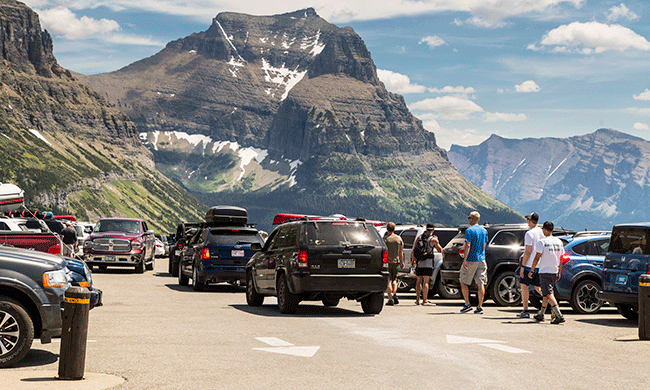 A brutal headwind made the last 4 flat miles of a 100-mile bicycle ride feel like pedaling through thick and sticky mud. Behind us, Glacier National Park's mountains—the perpetrators of aching quads—loomed in the distance. But we were biking the prairie now, with sky and road stretching endlessly before us.
"People have this conception of the parks that you drive to them and through them."
We had just circumnavigated the park by bike, covering 250 miles in four days as part of Climate Ride, a nonprofit effort to support environmental issues and promote biking. As we pulled into our final stop just beyond Glacier's eastern border, it occurred to me how unique it was to experience a national park in this way.
"People have this conception of the parks that you drive to them and through them," said Aaron Golub, professor of urban studies and planning at Portland State University. Pack the car, hit the pavement, and check as many of the nation's National Parks off the list as you can—it's the quintessential American road trip.
But the parks are reaching a tipping point. Last year, visitation surpassed a record 300 million people, the backlog of needed infrastructure updates grew, and the system's transportation expenses, which require about $970 million annually, only received $240 million.
Park superintendents charged with the often-conflicting tasks of conserving environments and providing access are starting to look at limiting cars or banning them outright. It's an option that, in certain places, could relieve traffic, lead to better air quality, and create fewer impacts on the ecosystem—all of which would improve visitors' experiences.
Some parks have already successfully banned cars. The main 6-mile road into Zion National Park in Utah has been car-free every summer since 2000. The park reached its breaking point in the 1990s when congestion was so bad that the road along the canyon floor held a solid line of cars.
"One visitor described it as a giant conga line," said Jonathan Upchurch, a civil engineer who previously served as a transportation scholar with the National Parks Foundation. He described the situation as intolerable. Visitors wound their way up the road and back out again, never finding a place to park.
Some parks have already successfully banned cars.
Now, tourists either park at the visitor center or in the nearby town of Springdale, Utah, and hop on a free shuttle bus that delivers them to trailheads and scenic points. In its first year of operation, the shuttle service eliminated 42,000 vehicle trips. Traffic and parking congestion eased, noise pollution decreased, and air quality improved, Upchurch said. Wildlife also began to make a comeback. The park's wild inhabitants include turkey and white tail deer, which can be spotted from the road, as well as the rarely seen but still present bobcat and mountain lion.
At Denali National Park in Alaska, visitors are only allowed to drive in 15 miles on the main road, and then must park at Savage River. From there, they have the option of riding a shuttle or reserving a spot on a guided tour bus.
These parks share a common factor, though: their roads are not throughways. Visitors must go out the same way they came in. Other parks are not so simple.
A highway runs smack-dab through the middle of Great Smoky Mountains National Park, which hugs the border between Tennessee and North Carolina. U.S. Route 441 serves as both a means to get from point A to point B and as the primary attraction for many visitors.
Driving Going-to-the-Sun Road in Montana's Glacier National Park is considered a must-do for most visitors. It's also the only road connecting the west side of the park with the east side. Park officials encourage visitors to use the free shuttle buses to travel the road to its 6,000-foot peak at Logan Pass. Yet, the parking lot at the top is often filled to capacity on summer weekends, and the park is considering implementing a reservation system for drivers to minimize crowds.
At Acadia National Park in Maine, visitors rank driving for pleasure as the number-one activity, said John Kelly, the park's management assistant. "We have 27 miles of historic scenic roads that were specifically designed for individual automobiles."
But Acadia is feeling squeezed. As of November 2016, visitation for the year was up 18 percent over 2015, which was itself a record year, Kelly said. "In certain places, there are too many vehicles for the capacity of our roads and parking spaces."
Reducing the number of cars in national parks could also cut down on wildlife deaths.
So Acadia is developing a new transportation plan aimed at alleviating congestion and increasing its free shuttle service. It has proposed four scenarios for the main park district, including prohibiting cars on the main road during peak times. Other scenarios propose a mix of options, such as a reservation system for cars, increased public transit, and a one-way Park Loop Road to better serve cyclists. The public is weighing in on the various options, and the park will start studying the impact and cost of the favored plan next year.
Reducing the number of cars in national parks could also cut down on wildlife deaths. Around 90 percent of grizzly bear fatalities occur within 300 feet of a road, according to research done by Trisalyn Nelson, director of geographical sciences and urban planning at Arizona State University.
Nelson's research focused on the Canadian Rocky Mountains, where she found, somewhat counterintuitively, that bears are attracted to roads. This is because reliable food sources like berry patches often grow at greater concentrations in clearings made for roads than in forests made dense and dark by fire suppression.
"It's a tricky situation where roads are a food source, but also bears living near roads are more to likely die" due to collisions and poaching, Nelson said.
Developing a bold transit plan is one thing, getting it approved and funded is another. In the 1990s, responding to horrendous traffic at the Grand Canyon, the park service was preparing to move forward with a transit-oriented, car-free plan that would have included a light rail system to transport visitors into the park. But Congress ultimately scrapped the nearly $200 million proposal, deeming it too expensive. Today, cars are allowed at the Grand Canyon except along the 7-mile Hermit Road during the busy summer months. There are also three shuttle bus routes along the South Rim and bikes for rent at the visitor center.
The beautiful and threatened places of our country are better enjoyed outside of a car.
The National Parks offer to connect Americans with their natural lands like nothing else in the country can, and getting out of the car removes yet another barrier between the visitor and the flora and fauna that make the parks so alluring. Still, the biggest hurdle in reducing car traffic will be encouraging visitors to step outside the glass bubble.
Yosemite National Park in California has several transportation options, including bus services from the nearby towns of Merced, Sonora, Fresno, and Mammoth Lakes. Once in the valley, there is also a free shuttle that circles the main loop, stopping at trailheads, the visitor's center, and lodging. However, there are no restrictions on cars, and, although around 60 percent of visitors use the free shuttles once arriving at Yosemite, 87 percent still come by car.
In my experience, the beautiful and threatened places of our country are better enjoyed outside of a car. From the seat of my bike, I discovered a different sense of nature and wilderness. Wildlife sprung into view, and I felt the slightest change in weather. Over the course of the trip, we seemed to pedal through all the seasons.
One July morning, a soft drizzle transformed into a downpour as temperatures dropped to the mid-30s and the valley below became shrouded in fog. It gave a sense of how harsh winters here can be. And then, just the next day it was spring again. As we passed a field of wildflowers basking in the warm sunlight, I wondered whether at 55 miles an hour their delicately detailed shapes would have been anything more than a flash of color.