Our Best Shot at Meeting Paris Goals? Make Energy Public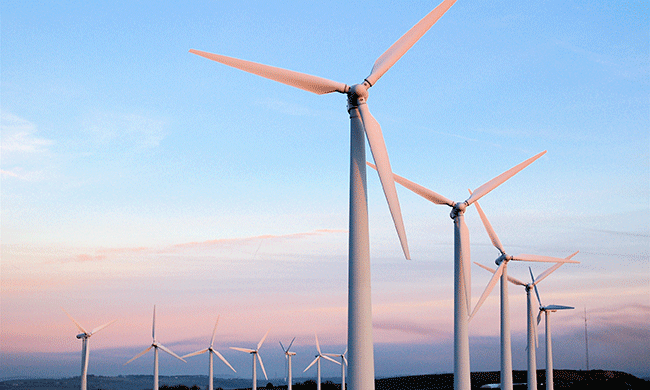 Mayors across the country have vowed to deliver on the goals of the Paris climate accord in defiance of President Trump's decision to back out. But how can they, realistically, when the national government is questioning climate science and promoting coal, fracking, and pipelines?
Simply put: Make energy public. Instead of privatizing city services, as some policymakers have long advocated, a new report shows that public ownership gives cities and towns the best shot at meeting renewable energy and efficiency targets.
"Reclaiming Public Services: How Cities and Citizens are Turning Back Privatization," a study by the Amsterdam-based Transnational Institute, challenges the ideas that governments are ineffective service providers, that private companies are more efficient, and that austerity budgeting and reductions in public service are inevitable.
Cities and towns that want well-run water and sanitation services, low-cost access to the internet, and affordable housing should keep those operations public or run by local nonprofits, the report found. If these services are now private, the institute recommends "re-municipalization."
The report is based on research involving 1,600 cities in 45 countries that have chosen public ownership over corporate ownership, especially of their energy and water systems. "These (re)municipalisations generally succeeded in bringing down costs and tariffs, improving conditions for workers and boosting service quality, while ensuring greater transparency and accountability," the report concludes.
Both Hamburg, Germany, and Boulder, Colorado, for example, are making their electric power enterprises public in order to shift to green and renewable energy sources.
In France, 106 cities and towns have taken over their local water systems in the past 15 years, in spite of the fact that France is home to some of the world's largest private water companies. During that time, the report found that no French cities went the other direction and privatized their water system.
Privatization is tempting; it can provide local governments with short-term cash infusions.
The report focuses on water and energy services, but there are many other services that benefit from local public ownership—some unexpected. The French towns of Mouans-Sartoux and Ungersheim bought farmland and hired local farmers to supply organic produce for school lunches. In India, the Tamil Nadu government opened dozens of public low-cost restaurants run by impoverished women to feed the poor. Argentina privatized postal services in 1997, but just six years later, renationalized the service in response to the private company's poor service and high prices.
Privatization is tempting; it can provide local governments with short-term cash infusions. What politician doesn't like to fill a budget hole without raising taxes? But the infusions don't last. The private companies must pay large sums to their shareholders and executives, which they often do by cutting corners on upkeep, wages, and services, or jacking up customers' rates. Instead of circulating locally, that money leaves a city's economy.
According to the report, once a service is turned over to a private company, many cities found it was difficult to maintain accountability. They faced cost overruns, poor service, and violations of contracts. Many found they saved money and improved services when services went back into public hands.
Family-owned or worker-owned businesses and consumer cooperatives are essential to local economies.
Although family-owned or worker-owned businesses and consumer cooperatives are essential to local economies, some services—like water and sanitation—are best operated at a municipal or regional scale, and multiple providers may not make sense. In cases of these natural monopolies, local public ownership especially makes sense.
Like an ecosystem, a functioning local economy requires diversity. It needs many forms of ownership and types of entities. To thrive over years, each entity must both give and take; they must be in relationship with the people, institutions, and ecosystems that make up each community. When a local economy is dominated by enterprises that work to extract value for Wall Street banks or corporations controlled by absentee owners, communities are drained of their common wealth. It is that concern that drives much of the opposition to big international trade deals, like the Trans-Pacific Partnership and Transatlantic Trade and Investment Partnership, which critics say favor corporate rights over those of local government.
On the other hand, local entities, whether operated by worker-owners, families, nonprofit enterprises, or local governments, seek out multiple bottom lines—multiple benefits for employees, young people, vulnerable residents, and other local enterprises. They also take responsibility for their own human and natural communities. That is how We the People and the natural world can thrive for the long term.