Water Protectors Take Action to Keep Pipeline Out of Black and Indigenous Communities
Chants of "St. James needs an evacuation route!" came from the dozen-plus activists gathered at Louisiana Radio Network on July 18. The activists were part of the L'Eau Est La Vie ("Water Is Life") camp, in Rayne, Louisiana. They want to stop the construction of the Bayou Bridge pipeline in Louisiana from St. Charles to St. James, through the Atchafalaya Basin.
They were at the Radio Network because they want to get the attention of Lousiana Gov. John Bel Edwards, who was holding his monthly radio call-in show there. They believe that the struggle against the pipeline is inherently connected to the struggles against extractive capitalism and White nationalism, and the movements for Native rights and Black lives.
One of the water protectors' demands is securing an evacuation route for the 5th District of St. James Parish, which is accessible by only one road. The Mississippi River hems the community in on one side, and sugar cane fields the other. Crude oil terminals, petrochemical plants, and oil tanks line the residential stretch. If an industrial accident occurred, the predominantly low-income Black residents would be trapped.
"This is on the intersection of a lot of things," said Cherri Foytlin, who calls the fight "a justice issue, right in the heart of KKK territory." Foytlin originally hails from Oklahoma and is of Diné and Cherokee descent. She's lived in Rayne for 15 years, where she raises six children.
Foytlin recalled the 2010 BP oil spill in the Gulf of Mexico. She remembers finding a dying pelican and burying the bird after it expired. "I came back and took a really hard look at myself and said … 'What are you going to do?'" What she did is walk from New Orleans to Washington, D.C., to raise awareness about the impacts of the disaster. "I'd walk through one community and they'd be dealing with mountaintop removal," she said. "I go to the next community and they're dealing with uranium mining." It was during the walk that she deeply understood how access to clean air and water connects to poverty and racism, Foytlin said.
Anne White Hat, who is Sicangu Lakota, relocated to New Orleans from Rosebud, South Dakota, eight years ago and has been involved at L'Eau Est La Vie since the camp's opening water ceremony in December. Her native home and her adopted home are located, respectively, close to the Dakota Access and Bayou Bridge pipelines, both owned by Energy Transfer Partners. She believes it is significant that the Bakken crude oil passing through the Dakota Access pipeline will end at the Bayou Bridge pipeline, and she sees strong parallels between the communities impacted in both places. "We're communities of color, at the beginning and at the end [of the pipeline]," White Hat said.
Travis London, a Creole man from neighboring Donaldsonville, has close ties to St. James. His grandfather was born there. London serves on the H.E.L.P. Association of St. James. He also works to prevent gun violence and improve access to health care and education in his community. London views the environmental fight as embedded in all his causes and believes that greater unity in these struggles would benefit them all.
"When the world is burning around you, what else can you do but get up and fight?"
In 2017, London learned about plans to build the Bayou Bridge pipeline. He decided to go check it out. En route, he was stunned by how many petrochemical plants had sprouted up in and around St. James. London researched Energy Transfer Partners and Phillips 66, the co-owners of the pipeline, and learned about multiple spills. He met Foytlin at a hearing in July 2017 and linked up with L'Eau Est La Vie.
Now, London conducts pipeline-related research, engages in direct action, and attends community meetings. He emceed St. James' Juneteenth celebration, which L'Eau Est La Vie attended. "Everywhere the industry tries to influence, I want to be there," he said, the youngest of his four children scrambling onto his lap. "I've got to try to fight them back with the law, and try to fight them back with direct action, and try to get people together."
The No Bayou Bridge Pipeline campaign has achieved some legal victories. In February, U.S. District Judge Shelly Dick ordered an injunction to halt construction of the pipeline through the Atchafalaya Basin. On April 30, St. James District Judge Alvin Turner Jr. ruled that the Department of Natural Resources had improperly issued a permit for construction and ordered DNR to ensure that Bayou Bridge Pipeline LLC create evacuation plans in the event of an emergency. But now, DNR is appealing Turner's decision. And the 5th Circuit Court of Appeals overturned Dick's injunction.
Foytlin purchased the land on which L'Eau Est La Vie sits when she learned that the pipeline route was slated to go through it, and officially "launched" L'Eau Est La Vie on June 24, 2017. Truthout reports that the purchase forced the pipeline to reroute.
Harassment and intimidation of water protectors is routine.
Now the camp serves as the base for a continuously rotating group of a few dozen water protectors. Those in camp are asked to follow the lead of local indigenous women, like Foytlin, and other people of color. Some of the water protectors from the L'Eau Est La Vie sleep in encampments in the swamp and directly block pipeline workers' construction access from kayaks in the bayou, among other actions. Others sleep in tents pitched in a grassy field in the camp, where they cook meals, care for children, orient new arrivals, and plan actions together.
"Right now, we're fighting the pipeline because we're trying to protect our land and protect folks, but this will be over, and [the camp] is our opportunity," Foytlin shared. She imagines community gardens, a space for organizers to rejuvenate, outdoor classrooms for children to rediscover indigenous ways of being in the world. And she envisions the camp serving as a humanitarian staging ground in an era of increasingly debilitating storms.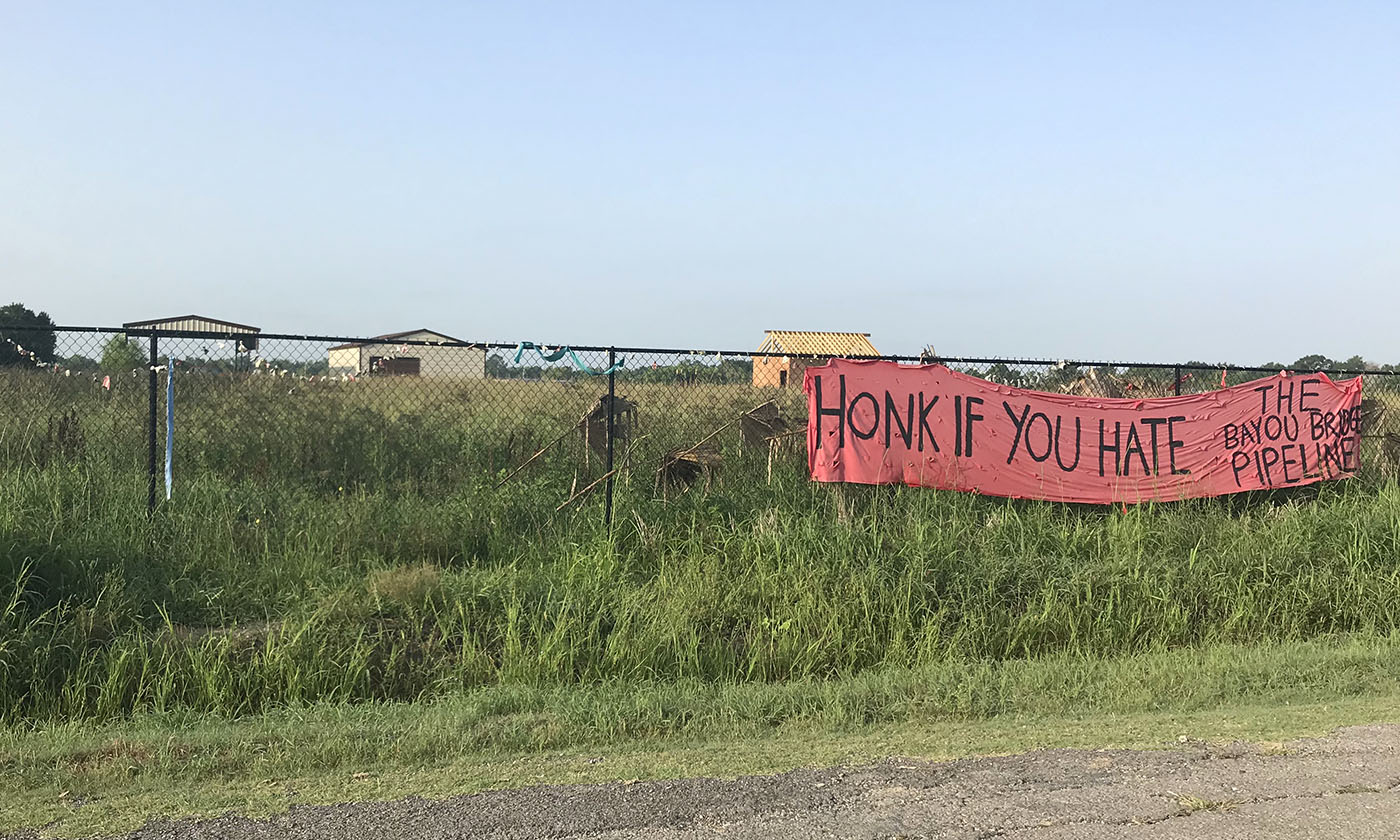 The fence outside L'Eau Est La Vie camp. Photo by Jen Marlowe.
Monique Verdin sits on the L'Eau Est La Vie camp council and the tribal council for the United Houma Nation. She works on divestment for the No Bayou Bridge Pipeline campaign. Like other divestment campaigns, this campaign calls on people to move their money from Bank of America, Morgan Stanley, U.S. Bank, Citibank, and other banks funding the pipeline as a way to pressure them to divest their shares in the companies building the lines.
"We've seen the promise of progress, and we've also seen the side effects of what comes with those promises," Verdin said. For the people in St. James, she said, those effects include living next to toxic waste facilities, poor air quality, disappearing land, and, in the case of the Bayou Bridge pipeline, possibly irreparable damage to the wetlands of Atchafalaya Basin, the largest swamp in the U.S.
London agreed that there's a contrast between industry promises and reality. He called it "the illusion of community growth" held out by industry. Real growth, he said, would be indicated by college kids returning to give back to their communities, a reduction of domestic violence, and an expansion of small businesses.
Harassment and intimidation of water protectors is routine, Verdin and Foytlin said. Drivers shout, "White power!" as they pass camp, said Foytlin. She also remembers four occasions when women from camp were stopped by people in unmarked cars with flashing lights. L'Eau Est La Vie tweeted that an ETP contractor assaulted an activist with the butt of his shotgun.
---
Verdin can identify what she called "shining victories" of L'Eau Est La Vie camp. Acquiring the camp and forcing the pipeline to reroute is one. She also sees the rulings of Louisiana judges Turner and Dick as unprecedented despite higher courts challenging those rulings.
On a deeper level, Verdin sees presenting this model of resistance a success in itself. "People in south Louisiana have been so beat down and told: 'You have oil and gas or you have nothing.'" The current system is built from a plantation economy; before oil and gas, there was cotton and sugar cane. Many of today's plant workers are descendants of slaves and sharecroppers. Verdin's hope is that the pipeline resistance will remind people "that we deserve better and we don't have to just take it. That we can challenge them."
"You don't have to be okay with a pipeline going through your house."
White Hat sees power in the connections between her stance for justice and those fought by her people years ago. At a recent action locking down to machines on the pipeline easement, White Hat sang songs to the spirits of the bayou. This type of spiritual expression was not permitted, she noted, until the 1978 passage of the American Indian Religious Freedom Act. If White Hat's relatives hadn't stood and fought for their right to pray, she may not have been able to sing on the easement without fear of arrest. "I did end up going to jail anyway, but it wasn't for praying," White Hat added with a chuckle.
Felicia Teter, who was arrested outside the governor's radio show at a L'Eau Est La Vie action on July 18, still sees problems. Despite the aspirations of the camp, she said, those with privilege—especially those who are White and male—speak more during camp meetings or fail to follow the lead of people of color. "You don't shed your Whiteness just because you show up at a camp. You don't shed your maleness. … But still, it's really frustrating." Teter hopes this will be a camp conversation soon.
Verdin and London both feel that local community support must increase, but don't see how until folks are offered real alternatives for employment outside of oil and gas jobs. "Give them a small business, give them a college degree, give them a high school diploma, and I bet they pull out of the plant," London said.
Foytlin is frustrated with movement allies using L'Eau Est La Vie actions to promote their own messages, which detract from the specific goals of the actions. She points to the action outside the governor's radio show. One environmental organization brought a banner declaring independence from fossil fuel. "That wasn't the message for this action. This action was to talk about St. James," Foytlin said.
Despite the challenges, and the very real possibility that the pipeline will be completed soon (ETP's website states that the pipeline is to be completed by the end of 2018), an air of optimism and hope prevails. Foytlin finds inspiration in people putting their bodies on the line for this cause. "That's sacrifice. That's beautiful, that's amazing, and it's bringing more and more people together."