News Based on facts, either observed and verified directly by the reporter, or reported and verified from knowledgeable sources.
A Picture Is Worth a Thousand Birds
Photo by Sanket Jain
How one amateur wildlife photographer in India built a team of 150 conservationists.
Why you can trust us
---
Devendra Bhosale's passion for wildlife almost killed him—more than once. The first time was 18 years ago, when he was trying to rescue a Russell's viper and got bitten. Bhosale was able to identify the snake and request the correct treatment right away. Still, he says, "The doctor informed me that the next three hours were extremely critical, with few chances of survival."
Years later, a bison charged Bhosale during a rescue operation for a herd that had entered the city of Kolhapur and was being harassed by residents. "I was left with three stitches, half-cut teeth, and a permanent scar on my face," Bhosale says, smiling. "Surviving all of it was no less than a miracle."
But rather than causing him to shy away from this dangerous work, close calls with wild animals motivated Bhosale to double down on his conservation efforts.
"Wildlife education, unfortunately, is restricted only to elites," says Bhosale, 40, whose work and family commitments never allowed him to study the subject formally. He is a full-time security guard at a private university in the Kolhapur district of India's Maharashtra state and works as a bouncer and wedding photographer on the side. So Bhosale sought informal avenues to learn more about the animals he loves and how to save them.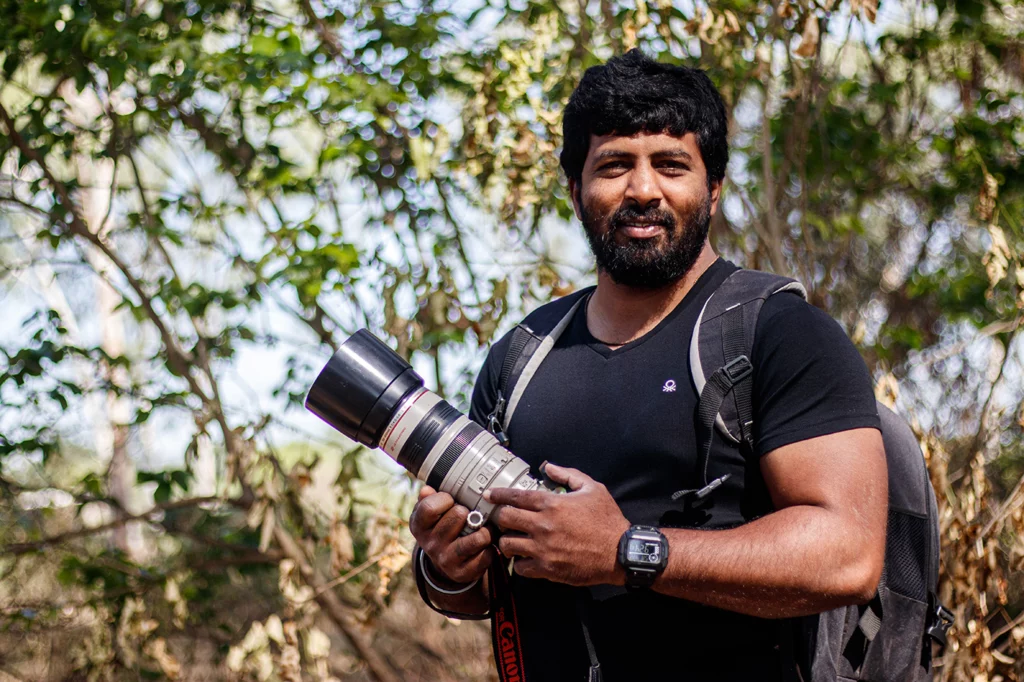 When Bhosale went to a village to rescue an animal or a bird, he often met like-minded people whom he found to be much more knowledgeable than textbooks. He started taking their contact information to form a WhatsApp group so they could continue to learn from one another. In the past two decades, the informal group has grown to more than 150 people from more than seven districts across hundreds of villages in Maharashtra. They are farmers, agricultural laborers, masons, drivers, athletes, tattoo artists, mechanics, and more. What brings them together is their passion for wildlife despite limited economic resources.
Together they have created a movement and earned themselves a reputation. "Given the vast forest cover and less staff, it's not always possible for the wildlife officers to reach the location in time for any emergency like human-animal conflict or rescue operations," says range forest officer Ramesh Kamble, from Kolhapur's Karvir Division, who has closely observed Bhosale's work. "Bhosale's widespread team swiftly reports cases of poaching and conflicts, saving several animals and birds."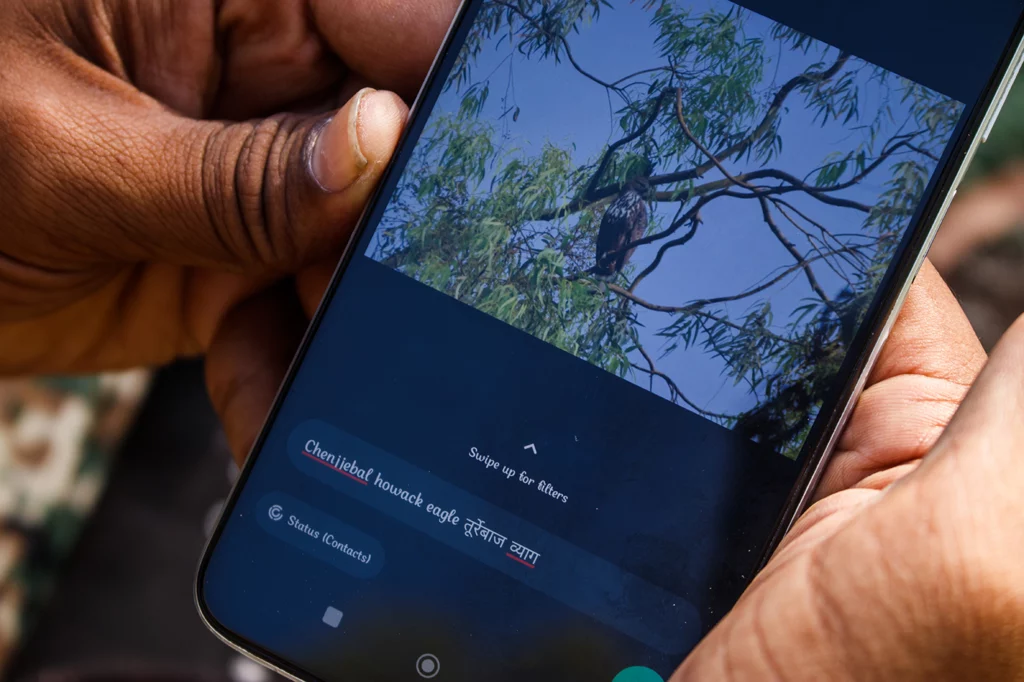 A Picture Is Worth a Thousand Birds
Bhosale started taking photos of animals (mostly snakes he rescued from friends' houses) using his lower-end smartphone. "I always wanted to document forests, animals, and birds via photos before they become extinct," he says.
He eventually taught himself professional photography. Slogging through tropical forests and often-ignored ponds in remote villages on foot, Bhosale has managed to find several rare bird species that, according to the district forest department, are nearing extinction. He photographs the birds and shares them on Facebook and WhatsApp to find out more about their species and stories.
Now he and his team are studying migration patterns and how climate change is impacting different species.
Take the changeable hawk-eagle and the white-bellied sea eagle, for example. Bhosale makes frequent visits to the same locations, especially when there are nestlings, to track how extreme heat waves are impacting the birds. He then crowdsources eagle sightings from team members in their respective regions. After documenting eagles for more than five years now, he has observed that fewer birds are returning to the places where he used to see them every year.
"Even at 7 a.m., I couldn't find the changeable hawk-eagle on the outskirts of Kolhapur city because of the rising heat," he says. "Earlier, this never happened."
The primary reason behind this, he says, is the rapidly changing climate.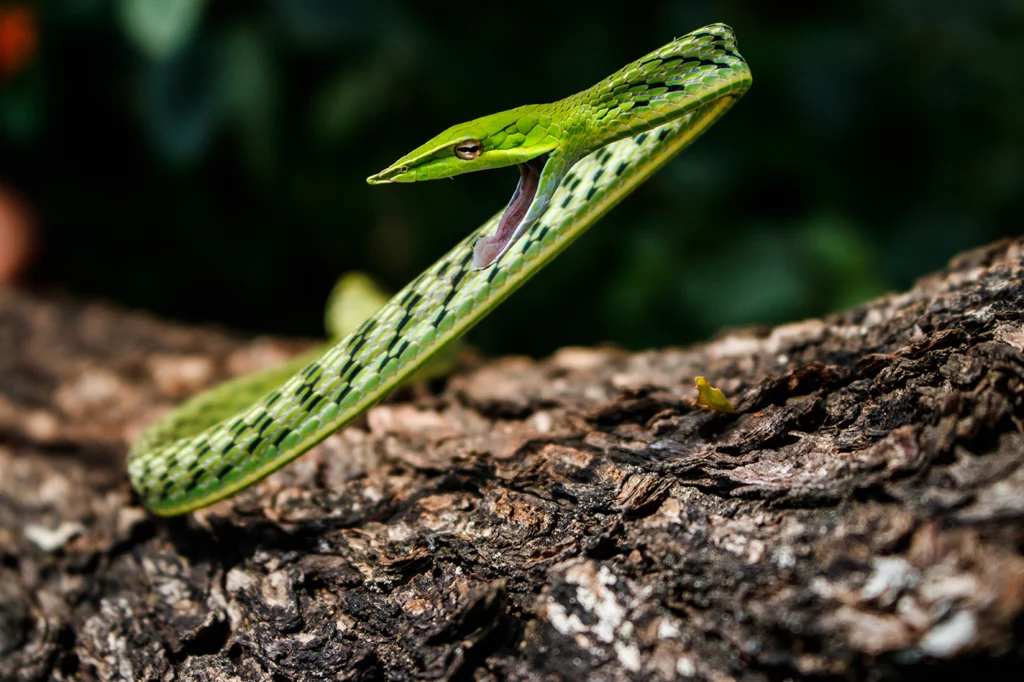 Countering Poaching With Awareness
When Pradip Jadhav was 13, he saw people killing an oriental ratsnake near his home in the village of Yellur, in Maharashtra's Sangli district. "That moment I decided no snake will ever die in front of me," he recalls. Since then, Jadhav has worked extensively to protect and rescue snakes and—at Bhosale's prompting—other animals too.
A farmer who doubles as a bodyguard, Jadhav worries about owl poaching in particular. "Owls are considered both ill-omened and auspicious in different religions and communities," he says.
In several parts of India, owl feathers, ears, kidneys, blood, meat, bones, and skulls are prescribed for ceremonial rituals by mystics. The result is mass poaching of the nocturnal birds, especially the barn owl, Jadhav says. So he consulted Bhosale, and together they devised a simple plan to inform residents about owls' ecological roles.
Yellur, which was already seeing a declining owl population, was also affected by colossal crop losses caused by rodents. With the help of Bhosale's team, Jadhav started photographing all the owls in and around his village. He collated more than a hundred photos and started hosting informal awareness-raising sessions to talk about the diversity of owl species and to connect the dots for farmers: how owls feed primarily on the same rodents that are such a menace in the fields. By keeping rodent populations in check, the owls help farmers. He then slowly started challenging the religious superstitions. With farm losses mounting, people began taking Jadhav seriously, asking him hundreds of questions about the nocturnal birds.
"It took over two years to end owl poaching," Jadhav shares proudly. But with more people aware and appreciative of the birds, they started holding each other accountable. "Over 10 people reached out to us in the past two years, admitting their mistake and releasing the owls safely."
Bhosale's team also helped rescue several Indian star tortoises that had been captured to sell as pets. The species is listed as vulnerable in the International Union for Conservation of Nature's Red List of Threatened Species. After intercepting the tortoises, the team released them back into their natural habitats.
Bringing Back the Lost Birds
Pratik Rayat, 23, farms and works at a local finance institution in the village of Herle, in the Kolhapur district. He lamented to Bhosale about the loss of diversity near a local lake that was once home to several species of birds. Villagers were destroying the birds' nests because they believed that the birds were eating grains from farmers' fields.
"Lecturing people will never help you conserve wildlife," Rayat says. "So, we started placing bird feeders and water bowls in over 30 houses."
His efforts were ignored for almost a year, until farmers began reporting lower crop losses and villagers took note of the rising number of birds near the feeders.
"As these birds started coming, I began asking people, 'Would you ever dishonor your guests?' They always replied with a 'no.'" So residents began treating birds like human guests.
Meanwhile, Rayat followed Bhosale's approach, practicing photography, documenting these birds, finding more information about them, and posting his findings on the village's WhatsApp groups. Rayat's team also planted more than 100 cherry trees near the lake to attract more birds. "Birds love cherry," Rayat adds.
When migratory birds started visiting the village, people were awe-struck and started inquiring more in the WhatsApp groups. Seeing birds arrive from different countries inspired people to refill the feeders daily. Eventually, these efforts culminated in a community of birders that help Rayat scale his work.
"Instead of going to the forest, we see birds every day in front of our eyes," says Gajanand Ubare, 49, a Herle resident who has installed a bird feeder. "This is a unique initiative, and now people understand the importance of birds."
Rayat says more than 40 species of birds, including Eurasian coot, grey heron, western yellow wagtail, woolly necked stork, common sandpiper, wood sandpiper, long-toed stint, brahminy kite, and white-throated kingfisher, visit the village often.
Moving Past Misunderstanding
Two years ago, Sneha Jadhav, 23, saw an injured red-vented bulbul. "I couldn't find her parents," she says. Everyone in her neighborhood ignored the bird, because there's a widespread belief that if a bird falls from the nest, one shouldn't touch it, or its family will abandon it. But Jadhav fed and cared for the bird daily for more than two weeks until the bird was ready to fly. If she hadn't intervened, the bird would have died. "Even today, I can see the bird in my locality," she shares proudly.
Sneha Jadhav is based in Kolhapur and focuses on rehabilitation. "Whenever any birds are rescued, she looks after them and ensures proper treatment," Bhosale says. "Her task is vital, as not everyone is always available because of their job commitments." Sneha Jadhav's dedication and commitment have helped Bhosale expand his work.
"I am now working on not just learning wildlife but also raising a team of girls who will do this job and bring a societal change," Sneha Jadhav says.
Girls in her region and in several other villages are often discouraged from pursuing a career in wildlife. So in addition to preparing for forest-service exams, Sneha Jadhav mentors others. "I am changing this mindset with my wildlife rescue operations," she says. "Whenever I am in the field, many younger girls ask me about what they can do to learn these skills." A few of those girls now accompany her and help spread conservation awareness.
Continuing To Do the Work
Many of Bhosale's team members come from marginalized communities, work multiple jobs, and earn less than $150 a month. Bird-watching is not a leisure activity for them. Still, none of them charge for their wildlife observation and rescue work. "Instead, we end up spending a lot from our pocket," Bhosale says.
Their duty remains a risky and thankless task, but still Bhosale's team is growing. Having wildlife monitors on the ground across the region enables them to track changes over time and place. Having such an extensive network also allows them to make wildlife education accessible to people in remote villages who would otherwise lack the resources to learn about the vast biodiversity around them.
Bhosale says this work has also helped some members overcome personal challenges. Omkar Mali (whose name name has been changed upon his request for safety reasons) says he was an alcoholic when he met Bhosale and started spending time with him in the forests, rescuing animals and birds. "Within a few years, I was so fascinated by wildlife conservation and Bhosale's guidance that I quit alcohol," says Mali, who currently works for Maharashtra's wildlife department. "It's not alcohol but wildlife conservation that makes me happy."
Bhosale believes that wildlife conservation—and wildlife conservationists—are an important part of every community.
"Whenever you see any animal, bird, insect, or flower, you should often think about how the next generation and those after can see this beauty," he says. "When you start thinking of this, it makes you a wildlife conservationist."
---
Sanket Jain

is an independent journalist and documentary photographer based in Western India's Maharashtra state. He is a senior People's Archive of Rural India and an Earth Journalism Network fellow. His work has appeared in more than 30 publications. As part of his long-term project, Sanket is documenting vanishing livelihoods and dying art forms from India's remote villages. He is also the co-founder of Insight Walk, a nonprofit that offers teaching fellowships to rural community women. These women work to ensure every child in their village has access to contextual education of their choice. At Insight Walk, every student designs their own syllabus. You can follow him on Instagram @snkt_jain (https://www.instagram.com/snkt_jain/)
---