News Based on facts, either observed and verified directly by the reporter, or reported and verified from knowledgeable sources.
Biodiversity on the Ballot in Ecuador
Photo by Rodrigo BUENDIA/AFP
After a decade of resistance, Ecuadorians will finally vote to preserve Yasuní National Park or allow oil exploitation.
Why you can trust us
---
Deep within the vast expanse of the Amazon rainforest, there is a remarkable treasure called Yasuní National Park. This UNESCO (United Nations Educational, Scientific and Cultural Organization) biosphere reserve has one of the highest biodiversity rates on Earth per square kilometer. It is home to a stunning diversity of monkeys, 1,300 species of trees, 610 species of birds, and more than 268 species of fish.
The park also encompasses the Indigenous communities of Tagaeri and Taromenae, who engage in voluntary isolation. These communities maintain no outside contact and live in very close relationship with the environment that sustains them. Yet, alongside Yasuní's natural wonders, the region also harbors one of Ecuador's largest oil reserves, creating a complex and contentious struggle between preservation and exploitation.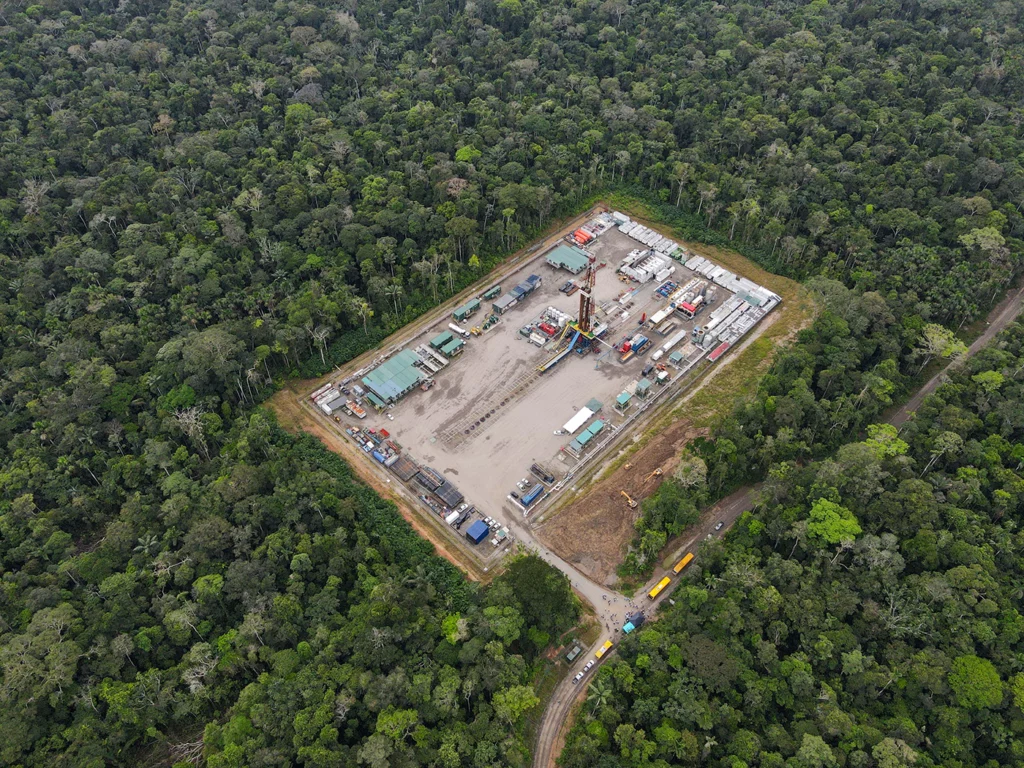 For the past decade, a fierce dispute has raged over the extraction of oil from Block 43, better known as ITT (Ishpingo-Tambococha-Tiputini). Approximately 100 of the block's 2,000 hectares fall within Yasuní's boundaries. Since 2013, the three most recent presidents of Ecuador have all campaigned to exploit the block. In response, a passionate group of young people known as Yasunidos emerged to protect it.
Yasunidos have fought for a referendum that would let Ecuadorian citizens decide whether oil extraction should proceed in the ITT block. After a decade-long battle marked by the unwavering determination of grassroots activists and environmental defenders, this August, the people of Ecuador will finally be able to vote whether to leave the oil from the ITT block in the ground indefinitely. The outcome of this historic referendum carries the potential to reshape the future of Yasuní's biodiversity, while offering an inspirational model for environmental movements far beyond Ecuador's borders.
The Plan That Failed
In 1979, the creation of Yasuní National Park served as a beacon of hope for local and Indigenous communities as well as conservation organizations around the world. Its designation as a UNESCO biosphere reserve in 1989 further solidified its significance. Within its borders, a total of seven oil blocks, or leases, exist. Most of these blocks have long been subjected to extraction in order to generate resources to alleviate Ecuador's poverty. Block 43, or ITT, however, remained tantalizingly untapped.
In 2007, Ecuador's then-president, Rafael Correa, unveiled a bold initiative to maintain the sanctity of Block 43's oil reserves while addressing the country's deep poverty. Correa proposed that affluent nations compensate Ecuador with $350 million, representing half of the estimated value of the untouched oil, as a form of compensation to Ecuador for its dedication to conservation. By refraining from extracting 856 barrels of oil, the plan aimed to prevent the emission of a staggering 407 million metric tons of carbon dioxide, offering a substantial global environmental benefit.
But the plan did not yield the desired results. Only $13 million was raised, a mere 0.37% of the anticipated amount, and so the plan was canceled in 2013. Correa said, "The world has failed us. We were not asking for charity; we were asking for shared responsibility in the fight against climate change." As a result, the Ecuadorian president asked the National Assembly for approval to exploit crude oil in Yasuní.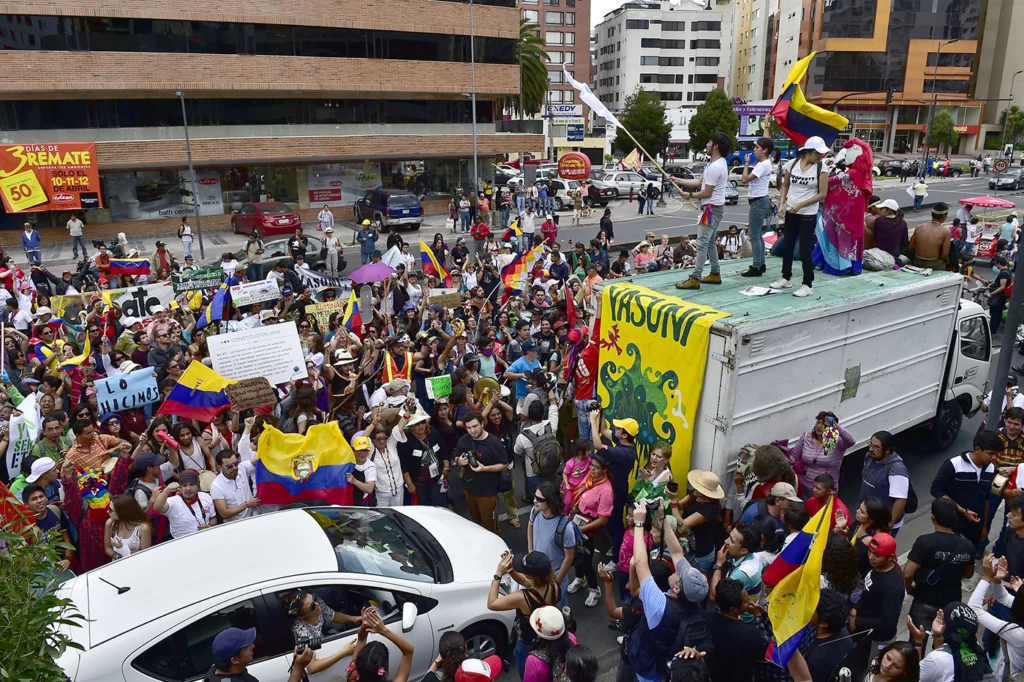 The Emergence of Yasunidos
In the wake of President Correa's controversial decision to green-light oil extraction in Block 43, a group of passionate youth, aged 16 to 30, decided to take action. Their multifaceted coalition comprised human rights advocates, environmentalists, feminists, and Indigenous people from diverse backgrounds across Ecuador. They converged with a shared mission: protecting nature and preserving human rights in Yasuní National Park. They called themselves Yasunidos, which combines Yasuní and unidos (united) in Spanish.
Pedro Bermeo was 19 years old when he co-founded Yasunidos in 2013. Initially inspired by Correa's plan, Bermeo's hopefulness turned into deep disappointment when the president decided to exploit the Yasuní instead. Determined to make a difference, he connected with like-minded activists. "Our common objective was to safeguard Yasuní," Bermeo recalls. This shared purpose served as a unifying force, and the group was bound by its unwavering dedication to preserve one of the world's most biodiverse places and defend the territory of voluntarily isolated communities.
Antonella Calle, another of the founding members, was only 16 years old at the time. She emphasizes that Ecuador, as a country of immense diversity, faced imminent threats—an alarming reality that served as her inspiration to take action. "We are a kaleidoscope of faces united by the imperative need to prioritize life over the pursuit of wealth," she says.
Yasunidos aimed to raise awareness among Ecuadorians in order to propose a popular referendum to determine the fate of Yasuní's Block 43, the national sanctuary that belongs to all Ecuadorians. For the referendum to take place, they needed to collect 583,000 signatures. More than 1,400 volunteers joined the activists' efforts, and the message resonated across the nation. As of April 2014, the team had collected 757,623 signatures, far exceeding the requirement.
However, the anticipated victory was marred by the National Electoral Council's invalidation of approximately 400,000 of those signatures, claiming they were fraudulent. Through peaceful protests, press conferences, and campaigns, Yasunidos expressed their dissent in the following years, demanding justice, signature validation, and respect for public opinion.
Overcoming Adversity: Trials and Perseverance
Since the group's inception, Yasunidos has been confronted with several challenges. In 2014, the members spoke out against alleged persecution by the Correa government. Regardless of the threats they faced, they embarked on the Climate Caravan to COP 20 (the twentieth session of the Conference of the Parties) in Peru that year to spread the word about the imminent perils threatening the Yasuní National Park. However, their journey was beset by obstacles as they confronted numerous instances of harassment, and even found themselves detained at times.
In response, the group filed a lawsuit with the Attorney General's Office. The gravity of the situation was further revealed when a leaked intelligence report in May 2015 exposed the meticulous surveillance that Yasunidos had been subjected to by the Correa government since 2013.
In reflecting on the challenges they faced during their activism, Bermeo emphasizes its profound impact on their lives at such an early age. "It was incredibly tough to witness intelligence reports, the surveillance, the threats and intimidation I personally faced—all because we were demanding our rights and the rights of Mother Earth," he recounts. For David Fajardo, a member of Yasunidos who is now an attorney focusing on environmental law, the biggest challenge has been preserving their lives while pursuing a cause that appeared to offer no immediate tangible results.
Amid these challenges, the indomitable spirit of the movement has not only persevered but also strengthened significantly. Over the past decade, a wave of new movements dedicated to environmental and human rights issues has surfaced throughout the country. Yasunidos has continued to oppose extractivist policies implemented by subsequent governments, irrespective of their political affiliations. Fajardo says, "Our work has never ceased. We have persistently supported all environmental struggles in our country."
A Global Message of Resilience
In 2021, a journalistic investigation exposed that the verification process led by the National Electoral Council (CNE) had been marred by fraud, and that it was designed to discredit and disqualify a significant number of signatures collected by Yasunidos. Former CNE councilors were accused of forgery and the use of counterfeit documents in a complaint filed with the Attorney General's Office. After recognizing the severity of the situation, the Constitutional Court issued a landmark ruling on May 9th, 2023, declaring that the signature verification process violated the rights of Yasunidos and the people who signed.
The Constitutional Court's verdict paved the way for an extraordinary development toward Yasunidos' original goal. In September 2022, the National Electoral Council granted authorization for the convening of a historic referendum. The question asked to Ecuadorians will be: "Are you in favor of the Ecuadorian government keeping oil from the ITT, known as Block 43, indefinitely underground?" The vote is scheduled for August 20th, 2023, and it holds immense weight, for its outcome will determine the future course of oil operations within the ITT block.
According to Ecuadorian sociologist Gregorio Páez, "This upcoming referendum carries profound consequences for Ecuador and serves as an inspiration for all Ecuadorians to have the agency to decide over our natural resources, and to empower people to see that grassroots activism really can have changes in policies." He emphasizes that the efforts of Yasunidos have played a vital role in shaping the trajectory of Ecuador's history while "inspiring social movements on a global scale."
For Antonella Calle, the referendum "has the potential to lead the way in the global ecological transition." In the face of the current climate crisis, she believes that leaving fossil fuels in the ground is crucial. "We are confident that this will inspire alternative approaches in other countries too, and together we can contribute to combating climate change."
Throughout these past 10 years, Yasunidos has been characterized by resilience, constant learning, and unwavering commitment. Now, the members eagerly await the decision of the population, hoping for a positive outcome. For them, saying "yes" in the referendum is not just a vote in support of Yasuní; it is a resounding "yes" to life itself, encompassing their own lives and the well-being of humanity as a whole.
Para leer en español, haga clic aqui.
---
Gabriela Barzallo

is a journalist and media entrepreneur based between New York City and Latin America. Her work focuses on human rights, the environment, social justice, etc with an emphasis on solutions. Her writing has appeared in media outlets in the US and Latin America, including Al Jazeera, Vice, El Pais, etc. She is a Fellow of the Solutions Journalism Network.
---