News Based on facts, either observed and verified directly by the reporter, or reported and verified from knowledgeable sources.
Community Care After the Maui Wildfire
Photo courtesy of County of Maui
The people of Lāhainā are centering local voices to design a future that is more sustainable for the land and its people.
Why you can trust us
---
Three weeks after the fire, when asked what people in Lāhainā, Hawai'i, needed the most, Chris Mangca didn't answer with a list of supplies. Instead, he said, "They need a break, love, some happiness, to see that people care about them."
Mangca, a boat captain from Moloka'i, an island 25 miles away, had been making daily boat trips to Lāhainā since footage of the wildfires began rolling in on social media on August 8th. After the intensity of the previous weeks, Mangca and a dozen others from the neighboring island returned for Labor Day weekend to relieve some of the resident volunteers who were cooking thousands of meals at a few of the community-led distribution hubs, and to help throw a local-style luau to bring people some normalcy and joy after what had happened.
The wildfires, which were started by downed power lines during high winds from Hurricane Dora, rapidly turned the historic town in West Maui to ash, destroying thousands of homes, businesses, and a beloved Native Hawaiian cultural center. According to officials, it also led to the deaths of nearly 100 loved ones, with several still missing more than a month later. 
---
What's Working
---
Community Land Trusts Build Climate-Resilient Affordable Housing

Community land trusts are nonprofits that buy land, build homes, and ensure the long-term affordability of the homes they build. A trust in Florida is not only ensuring homes stay affordable after natural disasters, but also building units that can withstand storms so families do not need to rebuild.

Read Full Story
---
Government aid has trickled in slowly, so the community from Maui and the surrounding islands have risen up to help one another.
"For four days there was no food, no water, no supplies, no help," says Mangca about the lack of government support, which was made more problematic after the National Guard set up checkpoints and blocked delivery of mutual aid going into Lāhainā—something officials later said was to keep people from entering hazardous areas.
Mangca, who initially went in to rescue people while the island was still in flames, then found himself one of several in a fleet of boats, Jet Skis, and catamarans from all over the islands that came in daily to drop off food and other supplies to the Kahana Boat Ramp in Napili—to get around the checkpoints and meet the community's needs.
West Maui Council Member Tamara Paltin, who had also been on the ground helping her constituents, spoke to the resilience and relationships of the community at a county council meeting, quoting a friend who said, "The kupaʻāina, the people of this place, are not the passive recipients of aid; they are the navigators."
Kahana Boat Ramp in Napili became one of the core supply centers, even as limited access opened up for those with a Lāhainā ID or pre-approved aid. Volunteers would pick up the supplies from the fleet—sometimes by wading through waist-deep water—then deliver them to several shelters and other community-led distribution hubs all over the island.
All were run by a vast ecosystem of volunteers, many who had lost everything, all of whom were navigating constantly changing needs.
"Since the beginning of the disaster, it's been the community helping the community," said Blake Ramelb in an Instagram video. He grew up in Lāhainā and has a lot of family living up the hill from the burn zone. Ramelb has been using social media as a platform to give words of encouragement and address the needs of the community so his followers can help amplify and crowdsource those needs.
He's been able to secure hundreds of air purifiers and respirators, among other items, and is now looking for independent air specialists to test the air quality since state and federal agencies have yet to release their final results.
"I'm just a concerned citizen trying to do my best because I have people that I love who could potentially be put at risk," Ramelb says. "Let's keep the people that are still here safe."
Providing Direct Assistance
Volunteers from the organization Hungry Heroes Hawaii (HHH) were among those turned away at the National Guard checkpoints on the first day, when trying to supply meals to the West Side. Steven Calkins, one of the co-founders of the organization, whose kitchen is in Central Maui, made use of his contacts and was able to get into the area with someone who had a Lāhainā ID. After that, Councilwoman Paltin tapped into her connections and obtained continued access for the organization.
When other meal charities approached Calkins to see if HHH could help deliver thousands of their meals that had been turned away, Calkins reached out to West Side restaurants and instead asked whether, if HHH supplied the food, the restaurants would make the meals. Several signed on, alongside food trucks.
Every day now, volunteers pick up and distribute 1,000 pounds of produce from Local Harvest, which works with local growers to supply those kitchens. Calkins says they also ride into communities ice-cream-truck-style for people to come get what they need. Volunteers then pick up more than 400 meals per day cooked by their West Side partners at Hua Momona Farms to deliver to the neighborhoods that need it most, like those living on the edge of the burn zone in Lāhaināluna.
"They are still without power and clean water," Calkins said at the end of August, adding that HHH had gotten the community a refrigerated truck to store food alongside big jugs of water to fill up at water tanks.
"HHH has always been a grassroots project, all directed at people helping people through the heart," he says. The goal, since the organization began during the COVID-19 pandemic, is to create a sharing economy, with partner organizations donating goods instead of money. Calkins says they never accepted a dime up until a few weeks ago, but with the abundance of donations now coming into the organization, he says they are now accepting and saving these funds to meet long-term goals like funneling money into local farms, restaurants, and businesses to pay their rent and keep them going.
Several members of the community and other Hawai'i-based organizations have also stepped up to help get financial aid directly to affected families.
Thus far, families have only received a one-time payment of $700 from the federal government, which some say is blown in one visit to the grocery store, given how high food prices are on the islands. The majority of food in Hawai'i is imported and prices are 56% higher than the national average.
Others have been able to make ends meet through direct Venmo donations. Early on, a group of community members worked tirelessly to put together an Instagram page for donations to go directly to families in need, who have been vetted by the group.
There has also been a community-sourced document of vetted GoFundMe fundraisers shared on social media. It lists how much each family or business has received in donations thus far, to help donors spread wealth more evenly. So far more than $20 million has been raised among 250 fundraisers on the document.
Other fundraisers, managed by local organizations like the Council for Native Hawaiian Advancement and the Hawai'i Community Foundation, have also funneled resources straight to the community. 'Āina Momona, for example, raised $3 million dollars and put $1 million of that toward the Hawai'i Community Foundation's Maui Strong Fund; the organization delivered $500,000 directly to families and an additional $350,000 to nonprofits.
Staying Home
Lāhainā, once the seat of the Hawaiian Kingdom, has long been home to a deeply rich and diverse population of multigenerational families. The population is not just Kānaka Maoli (Native Hawaiians), but, like much of Hawai'i, also includes large Filipino, Chinese, Japanese, and Western populations that integrated there during the plantation era. In West Maui, there is also a large Latino population. This diverse culture of people, Mangca says, always comes together when they need to.
Once a verdant wetland, Kānaka were upended and displaced by illegal occupation and the plantation era, which eventually destroyed the Indigenous ecology. Water diversions for sugarcane dried out the land, and the introduction of invasive plant species, paired with a changing climate, turned Lāhainā into a tinderbox, aiding the rapid spread of the blaze on August 8th.
According to officials, more than 2,200 homes, apartment buildings, and other structures have since been destroyed. And the island had already been struggling with a housing shortage prior to the fires.
Mangca says many Lāhainā residents who have lived there for generations have refused to leave because they are afraid that when they do, they'll lose everything. They fear people will buy up their properties, leaving them with nowhere else to go. Some residents say they fear complete cultural erasure.
Many of those who did leave Lāhainā went to shelters. Some 6,000 people were reportedly housed temporarily in hotels or vacation rentals. Community members are hosting friends and family in their homes, often several together under one roof. Many people are concerned about what will happen next and are skeptical of FEMA, due to longtime government distrust, continuous displacement, and rumors that FEMA could seize property, which FEMA has since refuted. Some residents have already been hit up by realtors and developers trying to buy their properties, preying on them at their most vulnerable.
Many also found themselves up against Governor Josh Green's emergency affordable-housing proclamation, which streamlines development while suspending protections for cultural resources, iwi kūpuna (ancestral bones), and environmental resources—as well as suspending the Sunshine Law, which ensures transparent public participation in government processes.
These actions have resulted in a lawsuit brought by environmental law group Earthjustice, which represented Sierra Club of Hawai'i, ACLU of Hawai'i, and Kanaka Maoli–led groups such as Nā 'Ohana o Lele. Due to public pressure, on September 15th, Green decided to reverse those suspensions.
Lāhainā taro farmers have also found themselves in the midst of litigation combating water grabs by prominent land developers that build luxury real estate and have been notorious for trying to dispossess Kānaka Maoli of their kuleana land titles—ancestral lands awarded in 1850 to Kānaka Maoli tenant farmers.
In order to provide further support, the Council for Native Hawaiian Advancement just opened up a relief and aid services center in Kahului, called Kākoʻo Maui. It is a culture-based hub providing wraparound services that involve financial support, legal support, and application assistance, with the goal of connecting the community to resources. The center is staffed by Lāhainā residents who lost their homes.
In order to keep people in Lāhainā, community members and organizations have again been working more quickly than the government by bringing in temporary housing. Local nonprofit Family Life Center flew in 60 quick-assembly modular homes manufactured in Hungary to be placed on a 10-acre lot owned by the King's Cathedral church.
Farmer Eddie Garcia of Regenerative Education Centers is using his farm south of Lāhainā as a staging area to build 200 self-sufficient tiny homes that will be given, free of charge, to residents displaced by the fires. Garcia is also working with landowners to find locations for the homes. His goal is to keep the Lāhainā community in Lāhainā.
"All the things [that] were saved in the museums here to show what the history of what Lāhainā was, all of that is gone. So what do we have to tell the history of this place? It is the people who live here who survived it, they need to be able to rebuild and reintegrate," Garcia said on Instagram when discussing the project.
Early in September, the governor called for tourism to reopen on the West Side of Maui on October 8th, but this has received pushback, partly because it will force some families out of the hotels, so Ramelb responded by putting out a call on social media asking for Lowe's and Amazon gift cards to help purchase tools to build temporary housing.
Jon Kinimaka, a Lāhainā resident who lost his home, has been helping run the distribution hub at Honokōwai. He has also helped secure temporary tiny homes that will be able to house some families on Hawaiian Crown Lands property nearby, where residents will be able to stay for two years. Afterward, they'll be able to relocate that tiny home to their original properties.
Kinimaka also emphasizes the need for more land for immediate shelter, as some people have already been asked to leave the hotels and are turning up at the distribution center. "We're trying to be as helpful as possible and coordinate between private sector and government so that we can work together as a community," he says. "We're going to need immediate shelter, like tent villages, while we're looking for land for temporary housing."
Many in the Lāhainā community, particularly Kānaka Maoli, are asking to be centered in the conversation moving forward in order to keep Lāhainā land in Lāhainā hands, and to design a future that is more sustainable for the land and its people—not just for this generation, but future generations as well.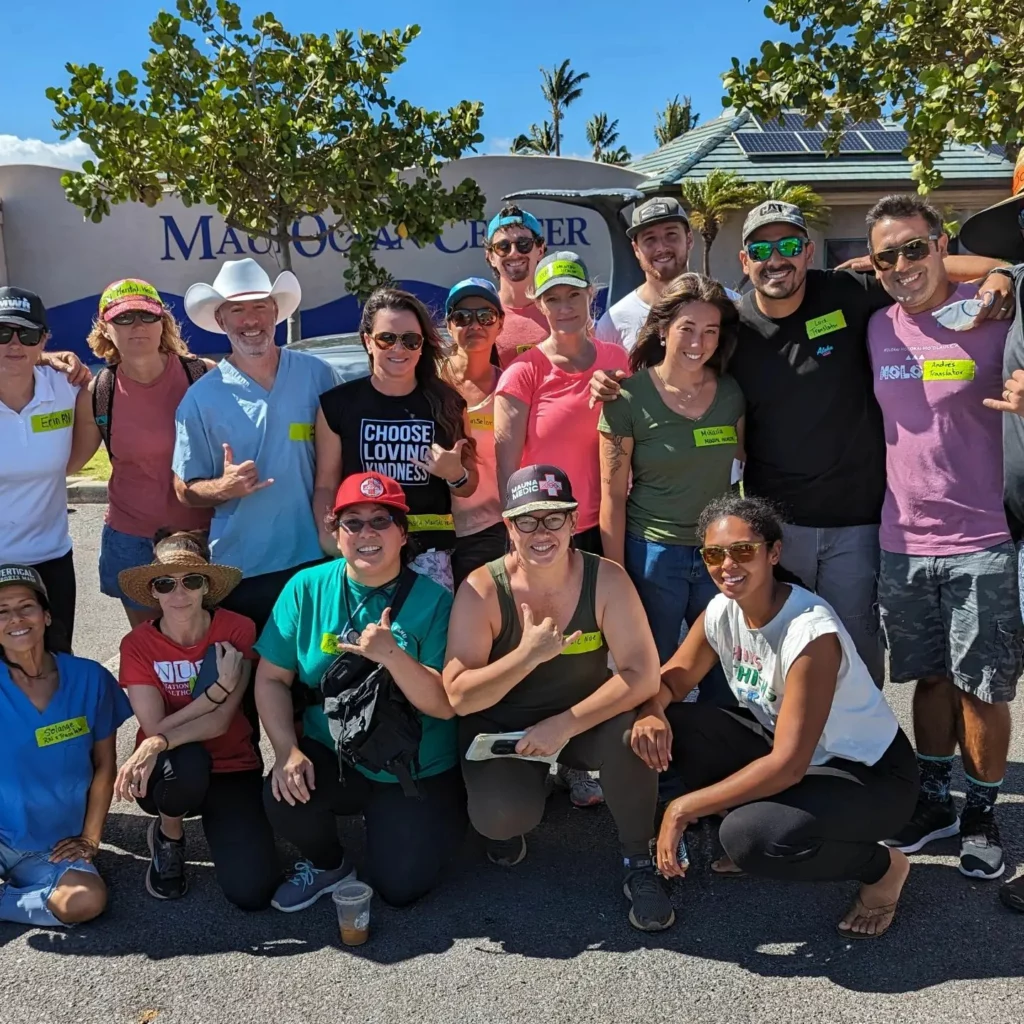 Processing Grief
First, though, many people say they want the space to grieve. "How do we create space for healing [from] strife and conflict and devastation? It's a difficult thing to do, but also super critical that we do it," says Kalamaoka`aina Niheu, a physician and medical director on O'ahu and in California. "And we're not just talking about physical injury, but emotional, spiritual, all of that community injury that happens from these types of violent acts." Niheu is the co-founder of Mauna Medics Healers Hui, an organization that facilitates putting medical and traditional health practitioners on the ground, which mobilized the day after the fires.
"There was no FEMA, no Red Cross; 911 wasn't functioning. When you tried to call, they'd say contact Maui Police, and you'd call them, and nobody would answer," Niheu says. And since they were stopped from bringing supplies to the community at the roadblocks, the group also organized people on Jet Skis and boats to bring those supplies to Kahana Boat Ramp.
Wanting to be proactive in the prevention of illness, the group's volunteers went door-to-door to warn about contaminated water and explain why it's toxic, even before the Hawai'i Department of Health. The group also provided N95 masks, and explained to those downwind of the fires' ash why the air was toxic.
Since then, the group has set up hubs with both allopathic and natural care, alongside traditional cultural modalities like lomi lomi massage and traditional mental health care like ho'oponopono to empower the patients to choose for themselves. The group doesn't ask for IDs and doesn't charge for its services.
"At the beginning, everything is 100% a gift we give freely, and we fund it ourselves," Niheu says. The volunteers cover the cost of supplies and their own flights if they are coming in from another island, which enables them to move in quickly. Then afterward they establish a donation system and provide leaders in each area of expertise.
Niheu says the organization currently has 150 people on the ground with another 700 who want to participate. They are prioritizing Maui practitioners first and Kānaka Maoli from other islands.
"When you center the most marginalized, the most impacted, then you are able to take care of everyone else too," she says.
Niheu developed this model of care in August 2016 while volunteering at Standing Rock in support of the Sioux Tribe's protests of the Dakota Access Pipeline. She wanted to support and heal the protectors of land, water, and Native rights.
Niheu then co-founded the Mauna Medic Healers Hui with colleague Noelani Ahia in 2017 to address police violence during protests against the telescopes at Haleakalā on Maui, and later during protests against the Thirty Meter Telescope on Mauna Kea. She says the model is inspired by a greater journey involving her mo'okū'auhau, or genealogy.
"The only way we're able to come this far and do what we do is because our kūpuna, our elders, have laid down their own lives and blood and sweat and tears for a path so we can actually get through here. Because the path is so thorny and so difficult that we can't do it alone," Niheu says. "This work requires generations."
In order to be there for the long haul of the rebuilding process in Lāhainā, Ahia, who lives on Maui and has lineage in Lāhainā, started a sister organization called Maui Medic Healers Hui. Niheu says that it's important to have people from the area lead, to build people up, and to connect them with like minds so they can walk into the future together. She likes to leave places better than when she arrives; Ahia told her it's like "planting seeds in the ash."
---
Libby Leonard

is a freelance journalist with work in National Geographic Digital, the SF Gate, and forthcoming from others.
---