Why Is It So Hard to Find Films Where Women Actually Talk to Each Other? How Sweden's Making It Easier
Four Stockholm cinemas are adopting a system that rates films on how deeply their female characters are developed—and how much they interact. It could radically change the way we see movies.
Why you can trust us
---
Four cinemas in Stockholm, Sweden, are beginning to apply the Bechdel test—a measure of how well a film represents female characters—to the films they screen. The new "A-MÄRKT" rating system, which applies an A-rating to films that pass the test, functions as barometer of cinematic culture as it regards gender representation.
The test essentially measures whether a story provides character development to its female characters or simply uses them as props—if it includes them at all.
The Bechdel test first appeared in 1985 in Allison Bechdel's comic Dykes to Watch Out For, where a woman remarks that she only watches films that meet her criteria for female representation. Here's how it works:
1. The film must include two named female characters …
2. who talk to each other …
3. about something other than men.
And if they pass? The Swedish cinemas will endorse them with this rating before each screening:

Though only four theaters are currently embracing the A-MÄRKT rating system, it could signal a broader shift in recognition of gender inequality in cinema around and beyond Sweden. The theaters hope to provide audiences insight into the gender biases that exist in film, and, if possible, root them out.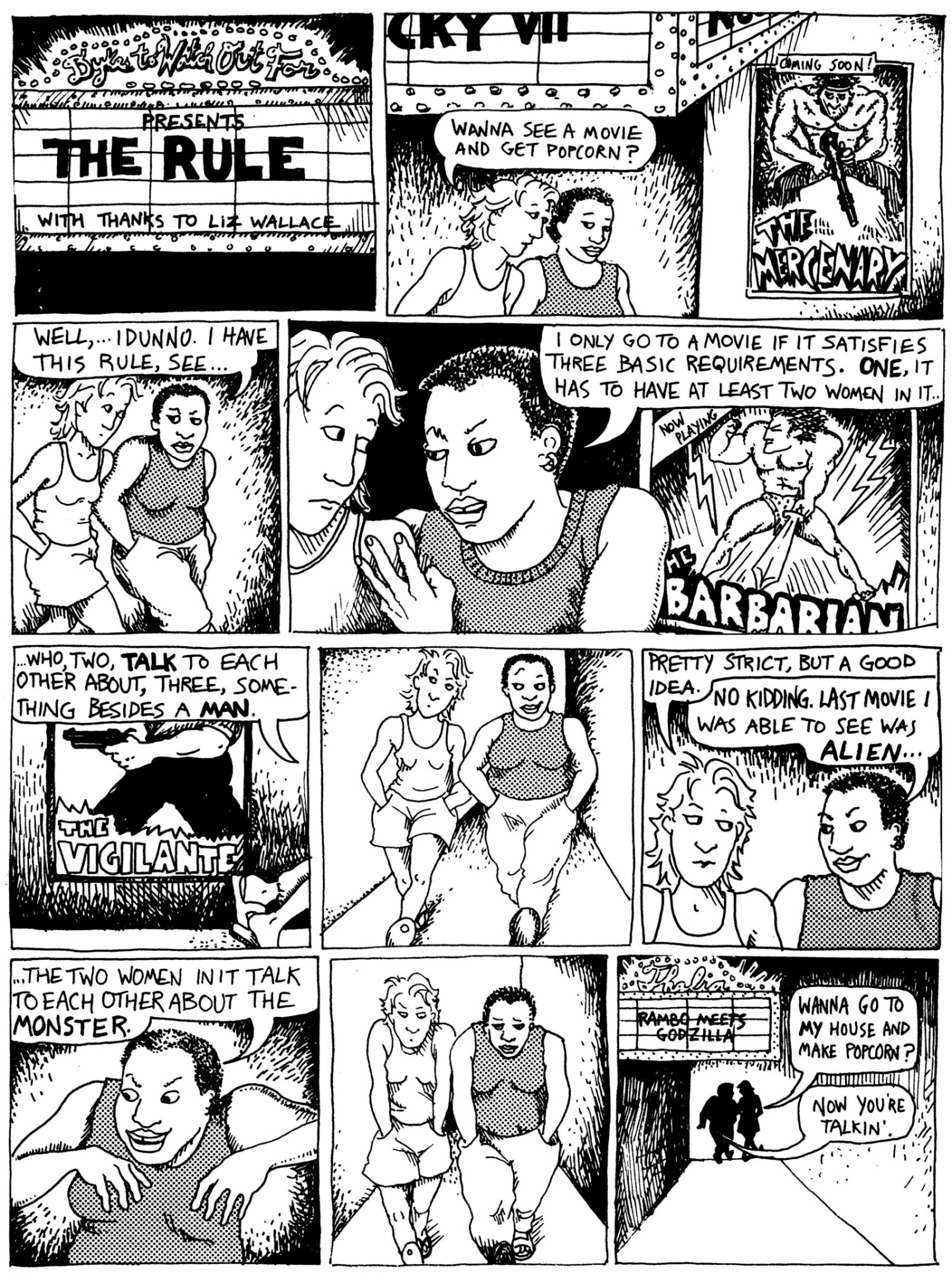 It's not surprising to see Swedish cinemas adopting the test—and finding governmental support. Sweden's government has worked in the past to reduce gender discrimination. The Swedish government, which funds four-fifths of films produced in the country, has also has directed the Swedish Film Institute to "divide funding equally between female and male applicants."
The movement does have some members of the Swedish film community concerned about interference from the government. It's one thing to raise awareness about an issues of equality, they say, but another to become involved in "regulating the content of films."
The Bechdel test has also been criticized for looking at a difficult problem through too narrow a lens.  To be sure, failing it does not mean that any given film lacks merit. This year's excellent Gravity fails despite a compelling and nuanced lead performance by Sandra Bullock (the film only has two on-screen actors, and the other is George Clooney); so do the final Harry Potter films, despite the central roles of Hermione Granger, Ginny Weasley, and many other strong female characters.
Nor does passing the test mean a film is particularly worth two hours of your life. This year's terrible G.I. Joe: Retaliation, for example, passes.
The point of the Bechdel test, however, is not whether a particular film passes or fails, but providing an opportunity for understanding the larger media context—and asking why it's so hard to find movies that allow just two women to interact.
Consider the reverse. As blogger Jennifer Kesler points out, "Imagine how hard it would be to avoid a scene in which two named men chat about something other than women … virtually every movie and TV show contains multiple, developed, relevant male characters who have some part in advancing the story."
The film industry has always struggled with the kind of gender equality the Bechdel test measures. I went to bechdeltest.com to see how Hollywood measured up.
1.  Of the ten highest-grossing films of all time, only three pass the test (Titanic, Skyfall, Transformers: Dark of the Moon).
2. Critical darlings, too, often fail: The top ten of the AFI's 100 best films of all time have only two that qualify (Gone with the Wind, Wizard of Oz). The list as a whole has 32 titles that pass.
3. Of the last ten Best Picture Academy Award winners, five pass the test—though some, like No Country for Old Men, do so only by the skin of their teeth, with a few fleeting words passing between women in a single scene.
Jennifer Siebel Newsom, filmmaker and founder of the Miss Representation Project, a movement that uses media to examine gender stereotyping and inequality, believes this underrepresentation of deep female characters is symptomatic of the lack of female media makers behind the scenes: In 2012, she notes, only 9 percent of the top 250 movies were directed by women—and just 15 percent of those scripts were penned by women. "Until more women are given the chance to tell their stories," Siebel Newsom told YES! in an email, "we're not going to see a major shift in on-screen depictions."
Like what you're reading? YES! is nonprofit and relies on reader support.
Click here to chip in $5 or more to help us keep the inspiration coming.
The Swedish cinemas' embrace of the Bechdel test would be successful if it drew greater attention to how women are represented not just in film, but in the public consciousness; also, if it results in a broader consideration of equality as a factor in consumer choices. Activists like Siebel Newsom are hopeful that focusing the Bechdel lens in everyday conversations can change the bigger conversation.
"We do feel this is a significant move, and proof that more and more people are becoming aware of the disparities in gender representation on camera," she said. "While simply showing two women talking about something other than a man is a very low bar to cross, the Bechdel test does help us spread awareness around the larger injustice issues related to women's representation in media."
So until that happens in a cinema near you, here are ten Bechdel-approved films you can start with (and none of them is G.I. Joe).
10. Thelma and Louise
The genre-busting, road-trip story of two women who embark on a vacation, but end up fighting off and killing a rapist.
9. Ghost World
At once funny, sad, and strange, in this film recent high-school graduates and outcasts Rebecca and Enid answer a lonely man's personal ad in the paper—and what starts as a joke develops into relationships made and broken.
8. Fire
Deepa Mehta's controversial 1996 film—the story of a newlywed in an unhappy marriage and her eventual affair with another married woman—was among the first Indian films to portray a homosexual relationship and resulted in protests around the nation.
7. Juno
Written by exotic-dancer-turned-writer Diablo Cody, Juno centers on Juno MacGuff, a 16-year-old pregnant teen from suburban Minnesota who gives her baby up for adoption (which, her stepmom says, will allow "someone to find a precious blessing from Jesus out of this garbage dump of a situation.")
6. Crouching Tiger, Hidden Dragon
This martial arts ballet contains some of the richest female characters in the genre.
5. The Virgin Suicides
Sofia Coppola's adaptation of the Jeffrey Eugenides novel about five troubled sisters, the adolescent imagination, and the power of sex and desirability.
4.  Winter's Bone
Written and directed by Debra Granik, Winter's Bone follows teenage Ree as she seeks out her drug-addicted father and cares for her mentally ill mother. (The film also introduced the world to Jennifer Lawrence—for which the world remains eternally grateful.)
3. All About Eve
Bette Davis' performance as the aging Broadway star Margo Channing remains among the most powerful ever on screen.  Eve may have the beauty, but no one can match Bette Davis. "Fasten your seatbelts. It's going to be a bumpy night."
2. Babette's Feast
Babette Herson, a former high-society chef now working as a cook and housekeeper, becomes an unlikely figure in a story of reconciliation and self-sacrifice.
1. The Wizard of Oz
Dorothy, Auntie Em, Glinda the Good Witch, The Wicked Witch of the West—The Wizard of Oz, at its heart, is a story about the women who shape the life of a young girl, and the men whose lives are in turn changed by her.

---