The "Twilight" Manifesto: What Pop Culture Gets Wrong—and Right—About Masculinity
Blockbuster series like Twilight have left their mark on a generation of girls, but what message are they sending boys? Here are a few to look out for.
Why you can trust us
---
Given Hollywood's paucity of female stories, it's encouraging to see the current wave of high-powered action movies starring young women. Divergent, out this week, is just the latest big-budget, female-led, young adult fantasy series adapted for the big screen. More and more people are realizing how critical the representation of girls in pop culture is. Ever more attention and criticism is focusing on the the representation of girls in pop culture, and we're seeing positive results. But as series like The Hunger Games and Twilight increase in popularity, it's also essential to examine what message they offer our boys—models of masculinity that can both harm and empower.
Let's take Twilight. For better or worse, Twilight and Bella Swan have left a mark on a generation of female fans. But what about that generation of boys? Can something with as much cultural penetration as Twilight (the books have sold more than 120 Million copies and the film series grossed more than $3 billion) not also leave a lasting effect on the boys of its era?
The Boys of Twilight
Shailene Woodley, star of Divergent, recently described the central romantic plot of the Twilight Saga as a "very unhealthy, toxic relationship. [Bella] falls in love with this guy and the second he leaves her, her life is over and she's going to kill herself! What message are we sending to young people? That is not going to help this world evolve."
Twilight, the vampire love story that swept America's imagination and spawned an ongoing vampire craze, tells the aching and laborious-to-behold story of the centenarian vampire Edward Cullen and the 17-year-old human target of his amorous desire, Bella Swan.
The criticisms Woodley aims at Twilight reverberate just as loudly for the impetuous males in the story as they do for the awkward Bella. The masculinity displayed by the boys of Twilight offers only the shallowest portrait of what it means to be a man.
As a father I'm comfortable saying these are no models for teenage manhood I'd like to impart.
Take Bella's distant and brooding boyfriend, Edward Cullen. He is filled with both sweet words and jealousy. He keeps Bella under constant watch and the slightest perceived threat throws him into a frenzy. Edward may come from a bygone era (he died, then undied, in 1918) when men maintained an amorphous code of "chivalry," but his practice of that code inflicts uncanny amounts of emotional damage. He eroticizes Bella, only to later reject her entreaties. He treats her as a pet to be protected, doted upon, and tamed, but abandons her without warning when he thinks it will benefit her. Somehow, this behavior makes him not only a gentleman but the ultimate object of desire.
Jacob Black, Edward's competition for the love of Bella, is equally forthright. Jacob's all rage and physicality. His first impulse is always action as he unapologetically pursues a woman who does not love him and rejects him over and over for years. Relegated to the horrors of being Bella's friend, he lashes out at her and her boyfriend in an endless cycle of obsession and jealousy.
As a father I'm comfortable saying these are no models for teenage manhood I'd like to impart. Edward and Jacob embody masculine impulses left completely unchecked. Edward abuses Bella for loving him; Jacob abuses her for not loving him. Neither are willing to change—and for their resolve, both are rewarded. In Twilight, cruelty without self-reflection appears to be the tactic most successfully wielded by men seeking romance.
The Hunger Games and Harry Potter both pay close heed to how their young men behave not just as functions of the plot, but as people in the world, and each series is better for it.
These criticisms are not leveled with the expectation that teenage boys—or any characters—in fictional stories must be perfect images of kindness and empathy who reject the impulses of testosterone and competition at all turns. Such behavior would be unrealistic and problematic itself in terms of modeling behavior for young men.
Nor is this a suggestion that we should only promote stories that conform to our worldview and beliefs. I find the gender roles and relationships in Twilight vapid, uninspired, and potentially damaging, but the story does hold to some virtues that are quite moving, such as the commitment to nonviolence by the Cullen Family Patriarch.
But readers of any age or gender should be encouraged to seek stories that build integrity through thoughtfully crafted characters and complex and satisfying portraits of masculinity—especially to accompany the less virtuous moments men, at times, indulge in. This complexity of character is absent in the fantasy men of Twilight.
Readers interested in models of compassionate masculinity should consider it safe to pass over Twilight without regret. Plenty of popular stories envision young men who embody an understanding of compassion, empathy and respect for others without sacrificing any of the action, intelligence, or adventure of a good story.
Harry Potter and Hunger Games
Thankfully, we don't have to search obscure books or films to find positive masculine teenage portrayals: Two of the most popular young adult series of the past decade do just that. Suzanne Collins' The Hunger Games and J.K. Rowling's Harry Potter both pay close heed to how their young men behave not just as functions of the plot, but as people in the world, and each series is better for it.
Like what you're reading? YES! is nonprofit and relies on reader support.
Click here to chip in $5 or more to help us keep the inspiration coming.
J.K. Rowling's wizarding world is populated with an hugely diverse cast of characters. Neville Longbottom—a classmate of Harry's—starts the series as a minor figure. But even in his character's infancy, Neville is defined by doing what's right. He stands up not only to the villain—good guys always do—but to the careless behavior of those he admires.
Neville is a quiet boy. Raised by his grandmother after his parents were institutionalized, Neville understands the value of a solid friendship. He cares about loyalty, and when he receives it, he returns it. As the books progress, Neville learns to take confidence in his own knowledge and interests, and finds that he has unique value to contribute to the world. That value, first and foremost, is always directed toward how he can assist those for whom he cares.
Never seeking the spotlight or glory for himself, Neville becomes a leader largely because others see in him what he's rarely seen in himself: confidence and compassion. Harry and his friends slowly recognize that Neville's gentleness and compassion for people, animals, and even plants make him not weak but strong—even worthy of following. That is J.K. Rowling's greatest contribution to the conversation of masculinity and youth.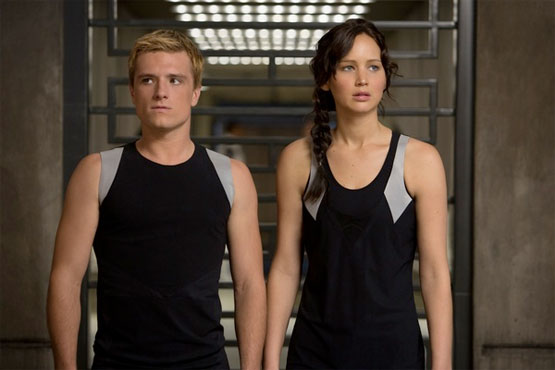 The Hunger Games: Catching Fire. Photo courtesy of Lionsgate.
Suzanne Collins' Hunger Games clearly has an interest in challenging gender stereotypes. Katniss Everdeen is a complex female protagonist in a series about arena battles-to-the-death—a fact that invites readers to look askance at the gender roles throughout her story. And Peeta, Katniss' partner, is as clear a challenge to gender stereotypes as one could imagine.
Perhaps no male character in recent young adult fiction more clearly overturns the expected gender roles than Peeta Mellark. As NPR's Linda Holmes wrote, "Peeta is Pepper Potts and Gwen Stacy, helping and helping and helping until the very end, when it's time for the stakes, and the stakes are: NEEDS RESCUE."
The Hunger Games Are Real: Teenage Fans Remind
the World What Katniss Was Really Fighting For
While not physically the strongest character in the series (it seems Peeta spends half the trilogy unconscious or being carried by someone else), Peeta's character traits defy everything the traditional masculine hero should embody. But if Peeta defies the role of movie boyfriend, as Holmes puts it, he's no weaker as a result. He's just a different kind of man than we're used to in our stories.
He's thoughtful and caring. Not only is he interested in how people are feeling but he takes pains to get them to open up and discuss them. He's sensitive enough to feel the slights that Katniss sends his way, and perceptive enough to understand the motive for those slights.
And perhaps most radically, Peeta has no trouble accepting that Katniss outshines him in almost every regard. She's physically stronger, more capable in the arena, a better leader in the political revolution, and a more important figure for the success of the movement. He even accepts Katniss' rejection, and wants to be friends.
Peeta and Neville are not perfect models of masculinity—nor do they seek to be. Perfection in our stories provides very little intrigue (see Edward Cullen). But Peeta and Neville both strive to be compassionate men who to put the needs of others ahead of their own, and look to the world beyond their own immediate desires. That's a model I hope one day to impart to my son.