An Alaska Native Myth Tells of a Never-Ending Blizzard—Now You Can Learn About It on Xbox
The Inupiaq people of Alaska have an unipqaak—a generations-old story—called Kanuk Sayuka. It tells of an unending blizzard that threatens the life of an Alaskan village. The people cannot hunt for food and face starvation. To save them, a young girl, Nuna, must overcome a series of challenges with the help of an arctic fox and forces from both the physical and spirit worlds.
It's a story about the restoration of the balance of nature. And now you can learn all about it on XBOX or PlayStation.
"American Indian stories … are nonlinear, relational, and expansive narratives that link the past, present, and future together."
Never Alone (Kisima Inŋitchuŋa), released this week by Upper One Games and E-Line Media, is the first game to explore Alaska Native culture and people. It's also the first game developed by an indigenous-owned company, and the first game built in partnership with native elders, taking its narrative structure from a specific indigenous myth.
According to creative director Sean Vesce and Inupiaq cultural adviser Amy Fredeen, Never Alone is the first project made "to celebrate, share, and extend an indigenous people's mythos and culture in video game form."
Image by Never Alone.
Two years ago, the Cook Inlet Tribal Council, a nonprofit organization based in Anchorage, Alaska, that represents thousands of native individuals, was searching for an investment that would simultaneously increase the organization's revenue and share native culture with new and younger audiences in Alaska and around the world. They decided to make a video game.
It makes perfect sense to Jodi Byrd, professor of American Indian Studies at the University of Illinois, since native stories are often more complicated in structure than European-style stories.
"American Indian stories often emphasize spiritual, spatial, social, and communal aesthetics," Byrd told me. "They're nonlinear, relational, and expansive narratives that link the past, present, and future together."
Digital technology, she says, is more adaptable to traditionally native style stories. In contemporary digital media, native stories might have found a new environment where they can thrive.
To tackle this project, the Cook Inlet Tribal Council reached out to New York-based E-Line Media. The two created Upper One Games, the world's first indigenous-owned video game developer, and committed to a model of creative, respectful cultural engagement meant to value the voice and heritage of all participants.
Vesce and Fredeen call the approach adopted by the game developers at E-Line and the Alaskan indigenous communities represented by the Council "inclusive development."
Image courtesy of Never Alone.
"The team members came from very different worlds," Vesce and Fedeen told me over e-mail, "so developing a common vocabulary and understanding took time."
Before any development began, the creative team "met with Alaska Native elders and storytellers to discuss how Inupiaq culture, stories, and art could fit into a video game structure."
Never Alone's art director, Dima Veryovka, worked with native artists to study traditional Alaskan art. Guided by Inupiaq philosophy and spirituality, Veryovka's graphic style originated with black and white sketches, creating characters based on Arctic dolls and seeking a handcrafted feeling for the characters.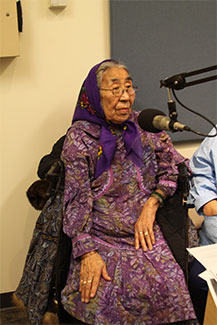 Minnie Gray. Photo courtesy of Never Alone.
After a small team led by noted Alaska Native storyteller Ishmael Hope chose the Kanuk Sayuka story, the development team met with Minnie Gray—an Inupiaq elder whose father narrated the first audio recording of the Kanuk Sayuka story—to ensure the messages and themes remained intact. (She, for example, approved the gender swap of the main character from a boy to a girl).
The results of all of this work will be more than just a single video game. Fredeen and Vesce hope Never Alone will be the first of many unique games created with the same model of inclusiveness and care, aimed at sharing "traditional stories of unique human cultures with the world."
They call these projects "world games."
Games = stories = empathy
It doesn't matter if Never Alone is the first indigenous game ever created if it isn't fun to play. If the game's not fun, it will not succeed in extending the indigenous mythos to new audiences, as Fredeen hopes it does.
Games, she says, "can help players understand how stories might be felt."
Playing Never Alone is not that different from playing Super Mario Bros.—and that's a compliment. It has purpose built into the game play that is rare for traditional side-scrolling platform games, which build worlds on top of a background story.
The game play is punctuated by 24 short documentary segments players unlock as they progress. The segments—made from footage about the historic life of Alaska Native peoples—teach culture, history, and the value of storytelling. If that sounds like a dreary addition to a video game, it's not: Never Alone is highly produced, visually engaging, and more than just an edutainment game for kids.
Byrd, who describes herself as a gamer, believes that games help gamers to be more empathic people. Games, she said, "can help players understand how stories might be felt." Such capacity is crucial when dealing with deeply rooted mainstream assumptions that indigenous peoples are out of step with modern society, she added.
According to Byrd, there is a lingering notion that "indigenous peoples are somehow pre-modern, technologically challenged, or just a part of a long-dead past that has no role to play in the present." Games like Never Alone—and the empathy they can inspire—could be an important step in overcoming such prejudice.
This is what Never Alone offers. By stepping into Nuna, players hear directly from Inupiaq tribal members and elders.
Crystle Martin, a postdoctoral scholar at the Digital Media Learning and Research Hub, thinks that the gaming world desperately needs game development processes that are sensitive to cultural difference and diversity—not just because diversity leads to more interesting games, but because gamers benefit from the exposure.
"Being exposed to other cultures is of ever-growing importance in a global world," Martin told me over e-mail. She said such exposure lets us see the world from a different perspective, which is how we learn to be empathic, caring people. "And this is good both on a local and global scale."
For more information on Never Alone, visit neveralonegame.com.