Tiny Houses in Paradise! 20 Incredible Vacation Rentals on Airbnb
This article was originally written for Shareable.
Interested in tiny house living? Before you ditch your possessions and make the move, you can give the lifestyle a spin by renting a tiny house on Airbnb. Here are 20 of our favorites.
1. Silo Studio Cottage – Lee, Massachusetts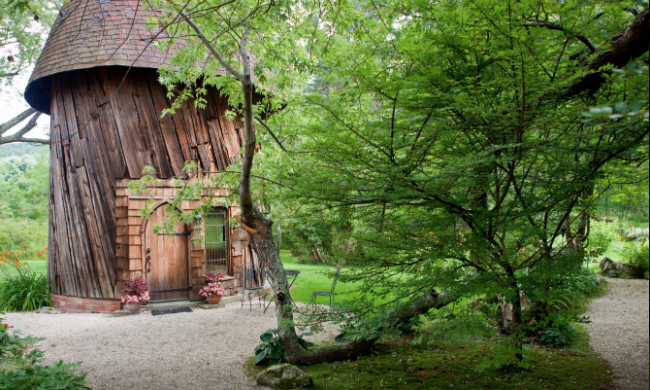 Located on the Santarella Estate in the Tyringham Valley, this former sculpting studio is surrounded by gardens, a pond, brooks and streams, a walking path and "storybook architecture." Want to do more exploring? Check out the nearby Appalachian Trail.
2. Little Garden House – Normandy, France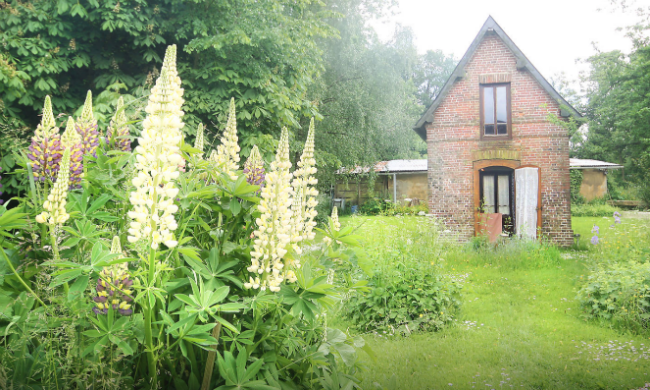 Go really old school with this lovely garden house on a renovated medieval farm in upper Normandy.
3. Quiet & Cozy Tiny House on the Bay – Olympia, Washington
Handbuilt by the host Brittany, this tiny home is nestled away in a lovely rural setting overlooking the Puget Sound, but is still just minutes away from downtown Olympia so you can take in some local culture as well.
4. Aroma(n)tica Treehouse – San Salvatore Monferrato, Italy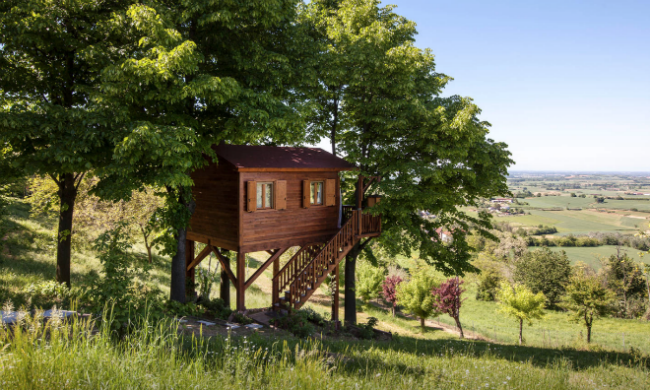 This peaceful treehouse has cozy accommodations, stunning views, and the aroma of surrounding herb and flower gardens to boot. Described as a "suspended nest" it's a wine lover's paradise, surrounded by top-quality wine producers and imbued with enological history.
5. Bow Top Roma Wagon – Cornwall, England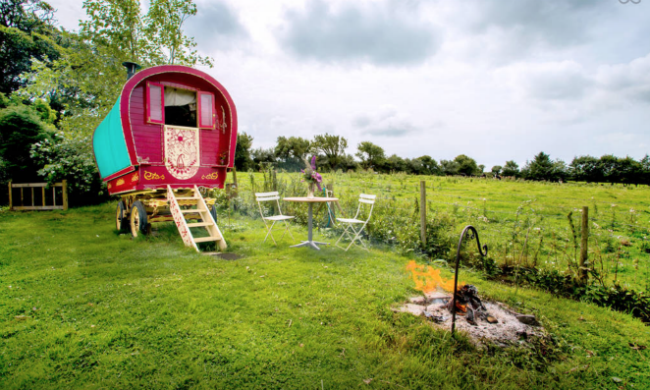 Built for a Romany by a Romany and taken to the Appleby Horse Fair, this little wagon is the real deal. I'm thinking that sleeping in this beauty would lend itself to some pretty amazing dreams and the sense that you've just time-traveled to another dimension.
6. Writer's Cabin – Stockholm, Sweden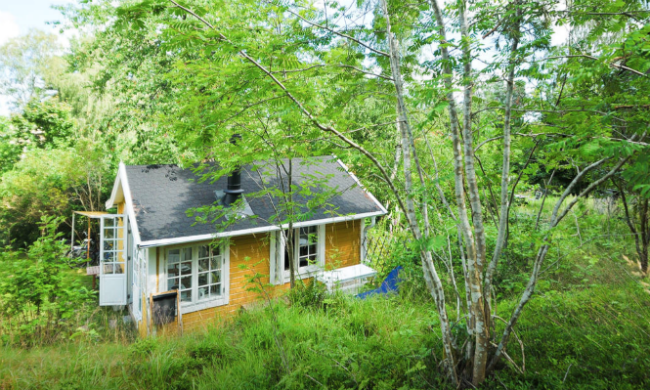 Calling all wordsmiths: How does hiding away in a writer's cabin in Stockholm sound? Pretty nice, eh?
7. Pyramid Cabin – Rio Negro, Argentina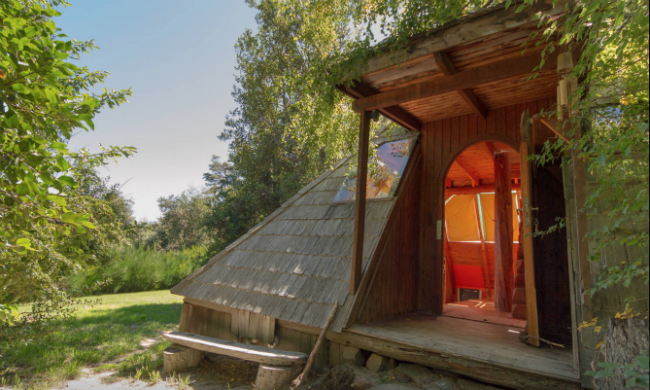 This warm, simply-beautiful wooden cabin is just a short walk from town and a perfect way to get off of the tourist path.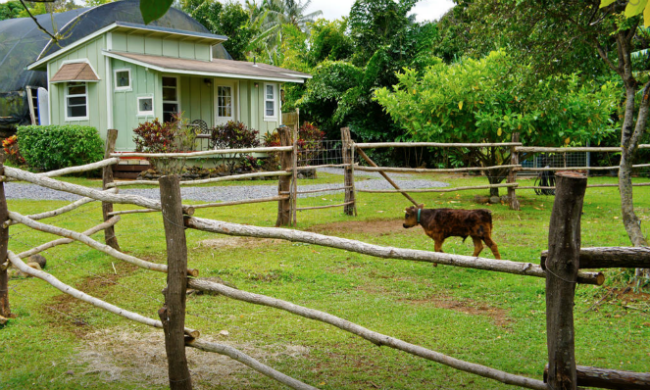 Located on Maui's north shore, this little cabin comes complete with everything you'll need for an island vacation, including surfboards, boogie boards, beach chairs, ocean views and fruit trees.
9. Tiny House – Porta Romana, Italy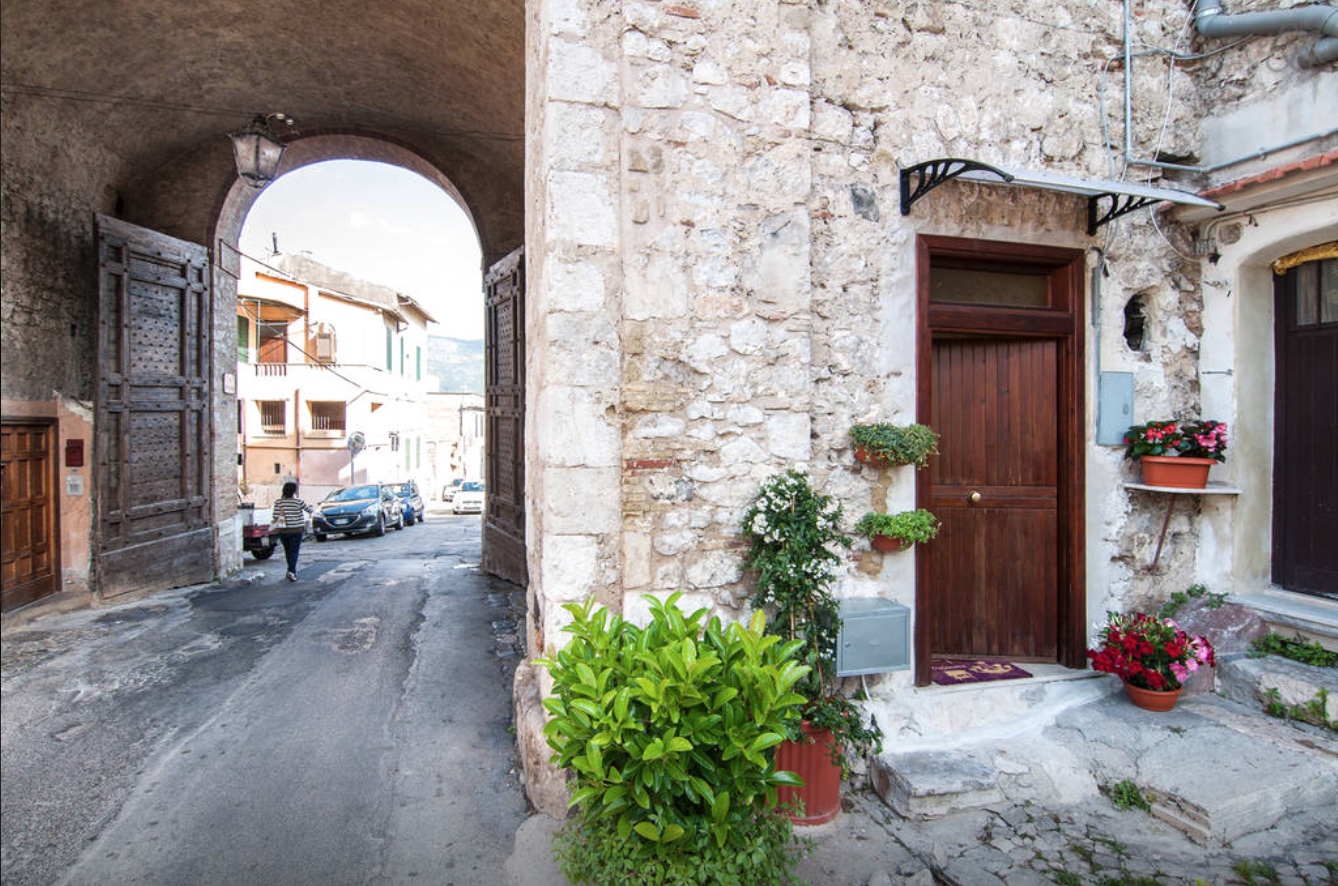 In addition to being gorgeous and hip and fun, this tiny apartment is located inside a former city gate, one of the most important monuments in Porta Romana, with origins that trace back to the Roman walls of the city.
10. A-Frame, Rustic, Off-Grid Cabin – Gasquet, Ca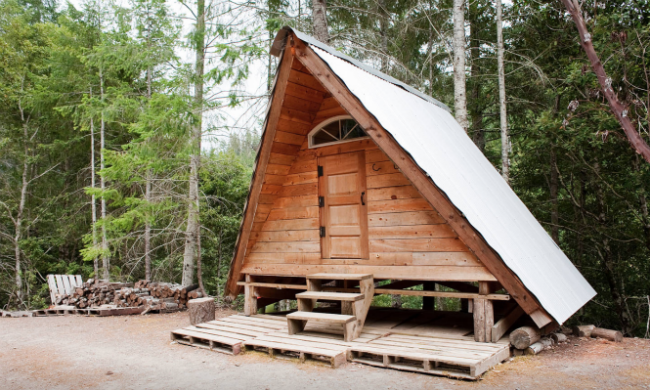 Feeling rustic? Don't mind roughing it a bit? Check out this hand-built, A-frame cabin in the heart of Six Rivers National Forest. Oh yeah, and there's an outdoor kitchen, organic garden, wood-fired sauna and custom bodywork sessions available.
11. Charming Shotgun Cottage – New Orleans, Louisiana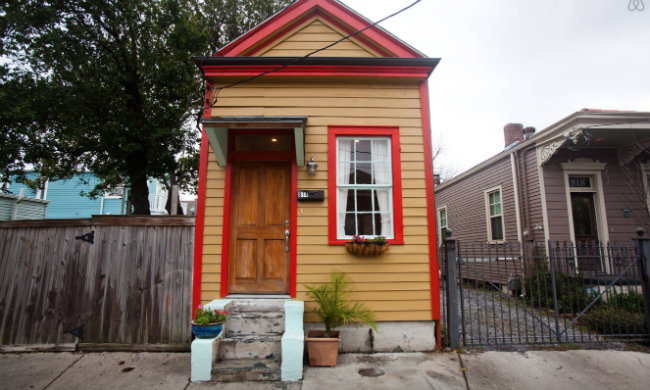 Why not take in the Big Easy tiny house style? This little cottage, which has been described as a dollhouse, is close to cultural hotspot Magazine Street and has convenient access to public transportation so you can move about the city with ease.
12. Retreat in Paradise – Canarias, Spain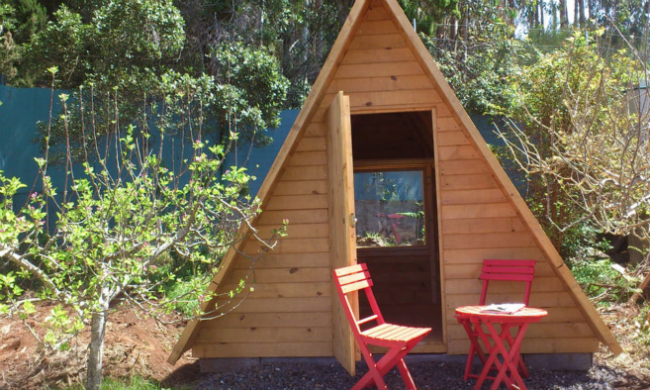 The reviews do all the talking for this tiny house which features gardens, a meditation room and more: "If you want to refill yourself, this is a perfect place for you!", "…a true piece of heaven on earth!" and so on. And all for $21 per night.
13. The Rustic Modern Tiny House – Portland, Oregon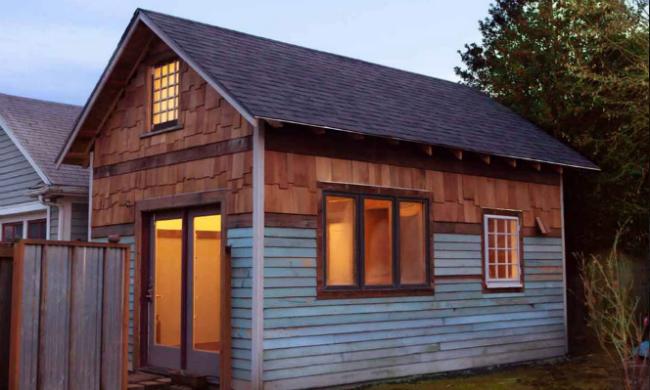 It's rustic, it's modern, it has stairs and a sleeping loft, it was built by its hosts, and it was featured on the TV show Tiny House Nation. According to previous guests, it's a great way to have a rustic little getaway, in the middle of a hip, happening city.
14. Post and Beam Barn – Bethlehem, Connecticut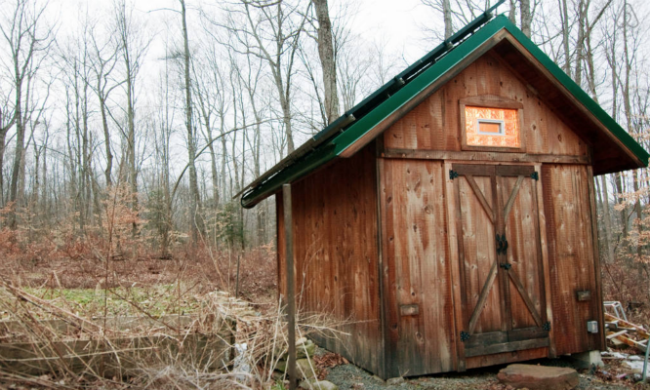 A barn that's been lightly converted into sleeping quarters, this one is not ideal for the winter months, but it's beautiful, peaceful, and comes with wi-fi.
15. Hand-crafted Wagon with Heart – Seattle, Washington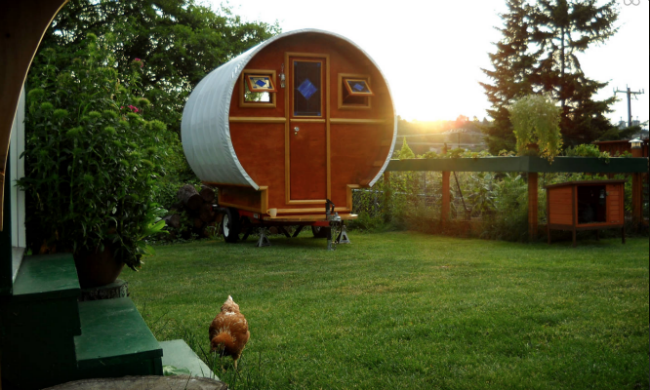 Who doesn't want to stay in a Roma-style, handcrafted wagon? It is absolutely adorable, full of made-with-love details, and a provides great story material to take back home.
16. Treehouse – Chiang Mai, Thailand
Part of a yoga and meditation homestay facility, this treehouse is a way to really get away from it all. As one guest writes, it offers "falling asleep to the raucous sounds of crickets, tree frogs, and waking up to birdsong and the smell of trees." And, it's only a 10 minute drive from the town center.
17. Music City's Tiny (Guest) House – Nashville, Tennessee
Home of the Grand Ol' Opry, the famous Bluebird Cafe, the Country Music Hall of Fame and lots more, Nashville, known as Music City, USA, simply oozes music. This tiny house bills itself as the city's tiniest, fully-equipped guest house, with a full kitchen, a full bathroom, running water, heat, air conditioning and wi-fi.
18. Treehouse at Kilauea Volcano – Volcano, Hawaii
A treehouse, on a volcano, on Hawaii's Big Island? Now that sounds like a great getaway. Expect: lava tubes, rainforests, a steep climb to your accommodations, a gorgeous treehouse designed by TV's Treehouse Masters, lots of hiking, exploring, lots of flowers and birds.
19. Chinese Boat – Wong Chuk Hang, Hong Kong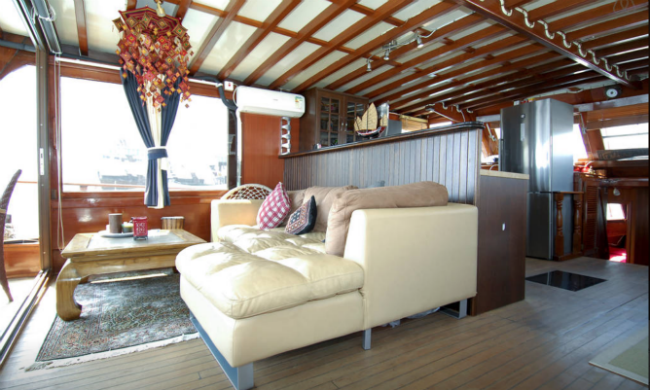 A stunning structure made from teak wood, this little boat comes complete with views of the harbor, two cats and breakfast! So if being lulled to sleep by the sway of a boat sounds good, and Hong Kong is in your travel plans, this might be just the thing.
20. Cave House – Granada, Spain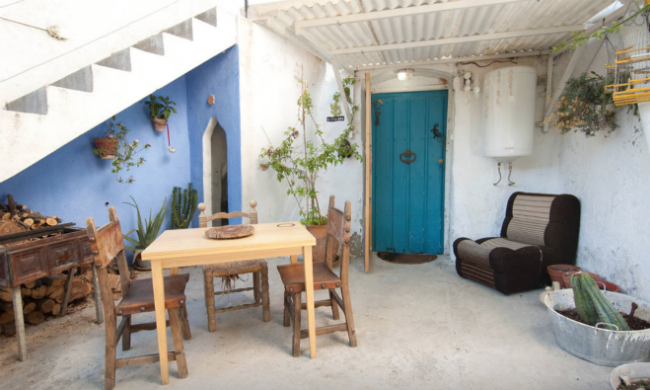 In Granada, Spain, people have been inhabiting caves since ancient times. Now you can see what it feels like to stay in a place where you can feel "the embrace of the earth." Yes, they're fully equipped, yes, they are pedestrian-friendly and close to public transit, and yes, the caves even have wi-fi!