New David Foster Wallace Movie Shows a Regular Guy Who Happens to Be a Genius—That's Why It Works
When the author David Foster Wallace was 34, he visited the Mall of America on the last stop of his book tour. It was 1996, and Wallace had just released Infinite Jest to great acclaim. During a meal at the food court, Wallace describes the mall as a "tsunami of stuff," but admits, "it's not unfun."
Wallace was equally fascinated and mystified by consumption and American excess.
The Mall of America is, in a way, a very David Foster Wallace kind of place. Wallace was equally fascinated and mystified by consumption and American excess. He loved popular movies and TV and fast food, but he also wondered what it meant to be the kind of American who loved these things. His visit to the Mall of America, a mix of fascination and indulgence, is captured in the new film The End of the Tour.
The film is adapted from David Lipky's book, Although of Course You End Up Becoming Yourself: A Road Trip with David Foster Wallace, which chronicles Lipsky's five days with Wallace during the final leg of the Infinite Jest book tour. Lipsky was on assignment for Rolling Stone and recorded their days' long conversation.
I went to the Mall of America to watch The End of the Tour and attend a Q&A session with Jason Segel, who plays Wallace in the film. Segel referred to his Mall of America gig as "the end of the press tour"—the end of spending months thinking almost constantly about Wallace. He seemed relieved.
A year has passed since the world learned that Segel would play Wallace. Skeptics questioned whether the comedian, writer, and actor best known as Marshall on the sitcom "How I Met Your Mother" could transition to playing the almost mythic author of Infinite Jest. Even Segel voiced this concern, fearing that "you all could have just said 'No, I don't accept Marshall as David Foster Wallace'."
Others worried about director James Ponsoldt. He's a huge Wallace fan, and even had parts of a Wallace speech read aloud at his wedding. It was feared he'd make a bland, sanctifying love letter to Wallace, boosting the myth of the Literary Giant at the expense of the man.
These cinematic worries paled in comparison to the film's most damning criticism, which comes from Wallace's family, publisher, and literary trust. They all opposed the very idea of making The End of the Tour. They released a statement last year to "make it clear that they have no connection with, and neither endorse nor support The End of the Tour."
Ponsoldt has made a fine, sensitive film.
It's easy to understand why Wallace's friends and family want to avoid seeing his life depicted in the movies. Wallace struggled with addiction and worked for decades to manage his depression, until committing suicide in 2008. But he cannot be reduced to those biographical details. Many consider Infinite Jest to be one of great American novels, and its success created the myth of "David Foster Wallace" long before his death.
The success or failure The End of the Tour cannot depend upon "getting David Foster Wallace right." What Ponsoldt and Segel set out to do was tell a moving story and tell it well. Their responsibility wasn't to treat Wallace with reverence, but to treat this story and its subjects with respect.
Ponsoldt has made a fine, sensitive film. Segel and co-star Jesse Eisenberg give terrific performances. Opposition to the film remains (and has been the subject of countless editorials and think pieces), but this is a rare success: a very good movie about writing.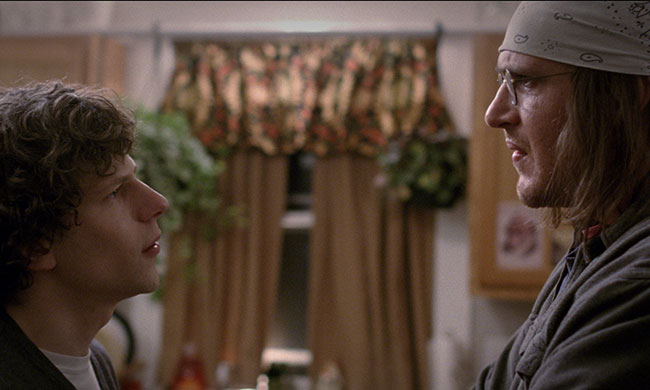 Jesse Eisenberg as journalist David Lipsky with Segel.
Ponsoldt succeeds largely by avoiding the concept of the literary biopic. Instead he tells a story about two men on a road trip, wrestling with talent and genius. Segel handles the anxieties of Wallace convincingly—self-deprecating, funny, and cautious, while suppressing a well of interior thought. Of course, it helps that almost all of Segel's lines came from Lipsky's original interview tapes.
Eisenberg, fast becoming one of America's best young actors, plays Lipsky with equal parts affection and jealousy for Wallace. His bashful-little-brother routine lands perfectly in the folds of Wallace's hulking presence. During a late-night hotel exchange, for example, Lipsky tells Wallace, "My girlfriend likes your writing better than mine, and it's really annoying."
Lipsky was right about Wallace. The author was brilliant.
The film works hard to portray Wallace as a man with doubt and genius. He refers to the massive success—both commercially and critically—of Infinite Jest as "this whole fuss," and only minutes later is worrying that he is coming off as a "whore" who is "cashing in." He fears he might become the kind of writer who likes talking about writing more than actually writing.
Lipsky and Wallace debate writing, celebrity, pop culture, TV, women. They are friendly, most of the time. But the two men are not equals. Lipsky feels dwarfed by the magnitude of Wallace's achievements. Wallace sees Lipsky as a guy he enjoys talking to, but also a journalist who will manipulate his words for the success of an article.
The film has as much in common with Amadeus as it does a literary biopic. Wallace "cherishes his regular guyness," but Lipsky challenges Wallace on this persona. And it's hard to dispute Lipsky's argument: "You don't pick up a 1,000-page novel because you heard the author is a regular guy. You do it because you think he's brilliant."
Lipsky was right about Wallace. The author was brilliant. He was also lonely, and a good teacher, and funny. When he offered breakfast to reporters, he said things like "mi poptart es su poptart." He loved his dogs, and in the years after this film, his wife. He was the guy who wanted to go the Mall of America to watch a bad movie and discuss the complexities of America's addictive consumerism, before going home to sit alone with a sheet of paper.