At the World's First Empathy Museum, Visitors Walk a Mile in Another Person's Shoes—Literally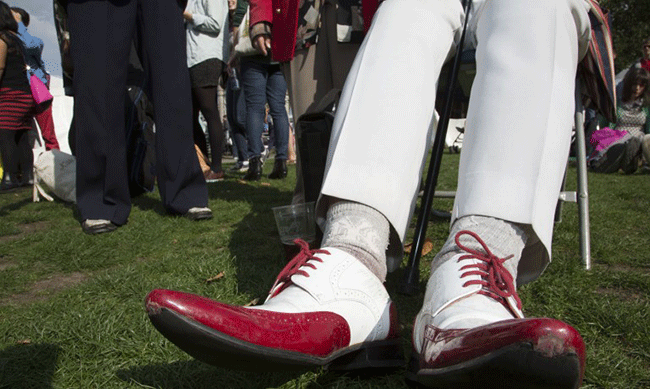 You've probably heard the the saying, "Never judge a man until you have walked a mile in his shoes."
The Empathy Museum invites you to experience and understand what it's actually like to be another person.
These wise words are the inspiration for the world's first Empathy Museum, which I'm about to launch in London as part of the Totally Thames festival. Forget all those dusty museums with exhibits behind glass cases: this is different. The Empathy Museum invites you to experience and understand what it's actually like to be another person, so you can look at the world through their eyes.
What exactly will happen when you visit the Empathy Museum? Our launch exhibit, which is opening shortly and will then travel the world, is called—appropriately enough—A Mile in My Shoes. And it's set in an empathy shoe shop. As you walk in, the shop assistants will fit you with a pair of shoes belonging to someone from a completely different walk of life to your own. You'll then step outside and literally walk a mile in their shoes while being immersed in an audio narrative of their life.
We've been collecting shoes far and wide. The shoe shop already includes the sky-high heels of bearded drag queen Timberlina, the boots of a sewer worker, the skates of a Roller Derby champion, and the dress-shoes of a Grand Master in chess. And every pair is accompanied by extraordinary, moving, and surprising stories.
Alongside the shoe shop, you will also find a Human Library, where instead of borrowing a book you borrow a person for conversation. So you might find yourself in an open and honest conversation with a Muslim teenager, a Quaker pacifist, a Syrian refugee, or even a Wall Street banker.
Photo of Gari Pattison a sewerage worker featured in the shoe shop. Photo by Rachel Simpson.
We have just launched a crowd-funding campaign to help kick-start the museum and then take it on the road. So far we've had invitations to bring it everywhere from Paris to Beirut, and we'd love to bring it to North America too. Just imagine if an empathy shoe shop suddenly appeared in the parking lot of your local shopping mall.
Although it all sounds like fun, there's a message behind the Empathy Museum. It seeks to create a new conversation about the gaping and growing empathy deficit that plagues society. We all know about it. Tiny groups of elites live in luxury while millions of children live on food stamps. Racism pervades public institutions from the police to the judiciary. The self-help industry and consumer culture have spawned a wave of hyperindividualism that has elevated the question "What's in it for me?" into one of the leading mottos of our age. You get the picture. If we care about social justice and building communities, we need to find effective and inventive ways of tackling the empathy deficit.
For me, the Empathy Museum is an important personal project. As a writer, I love burying myself in books, playing with ideas, and crafting sentences. But while writing my latest book, Empathy: Why It Matters and How to Get It, I realised that I wanted to take the ideas off the page and bring to life the power of empathy to forge social change.
I believe we need a revolution. Not one of those old-fashioned ones based on changing laws or policies, but something much deeper: a revolution of human relationships. It could be the first revolution to start in a shoe shop.
Find out more about the Empathy Museum's crowd-funding campaign here .