Who Deserves a Liberal Arts Degree? For Inmates, It's a Way Out
For his college application, Michael Cosby was asked to respond to a prompt about the symbolism of the river in Mark Twain's The Adventures of Huckleberry Finn. He wrote about freedom, a theme he'd been thinking about often. At that time, in 2011, he was serving two concurrent 10-year sentences in Iowa's Newton Correctional Facility.
"If I didn't do something different, I was going to end up coming back to prison."
Three days before sitting down to consider the prompt, Cosby had noticed posters taped around the prison facilities advertising the pilot classes of a new branch of the Liberal Arts in Prison Program of Grinnell College—a private university with 1,700 students in the Iowa town of the same name. LAPP is part of a national network of privately funded programs founded in the early 2000s to bring diverse liberal arts courses into prisons to enrich the lives of inmates and better prepare them for life on the outside.
For Cosby, the program initially offered a way to spend some extra time each day outside his cell, but eventually it became something more. Before being sent to prison, he had been an absent father of two children and addicted to drugs and alcohol. He had often been in trouble, never finished high school, and left the Army after discipline issues.
"I was at a state in my life where if I didn't do something different, I was going to end up coming back to prison," Cosby reflects today. He was accepted into the program along with 14 other men. As an ex-gang member at the age of 42, he began his first two prison college courses: "Analytical Thinking" and "Environmental History."
It took time to adjust to the new setting of college behind bars.
He was placed in a classroom with other inmates he says he might not have associated with otherwise. Some of the incarcerated students had been in competing gangs on the outside. Some were in for crimes that Cosby found difficult to overlook, including sex offenses. The nature of the crime and length of sentence are not usually taken into account in programs like Grinnell's; instead, students are accepted solely based on qualities displayed in the application process.
It also took time to build trust with the people running the program. LAPP—like similar programs—is operated by a small staff out of the main university who, along with taking classroom resources such as textbooks into the prisons and coordinating schedules with the Department of Corrections, plans each semester's classes. Professors are hired to travel off campus to teach, and student volunteers are brought in to serve as teaching assistants and writing tutors.
But any initial discomfort with the program dissipated as the classes got going, Cosby remembers. Students learned to lean on one another, sharing notes and talking through the material. He started to see sides of people—other inmates and even the guards—that he hadn't expected.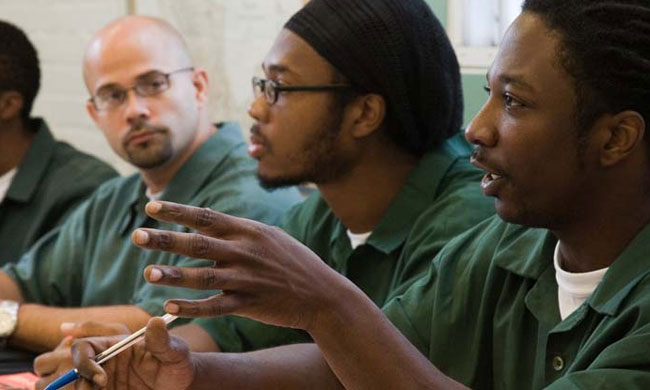 Incarcerated students of a Bard Prison Initiative course in New York state. The Consortium for Liberal Arts in Prison started through BPI is now active in 12 states. Photo courtesy of BPI.
Behind bars, Cosby took classes in literary analysis, speech, poetry, Latin American studies, religion, and statistics. The courses were taught with the same expectations and grading systems as experienced on a typical campus. So he struggled as any college freshman might, with the added stress of life as an inmate that included work duties and confinement for most of each day in a cell without a computer.
"My head hurts thinking about it," Cosby laughs, remembering his statistics class. He had wanted to drop out of the course, but a professor he'd come to know well—George Drake, former president of Grinnell College—explained the ways those skills could apply to life on the outside.
"Those are the kinds of things that get an inmate's attention," Cosby says. "Especially one that's starting to see that prison ain't for him."
As he became more immersed in his studies, Cosby says his entire way of thinking started to change. Part of that came from the diversity of the program's curriculum and being exposed to perspectives and subjects he'd never considered before. And part came from little moments like the one he shared with professors like Drake. "It was the way they kept talking to me," he says. "[Drake] basically convinced me that I was smart." And he convinced Cosby that there was a path in life for him that didn't involve prison.
---
It's no secret that the United States has higher rates of incarceration than anywhere else in the world. Though it makes up less than 5 percent of the global population, the U.S. accounts for almost a quarter of prisoners worldwide. A significant contributor to this crisis is the country's staggeringly high rate of recidivism—incarcerated people returning to prison after release.
For every dollar spent on educational programs in the corrections system, four to five dollars are saved from would-be costs of re-incarceration.
Within three years of release, 67.8 percent of incarcerated individuals are re-arrested, the Bureau of Justice found. Within five years, that number jumps nearly 10 percent. Lack of access to employment, housing opportunities, and government services remain barriers to successful transitions back into society.
But studies have repeatedly shown that one thing greatly reduces recidivism: education. For $1 spent on educational programs in the corrections system, $4 to $5 are saved from would-be costs of re-incarceration, the nonprofit think tank RAND Corporation estimates.
Cosby was released from prison in 2012. He is currently employed as a welder in a labor union and serves as a member of The African American Family Preservation and Resources Committee and the NAACP. He also co-facilitates a group called Unsnapped, helping to manage multigenerational anger in African-American men and boys.
Since leaving prison, he fought for and won custody of his 6-year-old daughter. She is now in first grade, and Cosby sees it as his duty to fill in the gaps of her education at home. Homework and reading, especially poetry, have become a large part of their life together.
Michael Cosby with his 6-year-old daughter Michaela at Grinnell College's art center. Photo courtesy of Cosby.
He will be the first to tell you that a record makes everything tougher.
He credits his Grinnell education with giving him the tools and patience to overcome the obstacles he faces daily. "The guy that went into prison wouldn't have had the patience, the perseverance, the grit to get through that," he says.
"The guy that went into prison wouldn't have had the patience, the perseverance, the grit to get through that."
"A liberal arts education doesn't just throw a lot of knowledge at you, it actually teaches you how to seek knowledge and use it to your benefit," he says. Speech class, for example, came in handy interviewing for jobs, communicating with his parole officer, landlords, and convincing the Department of Human Services of his ability to be a good father.
Right after his release, Cosby applied and was accepted to Kirkwood Community College, which accepted his Grinnell transcript. He only needs a few credits to finish his associate's degree, and then he plans to complete his bachelor's. In the meantime, he's seeking out skills-based courses in welding, career readiness, and computer proficiency.
---
"Education is our primary hope for rehabilitating prisoners," Senator Claiborne Pell said on the Senate floor in 1994. The same year, Pell Grants—established to fund higher education opportunities for those in need—were amended to exclude inmates.
This educational gap, along with his own experiences volunteering in prisons led a Bard College sophomore named Max Kenner to persuade professors from his prestigious New York university to teach their liberal arts courses behind bars. Bard's president agreed to a pilot class of 18 incarcerated students from Eastern New York Correctional Facility in 2001.
Fifteen years later, Bard Prison Initiative has about 300 incarcerated men and women in the New York state prison system enrolled in the program. A total of 375 Bachelor of Arts and associate degrees have been awarded to incarcerated students of the program, and its debate team recently received national attention for its victories over West Point and Harvard.
Since 2009, with the help of private grants, BPI has worked with universities across the country to found similar programs—such as Grinnell's LAPP—under the Consortium for Liberal Arts in Prison. Four more affiliates are scheduled to launch in the next year.
The Obama administration announced the Second Chance Pell pilot program to experiment with offering grants to 12,000 inmates.
For over two decades since the amendment to Pell eligibility excluded inmates, opportunities to receive higher education in prison have been dependent on individual universities and private donors. But just last year, the Obama administration announced the Second Chance Pell pilot program to experiment with offering grants to 12,000 inmates.
Sixty-seven colleges and universities will participate in the pilot this school year by partnering with more than 100 state and federal corrections institutions around the country. The partner universities are a mix of public and private schools in states ranging from Vermont to Arkansas to Oregon, some with existing private prison programs and others just beginning them with new federal funding.
While Cosby's story is remarkable within the context of the U.S. prison system, he's not an anomaly among alumni of higher education prison programs. BPI, which is the longest-running participant in the consortium and has seen the most students, estimates that fewer than 2 percent have returned to prison after release.
Incarcerated students of a Bard Prison Initiative (BPI) course in New York state. Notable alumni include a playwriting fellow at the Public Theater and a Yale Divinity student. Photo courtesy of BPI. 
Government initiatives like the Second Chance Pell pilot could scale the success of these programs, but for the moment it remains founded through a loophole. With the congressional ban on Pell grants for inmates, the Obama administration argued for the pilot on the grounds that the funding falls within the "experimental sites" description under the Higher Education Act of 1965.
President Obama's 2017 budget proposal includes expansion of funding to reach more inmates beyond the pilot program, but it's unlikely that will happen, since the initial program has already received backlash for being an overreach of executive control.
"The Obama administration's plan to put the cost of a free college education for criminals on the backs of the taxpayers is consistent with their policy of rewarding lawbreakers while penalizing hardworking Americans," New York's Republican Rep. Chris Collins said in a statement. He went on to introduce the Kids Before Cons Act.
In 2014, New York Gov. Andrew Cuomo first announced plans to fund higher education in the state's prisons, but the idea was met with so much resistance, especially in the state senate, that Cuomo dropped it. It was only this year that he made an attempt to reintroduce the plan.
"We somehow understand punishment, but then we put a period after that word. Nothing follows."
At a BPI graduation speech, Bard College's President Leon Botstein acknowledged the pushback. "The public, and the media, believe somehow that it is ironic for an elite education to be given to prisoners," he said. "We somehow understand punishment, but then we put a period after that word. Nothing follows. Nothing about rehabilitation, redemption, second chances."
Efforts to shut down proposals for expanding prison education through federal funding have been a trend leaving private programs like the Consortium for Liberal Arts in Prison to pave the way for what a college education behind bars can accomplish.
---
Autumn, who prefers to use only her first name, had always wanted an education, but says she never learned how to be a student. She dropped out of high school once, and though she eventually received her diploma, she was sidetracked from college by a serious drug addiction. Then, in 2006, a robbery conviction meant a seven-year sentence at the Washington Corrections Center for Women outside of Seattle.
Toward the end of her sentence, Autumn heard about a pilot college course of a new program called Freedom Education Project Puget Sound (FEPPS)—also part of the Consortium of Liberal Arts in Prison. She signed up to take "Introduction to Comparative Religion" in 2012, and the feedback about writing and thinking she received from her professor motivated her to keep learning. "I felt like my eyes were being opened to this whole other world that I'd never really explored before," she says.
The class covered uncomfortable topics and challenged students—some of whom were highly religious, others atheists—to find common ground. But it transformed something for Autumn. "Participating in that class felt like it changed a little bit of the way that the rest of our lives in there, our time, [was] being spent," she says.
"My eyes were being opened to this whole other world."
Four years ago, she was allowed to begin work release, continuing her sentence on the outside while employed. Months later, she was released from custody. "I knew that as soon as I hit the streets, I wanted to be in school," she says.
With the encouragement of FEPPS staff, Autumn applied to the University of Washington in Seattle. Despite having to check the criminal history box on her application, she was admitted. She is now a senior sociology major and will graduate with a bachelor's of arts degree this spring.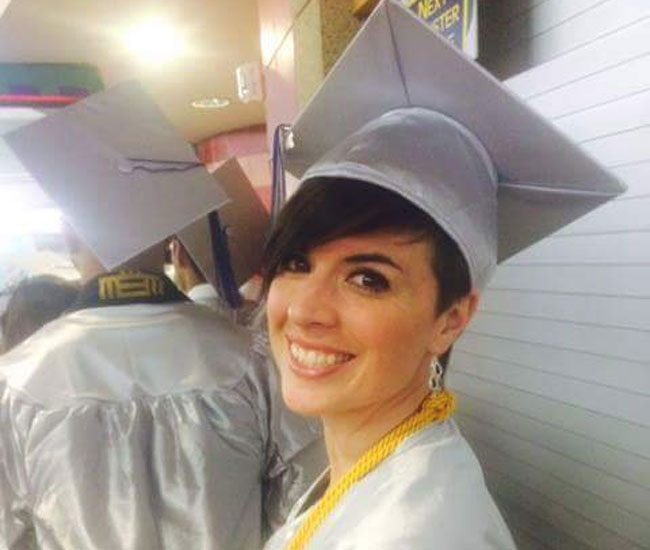 Autumn at her graduation from Bellevue College where she received her associate's degree before starting at the University of Washington.
Photo courtesy of Autumn.
For now, Autumn makes money as a dog groomer and plans to continue that while pursuing a part-time nonprofit position where she can give back to society once she graduates. Eventually, she sees graduate school in her future.
"For me, it was sort of a life-altering thing to be involved with that," Autumn says, reflecting on her experience as a student behind bars, "to closely examine who I am and my role in the world."