The Ancient Baby Carrier Making a Comeback
There are strollers and swings, high chairs and play yards, vibration seats and musical floor mats. When it comes to devices for holding and transporting babies, the options are endless—so much so that millions of moms and dads spend hours online poring over reviews and ratings to then spend billions of dollars finding the safest, cutest, and most appropriate items for their little ones.
But one type of baby carrier has existed well before all others. It's safe, economical, and beautiful. It comes in all types of designs and many, many sizes. Some are adorned in furs and leathers, others in colorful beads and shells. Some have intricate wood carvings and floral designs, while others are made of simple, natural fabrics such as muslin or cotton. Babies love this baby carrier, and so do moms. It's practically perfect, but there's a catch: It's extremely difficult to find at any store or even any online shop.
Most cradleboards are made by people within the baby's family or close circle of friends.
It's called the cradleboard, and it has been used by indigenous families from hundreds of nations across North America for thousands of years.
Once ubiquitous, they're still used today, although they are now more of a rarity. The impacts of colonialism and cultural assimilation have taken away the tradition from many families whose grandparents or ancestors wore them. The decline of the cradleboard has mirrored the decline of other Native American customs and, depending on the tribe, region, or family, the tradition has remained about as intact as other traditional practices.
In your city, you might be more likely to see one in a museum than at a park (plenty of museums carry astounding collections of them), but there's a chance that that will change in the near future. Cradleboards are being created, worn, and passed down once again. Both artistic and utilitarian, they're nurturing indigenous babies today in increasing numbers. Although no data is available to measure how many cradleboards are in use today, anecdotally, several thousand are in circulation on reservations and in urban areas with high Native American populations.
But even though the practice is being revitalized within Native communities, it doesn't appear as though cradleboards will be readily available for non-Native people anytime soon. It is impossible to put a price on cradleboards, and because their design elements are so culturally significant and specific to families, an authentic cradleboard is not something that can be mass-produced.
Most cradleboards are made by people within the baby's family or close circle of friends, and the price is always negotiable and based on what parents and artists can afford; it is not uncommon to hear of a cradleboard-maker donating to a young family who cannot afford one.
Wakeah Jhane, 22, from the Comanche Nation in Oklahoma, is an artist, aspiring midwife, and, quite possibly, one of the youngest cradleboard makers out there. She has been passionate about both art and babies ever since she was a small child.
Jhane was not carried in a cradleboard when she was a baby, but her little sister was. As a child, she observed and admired her family's heirloom, which had been passed down to her mother from previous generations of women.
"When I was growing up, seeing my little sister in a cradleboard was pure magic to me," she said, "I would watch over her while she slept in it, analyze its magnificence, and admire how it soothed her while my mother carried her in it."
Jhane remained fascinated by cradleboards throughout her childhood and teens. She collected books carrying their pictures and researched different styles. They soon began to influence her ledger art paintings.
However, for some reason, it hadn't occurred to Jhane that she could actually create cradleboards herself. But one day, when she was a teenager, her mom connected Jhane with mentors. She immediately began a five-year process of learning the art. This year, she completed her very first.
"I just don't think I could ever raise a baby without one, and my daughter felt the same way."
Like many indigenous women who are committed to revitalizing traditions that have temporarily faded, she dreams of creating one for her own child one day. She is also happy to see that dream come to fruition for her contemporaries, as her tribe just began offering classes for cradleboard-making—and moccasin-making—for others who hope to learn.
"I just want our babies to have access to what our people had back then," Jhane said.
Ava Marie Paul, a cradleboard maker who now resides in Salt River, Arizona, confirmed that there has been a resurgence in the craft in Native communities all across the country.
"I see a lot more babies now being wrapped up in cradleboards," Paul said, "I see them at powwows and at gatherings, but I'd like to see hundreds more."
Paul, 64, began making the boards in 1974, during a decade when the roots of Native cultural revitalization began to take hold and ultimately reshape Indian Country. Paul, like Jhane, was not cradled in a cradleboard. But an elder friend, Cindy Moody, from the Warm Springs Confederated Tribes in Oregon, taught and mentored her. Since then, cradleboards have been a huge part of her family's lives and have helped her to nurture her four children and 12 grandchildren. She has also made a number of cradleboards for people outside of her family, including several for families who have not been able to afford to pay her.
It isn't just the beauty of the boards that is bringing women like Paul back to the art—it's also the practicality and health benefits.
"I just don't think I could ever raise a baby without one, and my daughter felt the same way," Paul said. "The cradleboard helps them have a straight back; there's a donut-shaped pillow inside so the baby has a nice round head; and they just feel so protected and safe snuggled in there—it replaces being in the mother's womb. That's why babies love them so much."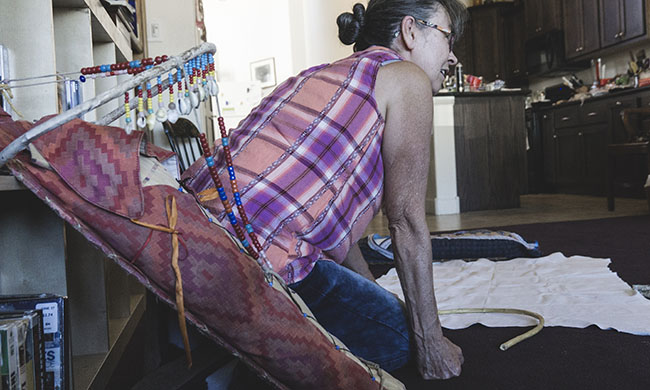 Indeed, while research has yet to be done on cradleboards specifically, medical studies have found that babies who are carried more often cry less. Because the tight swaddle of the cradleboard mimics the mother's carrying (and the mother is often carrying the cradleboard on her lap or back), the benefits of the indigenous cradleboard align with what science is now suggesting: Babies are happier when they're carried more.
The purpose of the cradleboard has remained the same even as lifestyles have changed.
"Women in the past would hang them on a tree branch or lean against the tree to keep baby safe while mom worked," Jhane said, "we would also often carry them on our backs, or hang them on our saddles. Often, the babies were eye level, to show that we nurtured and respected them."
"Today, we carry them in our laps or lean them against our couch. They also keep baby protected and safe for co-sleeping," Paul said.
While styles vary from tribe to tribe, the general concept is consistent: a decorative cloth or moss bag of rawhide, wool, or other fabrics is attached to a wooden board or woven basket. The materials used depend upon the resources of the region or tribe of the baby.
According to the Milwaukee Public Museum's cradleboard exhibit page, Native children often spent most of their first two years securely wrapped in the board. The board kept babies safe while the mothers worked, and were easily transported so that mothers could keep an eye on their babies, accessing them for feeding or changing. The babies in boards would often be placed next to one another so that they could socialize. The art on the boards often represented kinship and identity, as it still does today, which makes them such a special item for Native families everywhere.