America: The Remix:
Just the Facts: Race-Based Economics
Just the Facts: Race-Based Economics
Why you can trust us
---
We've made meaningful progress toward embracing our cultural diversity in the United States. But we've got a long way to go before we clean up the economic fallout from years of institutional racism.
There's a growing wealth gap.
Source: "2007 Survey of Consumer Finances," Board of Governors of the Federal Reserve System.
When hard times hit, they hit people of color harder.
1. Unemployment during this recession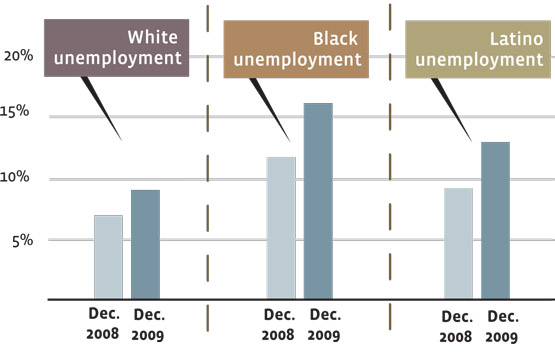 Source: "State of the Dream 2010: Drained," United for a Fair Economy (based on Bureau of Labor Statistics data), www.faireconomy.org/dream.
2. Effect of race on home loans

Source: "Unfair Lending: The Effect of Race and Ethnicity on the Price of Subprime Morgages," Center for Responsible Lending, 2006.
---