Beyond Prisons:
Ex-Convicts' Self-Help to Break the Prison Cycle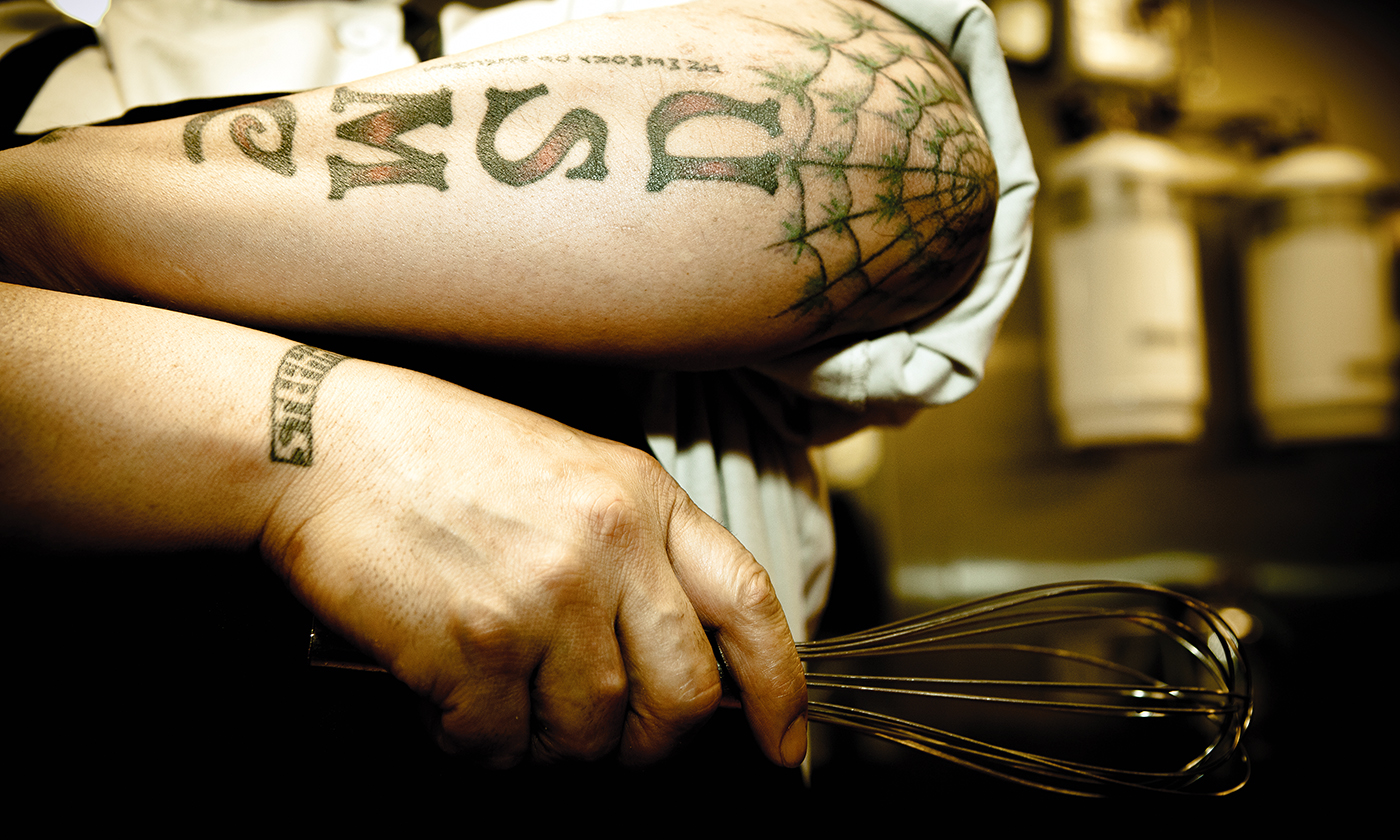 Ex-Convicts' Self-Help to Break the Prison Cycle
Ex-cons show each other the way out at San Francisco's Delancey Street.
---
In early May 1995, Margie Lewis sat on a bench at the Delancey Street Foundation, a residential education center for addicts and ex-convicts in San Francisco, awaiting intake. Until that moment, her life had been defined by institutions—teenage years in the California Youth Authority and long stays in jail as an adult. Enrollment in the program was her last chance—her only alternative to the life sentence that would otherwise be mandated by the state's new "Three Strikes and You're Out" law.
Lewis was filled with optimism. At Delancey, she saw no paid professional social workers, no guards, and little bureaucracy. Instead, the place was run by dozens of people like her, who had been in and out of prison and came here to recover. "I was nervous and excited, sitting there," said Lewis. "I felt like there was a possibility things could be different this time."
In San Francisco, Delancey Street, now celebrating its 40th year, has quietly built a model program that has kept thousands of addicts and ex-offenders from landing back in prison. It isn't just a treatment program—it's an all-hands-on-deck community that recognizes that everyone, even an addict or ex-convict, has a skill to offer others. At Delancey Street, you don't just go through treatment; you are put to work helping those around you rebuild their lives.
Before entering the Delancey Street program Margie Lewis was facing a "three strikes" life sentence. Photo by Lane Hartwell.
Lewis, who had only completed her G.E.D. a few months earlier while in county jail, was tasked with teaching others how to do the same. Former addicts also help their peers kick their addictions. Recovery sessions happen in groups, led by people in recovery themselves. "You hear about yourself from people who know you," said Lewis. "They are your mirrors. Your peers understand the things in your life you have tried to forget through drug use."
Residents also learn at least three marketable job skills through Delancey's business enterprises—run by ex-offenders. They work at one of many ventures such as the on-site restaurant, the moving company, the Christmas tree sales lot, the landscape business, or the digital print shop. The enterprises supply roughly 60 percent of Delancey's funding.
Breaking the Prison Cycle
California is second only to Texas in the number of people in its prisons, according to the Pew Center on the States. The state experienced a prison construction boom after decades of laws that lengthened sentences—even for nonviolent crimes. A report by the California Legislative Analyst's Office shows that, in its first decade, Three Strikes flooded more than 80,000 new inmates into the prison system, many for petty drug possession.
At the end of most sentences is a revolving door that leads back to prison. The formerly incarcerated return to the outside with few of the resources they need to survive—no job, no place to live, and no support network. About two-thirds of those released from the California prison system return there within three years. The cost of maintaining a bloated prison system has drained the state budget. California expects to spend $9 billion on corrections in its 2011-2012 budget, and has had to wrestle with a deficit of more than $25 billion by cutting health care and social services. The human costs of a correction system that tears apart families and communities are even greater.
In contrast, Delancey started as a tiny economic investment that produces giant returns—in the form of recovered ex-addicts and ex-felons who become healthy, contributing members of a community. Delancey's founder, Mimi Silbert, grew up in a poor community on the Lower East Side of New York, the daughter of European Jews. "As the years went by, I began to see people who didn't get out of the ghetto, and who by a hair turn, ended up in prison," she said in an interview with Southern California Woman Magazine.
Silbert, who holds dual doctorates in criminology and psychology from UC-Berkeley, teamed with John Maher, a former addict from the South Bronx. In 1972, the year after President Nixon declared the "War on Drugs," the two drew from their family backgrounds, naming their project after a New York street known as the starting point for new immigrants. Delancey Street began with a thousand-dollar loan and has since charted a new path in addiction treatment—challenging drug abusers and offenders to take maximum personal responsibility within the context of a community of support and mutual aid.
James Ludwig left and Leland Stanful work in the Delancey Street auto shop. Program participants learn vocational skills at business ventures run by residents. Photo by Lane Hartwell.
Delancey Street opened its first home in the former Russian Consulate building in San Francisco. Its main headquarters is now in a four-story complex on the waterfront in the city's South Beach neighborhood, with housing and retail businesses, including a restaurant, outdoor café, and bookstore. By the mid-1990s, the organization had opened branches in Los Angeles, Calif.; San Juan Pueblo, N.M.; Greensboro, N.C.; and Brewster, N.Y. In 2007, Delancey began renovations on Norman Rockwell's historic home in Stockbridge, Mass., and now runs a treatment program there. Each branch shares the same basic model but offers training to match the local economy. In rural New Mexico, residents can learn wastewater treatment and livestock management. In Stockbridge, they can learn stagecraft and study the performing arts.
Most importantly, Delancey's residents learn, often for the first time, that they have value and can make and do things that are of value to others. And Delancey's approach to treatment confirms that compassion and respect can be more fiscally sound than the dehumanization and punishment that happens in the prison system.
Delancey Street's success has turned heads and won respect from experts and leaders all over the world. Former President Bill Clinton sent his drug czar to San Francisco to consult with Silbert. Its board of governors includes influentials such as former Secretary of State George Shultz and Senator Diane Feinstein. Delancey has trained people in 450 cities in 48 states and 25 countries and is helping groups in South Africa and Singapore launch similar treatment programs. It has worked with the California Department of Corrections on policy changes to help keep parolees out of prison and in community service programs and helped San Francisco write a master plan to reduce crime among youth. It has also started a program inside San Mateo County's jail based on the Delancey Street "each one teach one" philosophy. And a number of Delancey Street graduates have started their own treatment programs based on the model they lived and worked in for years.
In Service to Each Other
You don't have to have a past like Lewis' to get into Delancey. You can just show up for lunch. Delancey owns and operates a renowned waterfront restaurant at its South Beach location.
The expansive American-themed menu changes daily and features items chosen by Delancey's staff—such as spit-roasted chicken, chorizo omelettes, and Latin scallop ceviche.
An impeccably groomed maître d' greets my girlfriend and me, his tattoo peeking up over his collar. Looking around the room, I notice members of the city's political elite seated near a mother with three small children, and next to her, a group of electrical workers on lunch break.
All receive the same respect from the waiters—who seem just a little nervous, like actors on opening night of a play. The food rivals anything offered farther up the Embarcadero at the foodie bistros and take-out carts. Our waiter returns several times to confirm that my ahi tuna sandwich is cooked perfectly.
Delancey's residents learn, often for the first time, that they have value and can make and do things that are of value to others.
No one at Delancey Street, whether a dishwasher or the executive director, receives a wage. Instead, they receive housing, treatment, and food. All money generated from Delancey Street's enterprises is returned to keep the program running without government funding. At first this took resident Sean Cronk by surprise. "I asked 'Who is going to control us?' In prison, I was used to having guards make all of my life decisions for me!" Instead, he answers to peers, ex-offenders like himself.
Delancey has graduated more than 18,000 people—bringing them, as they see it, out of "America's underclass into society as … citizens living decent, legitimate, and productive lives." More than 10,000 of them arrived illiterate and have gone on to receive high-school equivalency degrees. Delancey's alumni go on to a wide range of careers—such as firefighter, carpenter, and graphic designer. The organization relies on its graduates to come back, counsel, volunteer, and train the new arrivals. "At Delancey, we're responsible for each other. We're based on the idea of family and community. We're not really a business, institution, or even a program," said resident Brett Crawford.
After graduating from Delancey, Margie Lewis founded a nonprofit called Into the Solution, based in Oakland, Calif. The group helps formerly incarcerated people find affordable housing. "It's what you learn at Delancey. You have to give back what you have been given. It's a lifelong commitment for me to help people who are in the same situation I was in not so long ago."