Climate Action:
Towns Rush to Make Low-Carbon Transition
Towns Rush to Make Low-Carbon Transition
More and more neighborhoods are making the transition to a climate-friendly community. Has yours?
Why you can trust us
---
The coastal town of Lincoln City, Oregon, has a lot to lose if nothing is done about climate change. The town sits 11 feet above sea level, and unchecked climate change could erode its beaches or flood the town.
Residents are taking matters into their own hands. "We could ignore it, let the federal government deal with it," Mayor Lori Hollingsworth says. "We're not willing to do that." Last year Lincoln City committed to becoming carbon neutral through renewable energy, energy efficiency, and offsets.
Communities like Lincoln City have long been ahead of Congress and the White House on climate commitments. Cities first began committing to Kyoto goals in 2005 through the U.S. Conference of Mayors Climate Protection Agreement. Now more than 1,000 cities have signed on. But the community climate movement goes beyond local government initiatives. It's a cultural shift involving people at all levels of the community, from tiny rural towns in red states to major metropolitan areas.
The Heart of Climate Action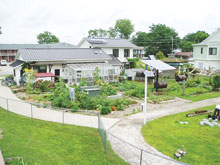 The college town of Berea, Kentucky, one of the fastest growing communities in the state, is seeing its subdivisions expand and its farmland disappear. But one group of residents is making plans to help the community end its reliance on fossil fuels.
"We want to increase the resilience of our community in the face of all the threats—peak oil, climate change, economic contraction, ecosystem decline, population growth—the whole list," says Richard Olson, head of the Berea College Sustainability and Environmental Studies Program.
Berea locals have a goal they're calling "50 x 25." By 2025, they aim to have the town using 50 percent less energy, deriving 50 percent of the energy it does use from local sources, getting 50 percent of its food from farms and processors within 100 miles of town, and generating 50 percent of its gross domestic product from locally owned, independent businesses.
Berea is one of more than 40 U.S. communities that have become Transition Towns, a movement that started when British communities began looking for ways to move to low-carbon economies. Transition Towns have formed a diffuse, grassroots network led by the individuals who are working to transform their own communities.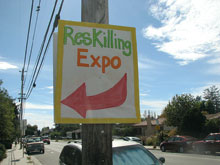 "What's important, and I think different about the transition movement is that it pays attention to the inner transition as well as the outer," says Carolyn Stayton, executive director of Transition U.S. and a member of Transition Sebastopol in Northern California. Many Transition Towns have formed "Heart and Soul" working groups to "keep the community sensitive to the difficulty of making change," says Stayton.
The Transition Town Berea group holds monthly "reskilling" workshops to help locals acquire the know-how to grow their own food, weatherize their houses, and install solar panels. Their projects help neighbors replant lawns with edibles and build raised vegetable beds. They've also auctioned rain barrels hand-painted by local artists and organized a "100 Mile Potluck" to celebrate local food and farmers.
From the Ground Up
The Transition Towns movement in the United States is less than two years old, but it came from the seeds of earlier relocalization efforts and other community climate groups and nonprofits. The Towns have become successful by sharing training resources and experiences with existing groups and other communities, and reaching out to local government.
The key is to raise public awareness. "What we try to focus on is developing a positive vision of our preferred future," says Olson.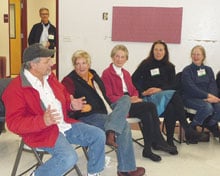 A lecture on climate change may not appeal to everyone, but you can interest people in things like gardening, Olson says. "We talk to them about heirloom seeds and what their grandparents grew and if they'd like to learn canning. We get them involved without even mentioning transition or sustainability."
Transition Towns across the United States engage people in a variety of community projects—including a local currency project in south Whidbey Island, Washington; a car share program in Louisville, Colorado; a reskilling festival in Ann Arbor, Michigan; and local energy initiatives in West Marin, California.
Interest in climate-readiness is growing as more communities of all kinds realize they are vulnerable to climate change impacts. Austin, Texas, has an ambitious plan to make city facilities, vehicles, and operations carbon-neutral by 2020. Charlottesville, Virginia, is creating a trail system for walking and biking to connect schools, parks, and other public spaces. Chicago initiated a grant program to encourage the construction of green roofs.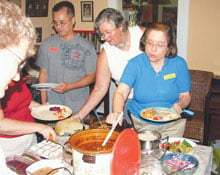 Greensburg, Kansas, a city of fewer than 2,000, was leveled by a tornado in May 2007. Residents have decided to rebuild as green as they can. They're requiring all city buildings to meet the U.S. Green Building Council's LEED Platinum rating for top-level environmentally friendly construction. They've also formed the group Greensburg GreenTown to increase public education about green living, make resources available at the local library, and distribute educational materials through online and telephone classes and community events.
Green building initiatives are also spreading, thanks in part to Architecture 2030, a nonprofit based in Santa Fe, New Mexico. The group sponsors the 2030 Challenge, which calls for an immediate 50 percent reduction in fossil-­fuel consumption in new buildings and renovations, and sets a goal of carbon-neutral design by 2030. The U.S. Conference of Mayors adopted the 2030 Challenge in 2006.
These communities hope they can lead the way toward the big changes we'll need nationally and internationally to respond to climate change. "Working at the community level to build resilience is the strategy that has the most chance of success," says Olson. "It's not going to take until our grandchildren's generation to see if we've succeeded. I think in 10 years we'll see if we're going to have a chance."
---