Opinion Advocates for ideas and draws conclusions based on the author/producer's interpretation of facts and data.
Traditions New and Old Come to Life for Ramadan Celebrations Amid COVID
Why you can trust us
---
Photo by Nargis Hakim Rahman
This story comes to us from our partners at Feet in 2 Worlds, a project that brings the work of immigrant journalists to digital news sites and public radio.
When I think of Ramadan in Michigan before COVID-19, I remember thousands of people filling the streets of Dearborn Heights during the Ramadan Suhoor Festival. The festival hosted street vendors offering halal food and Quran recitations during the wee hours before fasting begins for the day. In Hamtramck, just outside of Detroit, people would go to local restaurants to pick up iftar boxes filled with Bangladeshi foods before going to their factory jobs or enjoy family-style meals at Bangladeshi restaurants.
Across Detroit, you'd see long lines of people waiting for fresh, hot, crispy red-orange jalebis (also called zulafis in Bangla), freshly handmade mishti (sweets), and nimki (savory) snacks. During the nights, people would walk to the mosques under the streetlights. In Canton, some people even have a tradition of going to IHOP to have pancakes for their pre-dawn meal.
Ramadan is the Islamic month of fasting, charity, prayer, and reflecting for Muslims around the world. This year, it is from April 12 to May 12. But with high coronavirus infection rates in Michigan, my family is celebrating Ramadan cautiously—for a second time.
The pandemic has changed our pre-dawn and iftar traditions. Instead of attending festivals and restaurants, we're looking at food pickup services and limited capacity dine-ins. Mosques will be open for the Tarawih night prayers with limited capacity (some less than half full) following CDC guidelines. Many mosques recommend children and people over 65 not attend at all. People must wear masks, bring their own prayer mats, and social distance. Prayers in congregation will be shortened from 20 to 8 rakats, or iterations. In Canton, some mosques have indoor and outdoor prayer options, while others, such as the Muslim Unity Center in Bloomfield Township, are creating vaccinated-only spaces, but still requiring everyone to wear masks.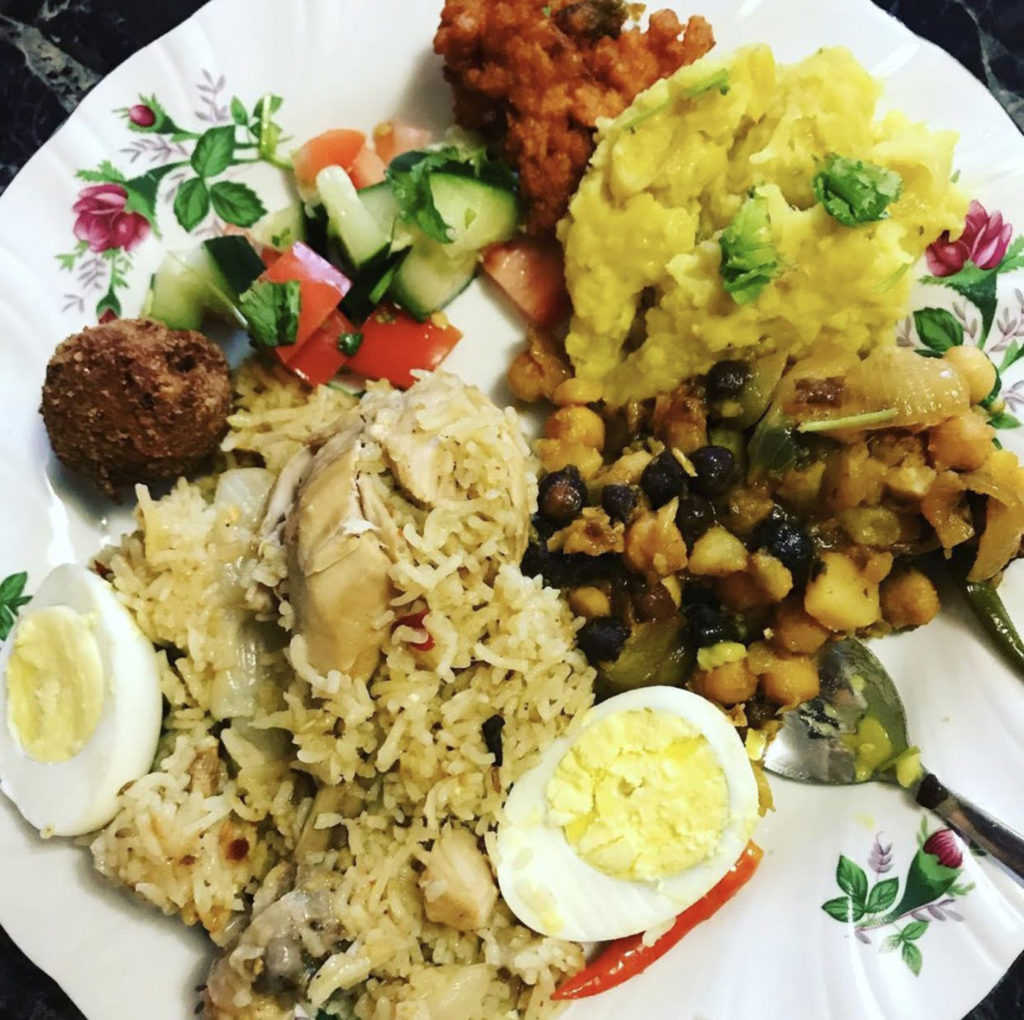 During Ramadan, we usually host large iftars, where we break our daily fast with family, friends, and community. Before the pandemic, my family and I would rotate hosting iftar among five extended families of nearly 30 people, where we'd enjoy mounds of chicken biryani and arrays of other traditional foods.
My kids and I used to also cook iftar for our non-Muslim neighbors to share our traditions. As one of the few Muslims on the block, we wanted to teach people about Ramadan and share Bangladeshi foods. Last year, we opted out of this practice with our neighbors, unsure of how the coronavirus would spread. But this year, we're hoping to resume those traditions by doing porch drop-offs.
Usually, I am exhausted while fasting. But I loved the social and community aspect of breaking fast. When I was a kid, I spent many iftars at the mosque breaking fast with the community and trying new foods from various cultures. Before the pandemic, people would host or sponsor communal iftars at the mosque and fundraise to provide food products to loved ones in Bangladesh, family around the world, and locally. Helping to feed those who are fasting is especially rewarding in our faith. That can run up to 300 meals at some mosques.
Before COVID, networks such as Muslims Building Bridges would invite non-Muslims to gather with Muslims to learn more about Islam with a diverse network of mosques across Michigan. The last time I attended one of these iftars was with two non-Muslim friends who wanted to learn more about Ramadan. We went to the Muslim Center in Detroit, broke fast with fresh dates and water, and went into the communal prayer space together.
Of course, folks are not hosting large communal iftars this year. Muslim Community of Western Suburbs President Haaris Ahmad said about 1,000 people from the MCWS community have been vaccinated, allowing some people to host small intimate iftars at home with immediate friends and family.
Last year during the pandemic, local mosques created grab-and-go iftar meals for pickup or delivery services for those in need. This practice continues this Ramadan. But this year, mosques remain closed for iftar, continuing to stay cautious about spreading the virus. A Muslim-led grocery drop-off service was created last year by Michigan Muslims to provide food to those most in need. The effort spread throughout Southeast Michigan, especially to help older adults who were more at risk. Local food banks in metro Detroit increased giving out food products for families in need with culturally sensitive meal options, including providing halal meals.
For me, a lot stays the same this year. I break fast with my kids at home. I won't be able to pray at the mosques at night, but I haven't for several years because I have young kids. No extended family iftars are planned, but I'll still be cooking some of our favorite Bangladeshi Ramadan meals, while mixing it up with an occasional shrimp Thai curry, spaghetti and meatballs, and tomato soup with grilled cheese.
Before the pandemic, Ramadan was largely spent in the hustle and bustle of rushing off to work, picking up kids late into the afternoons, and setting the iftar or driving to someone's house to get there just in time to break fast. Now we have more time to prepare meals together, experiment on new desserts on the weekends, and sit under the makeshift tent that the kids made to read books about Prophets.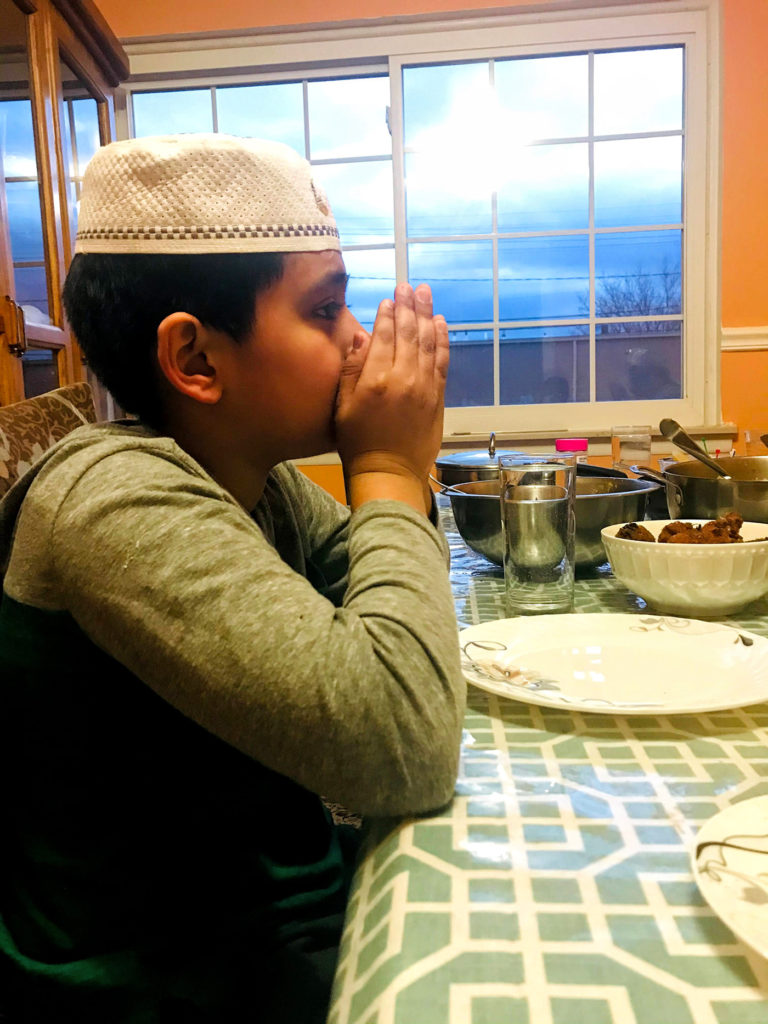 I'm trying to enjoy having older kids with whom I can share more—from cooking meals to taking late-night strolls through the neighborhood under the Ramadan moon. It'll be my last chance to keep their attention before they run off to school in-person, buried in homework and discussions with their friends.
My kids are excited about Ramadan, or what they call "the Ramadan vibe": waking up before dawn to eat meals, staying up late to pray Tarawih, competing with their cousins to see who kept the most fasts, and decorating the house with lights, streamers, and posters saying Ramadan Mubarak, meaning "Happy Ramadan." But they are also sad to be observing Ramadan yet again without their cousins and extended family present. We're hoping that next year we can resume in-person and community iftars and gatherings again.
One thing we've learned celebrating during the pandemic is how to go back to the essence of Ramadan: leaning inward, spending time with immediate family members, improving oneself, and building character to emerge as "a new, better me" without competing with anyone else. I've also learned to appreciate the things we used to take for granted pre-pandemic: good health, family time, and community gatherings. While I'm looking forward to spending Ramadan with others again, I've enjoyed the one-on-one time at home. I hope others will get to enjoy that "Ramadan vibe," too.
---
Nargis Rahman

is a Bangladeshi-American Muslim writer and a mother of three. She is passionate about community journalism in the Greater Detroit area and about giving American Muslims and people of color a voice in today's media. A former journalism fellow for Feet in 2 Worlds/WDET 101.9 FM, her work has appeared in Haute Hijab, Eater, Detroiter Magazine, The Muslim Observer and others.
---