Opinion Advocates for ideas and draws conclusions based on the author/producer's interpretation of facts and data.
Why you can trust us
---
All illustrations by Enkhbayar Munkh-Erdene
There's a place that I've lived in most of my life, a gray area. It might be a familiar place to those who grew up existing between two worlds, able to pass through both, but never feeling like they really belonged in either.
For me, these worlds were the Mongolian heritage I came from and the American culture I grew up in. When I was younger, it wasn't so difficult to be a part of these worlds, because I didn't have to pay much attention to how they were different. But the older I got, the separation between these worlds grew, and moving between these worlds became more difficult. I started seeing all the ways I couldn't fit in these worlds: too soft for the roughness of Mongolians, too quiet for the boisterous Americans. Smart, but not smart enough for how I looked. Even too respectful for the Americans, but somehow not respectful enough for the Mongolians. I couldn't figure out what either world wanted from me, or how to be that for them.
As a result, I felt like I could only retreat into the gray area, a blurry and confusing place filled with disjointed pieces of these other worlds. In the gray, I spent a lot of time looking out at these two worlds. And from where I sat, it seemed like the people in either world experienced a more assured identity that continued to elude me. Other Mongolians could connect and converse easily with each other, while it was all I could do to keep up with my mother tongue. And I would get tired of showing Americans that my outer appearance didn't stop me from having the same dreams and pursuits as they did. The best I could do was try to re-create in the gray what I was observing outside it, what I wanted from them.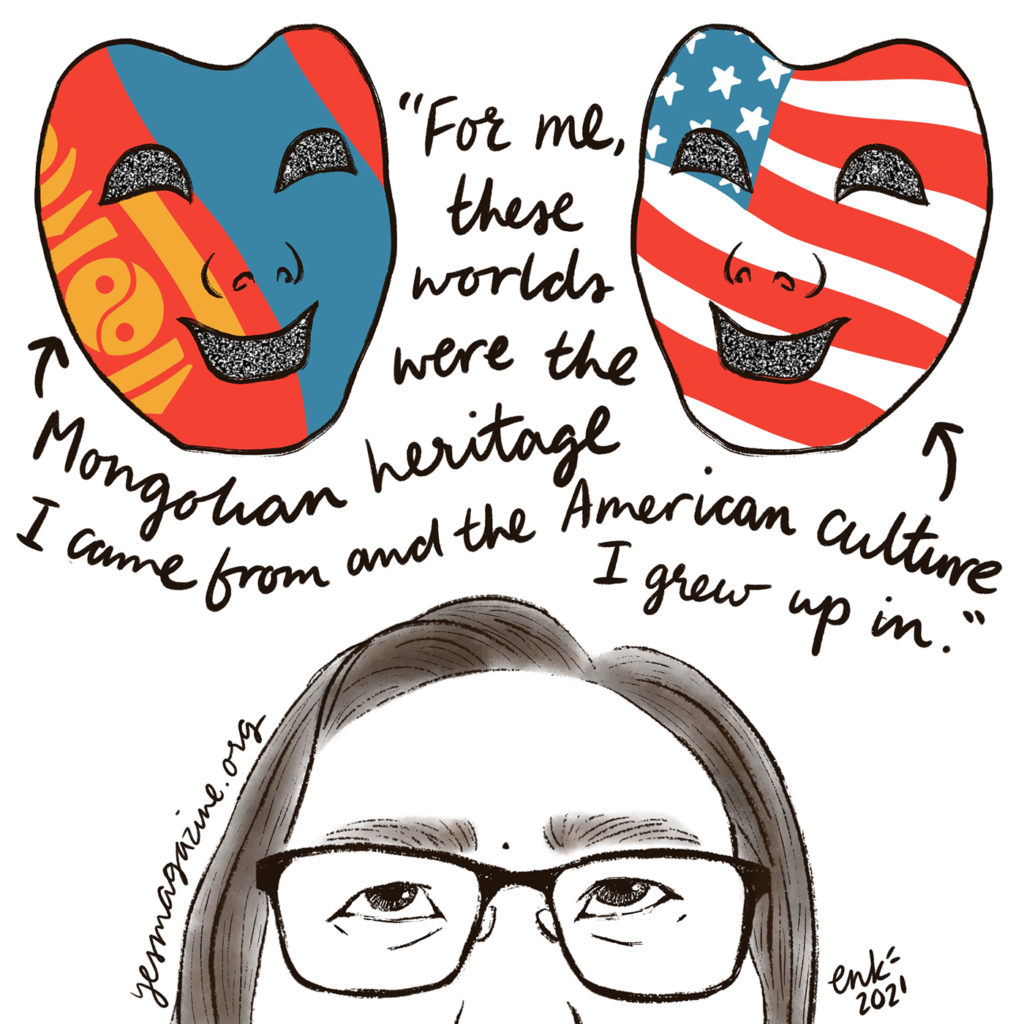 Over time, I would step back out, motivated by a desire to experience the vibrancy of these worlds and a fear that I would be left behind in the gray if I didn't. I started to meet others who walked between different worlds as well, and I observed them to see how they did it. Little by little, I learned what values I appreciated and didn't from each side, and I practiced how to weave them into my being. Instead of feeling ashamed, I started asking what certain words or phrases meant in Mongolian when I didn't know. I taught myself to stop expecting people to immediately see past my Asian features before getting to know me. I even learned how to keep these worlds separate but still move back and forth between them again, keeping a part of myself in each world that I could jump into. And the more I practiced, the more I felt like I was so close to what I had wanted from these worlds, that they were opening up and accepting me into their vibrancy. Soon, I felt that I could walk around just as assured as I had thought everyone else to be.
But then I started hearing a question, the same one in either world. First quietly, and then over time, blaringly: "What is your racial identity, so we can understand how you fit in here?" As if having an answer would finally allow me to exist fully in either world. So I went searching for that answer. But the more I tried to find my identity outside of the gray, the less I felt like one fit me. Where can a person who feels like neither Mongolian enough or American enough, no matter how hard she tries, find that answer? I only found that I couldn't.
Instead, I started seeing a world that was more blurry and confusing than the gray area. I found myself more lost and angry. The answer I was seeking for myself didn't exist where I wanted it to be. It didn't seem to exist for anyone else I talked to, either. Most everyone else seemed to be trying to answer that question in their own way. I ended up with questions of my own: Is my racial identity based on who I look like, or who I feel like? Is it really so important to others that I have an explainable identity? And at what point was it no longer me trying to connect to these worlds, and instead performing an identity for their acceptance?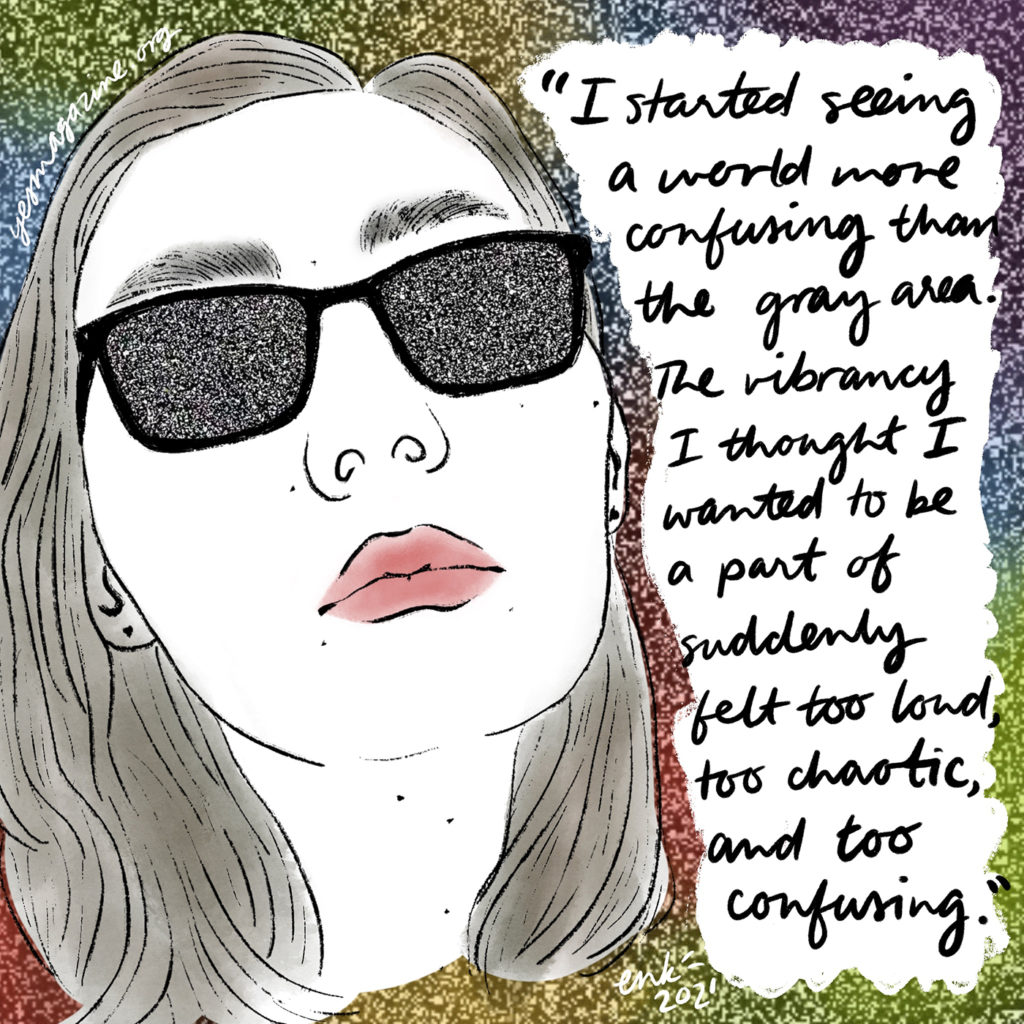 Outside of the gray, the vibrancy I thought I wanted to be a part of suddenly felt too loud, too chaotic, and too confusing. And it was asking me to carry this chaos in me, to define myself in a way that others could understand, flattening my own complexity. I realized that the nuance I had spent my life navigating would get lost in the noise, even if someone stopped long enough to hear my answer. I decided to return to the gray, to learn again how to live in the solitude it provided, but this time by choice. And I saw it wasn't gray anymore.
I saw that the in-between is where I have always been whole. It's where I get to be both Mongolian and American, picking the values I admire from both and holding onto the lessons I learned in those worlds, the ones that helped me feel connected to them. Here, the validation of my existence requires no explanation to anyone. Here, a racial identity doesn't validate me, my existence does. And I saw that in seeking acceptance in others, I was in fact limiting myself from seeing the wholeness already in me. I am now seeing the vibrancy and purpose that I longed for "out in the world" in fact exists right where I've been all along. And it isn't dull or cloudy or confusing at all—it's bright and clear and ever-evolving, because I get to create this world.
Now I find that the gray is no longer gray. It's the vibrant colors I pulled in from the worlds I can walk in. It's the values I built in myself and carry out wherever I go. It's me, whole and assured on my own, and creating the joy in the in-between.
---
Enkhbayar Munkh-Erdene

is the former associate art director at YES!, where she lead art selection and photo editing for digital stories and products as a member of the digital editorial team. Enkhbayar lives in Seattle, and speaks English and Mongolian.
---