Opinion Advocates for ideas and draws conclusions based on the author/producer's interpretation of facts and data.
Why you can trust us
---
Illustration courtesy of each artist.
While our stories as Asian Americans are still being told—in Oscar-winning films, in Pulitzer-winning prize books, in television—I find that the journey of finding home is always as complicated as it is beautiful and different for everyone. For some of us, home is a place we're still seeking. Not always easy to visit, home is sometimes a reason to build a new place that serves us and keeps us safe instead. Sometimes home is even a simple meal, with unspoken love in every bite. To wrap Asian American Pacific Islander (AAPI) Heritage Month this year, we've asked five AAPI creatives to share where they find themselves most at home, if they do at all.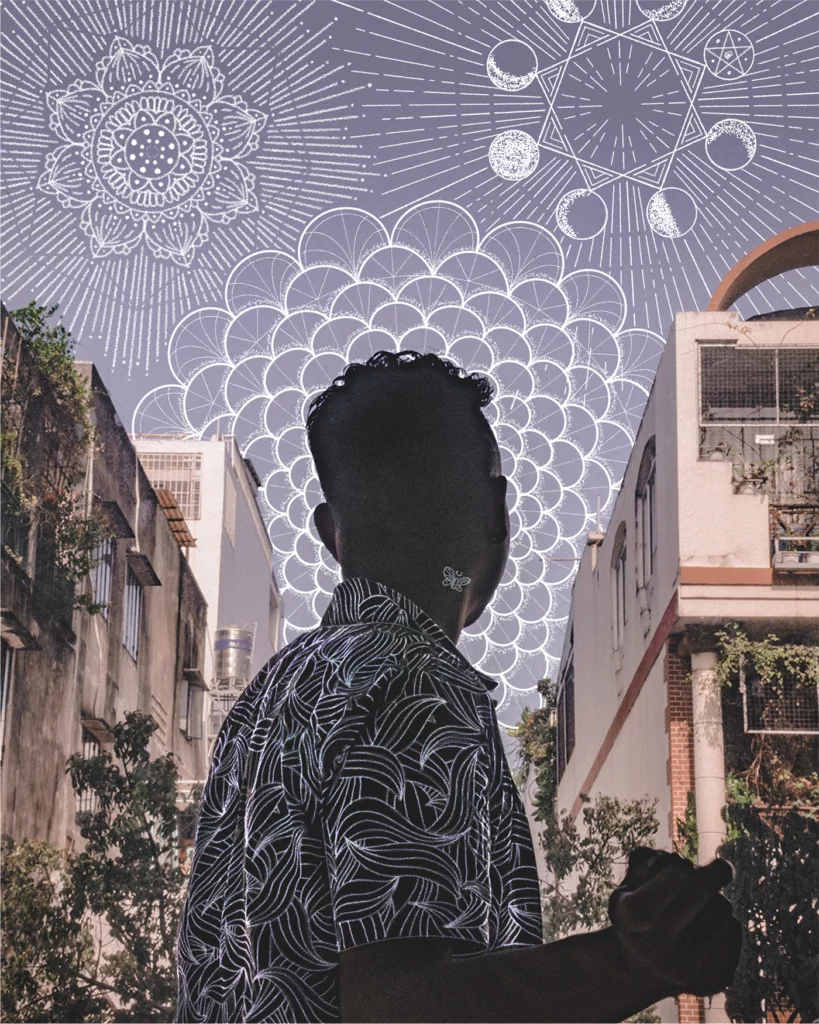 I often find myself looking for that place of belonging, that sense that this must be where home is, or, rather, where it should be. How does one find it, in a country that unquestionably places us as the outliers? Half American, half foreigner—or maybe not a half at all: perhaps 100% of the best of both. The math doesn't need to add up for it to make sense.
For me, home isn't a place, but rather a feeling, and a story of parts and halves and division. I was born and raised in Denver, Colorado, by my 15-year-old mother who had fled the Vietnam War in the 1970's with my grandparents. My father's side fled the remaining fallout of Pol Pot's Khmer Rouge and American carpet-bombing in Cambodia. I always silently understood that my two halves had a quiet disdain for each other, fingers pointed at each other, and I was an anomaly created under strange circumstances. Too dark-skinned to be Vietnamese, too fair-skinned to be Cambodian. Ironically, both of my halves fled their motherlands to live in the country that created the conflict to begin with, which I wouldn't understand until much later in life. What I hadn't realized was that I was the one dividing myself into so many parts: How could I ever find home when so much of me was spread out in so many places? I found home when I realized the beauty is to be all of these things, all at once—a collective force all on my own.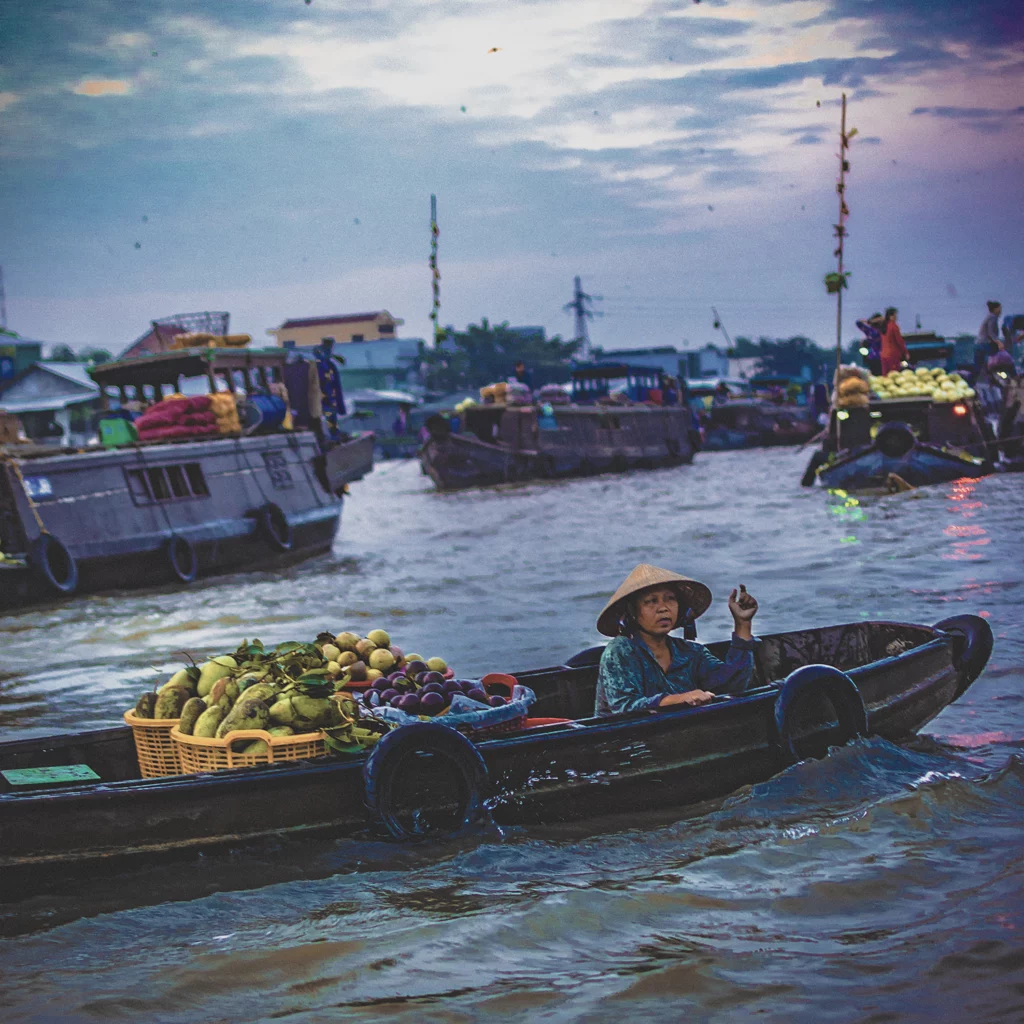 I've always felt out of place growing up in the United States: the shame I carried at lunchtime, the academic gymnastics, the blatant racism and name-calling that happens in your adolescence when you grow up as something in-between. I hoped visiting Vietnam for the first time as an adult in 2018 would give me that sense of belonging I'd been missing in my life. Although I was hopeful, I wouldn't find it there: I couldn't speak to my family of strangers who knew of me but had never experienced me. I had forgotten my mother's tongue because it didn't serve me in the place where my body typically resided. I dressed American and read as a tourist in every way. My camera and the pursuit of creativity were and still are seen as luxury for me: the embrace of individuality and rejection of thinking of myself as cog in a family unit. This trip ended up just feeling like a stamp in an American passport.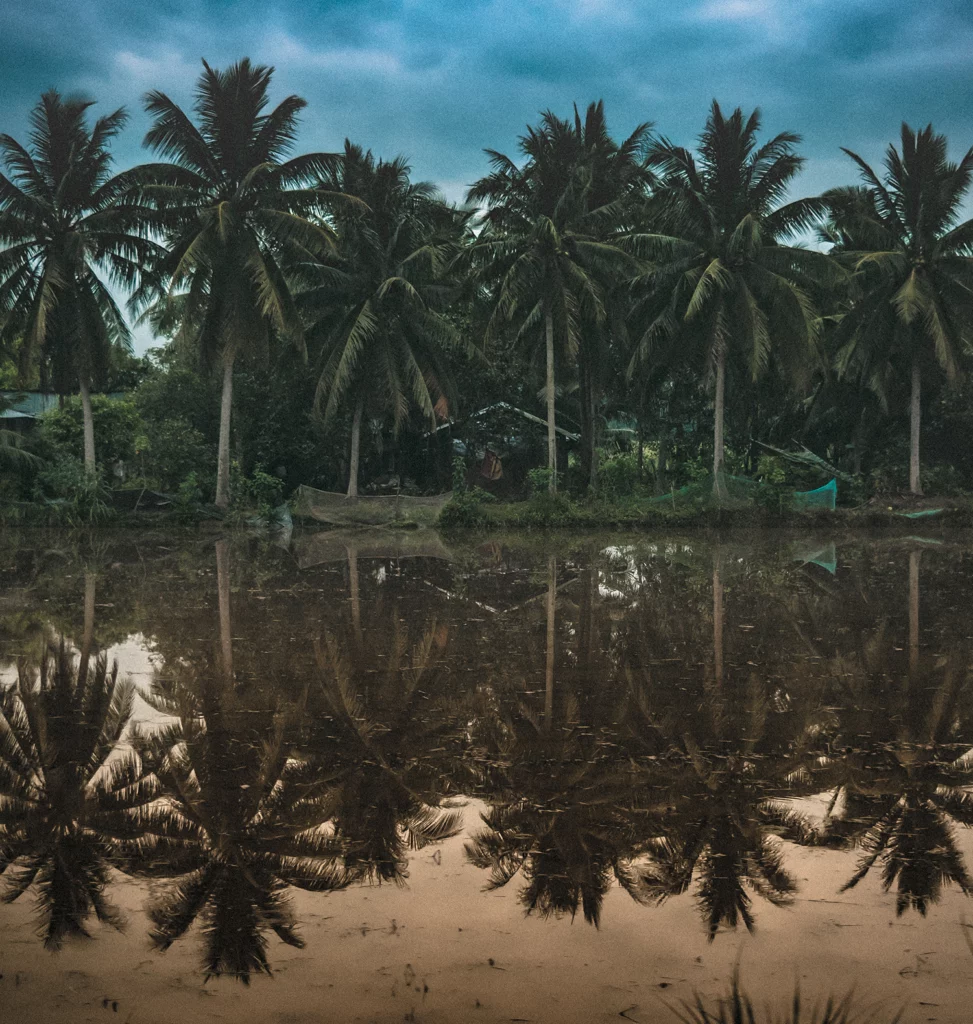 Today, I find comfort in knowing I don't need to find home: Home is always ready for me in my pocket. The collective efforts of all my ancestors placed me where I am today, whether intentional or not, and I don't have any halves about me: I'm a complete package all on my own.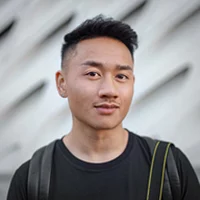 Michael Luong joined YES! as the Associate Art Director in the summer of 2021. He has worked in publishing over the past seven years and has a passion for bringing stories to life with visuals. He has worked as a Digital Art Manager for Out Magazine, The Advocate, Pride.com, and HIV Plus Magazine. He's also worked as a freelance designer for the nonprofit publication, Next City. His most recent experience in publishing was as an Editorial & Marketing Designer for Deadline.
---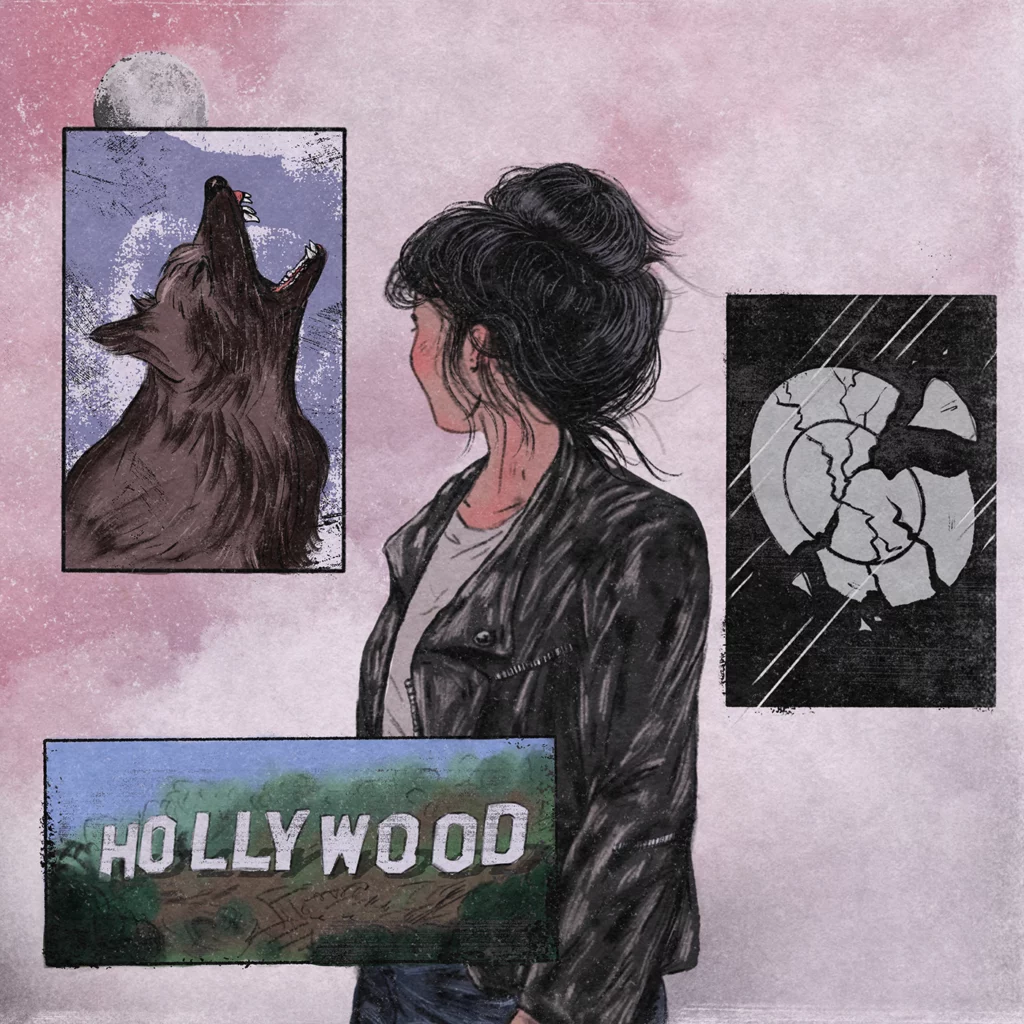 Fractured Foundations: Navigating Turbulence with Resilience
I have never truly had a place to call home. When we lost everything we had, we found ourselves stranded in Cambodia, with nothing to our name. There, I witnessed moments of joy, the haunting aftermath of the Khmer Rouge's genocidal war, and lived among 300 cousins. Our family home was foreclosed on, and we became homeless. We wandered from one hotel room to another, and in and out of my strict grandparents' home, until we finally settled into a small townhouse with walls so thin that I could hear our neighbor splashing around in his tub. I slept on the living room floor, surrounded by the scurrying sounds of roaches.
In each place we lived, judgment flowed in both directions. On the outside, we were seen as wealthy Asians, yet we were poor in reality. The truth was, we were engulfed in instability. Chaos became my home. The cacophony of loud, drunken voices, barking dogs, screaming, fighting, and the shattering of dishes became the lullaby that put me to sleep. I longed to escape this environment, so school became my refuge—a sanctuary, until it no longer felt safe. It was there that I forgot I was expected to conform to a certain identity. I would skip school and take the train to Hollywood, seeking solace in its quieter and more predictable atmosphere. I craved a sense of safety.
When college came around, I moved out of my parents' house and into the arms of an abusive partner. Exhausted from feeling ugly and unloved, I eventually left that toxic relationship as well. After enduring years of abuse, my tumultuous upbringing took its toll on my mental well-being and broke my brain. Recognizing that I needed assistance, I mustered the courage to reach out and ask for help. Home for me is wherever I find solace and security. Today, I am happily married, and have a strong support system. I'll always be grateful for that. Despite this, I often wonder if I will ever truly feel a sense of belonging anywhere.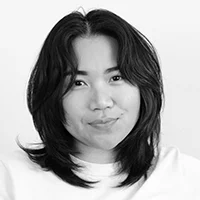 Tevy Khou is an illustrator and designer from Long Beach, California. Currently she's based in San Francisco Bay Area. She studied illustration design at Art Center College of Design and graduated in 2014 with a BFA. She has won a bronze award for editorial from Society of Illustrators: Illustration West 60 and was featured in American Illustration 41. Her clients include Buzzfeed, Apple, LA Times, Mic, Yes! Magazine, Latin TV and Hazlitt Mag.
Portfolio: tevykhou.com | Instagram: @tevykhou
---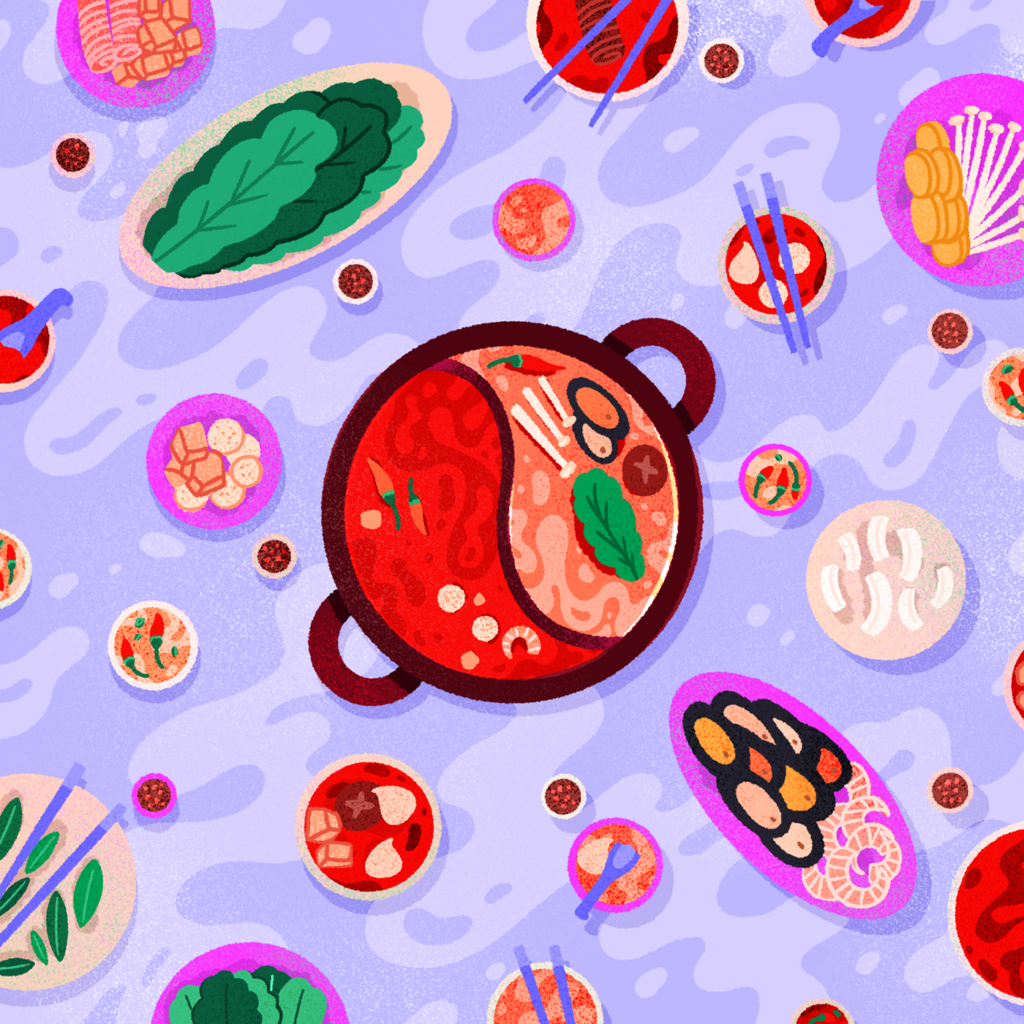 I left Vietnam and started my journey to America when I was about a month old. After some time spent in the Philippines, I arrived in the U.S. at a year and a half old. I've always existed in the middle, not really knowing what it was like to call Vietnam home, but not really feeling like I belonged in America either. But to be honest, I never dwelled on it too long. In my home, my parents tried to always make Vietnamese food for us, growing Vietnamese fruits and veggies in our backyard, teaching us the names of the herbs and dishes. I always felt like I was grounded in my culture, and I had a lot of pride in being Vietnamese American.
I took my meals for granted, however, always wanting American food instead—not because I was embarrassed, but because I just wanted to try new things. When I moved away to college, I ate Vietnamese food less and less. Living far from Vietnamese grocery stores and always being on the go meant a lot of breakfast sandwiches and coffee—college student essentials! I never imagined that I would miss my parents' cooking so much, or how much I would miss gathering around a table, volunteering to scoop the rice, setting the plates for hot pot, counting how many chopsticks I needed. As a kid, I wanted to try different things, but as a grown-up, I yearned for what always made me feel at home. My food is a vehicle for community, for love, and care, and it's a reminder that my home is wherever my family is.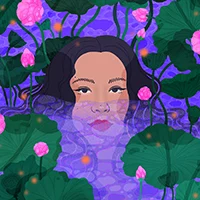 Thumy Phan is a Vietnamese immigrant illustrator & designer currently based in Oklahoma City, Oklahoma. She loves telling stories through art, specifically BIPOC stories. In her personal work, she explores how to visually tell her own experiences of growing up in the U.S. as a Vietnamese, immigrant, permanent resident raised in the south. To make sure these narratives are heard, loud and clear, she uses a combination of bold colors and flora, with a sprinkle of magical shapes and swirls.
Portfolio: thusister.studio | Instagram: @thusisterstudio
---
For me, home is more than just a physical location or an address where my Amazon packages get delivered. Home encompasses memories and sentimental value. It's a place where I can keep items that hold deep meaning, especially when I share the space with the people I love. Home resembles an old photo album, serving as a container for countless memories and offering a sense of security. It acts as a dictionary, helping me piece together vivid recollections and providing an opportunity for reflection.
From Beijing to San Francisco, I have lived in five different apartments so far. Each of them has played a significant role in different stages of my life. The floating shelves my dad built in my small childhood room, the sensitive fire alarm that screamed at me twice, the old call box that was never functional, the carpet my cat chewed, and the foggy ocean view from my window—all of these hold a special place in my heart.
Whenever I feel like a small leaf floating in a giant void, I think about those places, and those memories, and they provide me with a sense of comfort and purpose. Home transcends the physical space, it is a mosaic of memories.
After 24 years in China, Jianan Liu came to the U.S. to explore her possibilities. She spends most of her day sitting in front of screens with her best work buddy, Notch the cat. Her work focuses on color and texture, and she pours her imagination into creating a beautiful world. Liu often brings depth and space to the two-dimensional world, making her illustrations vivid and lively.
Portfolio: jiananliu.com | Instagram: @jiananliuillustration
---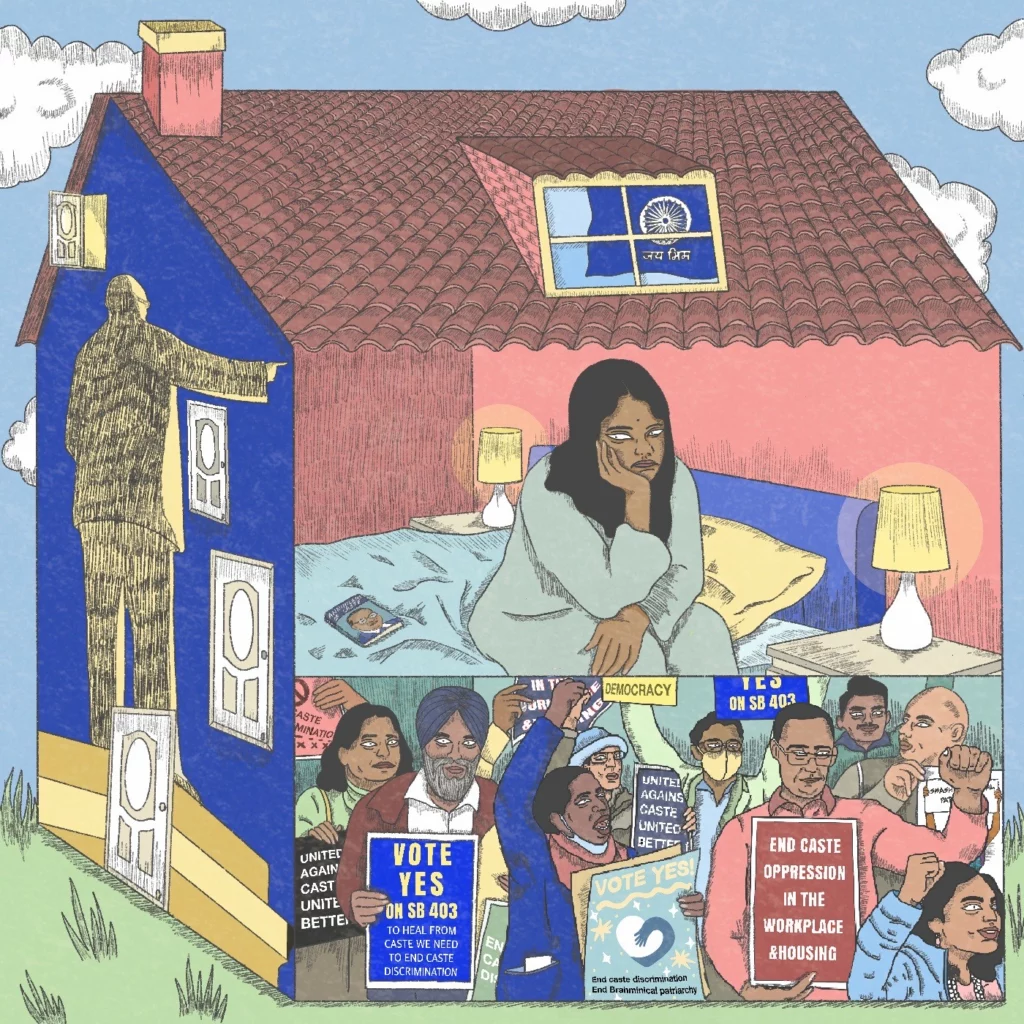 Seeking Home and Liberation: The Struggle Against Caste Discrimination
In the tumultuous era of India's fight for independence from British rule, B.R. Ambedkar, fondly known as "Babasaheb," proclaimed, "Gandhiji, I have no homeland." This poignant statement reflected the plight of millions who suffered under the oppressive caste system. Today, as we commemorate AAPI Heritage Month, we must confront the lasting impact of caste discrimination, not only in India but also within diasporic communities worldwide. California's recent legislation, Senate Bill 403, takes a significant stride in combating caste-based discrimination and offers hope for a more inclusive society.
Ambedkar's struggle transcended the quest for political freedom. He yearned for liberation from all forms of slavery and oppression that marginalized communities endured. He emphasized that true freedom encompasses both physical and mental realms. While physical freedom allows individuals to act on their will, it holds little value if their minds remain shackled. Babasaheb recognized that the freedom to think, question, and exercise one's potential was the essence of human liberation. Thus, his fight was not solely for land or religion; it was for dignity and equality.
The deep-rooted caste system did not confine its impact to the borders of India. It traveled with Indian immigrants to various corners of the world, perpetuating discrimination and inequality. As we celebrate AAPI Heritage Month, it is crucial to acknowledge the presence of caste oppression beyond India's shores. This recognition serves as a reminder that the struggle against caste discrimination is not limited to a single nation but demands a collective effort to eradicate its influence on individuals' lives.
With the recent passage of SB-403, California has become the first U.S. state to legally address caste-based discrimination by including caste as a protected category in its anti-discrimination laws. This landmark legislation marks a significant milestone in the journey toward social justice and equality. By recognizing caste discrimination as a form of prejudice, California demonstrates its commitment to fostering an inclusive society that embraces the diverse experiences and backgrounds of its residents.
In our shared vision for a better future, we must strive for a world that offers dignity, equal opportunities, and freedom from all forms of discrimination. This endeavor requires dismantling systemic barriers and challenging long-held biases. By acknowledging the struggles faced by individuals who grapple with a sense of belonging due to systemic discrimination, we foster empathy and understanding. Through ongoing dialogue, education, and legislation like SB-403, we pave the way for a society that celebrates diversity, encourages inclusivity, and ensures that finding one's true home becomes a reality for all.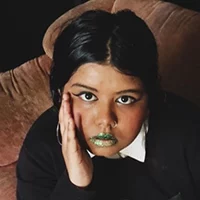 Priyanka Paul, A.K.A. Artwhoring, is a multi-disciplinary artist and writer from Mumbai, India. Their work revolves around the themes of social justice, marginalization and self-exploration, and has been published and exhibited globally. Paul's work uses bright and pastel colors, interspersed with humor to talk about themes ranging from gender and caste, to analyzing current media trends and contemporary society.
Instagram: @artwhoring