One Southern Leader Bridges Civil Rights' Past and Black Lives Matter's Future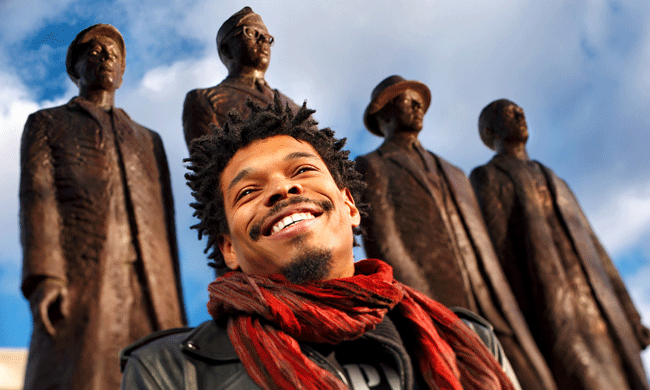 Irving Allen's roots run deep in the civil rights movement.
"If people don't have ownership over the decisions being made, then they're not going to invest in them."
During the 60s, his uncle David Richmond was a member of the "A&T Four," a group of freshman college students whose sit-in at a local lunch counter ignited protests at "white-only" restaurants nationwide.
In the 70s and 80s, his father, Steven Allen, served as a civil rights attorney and eventually became the first black superior court judge in one of North Carolina's largest counties.
Today, the 29-year-old sprints with the torch they passed on to him.
Irving leads the Gate City Black Lives Matter chapter in Greensboro, North Carolina, where his advocacy in Guilford County focuses on holding local police accountable, improving the county's public education, and paying its people a living wage
The chapter's work also addresses affordable housing needs and developing food co-ops in areas with limited access to healthy food. It is in the midst of building a neighborhood congress to create public policy at the community level.
Much like those who came before him, Irving primarily aims to leave fertile ground for future leaders to blossom.
YES! Reporting Fellow Marcus Harrison Green spoke to the southern organizer about what today's movement can learn from the past and bestow on future generations.
This interview has been lightly edited.
Marcus Harrison Green : Your family has a pretty rich history of civic activism in the area. What would you say is the most important lesson you've learned from family members that still guides you today?
Irving Allen: My father always led by example. He would always lead by example and let me make my own decisions. That's a principle I use in organizing because if people don't have ownership over the decisions being made, then they're not going to invest in them. I think that's how you grow and that's how you develop people. You can display guidance and give guidance, but ultimately you've got to let people make their own decisions. I was his child, but he definitely gave me free range in all decisions.
Green: What advice would you give to youth who are uncertain of how to become civically engaged?
Allen: The reason most folks aren't involved is they don't feel that they can really make a difference, and our job as organizers is to instill that type of empowerment in them. So my advice would be that when you see someone who inspires you, reach out to them. When we find people younger than us who are better at organizing than we are, then you know that makes us look good. You're not organizing unless you're training up the next generation, and I think a lot of people lose sight of that even if they're doing great things and accomplishing great things. If you're not training up anybody behind you to make sure that those things stay in place, then you're not really thinking about sustainability. You're not really organizing.
"You're not organizing unless you're training up the next generation."
Green: How do you get them involved when the stereotype persists that millennials are too self-absorbed to be movement-oriented?
Allen: I hear that a lot, but that's never been my experience. My experience with folks I've worked with for the past four years—with the youth from this community—is that they are highly involved. And I'm talking about hundreds of folks around the state. People with that assessment of millennials are jaded.
Green: How much of an issue is ageism in the movement? There are some "elders" who argue they don't necessarily feel welcomed.
Allen: It's a problem, but I don't think it's new. I was talking to elders of the movement, and they were telling me how their predecessors felt the same way. When you look at it in that scope, he's 80 years old, and he's telling me that the same problems existed then. I can't be mad at him. There's going to be arguments and people being told they don't know enough to make change. I'm pretty sure they told King he didn't know anything. I'm pretty sure they told Fannie Lou Hamer and all those people they didn't know anything because the position or lack thereof. You see how history remembers it, so I really feel like you can't get into a battle of egos or a back and forth of "oh you're young," or "you're old." It's not about that. It's about what are we doing? Are we doing the work, and are we caring for each other while we're doing the work?
That's the dynamic we're working with nowadays, and I think that's nothing new and it's never going to end. Maybe one day I'll be an old man, saying what people say today about the young.
Green: There's a constant comparison of today's civil rights movement to that of the 60s and 70s. What do you think is different and unique about today's movement versus yesterday's?
Allen: There are a lot of things unique about what's going on today, and there are a lot of similarities. There are more similarities than differences, but I think we romanticize the past. We forget how many young people were involved in civil rights demonstrations while the NAACP was mostly a bunch of preachers. We forget those dynamics, so when we see it today, it looks interesting and new, but it's nothing new.
With Black Lives Matter, in particular, we're not afraid of being confrontational to get our point across. Many people didn't like King when he was talking the way he was talking. He was shunned from black churches in the South and things like that. A lot of those things are comparable today. I do think about some of the differences we're talking about today, particularly the erasure of some of the intersectional folks, like LGBTQ organizers, who we know were vital to our movement but aren't celebrated like other folks. We have to really focus on what unites us. We have to make sure we're not erasing the folks who are doing the work and make sure we're being representative of everyone who's been affected by racism. We need to uplift those folks so that nobody is excluded from the movement.
"I love black people. It's as simple as that, from the most ratchet to the most refined. They propel me every day."
Green: What's your opinion on electoral politics? Do you see them as playing a significant role in the movement?
Allen: I think it's a necessary thing. If you want to have a sustainable movement, you have to shift political will. People make decisions all the time. You may influence them for the moment, but if you want to make them sustainable, it has to be policy. You can't change the world through hearts and minds; it's not going to happen. You've got to change it through policy and practice. And the way you do that is by getting things written up and making sure folks are included in those processes to where they're not falling through the cracks, and that's historically not what America has done. To change that is a daunting task, but it's necessary in this movement, and we're not going to be able to get free without these changes.
Green: Sometimes the work of an organizer can be thankless. Why do you continue?
Allen: Because I love my people. I love black people. It's as simple as that, from the most ratchet to the most refined. They propel me every day. When I'm down, they're who lift me up.