Housing Crisis on the Rez: Why Haul a Run-Down Shack from the Plains to DC?
Tribal leaders trucked the battered old home to Washington to show the nation's leaders what the housing crisis on reservations looks like in person.
Why you can trust us
---
Last month, a new building joined the Washington Monument and the Capitol building on the National Mall. The small, run-down shack had previously housed 13 people, and it was brought to Washington, D.C., from the Pine Ridge Indian Reservation in South Dakota to raise awareness about the critical need for housing on reservations around the country.
"It's very difficult to get anybody to leave Washington to see it first-hand, and until you see it first-hand, it doesn't have the impact," explained Thomas Boesen, a Washington-based housing lobbyist who was at the April 17 demonstration.
At 2.8 million acres, Pine Ridge is one of the largest Indian reservations in the country. It's also one of the poorest. Housing is in such short supply at Pine Ridge that multiple families are forced to cram into small trailers, and as many as 18 people have been recorded living in a single home.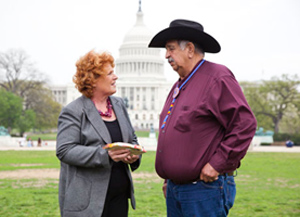 North Dakota Senator Heidi Heitkamp speaks with housing advocate Paul Iron Cloud. Photo by the author.
A group of 10 fair housing advocates from the Oglala Sioux tribe transported the house to the National Mall in a demonstration that was dubbed The Trail of Hope for Indian Housing. Throughout the day, curious tourists and student groups wandered by and snapped photos, and in the afternoon North Dakota Senator Heidi Heitkamp stopped by to show her support.
"This is not a way that we would ever expect grandmas and grandpas to live," Heitkamp told a small group of demonstrators standing in front of the house.
The house used in the demonstration was a small, 52-year-old home that had two bedrooms and one bathroom before it was deconstructed and reconfigured so that it could fit on a trailer. With torn screens and crumbling window frames, the small gray structure was the first home built with federal assistance on Pine Ridge. After remaining on display on the National Mall for one day, the group donated the house to the Smithsonian National Museum of the American Indian to be used in a future exhibit.
Red tape holds back the green
Indian reservations have some of the worst housing conditions in the United States, but not all tribes deal with the level of poverty and overcrowding seen on Pine Ridge. According to the Trail of Hope demonstrators, that's partly because resources are generally not distributed among reservations according to need. The message that the Oglala Sioux brought to Washington is that more money needs to be allocated to the nation's poorest tribes, which don't have enough resources to meet their members' basic needs.
Acquiring land isn't the problem on Pine Ridge; many families there already own property passed down from treaties. What they need is money to build houses. "We have three or four families living in one house," says Paul Iron Cloud, director of the Oglala Sioux Housing Authority. And those overcrowded living conditions affect everything from public health to education. "How do you think you could study with three families in one house?"
Like what you're reading? YES! is nonprofit and relies on reader support.
Click here to chip in $5 or more to help us keep the inspiration coming.
Iron Cloud testified before nine senators on the Senate Committee on Indian Affairs on April 10 to discuss the barriers to housing development on Indian reservations. Housing funds are tied up in a tangle of red tape that forces reservation housing advocates to compete with other transportation and housing lobbies for money, he said. As a result, Indian housing is often overlooked.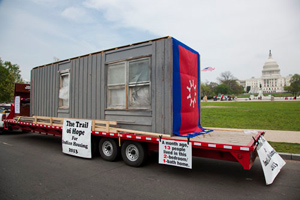 The reconfigured house sits on its trailer on the National Mall. Photo by the author.
Nonprofit organizations and faith-based volunteer groups are increasingly stepping up on reservations to fill the void left by the federal government. One group that is working to improve housing conditions at Pine Ridge is the Oglala Sioux Tribe Partnership for Housing, a nonprofit organization that was founded in 1999 to help tribal members purchase homes. The Partnership helped to organize the Trail of Hope, and the group's director, Emma "Pinky" Clifford, also sits on the board of directors of the tribe's Housing Authority. In the 14 years since the Partnership was formed, Clifford says the group has helped more than 100 families to acquire homes.
But it's never easy, and each home presents unique challenges. Clifford says she approaches construction and fundraising projects one house at a time, often using different strategies to finance each project. If an approach works, the organization will try to replicate it; if not, they'll try something else.
As I left the National Mall, Clifford handed me a flyer for her latest project, a single-family home that she hopes to complete and deliver by July 2013. A solid foundation and parking pad are already in place, but nothing else. A lumber company from Maine is donating all the building materials, and others will be providing labor and appliances, but Clifford says she's still trying to figure out how to add electrical, plumbing, and heating systems.
"We have hope," Paul Iron Cloud said, wearing a big black cowboy hat while sitting in front of the house as it stood on the National Mall. "Bringing this house to Washington, hopefully that will show Congress and the people that there is light at the end of the tunnel."
---
Interested?
Can we build sustainable housing that's affordable, too? The city of Buffalo did, and created a community jobs pipeline in the process. Here's what can happen when neighborhoods take the lead.
Honoring Nations recognizes tribal leadership.
Bill McKibben on the tradition of environmental activism he's seen among members of First Nations, and the unique role of the Idle No More movement in the fight against climate change.
---
Mark Andrew Boyer

is a Brooklyn-based visual journalist and storyteller currently working as a producer for Great Big Story, an award-winning global media network owned by CNN.
---