Women Are Vets, Too: Meet the Organization that Acts Like It
At events known as "Stand Downs," which take place in more than 200 cities and towns across the United States, vets from all walks of life gather to support one another.
Why you can trust us
---
Women are the fastest-growing segment of the veteran population, according to the U.S. Department of Veterans Affairs, but they face unique barriers in life after active duty, including difficulty gaining access to veterans' services. That's partly because many women who have served in the military do not identify as veterans, according to Rebecca Murch, executive director of an annual veteran advocacy event called Seattle Stand Down.
Tables were piled high with free clothing, backpacks, and other essentials.
Murch, who served in the Navy during the Gulf War, says there are several reasons why women may not think of themselves as veterans. Some think combat service is required for veteran status. "Others may be survivors of military sexual trauma, have been alienated by the system, and do not want to associate with anything military, even the V.A," Murch said in an email.
According to the website of the U.S. Department of Veterans Affairs, "a person who served in the active military service and who was discharged or released under conditions other than dishonorable is a Veteran." If a female vet doesn't know that, or feels alienated from the military, she may not ever access the various services the Department of Veterans Affairs provides. That means she'll miss out on benefits ranging from medical care and mental health services to employment and housing assistance.
Murch and the others who organize the Seattle Stand Down are working to change that. The event, now in its third year, provides services and support to homeless and at-risk veterans. In military lingo, the term "stand down" refers to a break from training or combat to attend to safety and health.
A new way to reach out
The Seattle event got its start after Dr. Paul Killpatrick, the president of Seattle Central Community College, learned about a similar event in San Diego. That one, which started in 1988, was the nation's first Stand Down and takes place over the course of three days every year.
Killpatrick decided Seattle needed its own Stand Down event, so he reached out to Sam Barrett, an Army vet and Seattle Central student liaison for veterans on campus. When Killpatrick asked him to organize a Stand Down, Barrett jumped at the chance.
"I put together a team and a plan, both of which expanded as the weeks turned into months, and just dove into it with everything I had," Barrett said in an email.
The Stand Down also showcased the unique sense of community that veterans from all walks of life bring to the event.
The first event attracted plenty of veterans, but almost all were men. Killpatrick and the other organizers knew it was vital to reach women, so they brought Murch on board to develop a plan. She proposed they set aside an area just for female veterans.
The event is open to all veterans, but this year, like last year, Seattle Central's Broadway Performance Hall was reserved for women. Staffed by female volunteers, it offered similar services to those available at the rest of the event, which took place in the Mitchell Activity Center. Nonprofits such as anti-poverty group Solid Ground and domestic violence support group New Beginnings attended, as well as representatives of the state and federal Departments of Veteran's Affairs. Students from the University of Washington School of Dentistry and organizations such as King County Public Health provided medical and dental services, and a cosmetology school down the street offered haircuts and manicures.
In both locations, tables were piled high with free clothing, backpacks, and other essentials. There were also several private rooms where women had access to resources and counseling for sexual assault in the military.
Finding the women vets
Forty women attended in 2012, but this year there seemed to be far fewer. Murch says that homeless female vets are difficult to reach with traditional forms of outreach, since they typically don't hang out in the places frequented by male vets. "When it comes to women, they may not be staying in the shelters because those are pretty male-dominated," she said.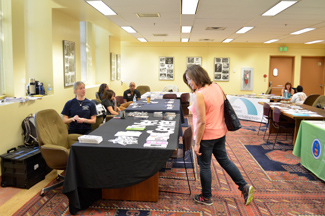 Women veterans work tables in the womens-only section of Seattle Stand Down. Photo by Rachael Stoeve.
While bringing out women remains a challenge, it's clear that the Seattle Stand Down is growing. They've been operating under the umbrella of the college's foundation for the past three years, but they're preparing to step out on their own as a full-fledged nonprofit. Murch says the event also received grant funding this year, and for the first time all the veterans enjoyed a hot meal courtesy of retraining program FareStart.
The event was clearly appreciated by the veterans in attendance. At nine in the morning, they were already lined up down the block.
"I got some new gear and food," said Steven, a Vietnam veteran attending the event for the first time. "I have no complaints."
Another, who did not give his name, noted the immediate access to services and said he preferred the Stand Down to the V.A., which he said "can be a pain in the rear." The department has received criticism for inefficiency and a massive backlog of claims.
The Stand Down also showcased the unique sense of community that veterans from all walks of life bring to the event. "Most veterans don't forget about the communal bonds that are shared with others who have served, and most are looking to continue serving something bigger than themselves," Barrett told me.
As Murch says, the rule in combat is to never leave a fellow soldier behind. In the fight to end homelessness in Seattle, the organizers of the Stand Down are determined to bring every veteran home.
---
Ray Stoeve

is a Seattle-based queer and trans writer who received a 2016-2017 Made at Hugo House Fellowship for their young adult fiction.
---