As the EU Stalls on Refugees, Volunteers Provide a Taste of Home
In the depth of winter, more than 14,000 refugees huddle in three camps. Amid this squalor, a sign reads, "Black Tea with Sugar."
This is Idomeni, a village with a population of 154 near the Macedonia-Greece border, its residents nearly lost in the camps. The refugees mostly come from Syria, Iraq, and Afghanistan. They intended to continue north to Germany, but now the border is closed. They're stranded.
These overcrowded camps have become notorious for their horrific living conditions—supply shortages, poor sanitation, unstable tent housing. Families peek out of unheated tents to see children and young men returning from the border with tear gas injuries and broken dreams.
In the midst of it all, offering a bit of warmth and a reminder of home, is Refugee Solidarity Movement Thessaloniki.
The organization, which emerged as a response to the humanitarian crisis, was formed in May 2014 by Amir Karimi, a former Afghan refugee, Craig Wherlock, an English teacher from the United Kingdom, and Maria Wagner, an exchange student from Germany. Refugee Solidarity Movement Thessaloniki began by providing basic necessities—including tea—for refugees in Thessaloniki, the second largest city in Greece, located about 50 miles south of Idomeni. The organization made its way north in September when refugees were riding unlicensed buses from Athens to the Idomeni refugee camps.
"From the beginning, international students were involved," says Wherlock. But not just international students. Young refugees volunteer too. "Refugees should be given the opportunity to help themselves," he says. Plus, it makes a difference for refugees to hear volunteers speak their native language. "That really breaks down the barriers."
Refugees arriving to Idomenis camps are registered and given water and tents.
Sari Yuhanna, an Egyptian volunteer who drives helpers from Thessaloniki to the camp twice a week, was moved by how others were helping. "I saw a video online of an ill priest who required oxygen to breathe," he says, "and yet he stationed himself on a Greek island to receive refugees before anyone was helping."
But the work of RSMT and other groups, along with humanitarian aid from the European Union, is not the end of the story. The critical issue is getting the refugees out of the camps and on to their new lives. That is the work of governments—not volunteers.
The EU has resettled only 937 refugees out of the 160,000 in Greece and Italy. When an EU migration commissioner visited Idomeni on March 15, he declared the need to relocate 6,000 refugees every month, either to host states in the EU or to other accommodations in Greece—camps in Thessaloniki, such as the military base of Diavata and the downtown port, and camps near the Albanian border. Subsequently, the Greek government promised to host 50,000 refugees in 20 days by fast-tracking their asylum applications.
But Greece has already begun deporting hundreds of refugees to Turkey under a controversial deal made in March between Turkey and the European Union that would send all refugees arriving illegally in Greece to Turkey. If the deal leads to collective deportations without giving individuals the chance to claim asylum, it could break European and international law as upheld by the United Nations and other human rights groups.
This refugee crisis has united antiracist and transnational coalitions without formal ties to government, churches, or charities (like Refugee Solidarity Movement Thessaloniki) that provide humanitarian assistance in refugee camps throughout northern Greece.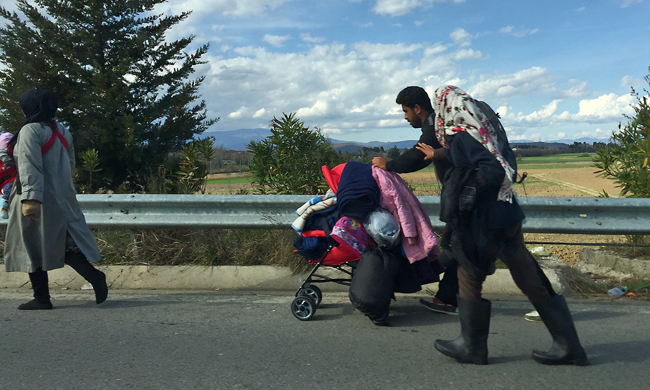 Refugee families walk on the roadside to Idomeni.
"The refugees don't need any money. It's very good that they help us. They are already searching for work," says Taha Omran Abd El-Nayeem, an Egyptian postgraduate student. "They only need to reach a safe place."
El-Nayeem began volunteering for Refugee Solidarity Movement Thessaloniki last September before the camp opened at Idomeni. Lately, he has helped serve tea at Diavata while organizing Arabic lessons for volunteers.
Back in Idomeni, refugees continue their lives at the camps, their makeshift tents pitched behind a condemned train station at the border.
"Take me with you to America," says Mohamed Al-Hamid, a gray-haired, 36-year-old Syrian refugee sitting with two others. "Let's trade passports."
As the sun falls and the three men work to start a fire, Al-Hamid lifts his shirt, exposing a shrapnel wound he says he received from a Russian bomber.
That's the life he left behind. He doesn't worry about Russian bombers anymore, but now Al-Hamid must worry about what comes next. Until then, all he has is his new life along the railroad tracks—and the sweet tea that reminds him of home.